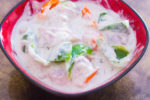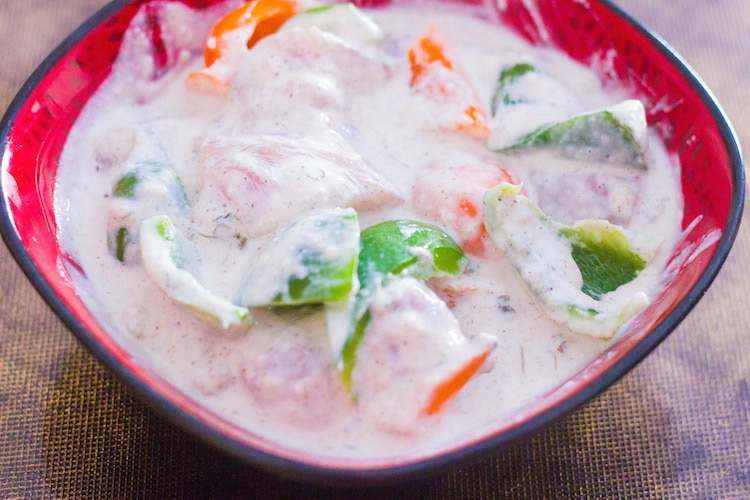 You can use Outdoor Grill, Oven or stovetop to make this.
2

chicken breast or thighs

(1 cup, cut into 1-inch pieces

2

bell peppers/capsicum

cut into 2-inch pieces

MARINADE

1/4

cup

thick yogurt

Greek yogurt or hung yogurt

1/4

cup

heavy cream

1/4

mozzarella cheese / Parmesan cheese

1

tablespoon

ginger garlic paste

Fresh is preferable

2

teaspoons

dried kasoori methi leaves/fenugreek leaves

1/2

teaspoon

chaat masala powder

Check notes for substitutes

1/2

teaspoon

black pepper powder

1

and 1/2 teaspoon cornflour

1/2

teaspoon

salt

1/4

cup

cashew paste

Optional

BRUSHING

2

tablespoons

melted butter
Add all the ingredients for the marinade in a bowl. Mix well, taste and adjust the salt. (Salt should be a tiny bit more than what you like)

Add the chicken and the bell peppers/capsicum and coat well. Cover and keep it aside for 1 hour or overnight. (Refrigerate if you are planning to keep it overnight).

Soak bamboo skewers for at least 30 minutes in water. Thread the chicken pieces alternating with bell pepper.

OVEN:

Place the skewers on a rectangular cake pan or roasting pan so that the chicken stays dry and not soggy. Add the extra marinade if any, over the chicken.

Broil or bake at the highest temperature your oven can be set too. (I set my oven at 475 degrees Fahrenheit / 245 degrees Celsius).

After 15-20 minutes, turn the skewers over so that the other side gets a charred look. Keep again for 15 minutes.

STOVETOP:

Place a girdle / tava on medium-high heat and lightly brush with oil. Once it's hot, add the chicken pieces. Sauté in between and repeat till the pieces are slightly charred and cooked well.

Serve with green chutney and sprinkle some chaat masala.

When using an outdoor grill, keep brushing the chicken once in a while with 1 part melted butter + 1 part water to keep it moist.
Instead of chaat masala, you can also add 1/2 teaspoon garam masala/all spice mix + 1/2 teaspoon lime juice. (Chaat masala adds a nice tanginess and is available at Indian markets)
I have used both mozzarella cheese and parmesan cheese. Although I did not find much difference, I still like parmesan cheese better.