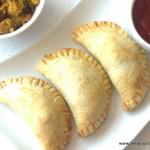 Refrigeration time: 30 minutes
Servings
:
12
small turnovers
FOR PASTRY CRUST:

1

and 1/2 cups All purpose flour / maida

1/2

teaspoon

salt

1/2

cup

1 stick(113g) cold unsalted butter, cut into 1/2 inch cubes

1/4

cup

+ 2 tablespoons ice cold water

FOR FILLING:

1

Large potato

boiled

3

tablespoons

oil

1

clove

garlic

1/2

handful coriander leaves

1/2

teaspoon

turmeric powder

1

teaspoon

chilly powder/paprika

1/2

teaspoon

garam masala

Salt to taste

FOR WASH:

1

egg + 1 tablespoon water + pinch of salt

Beat well

Vegetarians can use Milk
PASTRY DOUGH: In a jar of a food processor, add flour + salt. Add 1/2 of the chopped butter and process it until pea size granules form. Add the remaining butter and process again to form pea size chunks.

Sprinkle the ice cold water and process until the mixture is moist. The mixture will still look powdery, but when pressed between your fingers it should retain its shape.

Transfer into a bowl and knead for another 30 seconds. You will see chunks of butter, but that's alright. Cover the dough with a a plastic wrap and place it in the refrigerator for 30 minutes. While the dough is resting, prepare the filling.

Place a non-stick mat or parchment paper on the counter and lightly dust with flour. Roll into a circle about1/8th inch thick. Use a slightly sharp round shaped cutter to cut circles. Place a tablespoon filling in the center. Bring the other edge together and press the edges with a fork. Place everything an inch apart on a sheet lined with non-stick paper. Brush generously with egg wash.

Bake in a preheated 400 degrees fahrenheit oven for 20 minutes or until the crust turns golden brown.

FILLING: Boil or bake the potato in the microwave. Peel the skin and chop the potatoes into small chunks. Keep aside.

Heat oil in a pan. Add garlic + cumin seeds + fennel seeds and let it sizzle. Add turmeric powder and immedeitealy add potatoes. Coat them well with oil. Add paprika + garam masala + salt and mix well. Adjust the salt if needed. Turn of the heat and add the finely chopped coriander leaves. Let the mixture cool completely before filling.
Serve with ketchup, green chutney or dip.
You can make this ahead of time. Line a tray with parchment paper and place the turnover about 1/2 inch apart. Brush with egg wash and refrigerate until ready to bake, unto 24 hours in advance.
To Freeze: Line a baking sheet with parchment paper, plastic wrap or grease the sheet. Arrange the turnovers making sure they have enough space between them and place this in the freezer for 30 minutes. Then take this out and transfer into a freezer safe bag or box and use it for unto few weeks later. When ready to use, thaw in the fridge or leave this at room temperature for 30 minutes.