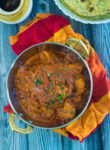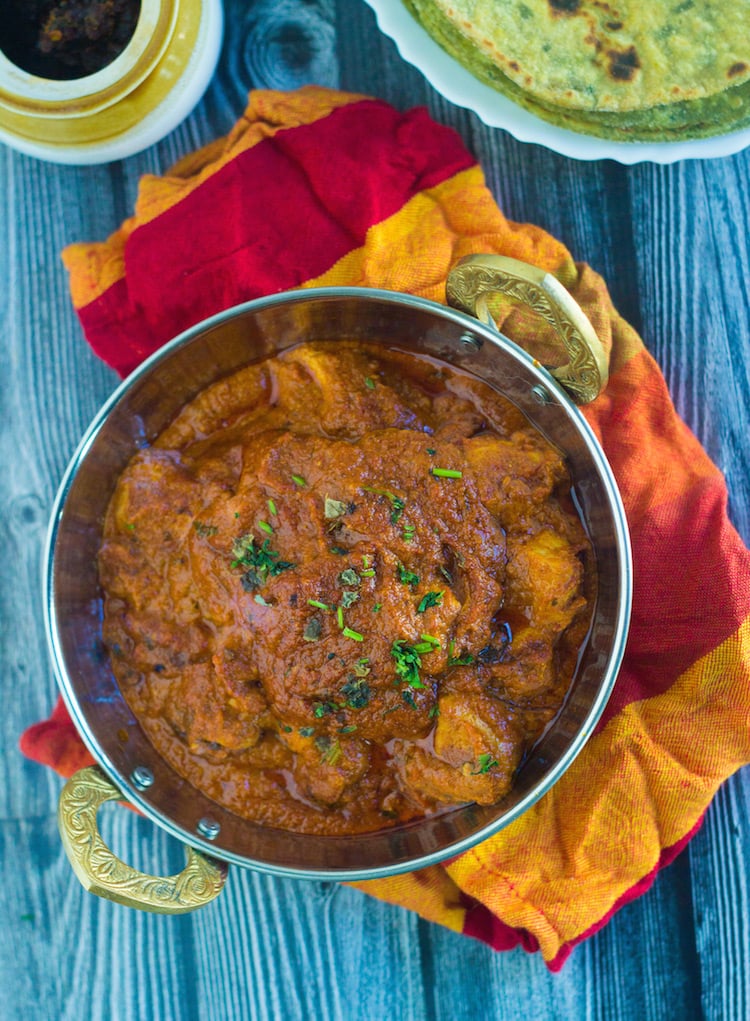 Marination time: 2-4 hours
2

chicken breast or thighs

cut into 1-inch cubes

MARINADE:

1/4

cup

thick plain yogurt

1/2

tablespoon

ginger garlic paste

1/2

teaspoon

cumin powder

1

teaspoon

paprika/Kashmiri red chilly powder

1/2

teaspoon

garam masala

1

teaspoon

lime juice

1

teaspoon

salt

FOR CURRY:

2

tablespoons

oil

3

tablespoons

butter

2

cups

tomato puree

5 medium size tomatoes

1/2

cup

heavy cream

2

tablespoons

honey

very important and no substitute please

SPICES:

1

and 1/2 teaspoon paprika / Kashmiri red chilly powder

1/2

teaspoon

cumin powder

1

teaspoon

coriander powder

1

teaspoon

garam masala

1/8

teaspoon

turmeric powder

1

teaspoon

salt or to taste

1

teaspoon

Kasturi methi / Dried fenugreek leaves for sprinkling

Optional

cilantro/coriander leaves for garnish
MARINATION:

Coat the chicken well with the marinade and let it stay for 2 -4 hours or overnight in the refrigerator.

Preheat oven to 450 Degrees Fahrenheit or 230 Degrees Celsius.

Bake or grill the chicken on a tray or on skewers for 15 minutes or until the juices run clear. (Skewers should be completely immersed in water at least 30 minutes before grilling to prevent it from catching fire)

FOR CURRY:

Take all the spices in a bowl. Heat oil and butter, preferably in a non-stick pan on medium-high heat. Add the tomato puree. Stir it till the gravy thickens and oil layer is seen on top.

Add spices and saute for 2 minutes. Add heavy cream, let the gravy simmer for a while. Add honey, mix well. Taste and adjust the sweetness and salt.

Add the cooked chicken pieces and Kasturi methi and let it cook for 2 minutes. Garnish with cilantro/coriander leaves.
Before adding the chicken let the gravy simmer on medium low heat till oil can be seen on top. For natural reddish color, add additional 1 teaspoon of paprika when you are letting the gravy simmer.
1 or 2 teaspoons of tomato paste added along with the puree gives it a bright red color.