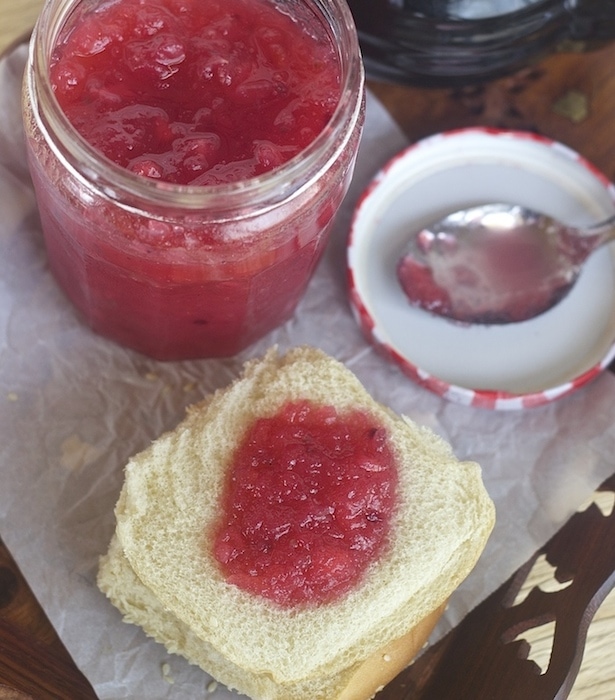 During our trip to Tennessee last month we picked some apples from the orchard and brought it to Orlando.  If you ask me why did I bring apples all the way, that too in a flight, all I can say is, just for the hang of it. I am a big fan of traditions, okay not all, but some. Remember our Grandmas and moms would pickle or preserve the fruits and vegetables which were seasonal and, don't you think there was a feel good factor just knowing that it was homemade. I did it just for that. When we were picking apples Agnel asked, 'Do you really want to carry apples, we get good ones there'. To that my answer was, 'I want to make some apple jam from freshly picked apples'.
I don't quite like the pale color of apple jam, so added few blackberries for the color and the resulting product had a slight tang. That was also because I reduced the amount of sugar. I added pectin which is a fruit derivative and it helps jams and jellies to thicken. You have a choice of not adding pectin and stirring the fruits for a long time so that it thickens, but then you will loose all the nutrients. Pectin needs the right amount of sugar to set. If you want to add less sugar there is a pectin meant just for that, so check the labels before buying.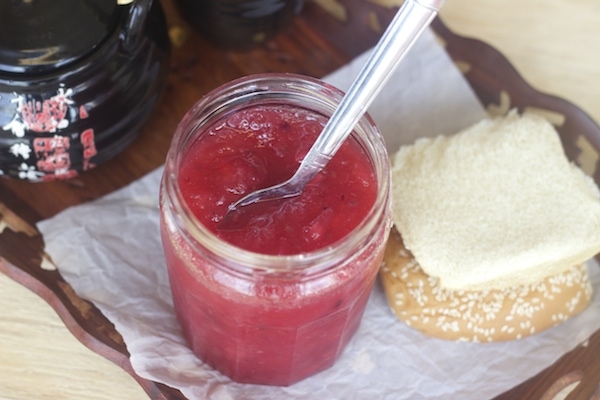 This reminds me of the mango muraba (A sweet and tangy mango chutney). My 4 year old picky eater loves it and I have seen his lunch box empty whenever I give him this spread.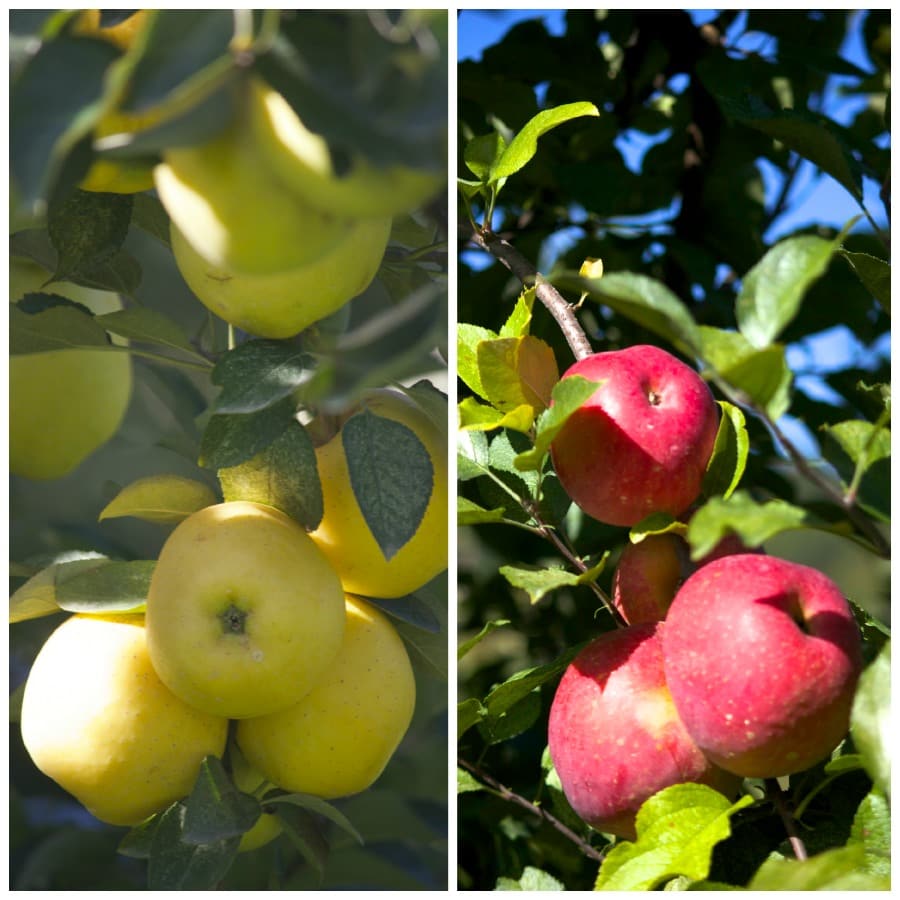 This was the first time that we planned a trip with absolutely no agenda other than wanting to see the fall colors, drive around and visit some local mom and pop restaurants. Agnel and I love trying new places and experimenting with food and our little one has quite gotten used to. When we reached Tennessee, I added one more thing to our list and that was to visit Apple orchards. We called quite a few orchards and also drove around a few,  but all the apple were picked and the trees were empty too. Ahh so disappointed. Then accidentally we stumbled upon this place and finally we saw an apple orchid with apples on them for the first time in our life 🙂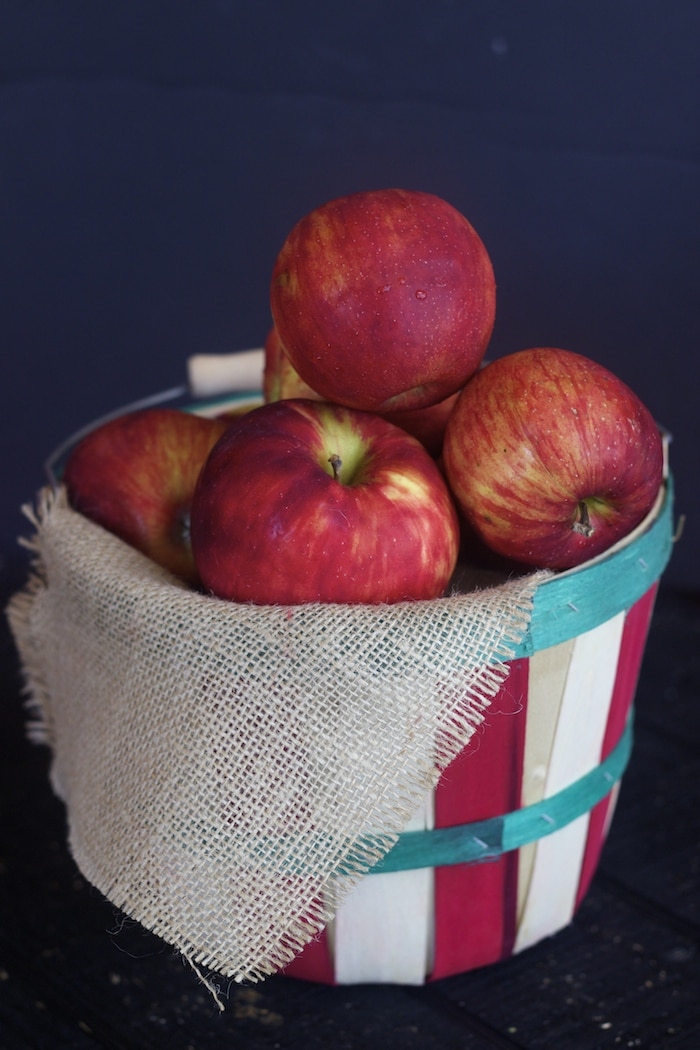 Apples and apple basket from the Orchard.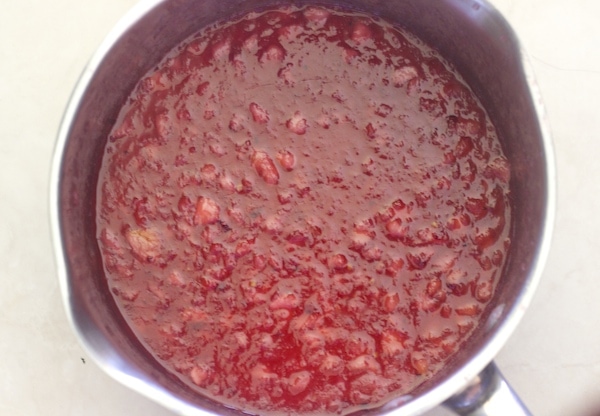 Ready to be canned.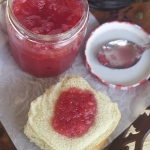 Apple and Blackberry Jam
Servings
:
4
cups, about 5, 8oz jars
Ingredients
6

red apples

5 cups peeled, cored and chopped

6

blackberries or more

1/2

cup

water

2

tablespoons

butter

this reduces frothing

2

and 1/2 cups sugar

2

cardamom pod

powdered

1/4

cup

fruit pectin

approximately 1.75 oz, 49g
Instructions
Add apples + blackberries +butter + water to a pot, bring it to a boil and let it simmer till the apples are soft.

Stir in the pectin and bring it to boil again. Add sugar and bring it to another rolling boil. Taste and adjust the sugar if needed. (Be careful not to burn your tongue when you taste.) Skim off any foam.

Pour into two sterilized glass jars leaving 1/8th inch on the top. (Please check the links below on how to seal the glass jars)

Let it stand at room temperature for 24 hours. Store unopened jams in a cool, dry, dark place up to a year. Refrigerate open jams for up to 3 weeks.
Recipe Notes
Reducing sugars or using sugar substitutes will not set the jam as intended. I reduced the sugar and the consistency is a little thin compared to store brought jams.
If you want the tang of blackberries follow the recipe exactly. If not, increase the sugar by 1/2 cup and it should set properly.
You can use SURE-JELL FOR LESS for low sugar jams and jellies.
More more recipes and all you need to know about jamming  click here.
For canning tips check this blog Vanilla and bean