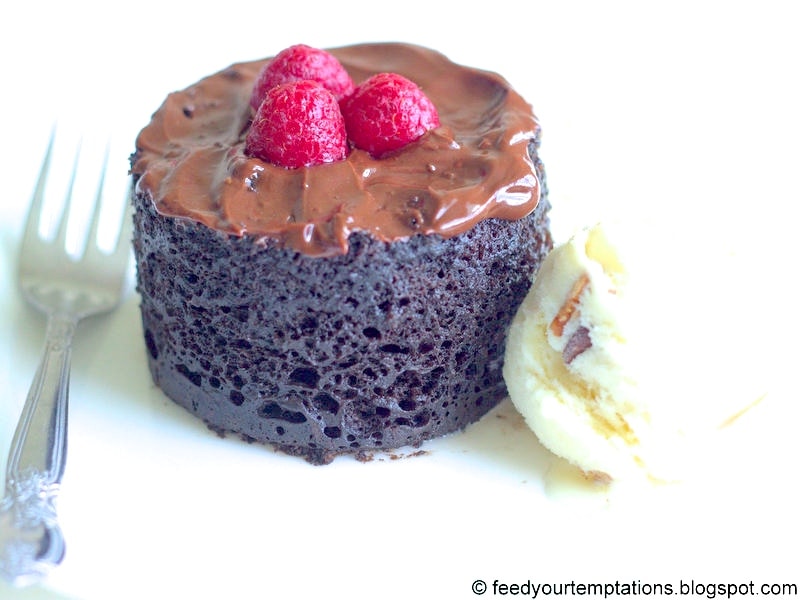 Isn't it amazing to have a chocolate cake in under five minutes. For those moments when you want to have something indulgent and you don't have time or the patience to make it. And for the moments when you have a scoop of lonely ice cream and wish you could have something chocolaty.

Even after stuffing myself with this, the thought of chocolate makes me drool. We are a family of chocolate lovers including my son. I thought about this when one day Nivaan, my son saw the cake on the cover of the recipe book I was going through. His reaction "yummy yummy, num num num". He kept saying that and started looking for it in the kitchen. He knows I normally have something around but that day I was out of luck.
This is how it looks after all the ingredients are mixed. Ready to go in the microwave.
Sometimes my little helper does the mixing and the stirring. These days when I tell him 'lets bake', he is all excited and is ready to do the mixing. Guess he is getting the baking bug too 🙂
After the first minute in the microwave the cake forms a dome and rises above the mug. It settles down once the cooking time is over.
I emptied it onto a plate and Cut into three pieces horizontally. The tiny pores explains how moist and airy the cake is. I spread some melted chocolate, topped some raspberries and added two scoops of ice cream on the side.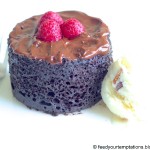 5 minute chocolate cake in a microwave
Ingredients
4

tablespoons

all purpose flour

4

tablespoons

sugar

2

tablespoons

cocoa powder

1/4

teaspoon

baking powder

1/8

teaspoon

salt

1

egg

3

tablespoons

milk

3

tablespoons

vegetable oil or melted butter

3

tablespoons

chocolate chips or bits

Optional(If you decide to skip this add 1 more tablespoon of sugar)

1/4

teaspoon

vanilla extract
For Topping: Chocolate ganache, melted chocolate, whipped cream, ice cream etc.
Instructions
Take a tall coffee mug and add the dry ingredients ( all purpose flour + sugar + cocoa powder + baking powder + salt) Mix well with a fork.

Add egg + vegetable oil + milk + vanilla extract and mix again with a fork until no lumps remain. Take care that the flour from the bottom of the cup mixes well too.

Heat this in the microwave for 2 1/2 minutes. If its not done, keep for additional 30 seconds. The top of the cake rises during the cooking process and then settles down when you open the microwave.

Take it out of the microwave, wait for two minutes, add your favorite topping or invert it into a plate, cut it horizontally into two to three pieces and add you favorite topping.
Recipe Notes
Adding chocolate chips or bits adds extra moistness. If you don't have chocolate chips, add chopped chocolate bars.
The key to a moist cake is the amount of time its kept in the microwave. It could vary anywhere from 2 minutes to 3 minutes depending on the microwave. (First time I made this cake I kept it for 3 minutes and the cake was dry. Since then I have been keeping it for 2 1/2 minutes and it comes out perfect.) So adjust the time, depending on the doneness.
This cake tastes as good as the cake baked in oven, i.e., if you have it within a short period of time. After few hours the cake tends to dry out. Tightly covering the cake with a cling wrap/plastic wrap to helps retain moistness.
You can mix the batter in a bowl and divide it into two smaller cups. Try to coat the inside of the cup with oil or butter so that its easier to clean up later.
Keeping a plate below the mug can catch any spills incase the cup size is small for the batter.
Recipe adapted from: Group recipes