The 5-minute chocolate cake in the microwave is a must-have recipe for midnight cravings or when you are in a hurry. It's irresistible and decadent. Mug cakes are awesome when you want to make cake in a gify or when you have that terrible craving.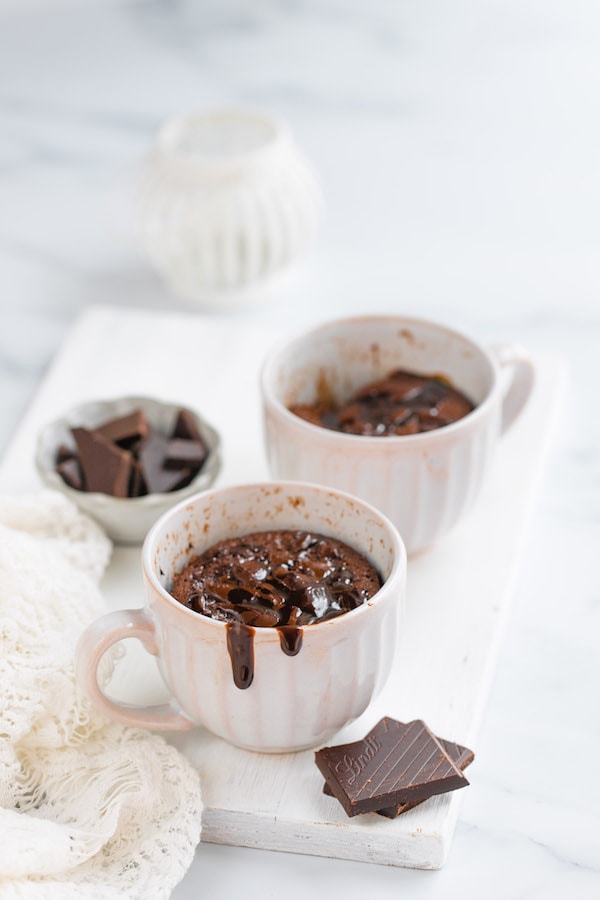 Isn't it amazing to have a chocolate cake in under five minutes?
For those moments when you want to have something indulgent and you don't have time or the patience to make it. And for the moments when you have a scoop of lonely ice cream and wish you could have something chocolaty.
This microwave chocolate cake in a mug is everything you can ask for when you are craving something sweet. Remember the 11 Pm cravings after a movie or during a movie. So look no further. Keep the quick chocolate cake recipe handy and make everyone happy including yourself.
Don't forget to top it with some more love like ice cream, chocolate sauce or salted caramel sauce.
If you are looking for a traditional oven-baked cake then definitely make this Chocolate Cake Recipe. It can be mixed in one bowl with a whisk and is good to bake with kids. Once you make it you will never go back to another chocolate cake. Also, I used the same Hershey's chocolate cake recipe to make Black Forest Cake.
Decorated with cherries and whipped cream, this Black Forest Cake is perfect for the holiday season and around Christmas. These are great recipes to add to your Christmas Recipe collection.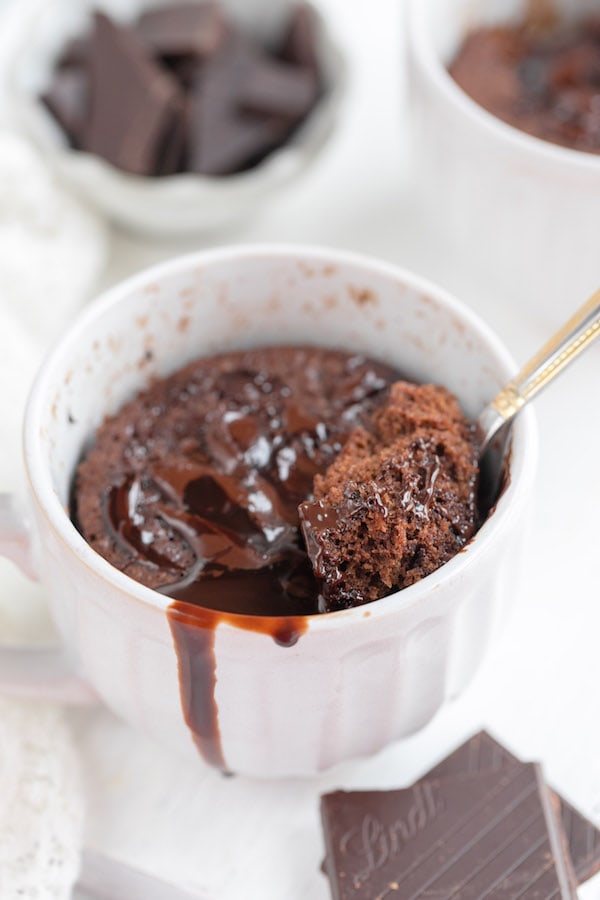 Even after stuffing myself with this, the thought of chocolate makes me drool. We are a family of chocolate lovers including my son.
I thought about this when Nivaan, my son saw the cake on the cover of the recipe book I was going through. His reaction "yummy, num num num". He kept saying that and started looking for it in the kitchen. He knows I normally have something around but that day I was out of luck.
That was when I thought,
"Can I bake a Cake in the Microwave?"
Turns out you could very well make a moist microwave chocolate cake in a mug.
Sometimes my little helper does the mixing and the stirring. These days when I tell him 'let's bake', he is all excited and is ready to do the mixing. Guess he is getting the baking bug too 🙂
For your information, after the first minute in the microwave, the cake forms a dome and rises above the mug. It settles down once the cooking time is over.
The tiny pores explain how moist and airy the cake is. I spread some melted chocolate, topped some raspberries and added two scoops of ice cream on the side.
P.S: This Weeks blogging tips
If you are in the world of blogging and food photography you must have heard of Brooke Lark. She is an inspiration and I love her work. She is offering a free 90-minute crash course on food photography.
P.s: This is not an affiliate or sponsored link.
Recipe and Pic updated: 15th December 2019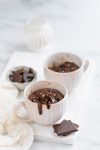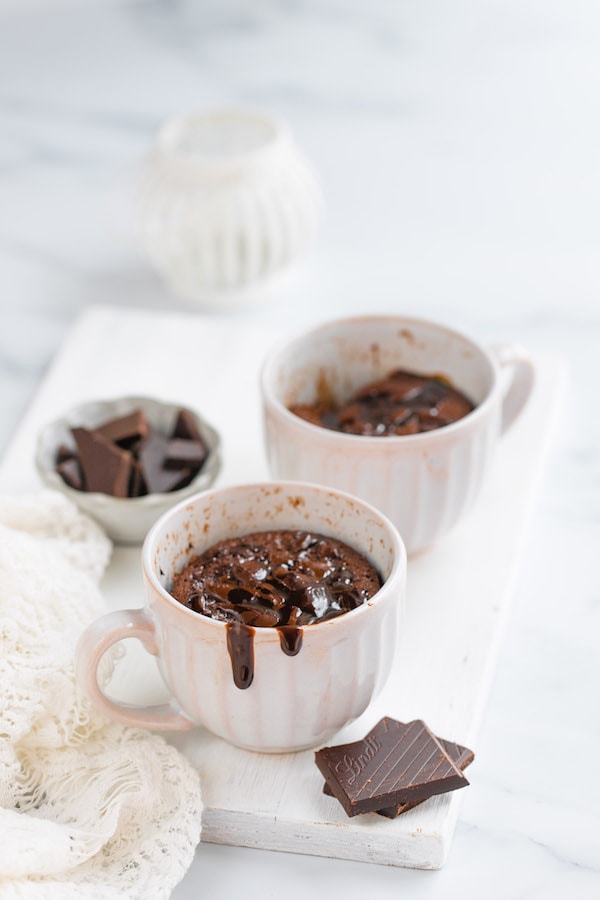 5-minute chocolate cake in a microwave
The 5-minute chocolate cake in the microwave is a must-have recipe for midnight cravings or when you are in a hurry. It's irresistible and decadent.
Keyword:
microwave cake in a mug, microwave chocolate cake
Ingredients
4

tablespoons

all purpose flour

4

tablespoons

sugar

2

tablespoons

cocoa powder

1/4

teaspoon

baking soda

1/8

teaspoon

salt

1

egg

3

tablespoons

milk

2

tablespoons

vegetable oil or melted butter

2

tablespoons

chocolate chips or chunks

1/2

teaspoon

vanilla extract
For Topping: Chocolate ganache, salted caramel sauce, melted chocolate, whipped cream, ice cream, etc.
Instructions
Take a tall coffee mug and add the dry ingredients ( all-purpose flour + sugar + cocoa powder + baking soda + salt) Mix well with a fork.

Add egg + vegetable oil + milk + vanilla extract and mix again with a fork until no lumps remain. Take care that the flour from the bottom of the cup mixes well too.

Heat this in the microwave for 2 minutes. If it's not done, keep for an additional 30 seconds. The top of the cake rises during the cooking process and then settles down when you open the microwave.

Take it out of the microwave, add your favorite topping or invert it onto a plate, cut it horizontally into two pieces and add your favorite topping.

Alternately, you can also use two medium cups. Mix in one cup or a bowl and divide it into two cups. Microwave for about 1 minute to 1 minute-15 seconds. You can also make it in a big cereal bowl.
Recipe Notes
Adding chocolate chips or bits adds extra moistness. If you don't have chocolate chips, add chopped chocolate chunks.
The key to a moist cake is the amount of time its kept in the microwave. It could vary anywhere from 2 minutes to 3 minutes depending on the microwave. (First time I made this cake I kept it for 3 minutes and the cake was dry. Since then I have been keeping it for 2 1/2 minutes and it comes out perfect. So adjust the time, depending on the doneness. 
This cake tastes as good as the cake baked in oven if you have it within a short period of time. After few hours the cake tends to dry out. Tightly covering the cake with a cling wrap/plastic wrap to helps retain moistness.
You can mix the batter in a bowl and divide it into two smaller cups. Try to coat the inside of the cup with oil or butter so that its easier to clean up later.
Keep a plate below the mug so that you can catch any spills incase the cup size is small for the batter.