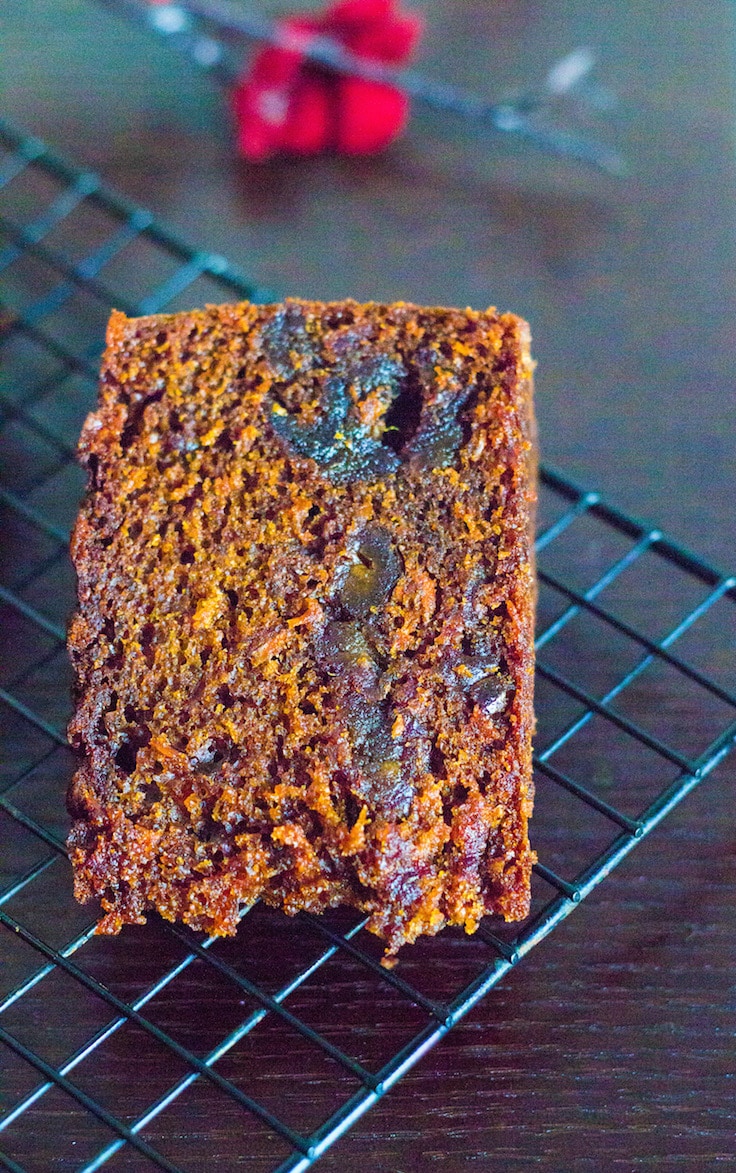 'Don't be surprised if your hear the sound of the stand mixer at 4 in the morning', I told Agnel the night before, to which he calmly asked 'why, what are you planning to do?'. 'I am going to bake a cake', I said. He very casually said, 'Ok'. He has known me for almost 10 years now and so not in his wildest dreams, could ever imagine that I could wake up that early.
Waking up early was one thing I could never do before coming to Dubai. Even 7.00 a.m seemed a little too early to me :), although staying awake till late in the night was much easier.
Its going to be year in Dubai and one thing I found dreading in the initial months was sending Nivaan to school. Here schools start early. My Son has to leave the house by 6.30 and you know what that means. Sleeping early and waking up early, which was both very difficult.
Having said that, I always wanted to wake up early especially since I started blogging because I was falling short of time. Now with a baby and a 6 year old I finally get time to work and have figured out that early in the morning is best time for a distraction free writing and baking. Seriously! with a baby around, I never thought that was possible for few more years and to answer your question, Yes! I baked this cake at 4.00 in the morning. 🙂
Hopefully like this dates and carrot cake, all my baking will take place in the early morning hours.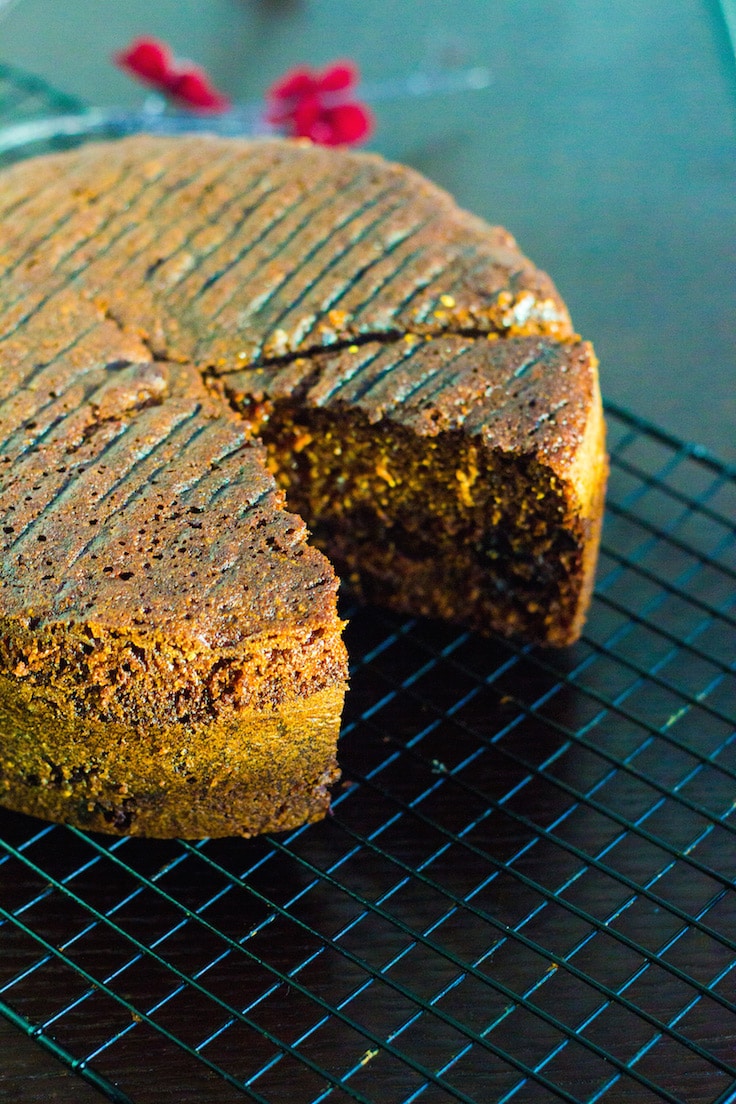 Like halloween is over, Thanksgiving will be over soon and then we will be into the Christmas season.
Oh! I am already missing Orlando since this was my favorite time of the year to be in that part of the world.
The aroma of cinnamon, trick or treat, pumpkins, halloween decorations, fall colors, winter boots, turkey, christmas decorations, the non-stop christmas carols, the stores packed with Christmas stuff are few of the things thats making me nostalgic.
Lifting my Christmas spirits up, I am sending your way this awesome Christmas cake recipe. Its slightly chewy because of the carrots, almost blackish because of the caramel and dates and a perfect celebration cake.
Your friends, family and coworkers will love it.
I first had this cake from a bakery in kerala, India. It was so irresistible that I almost ate the whole thing. Ever since, I have been wanting to recreate this cake and it has finally happened.
Another quick and easy dessert you can make is this no bake brownie balls /rum balls. (doesn't rum make all the dessert taste awesome. I am not a fan of alcohol in any other way 🙂 ) Since we are talking about rum, kerala plum cake, is another great thing to try. (Here the plums soaked in rum are used).
So let the countdown to Christmas begin…….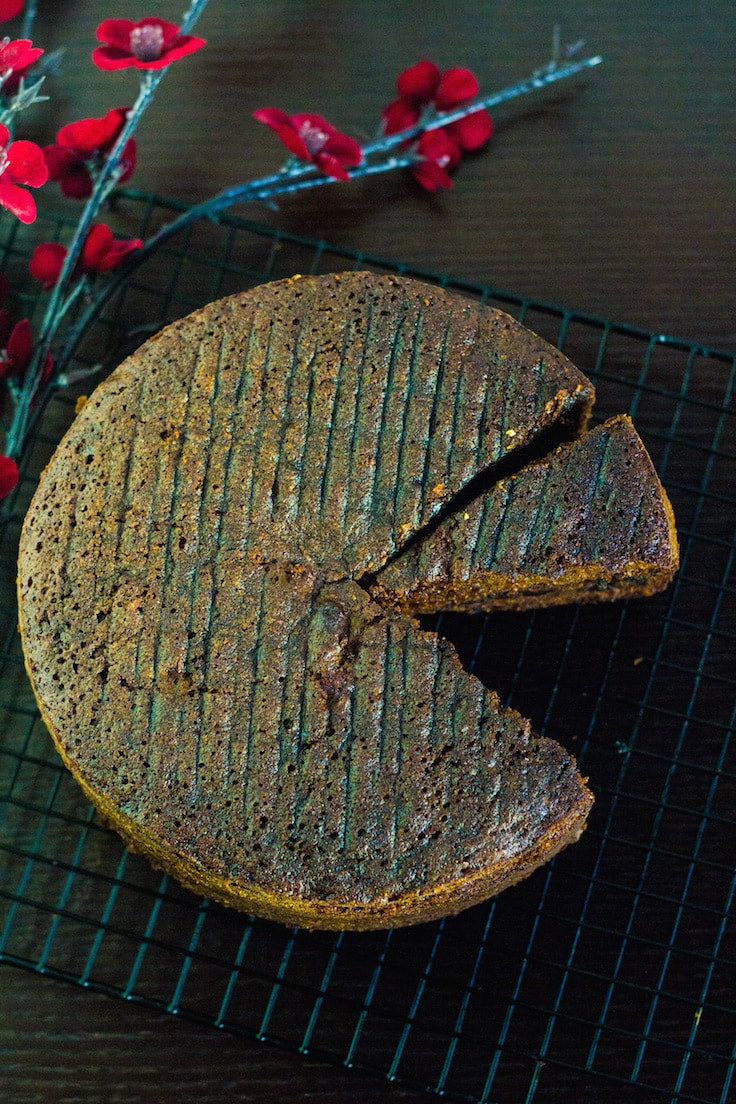 The lines on the cake is because I inverted the cake onto a wire rack.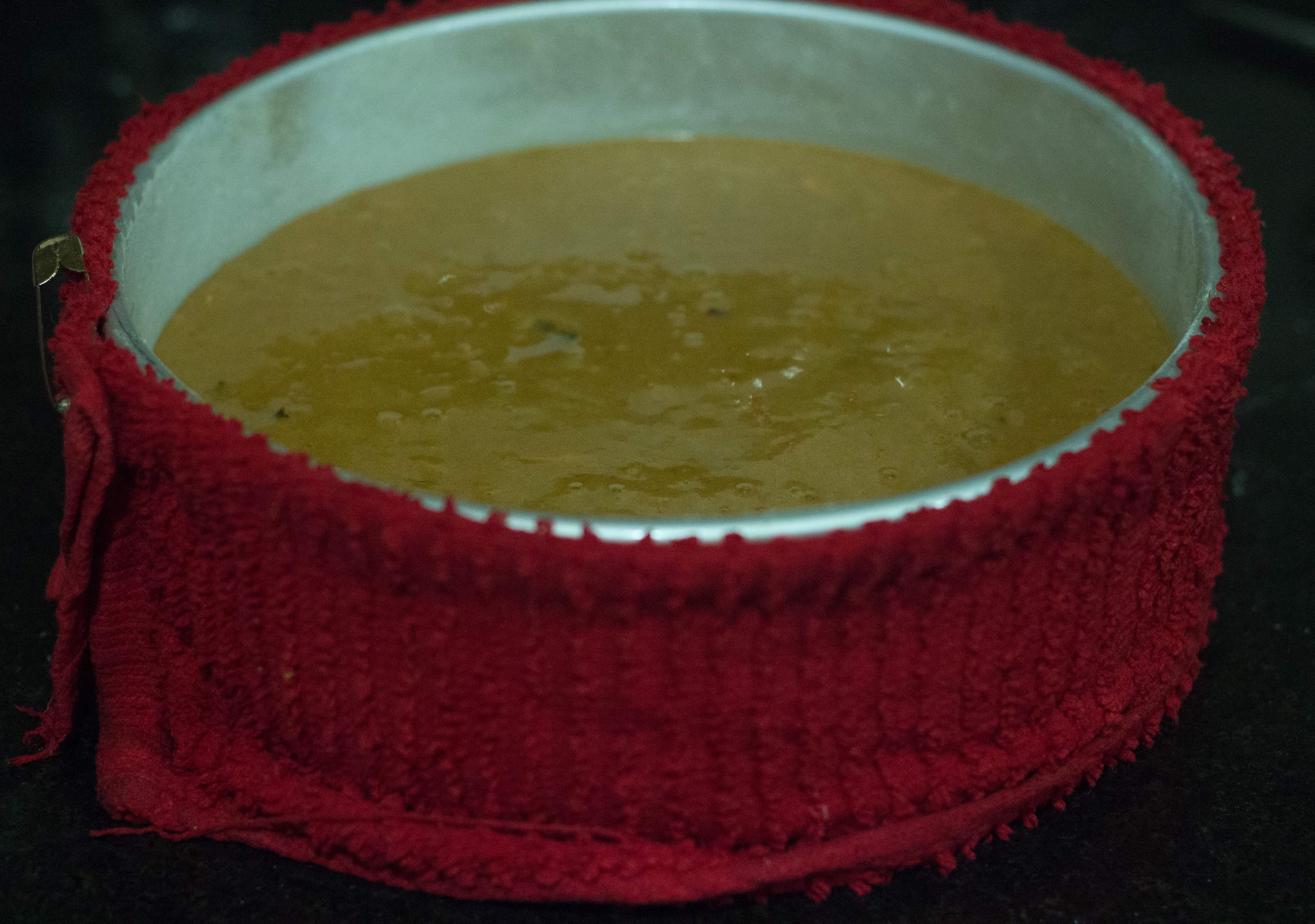 Here is a tip to get flat cakes. Cut a kitchen cloth(cotton cloth) into strip, matching the width of your pan. I folded and created a double layer. Dip it in water and slightly squeeze the extra water out. Just make sure that the water doesnt drip.
Wrap this around your cake pan and secure it with a safety pin. This method ensures that the cake bakes evenly and you are left with softer exterior and well done interior. ( You also get readymade wilton baking strips from craft stores like Joanns and Michaels)
The idea of using baking strips also comes handy when you are planning to frost and layer cakes since you have one less task of leveling the cakes.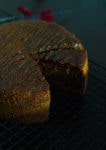 Carrot and Dates Cake
Ingredients
2

cups

240g All purpose Flour

1

and 1/2 teaspoon baking soda

1/2

teaspoon

salt

1

and 1/4 cup

300ml vegetable oil

1

and 1/4 cup

250g sugar

3

Eggs

1

teaspoon

vanilla extract

2

cups

carrots

grated

2

cups

dates

finely chopped

1/2

cup

chopped cashews

FOR CARAMEL

3/4

cup

sugar

1

cup

hot water
Instructions
TO PREPARE CARAMEL:

Add sugar and water to a saucepan, place it on medium high heat and bring it to boil. Keep swirling the pan in between.

The moment it starts to change color, turn the heat to low and keep swirling frequently, taking care that the caramel doesn't burn. (It takes only a few seconds for the caramel to change from perfect to burnt, so be careful). You are looking for a darker color because that is what makes the cake dark.

Keep it aside to cool. (Check notes if caramel thickens)

TO MAKE CAKE:

Preheat the oven to 160 Degrees Celsius/ 325 Degrees Fahrenheit. Line a 8*3 inch cake pan with parchment paper, coat with oil and dust with flour.

Whisk together flour + baking soda + salt and keep aside.

In another bowl mix eggs + sugar until you reach the consistency of mayonnaise.

To this add oil and beat well for additional 2-3 minutes.

Now add the cooled caramel and vanilla and mix well again

Add flour little at a time and mix only until incorporated.

Squeeze the carrots well with both your hands to remove as much water as possible. Add the carrot to dates and mix well. Sprinkle 2 tablespoons of flour over this and coat well. (This is important or the dates and carrots can sink to the bottom.

Add the carrots dates mix and fold it well into the batter.

Pour into the prepared cake pan, place in the center of the oven and bake for 1 hour and 40 minutes.

Refer the notes before you start baking.
Recipe Notes
If the caramel thickens add about 1/2 cup of warm water to the pan and let it simmer on low heat till the caramel melts.
This cake is baked at lower temperature (Very important) which ensures that the middle of the cake cooks evenly while the outside doesn't burn.
To get a flat cake and for even baking, cut double strips from a kitchen towel (make sure its cotton), dip it in water and squeeze the water just enough that the water doesn't drip. Secure this with a safety pin.
(If you are doing this for the 1st time, keep an eye)
(You also get wilton strips if you don't want to use homemade option)