These healthy breakfast bars are made of dates, nuts, dried apricots, chia, and flax seeds. Feel free to add what you like or whatever you have handy. It's an Absolutely guilt-free snack for adults and kids. Whether you are on the go or feel the need for sugar, this dry fruit energy bar recipe will come to your rescue. It is 100% gluten-free and vegetarian.

Life after a baby
Lately, I have been munching a lot, and with too much of a sweet tooth, I am constantly on the hunt for something sweet. My stomach has become an endless pithole. Constantly running around and raising two humans can definitely take a toll on you and especially if one of them is only 4 months old. In addition to this, there is also a constant reminder to shed those extra pregnancy pounds. The worst part is when people ask you if you are expecting again :). Even after telling them, 'Seriously folks, I just raised a human in here', they don't seem to understand. 'It took 9 months for that belly to come out and it's not going to go in that quickly', I tell them.
I keep reminding myself that I don't have to care about what others think, let me enjoy my baby before he grows up'. With exercise and diet, I have decided to let the weight sink in slowly but then I do question the amount of ghee/clarified butter we Indians eat during postpartum. I did have my share of pregnancy ladoos with clarified butter, sugar, and nuts. Butter is a serious culprit, I feel. Does the young generation really need all that fat coz we don't go through the physical exertion which our ancestors had to go through?.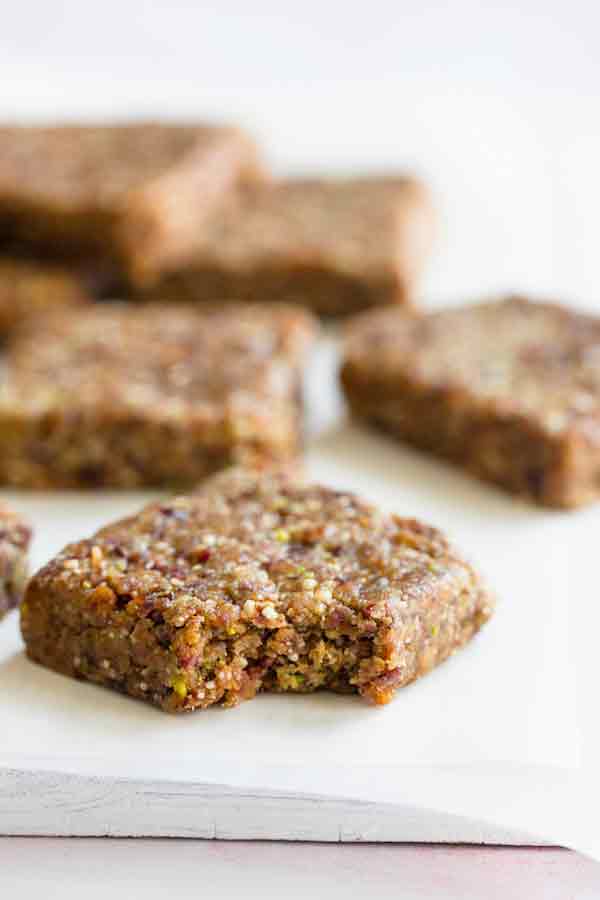 Since I was convinced that I don't need that extra fat, I went with a simple, NO BAKE, GUILT FREE, HEALTHY ENERGY BARS, or healthy breakfast bars. The best part is, it does taste like the store brought dry fruit barfi (An Indian sweet).
If you want to go with a simpler option you could try the dates and nuts energy ball.
Few of my other go-to healthy snacking option was sweet and spicy oven-roasted cashews and oven-roasted chickpeas.
I also enjoyed the Whole wheat Chocolate Banana Muffins with yogurt since it has less sugar compared to the other muffins.
Another excellent option I like to make for my kids is the Cinnamom banana fruit leather and strawberry leather. Kids adore it and the best part is that it is 100 % sugar. It is perfect for kids' lunch box ideas.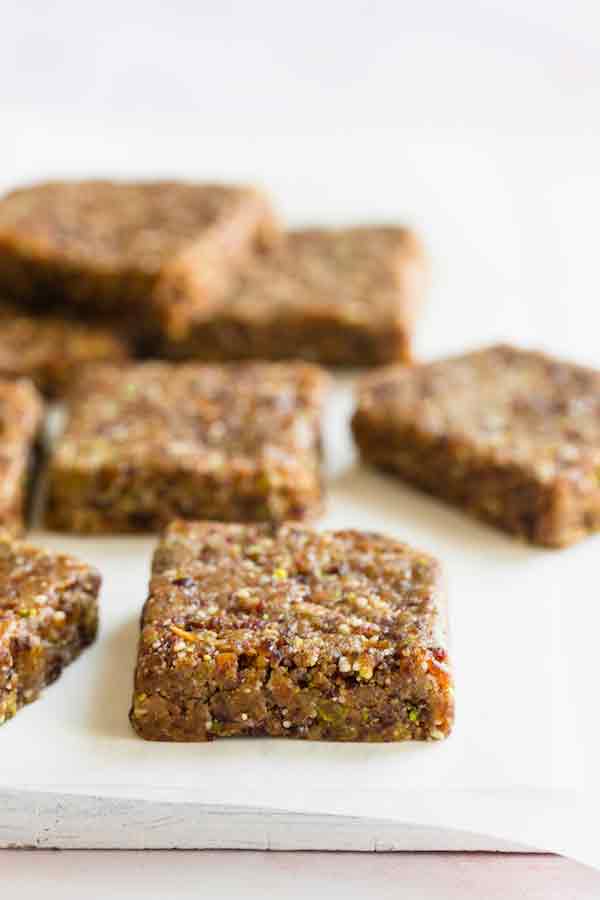 How to make breakfast bars from scratch?
Roast the nuts on low flame without oil. If using seeds, roast them separately and keep aside to cool completely.
Add the dates to a food processor followed by soft dried fruits like cranberries, apricots, or raisins. You could also use fig or similar fruits. Add the nuts and seeds and process till it comes together. When you take a portion and pinch, it should go together.
Line a square or a rectangular glass tray or baking tray with parchment paper. Transfer the mixture and press the mixture firmly and evenly.
Cover and refrigerate for an hour. After an hour, grease a knife with oil and cut it into square or rectangle.
How to store homemade energy bars?
Store these bars in the refrigerator. It stays well outside for a day or two. Place a parchment paper between the bars so that they don't stick together.
Alternately you can also wrap individual portions between parchment paper and store. That makes it easy to grab and go when you are in a hurry.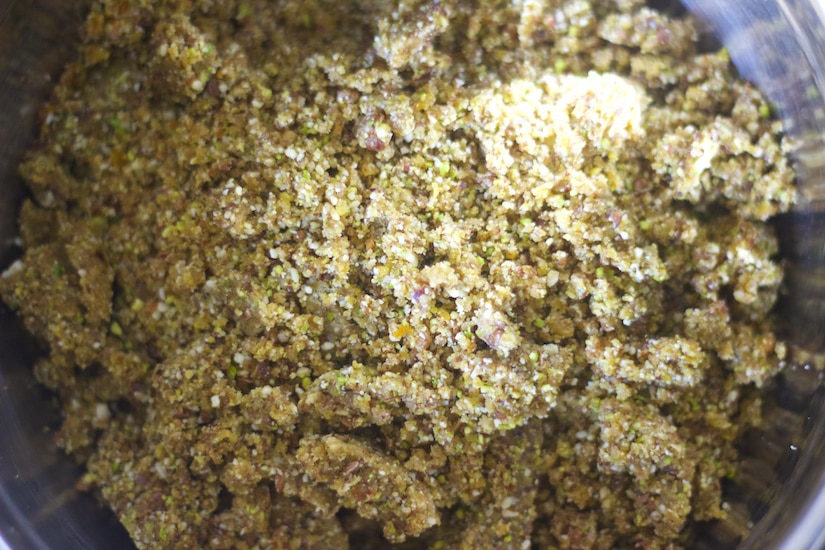 Energy balls
Making bars saves a lot of time than individual rolling balls. Having said that, you can also make it into balls if you like.
The dried fruit bars make a healthy kids snack, grab and go breakfast, kids lunch box idea (do check with the school if you can send nuts in lunch boxes).
Can I freeze breakfast bars?
Although it stays good in the refrigerator for about 2 weeks, you can also freeze them for added freshness.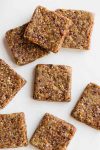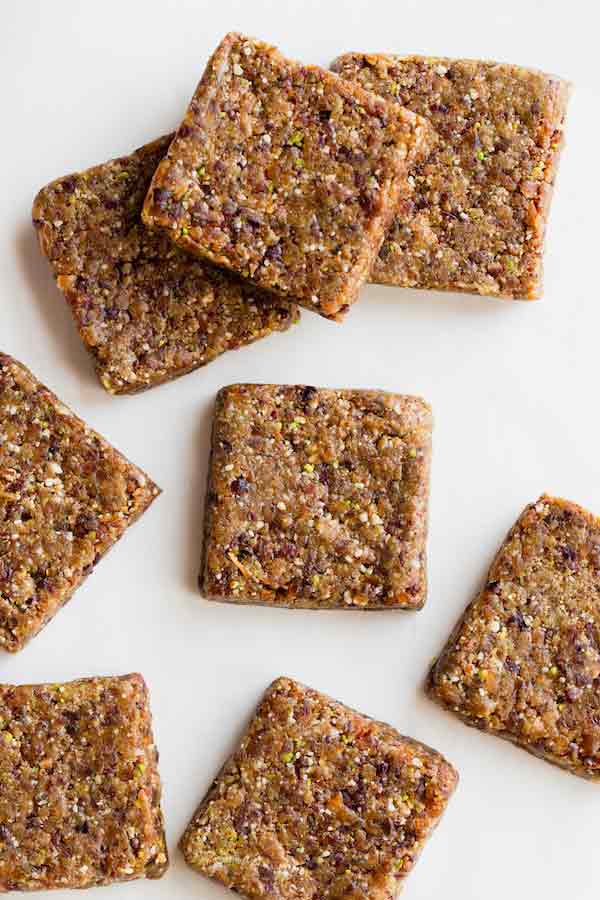 Healthy breakfast bars | Dried fruit energy bar recipe
No bake, No sugar added Energy Bars
Course:
Breakfast, Healthy
Keyword:
breakfast bar recipe, dried fruit bars, fruitnut bar, healthy breakfast bars
Ingredients
20

Dates

chopped

1

cup

apricots

chopped

1

cup

walnuts

1

cup

almonds

1

cup

pistachios

1/2

cup

cashews

1/2

cup

flax seeds
Instructions
Lightly toast walnuts, almonds, pistachios, cashews and flax seeds separately without oil. Transfer it onto a plate and let it cool.

In a food processor or a mixer, add dates + apricots + nuts and seeds and process till all the nuts are coarsely grounds and everything comes together. (If you take the mixture in your hands and press, it should hold its shape. If not, grind again or add some more dates, apricot or raisins.)

Transfer into a rectangular tray lined with parchment paper or plastic wrap and press the mixture firmly and evenly. You could also grease the pan with clarified butter.

Cover and refrigerate for an hour. Lightly grease the edge of a knife and cut into squares or bars. Store in the refrigerator between parchment paper strips.
Recipe Notes
If you don't have any of the nuts, substitute that with the ones you have.
For dates or apricots, you can substitute with raisins, cranberries, figs or any soft dry fruits.
To get a smooth edge while cutting, grease the knife with oil or clarified butter.