This spicy chicken will leave you wanting for more and the pepper, and the other spices will keep you warm during the cold. If you cannot handle spices, substitute the chilly powder with paprika|Kashmiri chilly powder, which will add flavor without the heat.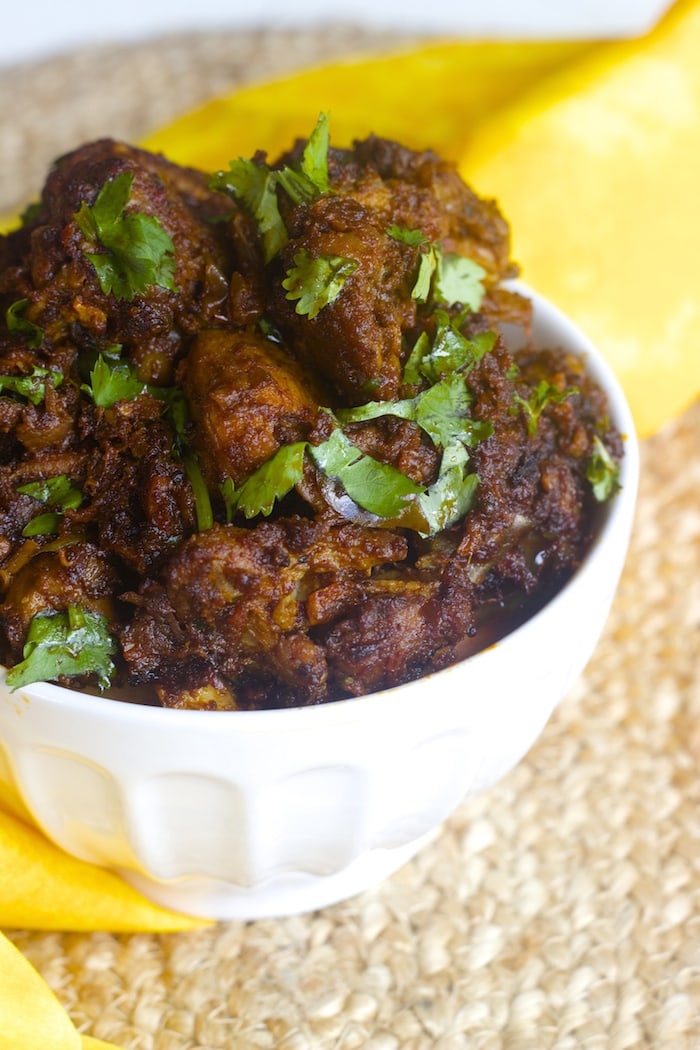 Talking about spicy, recently we went to a local restaurant, up in the mountains in Tennessee. We ordered the hot bbq wings. I have had hot wings at different places, and their hot version always seemed like the mild ones.
Although I can tolerate spicy food, this one was different. In this case, I couldn't even take the 1st bite. The spice and vinegar sent a strong current down my nose, kind of like wasabi and it took me a while to actually start eating. But let me tell you, that was the best chicken wings I ever had in my life. The flavor was smokey and amazing, and with every bite, I started sweating, and it felt like smoke was coming out of my ears and head like you see in the cartoons.
I will be craving for it for a long time till I find a similar flavor somewhere.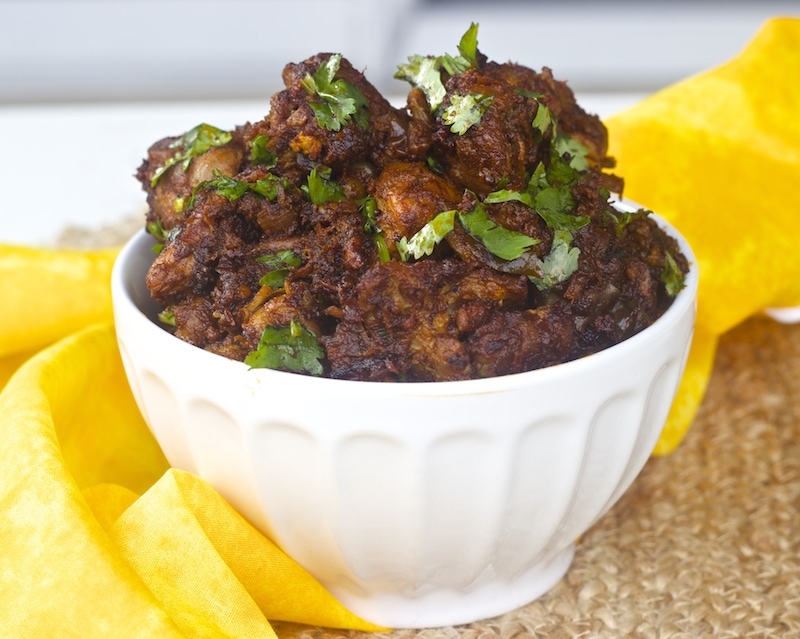 Now, let's get back to the Dry Chicken Roast.
Sauteing the chicken on medium to high heat during the last five minutes will ensure a dark and fried coating. The thick gravy coats the chicken and that is what makes this curry irresistible.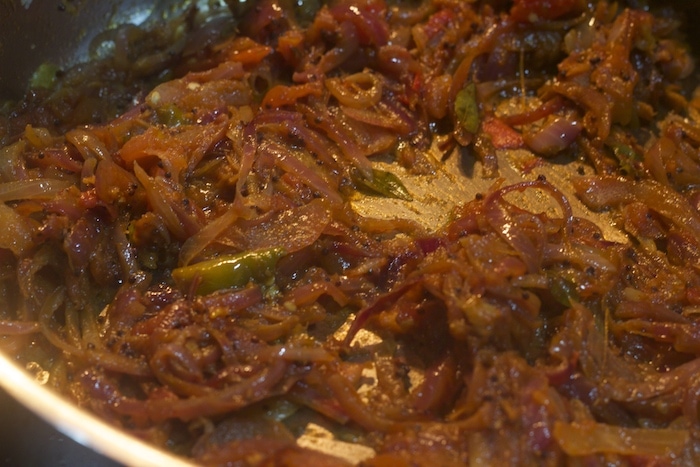 The basis of any Indian cooking or curry is that, you have to roast the onion till moisture evaporates and till you see oil.
When you see the oil, add the spices and stir for another minute. This method helps to get rid of the raw taste of the spices and enhances its flavor.
If adding tomatoes, cook it till it softens and till you see a layer of oil again. At this point, you can mix your star ingredient.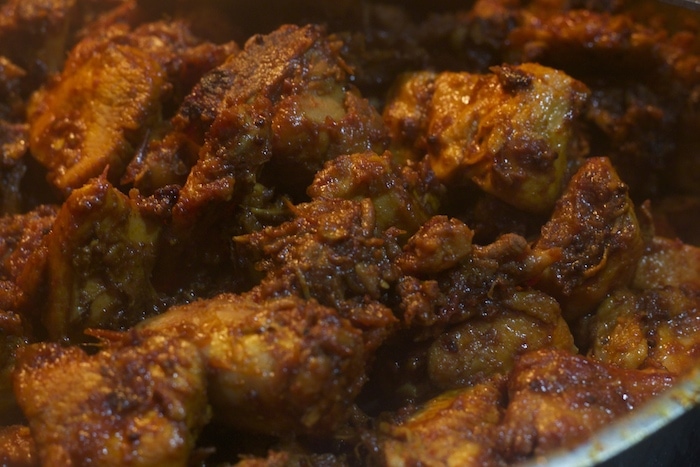 Also, if you like the color of chicken to be red, sprinkle a teaspoon of paprika/Kashmiri chilly powder in the end and mix well. It gives you red color without adding the extra heat.
Don't you agree that red color makes this more appetizing?
Finally, serve this with Roti, homemade Garlic Naan, store-bought naan, rice or bread.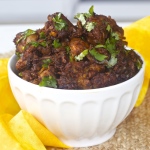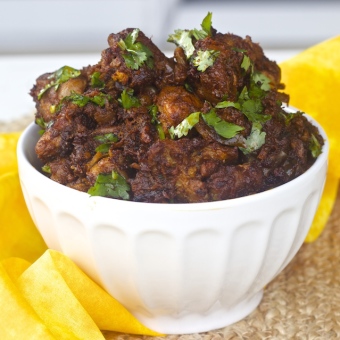 Dry Chicken Roast
Ingredients
2.2

pound

1 kg chicken, cut into 2-inch pieces

3

tablespoons

oil

1

teaspoon

mustard seeds

2

green chilies

slit

2

sprig curry leaves

1

tablespoon

crushed ginger/ginger paste

2

medium onions

2 cups finely sliced

1

small tomato

1/2 cup finely chopped
MARINADE
1/2

teaspoon

turmeric powder

1

teaspoon

chilly powder | paprika

1

teaspoon

oil

1

teaspoon

salt
SPICES (In a bowl)
2

teaspoons

chilly powder | paprika | Kashmiri chilly powder

1

teaspoon

garam masala

2

teaspoons

coriander powder

1

teaspoon

pepper powder

finely chopped cilantro for garnish
Instructions
Mix the marinade to the chicken and let it sit for about 30 minutes.

Add oil in a pan and place over medium-high heat. Add the mustard seeds and once it crackles, add green chilies + curry leaves + crushed ginger + onions and turn the heat to low till the onions are translucent.

Sprinkle the spices and stir well for about a minute.

Add tomatoes, saute and then cover it till the tomato softens and you see a layer of oil on top.

Put the marinated chicken pieces and turn the heat to high for 5 minutes till the water evaporates. Once the water evaporates, cover the chicken and let it cook for about 10 minutes.

Open the pan and roast the chicken on medium-high heat, stirring regularly and making sure that the chicken doesn't get burnt. This gives a nice coating to the chicken and gets rid of any remaining gravy.
Recipe Notes
Using a wide pan (preferably non-stick) will roast the chicken uniformly. For more reddish color, sprinkle an additional teaspoon of paprika in the end and mix well.