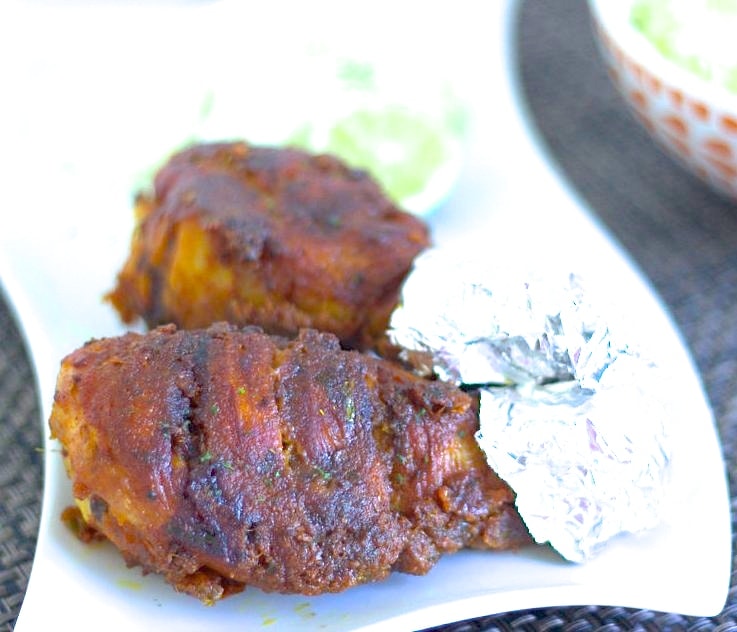 The first time I had this chicken was five years ago and I cannot tell you the overeating I did. People who know me well also know that I don't always eat like a bird, if I really like something then my appetite can definitely go up :). This chicken gets its flavor from the fresh ginger, garlic and the curry leaves, and the crispy coating gave it an extra taste boost. My taste buds have good memory and when I taste something amazing it makes me want to recreate it. And so here it is…
Its perfect to be served like an appetizer, use smaller pieces so that it cooks faster. You can also serve it as a side with rice and curry.
Fresh herbs from my garden. I need not tell you the difference between fresh  herbs from the garden and store-bought. If you don't know the difference and you devour freshness I say you should try it. The aroma of the fresh mint leaves after you pluck it stays in your fingers like a perfume. Having said that – growing herbs is easy, especially mint. Its grows faster and as you keep plucking the leaves, it  keeps growing.
Now if you are thinking about how to plant these, then next time you get mint leaves from the store, remove the leaves and reserve the stem. Trim off the edges a little and insert it in the soil. Keep watering in between. Little bit of morning sun and enough shade is what you need to see it flourish.
This is how the chicken looks after marinating it with spices, corn starch and oil.
Shallow fry the chicken as per directions.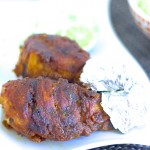 Crispy chicken shallow fried with fresh herbs
Marination time: 30 minutes
Ingredients
4

chicken drumsticks

or any skinless bone-in pieces

2

tablespoon

ginger garlic paste

1

green chilly

4-5

mint leaves

10

curry leaves

can be substituted with half bunch of coriander leaves

1

teaspoon

chilly powder

1

teaspoon

paprika

I add it for color

1/2

teaspoon

turmeric powder

1

teaspoon

garam masala / all spice mix

Garam masala recipe

1 1/2

teaspoon

salt or to taste

1/2

teaspoon

pepper powder

2

tablespoons

corn flour/corn starch

1

tablespoon

oil for marinade

oil for shallow frying
Instructions
Please read the notes before you start making.

Grind green chilly + mint + curry leaves into a paste. Use fresh ginger and garlic if you don't have paste.

If using bigger pieces, cut slits on the chicken, marinate with all the spices and the ground mixture except corn flour and oil. Massage all the spices into the chicken well. Let it marinate in the refrigerator for 30 minutes to an hour.

Now add corn flour, mix it well into the chicken pieces to coat, add 1 tablespoon of oil and mix again.

Heat oil in a shallow frying pan to medium high and add the chicken pieces. After 5-8 minutes turn the chicken. It should have dark brown crisp coating on one side and the water should evaporate.

After turning the chicken over, let it cook for additional 5 minutes. After this turn the heat to low, cover the pan with the lid and let the chicken cook for additional 15 minutes.

At the end of 15 minutes, once the chicken is cooked, turn the heat to high and fry the chicken on both sides for added crispiness.

Drain on paper towel.
Recipe Notes
The key to this recipe is the corn starch which gives the crispiness. Another important thing is to keep the heat on medium high during the initial stage of cooking, or it might convert to chicken curry.
Depending on what chicken piece you are using, cooking time may vary. I have seen that the chicken drumsticks/legs are the ones which takes longer to cook.
Try to use small pieces with bones because this keeps it moist and more flavorful and makes the cooking process way easier.
The amazing flavor of this fry comes from the ground herbs, so please don't skip that stage. Also if you use fresh ginger and garlic it will make a wonderful difference.