This Blueberry Panna cotta with the added goodness of blueberry syrup is worth every spoon. In short, a mildly sweet and creamy panna cotta is perfect if you want to make dessert for two or a crowd.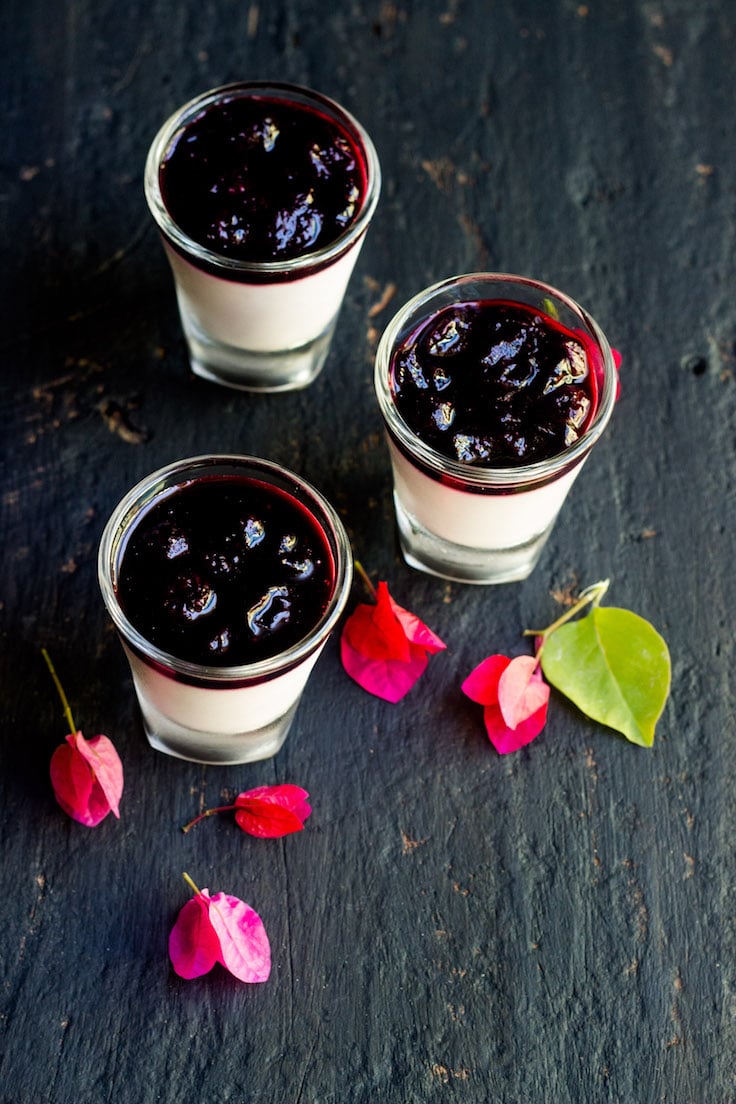 A very happy and prosperous new year to you.
So much of preparations for December and feels like it has all passed so soon. Time to get back into the routine and leave the festivities behind and while I was feeling a tad bit sad that it's over it just struck me that Valentine's Day is not very far away.
It is something to look forward too for someone like me who always wants an excuse to make desserts. If you love blueberries, then now is the perfect time to try out one of the blueberry recipes.
If you like blueberries then definitely try the best blueberry yogurt muffin recipe or the blueberry lemonade.
Mini desserts for a crowd
Like I have mentioned before, this blueberry pannacotta recipe is ideal if you want to make dessert for a crowd.
Additionally, desserts like pot de creme and no-bake Tiramisu are few of the desserts that can be made ahead.
The best way is to set it in mini dessert cups or clear transparent disposable cups. Individual portions work better if you have quite a group to entertain or if you don't want to spend more time serving desserts later.
Although I talk about entertaining, I must say that menu planning doesn't come quickly to me. Truth be told, there are anxious moments, and I prefer to have at least two weeks on hand to plan, shop and organize so that I don't get stressed and things are ready before the guests arrive.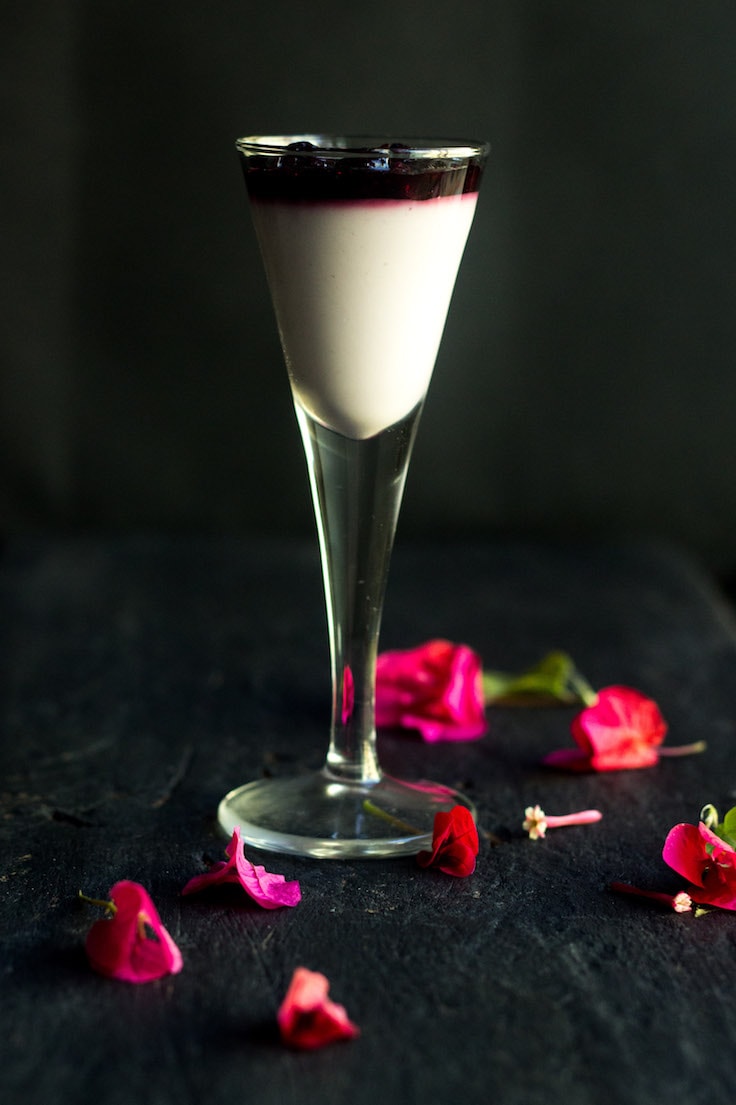 Easy appetizers for a crowd
I must say, appetizers take more time and its good to make and freeze beforehand. Moreover, if you are planning to bake something like the crispy oven baked buffalo wings you can make the sauce ahead of time.
The crispy oven baked wings are also great for entertaining and for the holiday season. Here is a list of easy appetizers to choose from.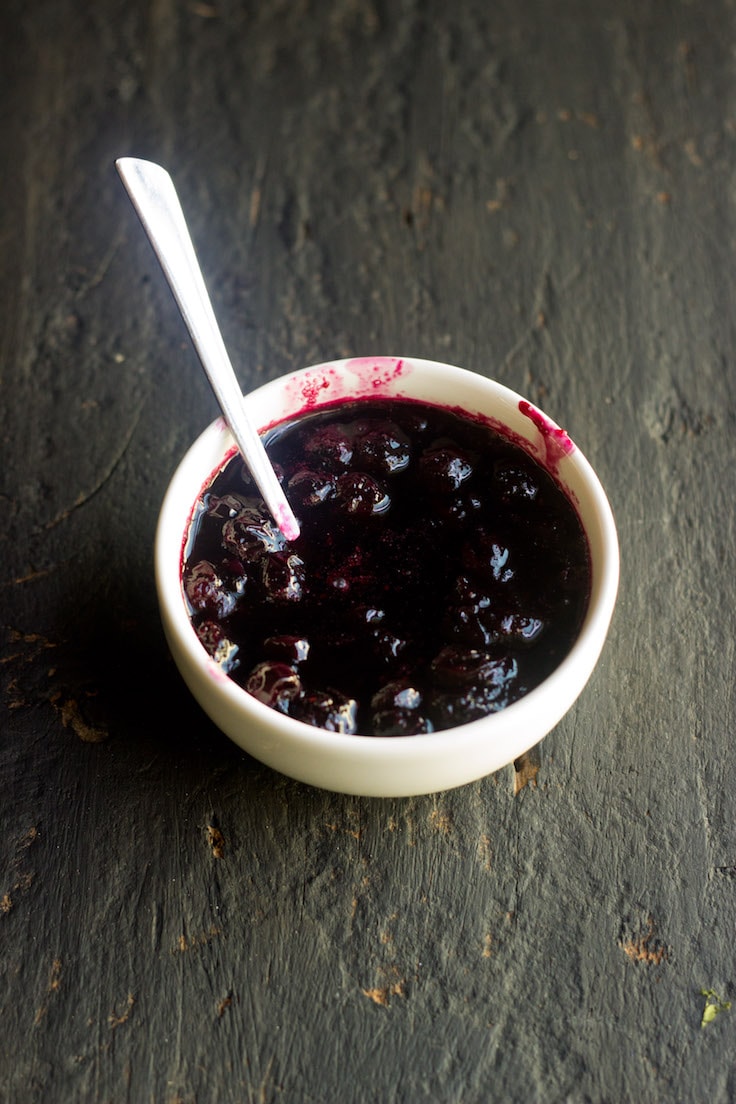 Moreover, this berry coulis or blueberry sauce recipe is excellent as a topping on different desserts, pancakes, and ice-cream, especially for the blueberry pannacotta recipes.
There is no doubt that after trying out the panna cotta with blueberry coulis, you will forget about other blueberry recipes.
Ingredients:
The blueberry panna cotta ingredients are quite simple and readily available.
All you need is blueberry, sugar, heavy cream and gelatin.
If you are a vegetarian you can use agar-agar (also called china grass) in some parts of the world.
Blueberries can be substituted for other berries or fruits like mangoes.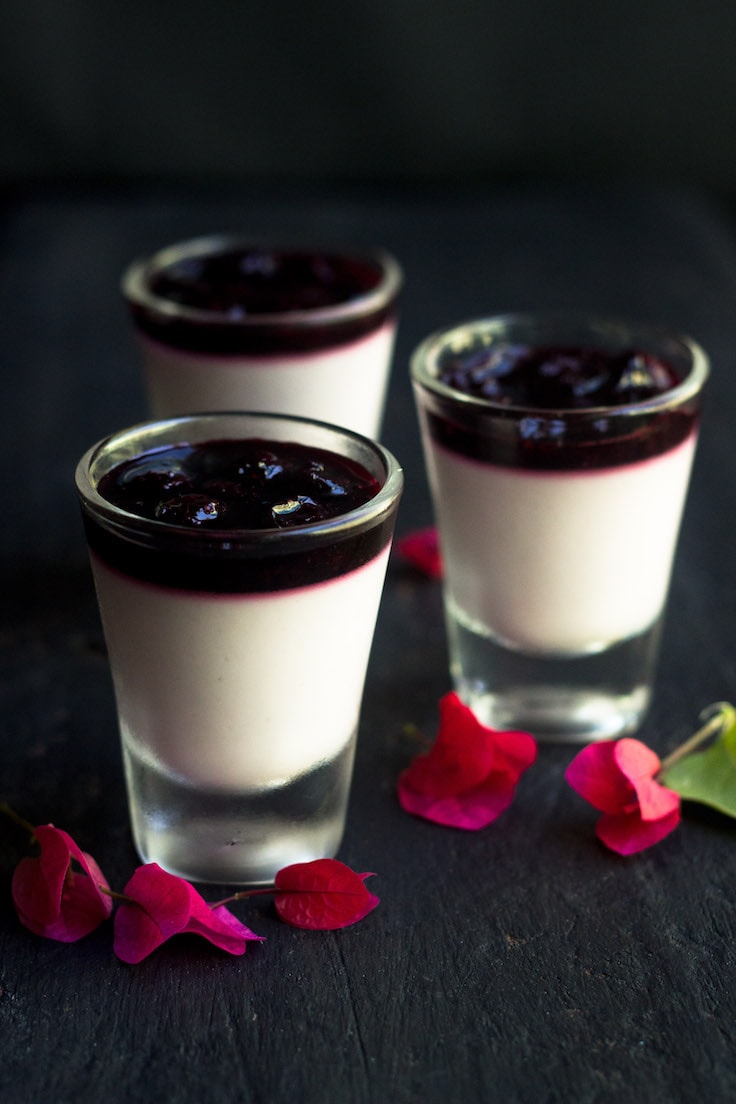 TIT-BITS OF BLOGGING:
SEO (Search Engine Optimization) is one of the key aspects of blogging. Organic traffic is so much more reliable than the viral traffic you get once in a while.
Seoptimer is a free website review and SEO audit tool. So check your site's performance now.
Disclaimer: Technology changes every day, and although this is important now, it may change in the future. So do your research before you decide to sign in.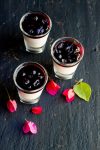 Blueberry Panna cotta
Ingredients
2

cups

(480ml) Heavy cream

2 and 1/2

teaspoons

(10g) (1 envelope) gelatin

(vegetarian substitute (agar-agar))

1/3

cup

(70g) sugar

1/4

cup

(60ml) cold water

1

teaspoon

vanilla extract

1/2

cup

(120ml) blueberry syrup

(recipe follows)

For Blueberry Coulis

2

cups

blueberries

1/2

cup

(120ml) water

1/2

cup

(100g) sugar
Instructions
Dissolve gelatin in cold water.

Add blueberries + water + sugar in a saucepan. Let it simmer for 10 minutes until it slightly thickens. Strain the syrup through a sieve. Reserve the blueberries for toppings.

Meanwhile, add heavy cream + sugar to a saucepan and bring it to a simmer. (Do not let it boil). Turn off the heat and add vanilla and gelatin. Mix until gelatin dissolves.

Strain the mixture through a sieve to get rid of any undissolved gelatin. Add 1/2 cup of blueberry syrup and mix well.

Pour into 8-10 mini dessert cups leaving at least 1/2 an inch on the top. Let it sit on the kitchen counter to cool completely, about 20 minutes.

Refrigerate for an hour or two for it to set well. After an hour top the dessert cups with remaining syrup and refrigerate again. (You can add only the syrup or a mix of reserved blueberries along with syrup).
Recipe Notes
If gelatin doesn't dissolve place it back on the stove for a minute more, stirring continuously.
If using agar-agar (also called china grass in some parts of the world), check the liquid ratio before using.
If you want to make plain panna cotta, use 2 and 1/2 cups heavy cream with 10g gelatin.
Panna cotta is mildly sweet. The toppings compliments the mild sweetness.