The Sevai kheer or vermicelli kheer is super easy and delicious to make.  If you ever want to come up with a quick dessert with a traditional touch, then check out how to make this Seviyan kheer.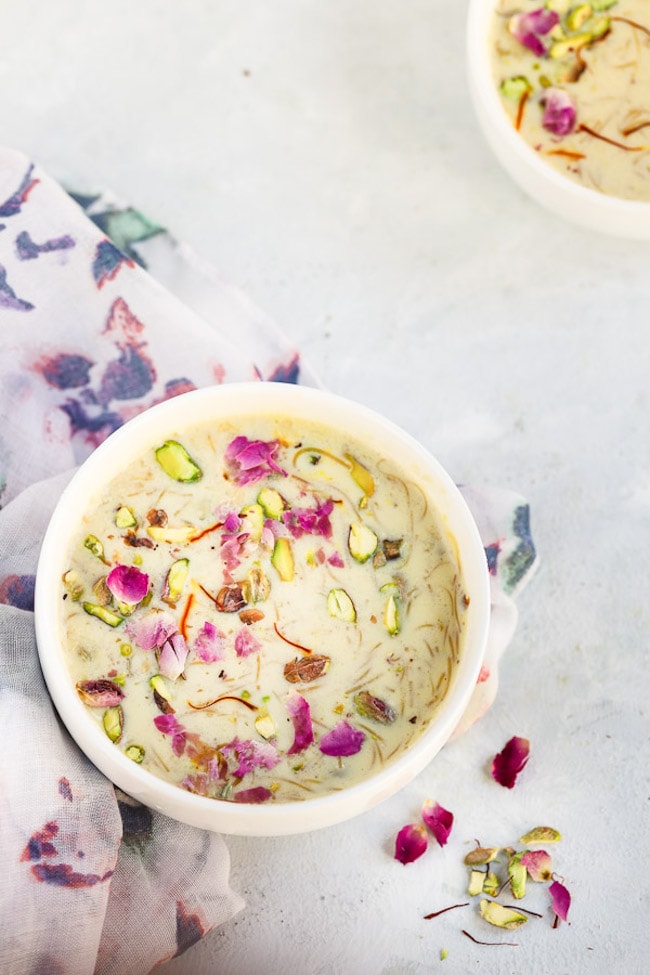 We Indians have a tradition of welcoming new things into the family with sweets, whether it is to celebrate a new car or something even smaller.
Furthermore, we consider a few ingredients auspicious, like saffron, some spices, and flowers. Similarly, dry fruits also form an integral part of our celebration.
Traditional spices used for auspicious occasions
Talking about saffron, it's one of the best garnishes to have when you are making desserts, rice or meat. It adds a beautiful color and a mild flavor. A common myth is that saffron is very expensive. In a way, it is true if you are thinking about its weight. But the greater truth is 1 or 2 g of Saffron
will go on for a year or two depending on your usage and is about $13.
Moreover, saffron is commonly used in middle eastern cuisine. So if you ever visit Dubai, you will also get the premium quality saffron in the souq and other places for $4(2g).
The Deira souq is one of my favorite places to shop for Saffron, spices and dry fruits. Moreover, I love the traditional and old feel it has.
I also picked up the Dried Rose Bud
from there. It is particularly used in desserts and tea for imparting both fragrance and flavor. Likewise, Green Cardamom
is also used for similar reasons.
Now if you are wondering what the celebration is about, it's my new camera, my dear readers. I upgraded my camera to Canon 6D Mark II which is a full-frame camera with lots of amazing features.
Since my camera is my most prized possession, I wanted the 1st image taken to be of something which is quite close to my heart: food.
If you want to know more about the camera, please find it below the recipe, under tidbits of blogging.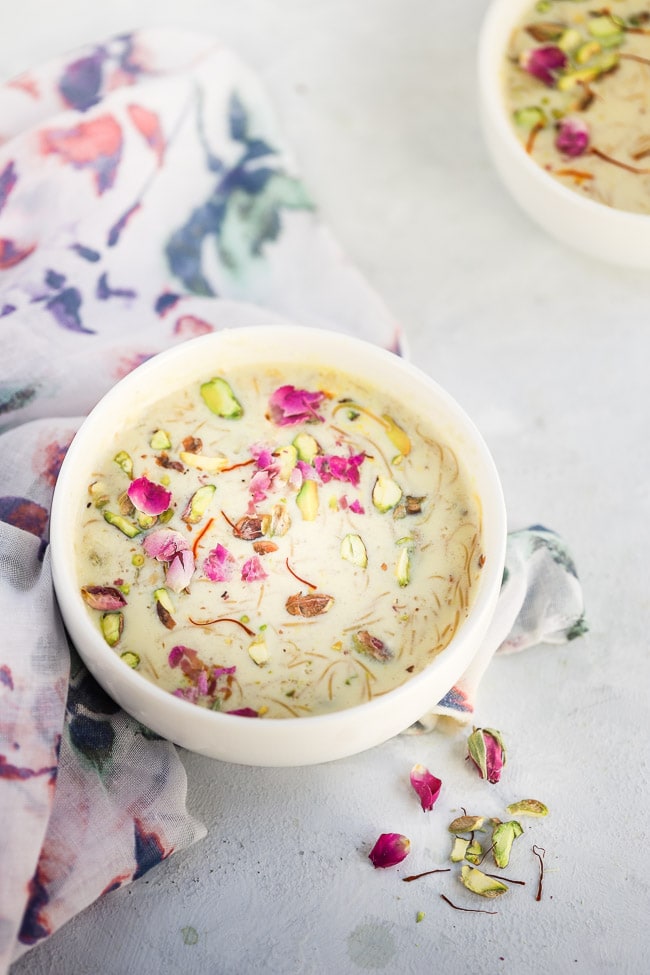 How to make the perfect Vermicelli Kheer?
Some things are so easy to make, but yet we complicate it. Vermicelli kheer or seviyan recipe is one of those desserts which are quite easy to make. Check out the seviyan kheer recipe for more details.
One thing to remember is that consistency is essential in this vermicelli kheer recipe. It should neither be too thick nor too watery.
I know so many of them who eyeball their ingredients when making something. It's great if you are a pro and the dish turns out the same every time.
Unfortunately, in most cases, it doesn't, and a 15-minute dessert takes double the time because you are readjusting the ingredients, milk in this case.
Serving:
Vermicelli kheer can be served and enjoyed in many ways. You can serve it either hot, warm or even chilled.
Any leftover kheer should be refrigerated.
The trick to achieving perfect consistency every time.
The use of measurement cups has helped me with maintaining the consistency of the dessert. I know the basic ratios for daal/lentils, rice, dosa batter with rice flour, roti dough, vermicelli kheer and rice pudding which makes my life so much easier.
It is essential to keep a check on quantity per servings so that you do not end up having too much food or too little food. Therefore, it is best to maintain a kitchen diary. 🙂
Self-improvement.
I have understood that, if you want to juggle with a lot of things, planning and efficiency help, especially if you are a mom too.
If you are thinking on the same terms,  it won't happen overnight, but slowly and steadily you will be able to do it.
Remember!
'Even if you stumble you are still moving forward.'
—-Victor Kiam
P.S: Check this Weeks blogging tips below the recipe: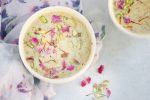 Vermicelli Kheer
The Sevai kheer, also known as vermicelli kheer is a variety of Indian pudding which is super easy and delicious. If you ever want to come up with a quick dessert with a traditional touch, then this is it.
Ingredients
1/2

cup

Vermicelli

(Please refer notes)

2

tablespoons

ghee | Clarified butter

3

cups

Milk

1/2

cup

Sugar

4

cardamoms

pinch

saffron

FOR GARNISH

1/4

cup

pistachios, sliced almonds or cashews

dried rose petals

(Optional)
Instructions
Add ghee or clarified butter to a heavy bottom pan and place on medium heat.

Break the vermicelli into small pieces and measure. Put it in the pan and roast it for about a minute or until it gets roasted and is light brown. (If needed turn the heat to low so that the vermicelli doesn't burn.

Pour warm milk and give it a mix. Now add sugar + powdered cardamom + saffron. Once the liquid simmers, turn the heat to medium-low and let it simmer till the vermicelli cooks and the milk thickens which takes about 15-20 minutes.

Garnish with coarsely chopped pistachios. If using almonds or cashews, lightly roast it ghee before adding it to the kheer.
Recipe Notes
I used the thicker kind for this recipe. If using the finer variety, use 3/4 cup of vermicelli.
Use whole milk or 2 % milk for this recipe. Try not to use low-fat milk.

Blogging Resources:
Let's talk about the camera:
In my earlier post, I mentioned the major difference between the two types of DSLR.
The very first camera I bought was a Canon EOS Rebel T3i
, about 5 years ago. Initially, this camera worked great for me and carried me through my food photography journey.
However, Canon has discontinued this model but you can look for any entry-level DSLRs. An articulated LCD, (an LCD which can be rotated) is one of the features that come in handy.
The lens was what made the difference. The kit lens that came with the camera was of no use for food photography. So I purchased a Canon EF 50mm f/1.8 STM Lens
for $100. The cheaper but the best lens. If you want to get into food photography, improve your work then you should get this lens, as it can be used throughout your photography journey.
Now, I have switched to a Canon EOS 6D Mark II Digital SLR
and a Canon EF 100mm f/2.8L IS USM Macro Lens
(These come in two options, so remember to check out the difference, but the one with IS is superior quality and is more expensive). The 100 mm is the next best lens to have. I am still figuring out a lot of stuff.
I will be back with new information soon.
For any further questions, please leave a comment. You can also hit the contact button to get in touch with me.
Don't forget to subscribe to get some bonus insights.