The idli recipe yields pillowy soft idlis. The batter is super easy to make. Moreover, it's gluten-free and super healthy because of the fermentation process.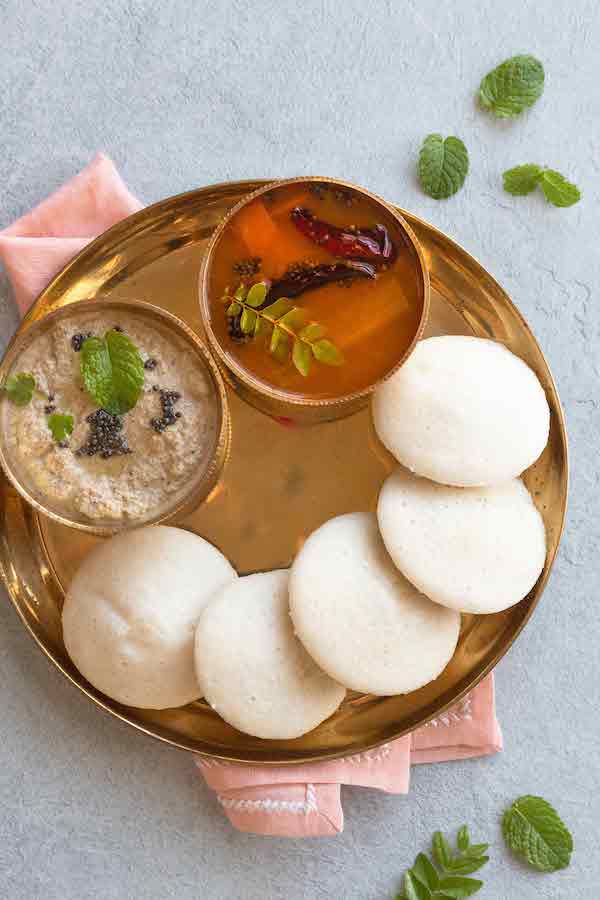 Any Idli lovers out here? Well then, your wait is over.
We are sending a super soft idli recipe your way.
No more depending on your south Indian friends to invite you over for idlis or dosas. Now make this gluten-free breakfast whenever you want and check out the secret ingredient, which makes the idlis even softer.
It is a recipe that was long overdue, and this is a recipe that I get asked a lot. I find idlis to be perfect breakfast whenever you have guests visiting or when you want to invite someone over without having to cook too much.
A similar recipe you may like: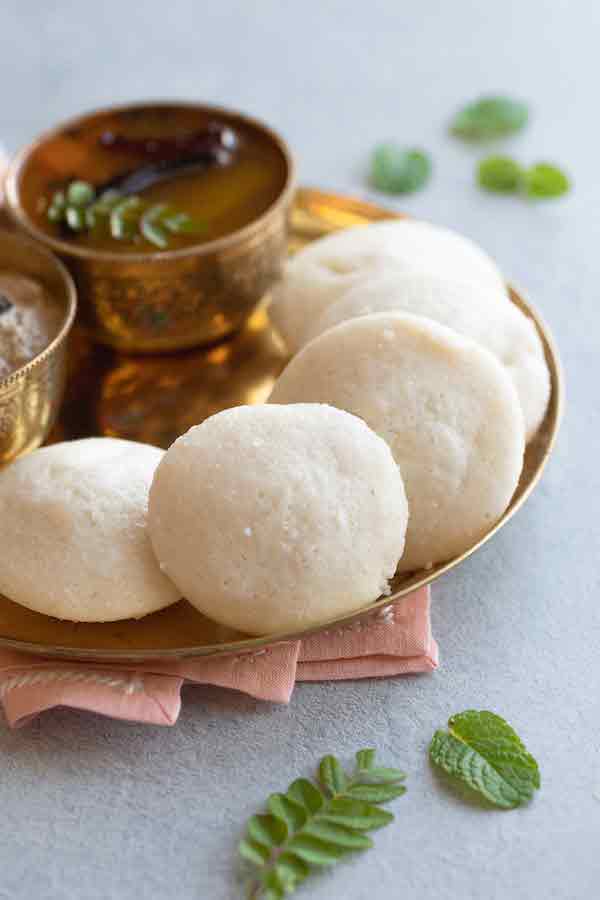 We already tend to have so much work, and premade batter can be so helpful.
Two things I always like to keep in my refrigerator is roti dough and idli batter. If you have toddlers at home, then it's even more helpful.
Topping the dosas with chocolate chips or cheese is a lovely way to make these snacks more interesting for kids.
You don't have to go through the hassle of grinding rice, which is the most time-consuming part.
This recipe doesn't use the instant soda or Eno method but the traditional fermentation style, and yes, you have to let it ferment.
How to make soft idlis?
Make the idli batter with rice flour, just like the dosa batter recipe with rice flour. You do have to grind the soaked urad daal, but it takes less than 5 minutes. Mix the rice flour to it and let it ferment.
It makes around 50 medium size idlis and leftover idlis stay good in the refrigerator for 2-3 days, or you can make few batches of idlis and then use the remaining batter to make dosas.
The secret to soft idlis.
Always remember that idlis come out good when you use the batter immediately after fermentation. Once you refrigerate, you can use the mixture only for dosas or uttapams.
The secret to getting really soft idlis is to add cooked rice while grinding.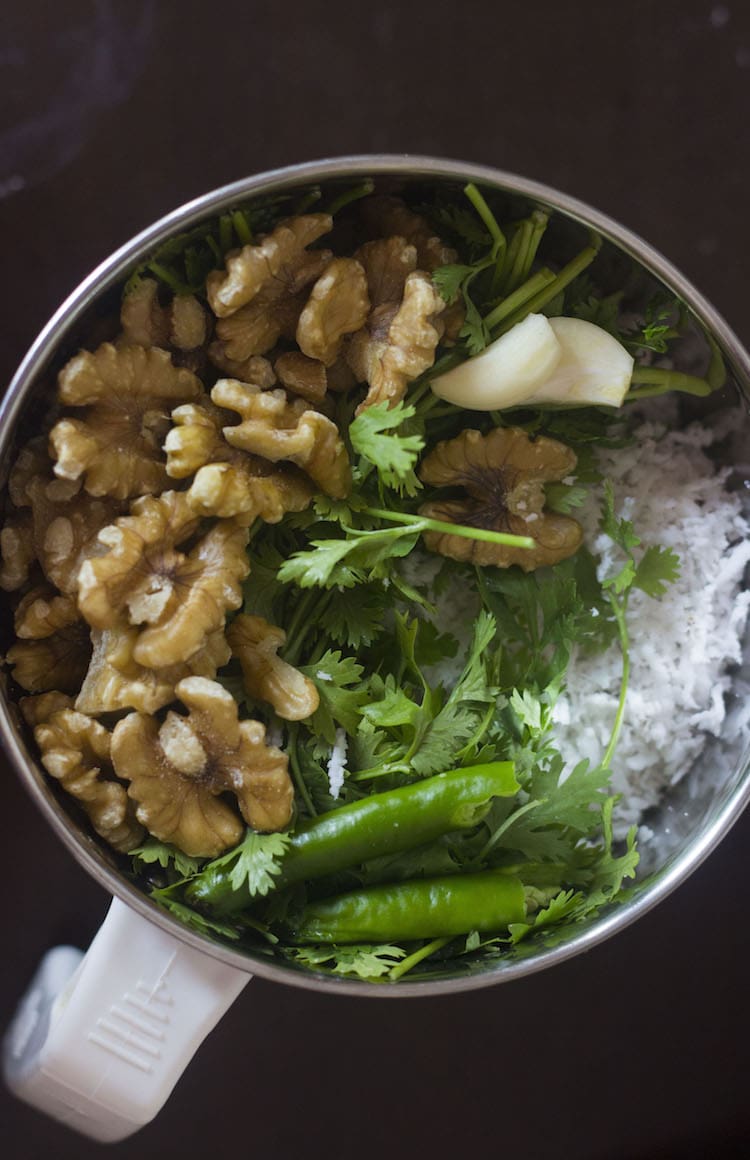 Tasty coconut chutney or a traditional style sambhar goes well with idli or dosas.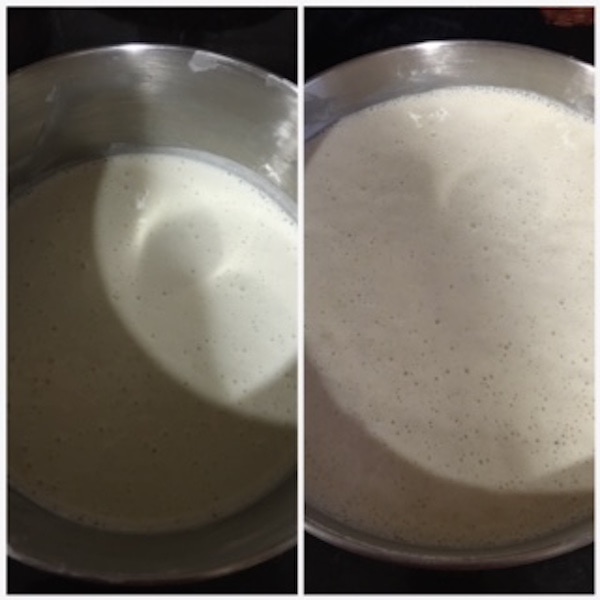 To get super soft idlis, the batter has to ferment well. Keep the batter in a warm place for 8-10 hours. A turned-off oven or a microwave is an excellent place to keep the batter.
On the other hand, dosas come out well even if the batter is not fermented well.
Recipe Updated: 5th November 2016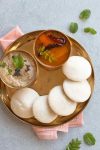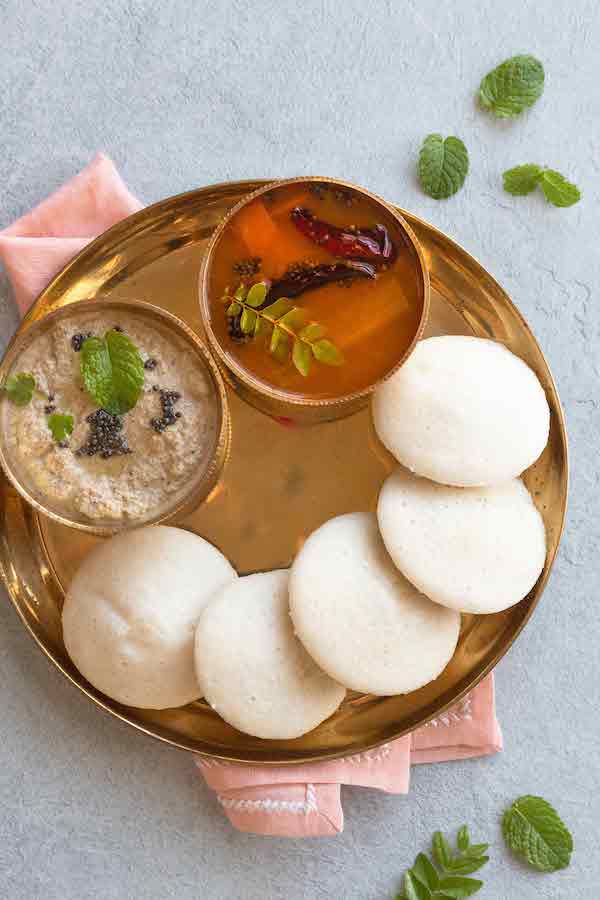 Soft Idlis with rice flour
Soaking time: 4-6 hours Fermentation time: 8-10 hours
Ingredients
FOR IDLIS:

1

cup

Urad daal

1

tablespoon

methi/fenugreek seeds

1/4

cup

cooked rice

3

cups

rice flour

4

cups

water for grinding and adding

Salt to taste

add this once the batter ferments

CHUTNEY:

Good for about 30 idlis

1

cup

shredded coconut

1/4

bunch coriander/cilantro leaves

1/4

cup

walnuts

2

green chilies

2

cloves

garlic

1

cup

water or more for grinding

3/4

teaspoon

salt or to taste

For seasoning:

1

tablespoon

oil

1/2

teaspoon

mustard seeds

4-5

curry leaves

2-3

dried red chilies
Instructions
Soak the urad daal + methi seeds/fenugreek seeds in water for about 4-6 hours.

Once soaked, drain the daal well (do not rinse with additional water). Add the urad daal along with the methi seeds and cooked rice in a food processor or mixer jar and grind by adding little water at a time as needed. (I used 1 and 1/4 cup water for grinding).

Pour this into a mixing bowl and add the rice flour. Add remaining water and mix well with your hands or a whisk. Remember to use a bowl that will have 3/4th space as the batter will ferment and can overflow.

Cover the bowl and place it in a warm place, like a turned-off oven or microwave to ferment for about 8-10 hours.

Add salt to the batter, mix well and pour the batter into idli molds and steam it on medium-high for 15 minutes.

FOR CHUTNEY:

Add coconut + coriander leaves + walnuts + chilies + garlic to a jar of mixer or food processor. Add little water as needed and grind it to a fine mixture. Pour into a serving bowl, add salt and adjust the salt as needed.

Add oil in a pan and place on medium-high heat. Add mustard seeds. Once it crackles, add curry leaves and red chilies. Toss it or mix it and pour it over the chutney.
Recipe Notes
If in a hurry, you can soak the urad daal in warm water and grind it within an hour or two.
Its ideal to soak daal in the morning and grind in the evening so that batter is ready by morning or else soak daal in the evening and grind in the morning so that batter is ready by evening.