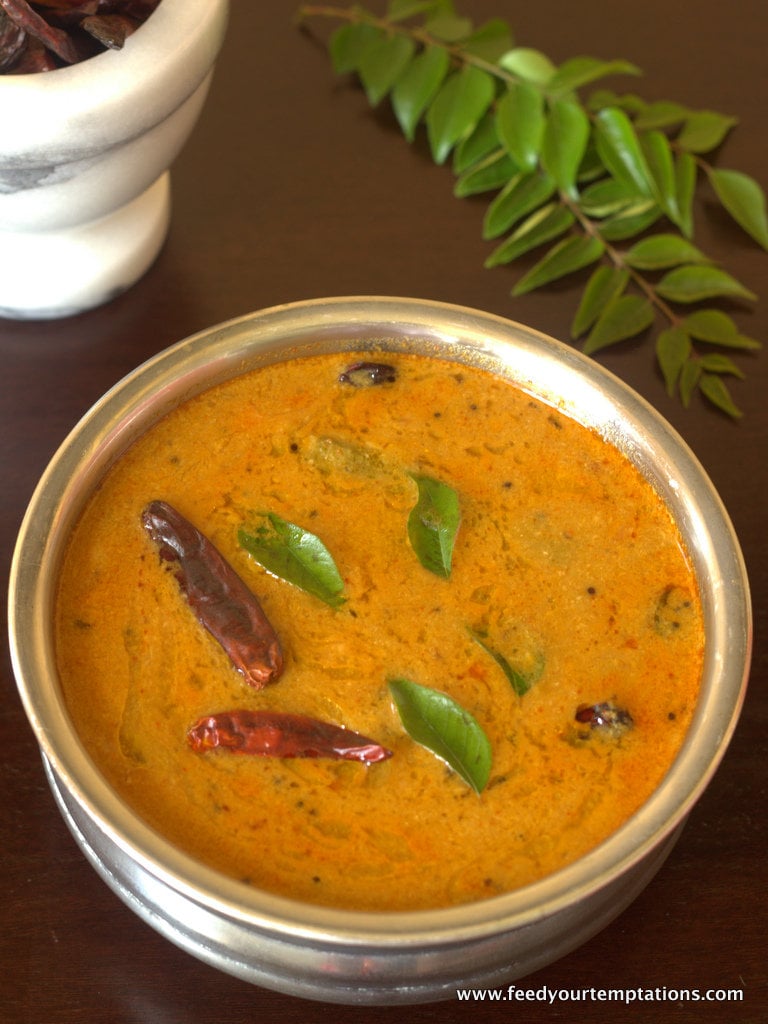 Happy Mothers Day to all the wonderful moms out there. Last year I posted my moms caramel cake for mothers day, and this year I bring to you my Mom in laws traditional, varutharacha (roasted and ground) sambhar recipe. Lentils and vegetables are cooked together, then simmered with ground Indian spices and topped with ghee/clarified butter. Different regions of Kerala have different styles of making this. Roasting and grinding the masala was an extra step for me, which I always avoided and leaned towards the store brought masala. But this time when my MIL was here, I  measured the ingredients and noted down the steps to recreate the wonderful taste and sure I was successful :). My verdict: 5 minutes of extra step is totally worth it.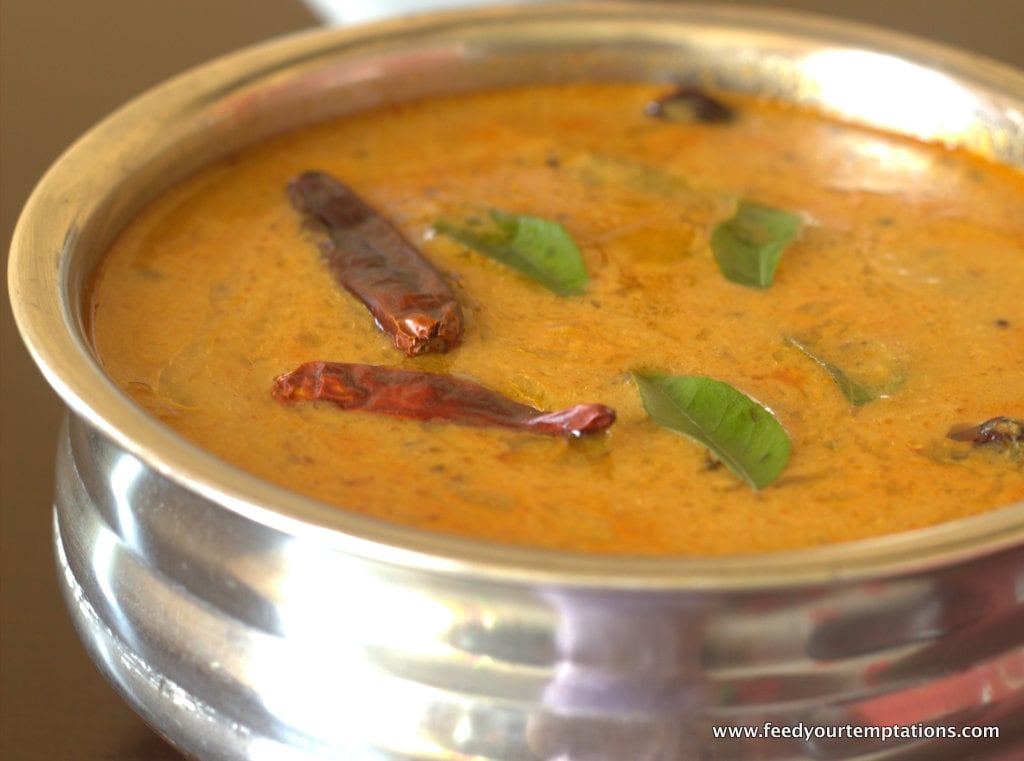 If you are making this sambhar for idlis and dosas, then you can add some more warm water to make it liquidy or vice-versa if you want it thicker. Onam (harvest festival) is couple of months away and its good to  have a traditional nadan style sambar handy in case you plan a sadhya (feast).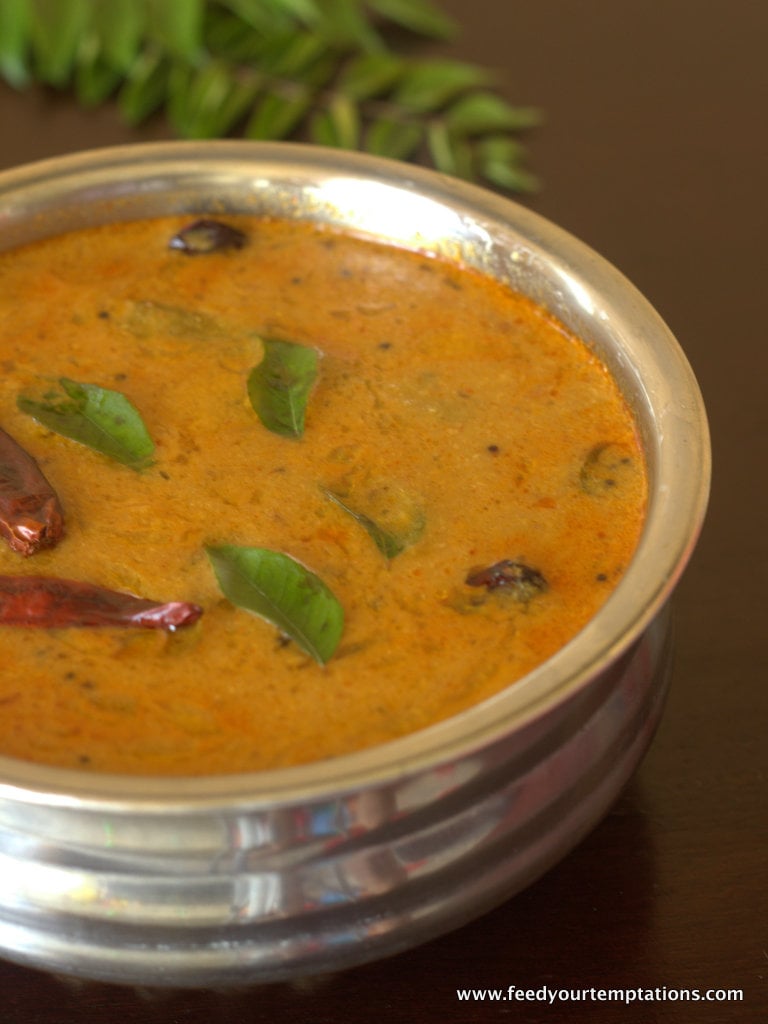 When you have a sambhar like this, all you need is rice and fried papadum/papad to go with it.
Hope you give this and the crispy dosa batter made with rice flour a try and, in case you do, please don't forget to let me know.
Teena 🙂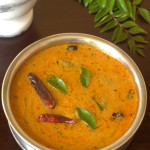 Sambhar – The traditional way
Ingredients
1/2

cup

toor daal / split pigeon pea / paripu

1/4

teaspoon

turmeric powder

1

teaspoon

salt or to taste

1

teaspoon

tamarind paste or dried tamarind

soaked in 1 cup of warm water

1/2

tablespoon

jaggery or to taste

optional

TO ROAST and GRIND:

1/2

tablespoon

oil

coconut oil ideal

1/2

cup

fresh grated coconut

1/8

cup

coriander seeds

1/2

teaspoon

methi / ulava / fenugeek seeds

5

dried red chillies

2

sprig curry leaves

VEGETABLES:

Please refer notes for more vegetable option

8-10,

pieces

of drumsticks

1/2

cup

carrots

cut lengthwise

1/2

cup

onions or shallots

cut into 1 inch pieces

1

green chilly

1

small tomato

SEASONING:

1

tablespoon

ghee / clarified butter / oil

1

teaspoon

mustard seeds

2

red chillies

2

sprig curry leaves

1/4

teaspoon

hing / asafoetida

1

teaspoon

red chilly powder

for color(optional)
Instructions
COOKING DAAL: Cook daal/lentil with turmeric + salt in 2 cups of water. If using pressure cooker, cook till you hear about two whistles. Smoothen the daal out with a whisk or ladle.

ROASTING: Add oil in a pan and roast the spices till coconut is dry and the spices release an aroma. Let it cool. Grind it to a fine paste by adding little water at a time as needed. (I used 3/4 cup water)

Add the vegetables and the tamarind water, turn the heat to low and let it simmer until the vegetable cooks.

Add the ground paste to the gravy and let it simmer for additional minute. Add jaggery. Taste and adjust the salt and sweetness if needed.

SEASONING: Heat oil or ghee on medium high heat. Add mustard seeds. Once that splutters, add red chilly followed by curry leaves and hing / asafetida. Turn of the heat and add red chilly powder, if using. Add this to the gravy.
Recipe Notes
Use red chilly powder if you need color. Add kashmiri chilly powder /paprika if you want color and less heat.
Dried red chillies I used were quite spicy. Increase or decrease the amount of red chillies to adjust according to your spice level.
When it comes to sambhar, choice of vegetables are huge. You can use potato, eggplant/brinjal, winter melon, ladysfinger/ okra, beans, cauliflower to name a few. But using too much vegetables will make the sambhar mushy.
Dont omit the drumstick, because that has a unique aroma and flavor.
You can use coriander leaves for garnish.
Adjust the liquid as needed after adding the ground spices. Add hot water as necessary.
If you like the sambhar to be thick, cook the daal with only 1 and 1/2 cups of water.
Once the sambhar cools, it tends to thicken. You can add hot water and heat it up before serving.