Happy Mothers day!
Let me thank one of the most amazing women I have known, my mom, for all her sacrifices and for her unconditional love and support. As I was growing up I thought you need your mom more when you are kids but I have realized as I am getting older I need her even more especially when I became a mom myself. My day starts with a cup of coffee and talking to her over the phone.
I look forward for her little tips and advices and  I cannot explain as to how much it makes my day. When I was growing up I took so many things for granted not realizing how much effort goes into it. I miss you every moment of everyday ma. Like a saying goes when you are little your mother holds your hands and when you grow they hold their heart.
I would also like to thank another wonderful mom, my mother in law for her support especially regarding my blog. I remember the day I launched the blog, she was unwell, but still she went through each one of my posts. Thank you ma for your support and appreciation and for being there for us always.
To all the amazing moms and to their sacrifices, Cheers! Happy Mothers Day
For mothers day, I  thought of making my moms caramel cake which I have had growing up. I remembered my visit to my cousins place when I baked a cake for him, his statement, "its very good but its not like your moms cake" and another message my old class mate in school send "I hope the cake on this blog are like your moms", he remembered the cake he had 15 years ago. Quite astonishing.
So I thought I will make a simple caramel cake which reminds me of my mom and which everyone loves. Now since it was mothers day I drizzled some raspberry glaze.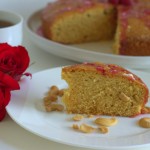 Very Moist Caramel Spice Cake
Ingredients
2

cups

240gms all purpose flour

1 1/8

215gms cup powdered sugar

1 1/2

stick

170gms unsalted butter

3

Large eggs

separated

1

teaspoon

baking powder

1/2

teaspoon

vanilla extract

1/2

cup

chopped cashews or other nuts

1/4

teaspoon

nutmeg powder

1/2

teaspoon

cardamom powder.

FOR CARAMEL:

1/4

cup

sugar

1/4

cup

water

FOR RASBERRY SUGAR GLAZE:

5-6

raspberries

3/4

cup

powdered sugar

2-3

tablespoons

water or other liquid.
Instructions
FOR THE CARAMEL: Keep sugar in a pan on medium heat, shake the pan as the sugar starts melting. Keep 1/4 cup water next to you. Once the sugar starts melting turn the heat to low. Sugar will turn into a golden amber color liquid and after that it will start to froth. Now add 1/4 cup water, mix well with a spoon and take it off the stove. If the sugar sticks to the spoon, keep it on the heat for some more time till its a clear amber liquid. Keep aside to cool.

PREPARATION:

Prepare Caramel.

Sift Flour + baking powder, Keep aside. Separate the egg yolks into a bowl and the egg whites into the mixer. Chop the nuts and keep the spices ready.

Preheat oven to 300 degrees Fahrenheit or 150 degrees Celsius.

In a large bowl beat butter until creamy, add sugar and continue to beat until the mixture is light and fluffy. Now add vanilla and egg yolks one by one, continue beating and scrape of the sides as needed.

Beat the egg whites until frothy and add it to the butter mixture. After this stage do not overbeat. Add flour and beat only until well mixed. Fold in the chopped nuts, spices and the cooled caramel syrup.

Pour into a 9*2 inch cake pan and bake in a preheated oven for 75 minutes or until a skewer inserted comes out clean.

For the glaze, crush the raspberries, mix everything well and pour it over the cooled cake.
Recipe Notes
My mom uses 1/3 cup sugar and this makes it very sweet. I reduced the amount of sugar as I like my cakes on little less sweeter side.
If the batter is too thick add 2-3 tablespoons of milk in the end.