The no bake strawberry cheesecake is quick and easy to put together. It is a perfect dessert for Valentine's day or any other occasion. It is made without gelatin and has only a few ingredients.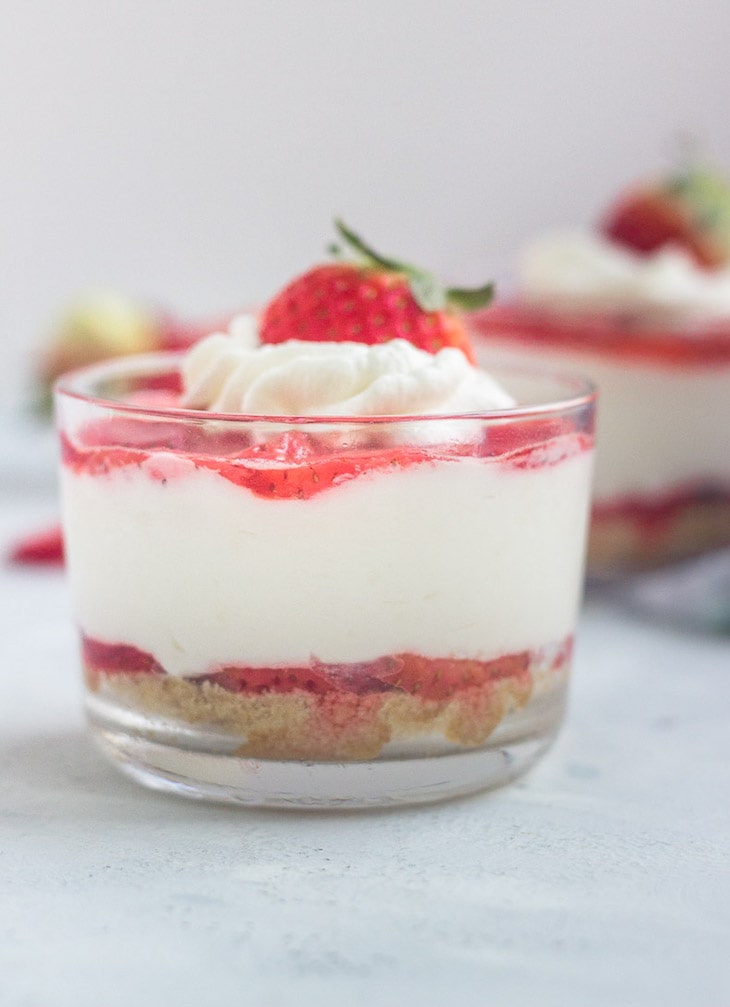 Since Red is the color of Valentine's Day, this no bake strawberry cheesecake makes it the ideal dessert for the special day. No-bake and no-cook desserts are a must in everyone's recipe collection because it can be a lifesaver if you like to entertain. When you have a busy day or a week, you can make it in advance, and it only takes a total of 15 minutes.
Isn't that great!
So apart from the list, I put together for your special day, here is another excellent recipe.
If you haven't had a chance to check the Valentine's Day special post, then please do check it out and if you haven't planned anything yet, you can still do it.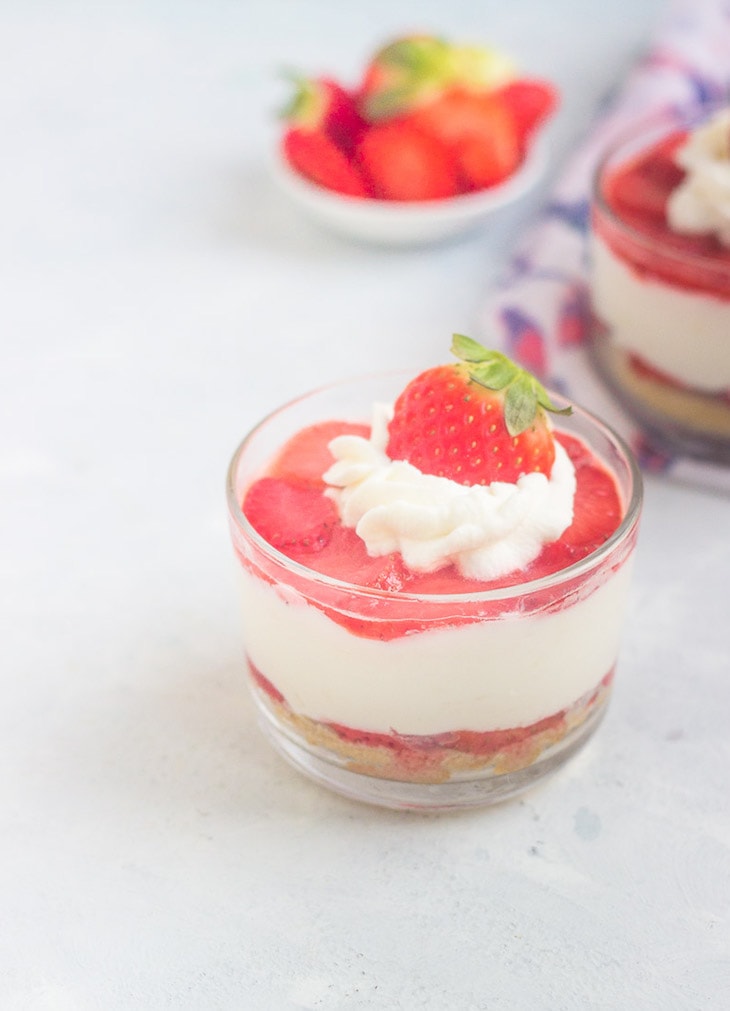 HOW TO MAKE STRAWBERRY CHEESECAKE?
Making a cheesecake doesn't have to be overwhelming. Traditional cheesecake is baked in a water bath, and the process of creating crust and cream filling might seem too much work, but it's easy once you get the hang of it. Cheesecake is a sweet, decadent dessert consisting of two or more layers.
WHAT IS CHEESECAKE?
If you are wondering what a cheesecake is, the primary and thickest layer consists of a mixture of velvety smooth cream cheese. The base is made using graham crackers; You can add fruit purees like strawberries and passion fruit or Oreos, lotus biscuits, snickers, etc.
Having said that, if you still don't have time to bake, try this easy no-bake cheesecake recipe; an absolute lifesaver, and anyone could make it!
NO-BAKE STRAWBERRY CHEESECAKE RECIPE
It is a smooth, creamy no-bake cheesecake recipe that you can make ahead and that everyone loves. So, if you are looking for an easy homemade strawberry cheesecake version, then this is for you!
Desserts tend to get complicated and sometimes overwhelming. Hence I uploaded this recipe that requires no baking!; To make this simple no-bake strawberry cheesecake; Add in graham crackers mixed with butter as a base, layer strawberry dipped in syrup, pour in the cream cheese mixture, and top it off with sliced strawberries.
The simple step-by-step instructions will help you further!
HOW TO MAKE NO-BAKE JELLO STRAWBERRY CHEESECAKE?
If your kids are enormous jello fans, then make your berry-flavored jello mixture, pour it on top of the chilled cheesecake, and let it set. It will give a vibrant glaze finish. You can also add gelatin to your strawberry sauce for a similar effect.
Ingredients
Cream cheese
The tangy and creamy cream cheese is the essential ingredient for this recipe. I always use the original Philadelphia cream cheese whenever I make cheesecake. It makes so much of a difference.
Remember not to use the spreadable kinds. Instead, use the one in blocks.
Where to find original cream cheese in Dubai?
In Dubai, you find the original Philadelphia cream cheese in only select supermarkets. I get it from Park and Shop. Spinneys might carry it too.
WHIPPED CREAM
Whipping cream makes it lighter.
THE CRUST
The crust compliments the creamy texture very well.
STRAWBERRIES
You can keep it plain or add strawberries. Also, you could use other berries, fruits, or toppings like Nutella, oreo, biscoff, or chocolates.
The crust, to balance the sweetness, cheesecake mixture sandwiched between two layers of strawberries and above all a whipped cream topping makes it irresistible.
Furthermore, when you substitute rum instead of vanilla or use a good quality real vanilla extract or vanilla beans, then this is one more step closer to dessert heaven.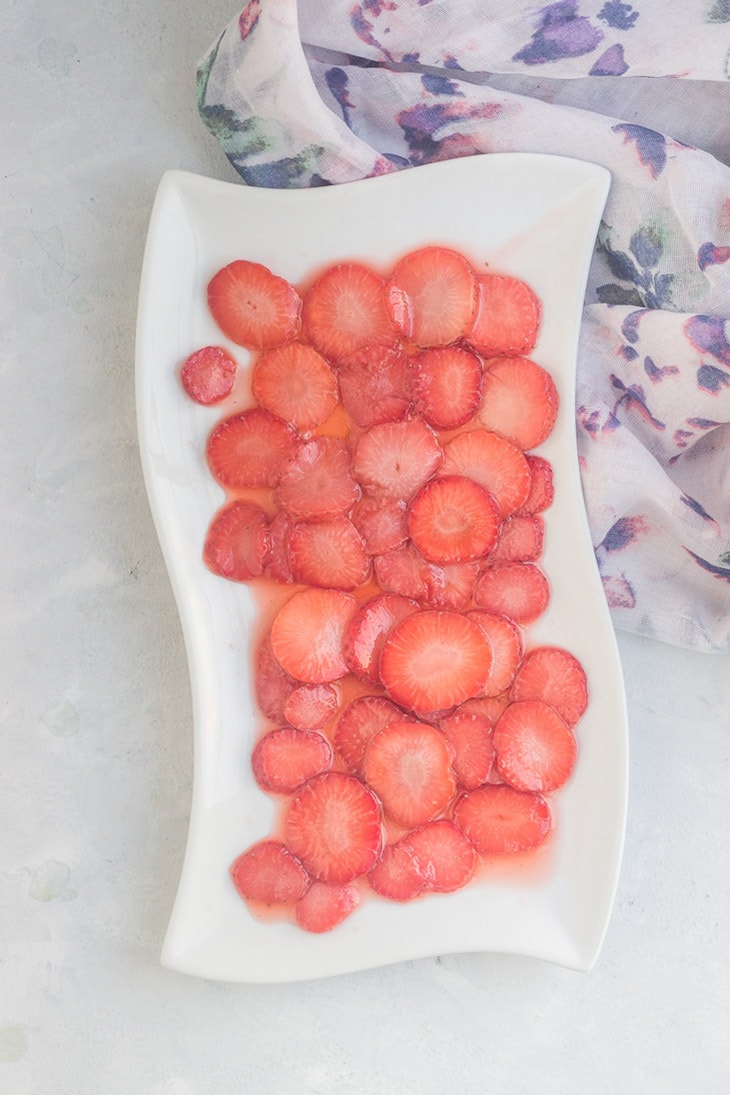 Strawberries in Syrup!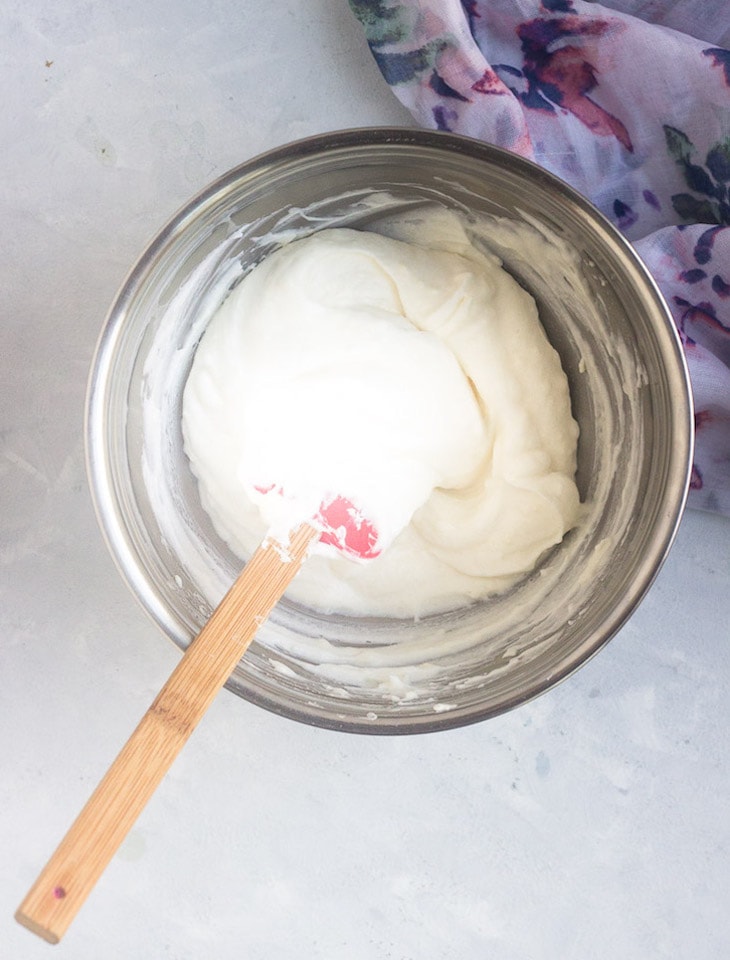 A cream cheese mixture which is hard to resist!
Variations using cheesecake recipe
No-bake Strawberry cheesecake recipe cool whip
Add cream cheese + confectioners sugar + vanilla or rum and beat till soft. Fold in the whipped cream. If you don't want to whip the cream, use the readymade store-bought cool whip.
No-bake strawberry cheesecake bars
To make bar-shaped cheesecake for individual servings, make the cheesecake in a square or rectangular-shaped pan, refrigerate for at least 4 hours, then cut them into rectangle bar-shaped pieces to resemble a chocolate or snack bar.
No-bake strawberry cheesecake pie
To turn this recipe into a pie, substitute graham crackers base with a pie crust, add in your cream cheese filling. Bake till the cheesecake is set. Once cool, place in the refrigerator. Decorate with strawberries!
No-bake strawberry cheesecake with condensed milk
To get a velvety and smooth texture every time with no-fail, add in a can of condensed milk. Doesn't condensed milk make anything taste good? (Do not add sugar if using sweetened condensed milk)
No-bake strawberry cheesecake in a cup/parfait
If you want to create cheesecake as individual servings to save time later, then parfait is the way to go! Layer in crushed butter-gram crackers on the bottom of a shot glass pour in the cream cheese mixture, add a layer of strawberries, repeat the same layer, and your pretty looking parfait is ready.
STRAWBERRY RECIPES
Anything that has strawberries tastes fantastic! A perfect garnish for the baking world! Try these ideas to make the best strawberries recipe
1) Strawberry-covered chocolate, a classic simple dessert anyone can pull off! Just melt some chocolate, dip the strawberries and let set in the fridge. You can even add a white chocolate drizzle to make it prettier. It's perfect for adding to a box and gift a loved one.
2)Strawberry jam: Use my blackberry jam recipe and substitute the blackberries with strawberries!
3)Oatmeal cookies with strawberry jam: Now that you know how to make a strawberry jam, add a spoon of it in the center of an oatmeal cookie dough. You can also cut the cookie using a heart-shaped cookie cutter if it's for Valentine's day.
If you love recipes using strawberries, then you should check my other strawberry-based recipes!
STRAWBERRY ICE CREAM, STRAWBERRY LEMONADE & FRUIT CREAM USING STRAWBERRIES AND OTHER FRESH FRUITS
P.S: Check this Weeks blogging tips below the recipe: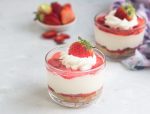 No-bake strawberry cheesecake
Refrigeration time: 2-4 hours
Ingredients
8 oz

226g

Cream cheese

1/2

cup + 2 tbs

sugar

1/8

cup

heavy cream

1

teaspoon

vanilla or rum

WHIPPED CREAM

1

cup

heavy whipping cream

1/4

cup

powdered | confectioners sugar

1

teaspoon

vanilla or rum

FOR THE CRUST

15

honey graham crackers, powdered

Refer notes for substitutes

3

tablespoons

melted butter

2

tablespoons

sugar

STRAWBERRIES

2

cups

Strawberries, sliced

1

tablespoon

water

2

tablespoons

sugar
Instructions
STRAWBERRY SYRUP: You can do this two ways.

1. Add 1 tablespoon water + 2 tablespoons sugar to a saucepan and bring it to a simmer. Turn off the heat and add sliced strawberries.

2. Add chopped strawberries + 1 tablespoon water + 2 tablespoons sugar and simmer until the berries become soft and the syrup becomes a little thick.

Let this cool completely before you add this to the cream cheese mixture.

In a bowl, add heavy whipping cream + confectioners sugar + vanilla or rum and beat till stiff peaks form. Keep aside. (Remember the bowl and the attachment should be cold.)

In another bowl, add cream cheese + sugar and beat until light and fluffy. Add 1/8 cup heavy whipping cream + vanilla or rum and mix well. (Taste and add more sugar if needed)

Add half of the whipped cream to the cream cheese mixture and fold it in.

FOR THE CRUST: Add graham crackers + melted butter + sugar to a food processor until fine crumbs form.

Divide this into individual cups and press it lightly with a spoon.

Add the strawberry syrup or arrange the slices and add cream cheese mixture on the top. Add one more layer of strawberries. Pipe or add extra whipped cream on top. Garnish with a strawberry slice.
Recipe Notes
For Graham crackers substitute: You can use 10 Marie biscuits. Since Marie biscuits are sweeter, use 1 or 2 tablespoons sugar as needed. 
TIT-BITS OF BLOGGING:
If you want to create a blog, an Instagram account or merely create great pics without investing in a great camera, then this is for you.
There are some great apps which let you do that. I have used VSCO, but there are a lot of other apps which offers powerful post editing tools.
I have found something for you: An iPhone photography resource. So start building your skills.