This Easy and Best Black Forest Cake Recipe is super moist with the goodness of cherries and whipped cream. Moreover, the Chocolate cake recipe is a keeper.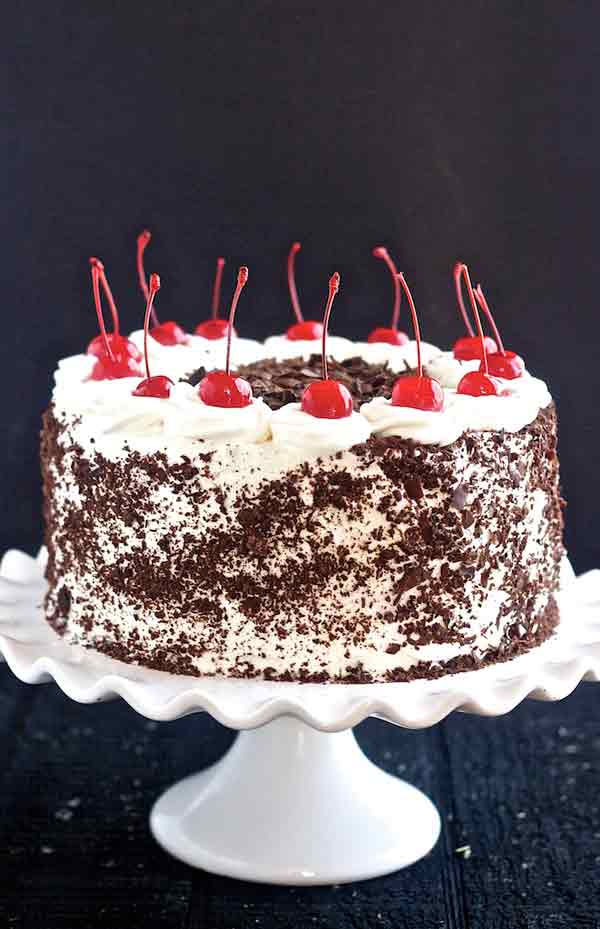 Is this the look of this Black Forest Cake, or is it the moist chocolate cake sandwiched between the whipped cream that makes this irresistible? Well, I don't know. But, one thing I know for sure is everyone seems to love it. Maybe it is the cherries, the cake brushed and almost soaked in juice or kirsch and the chocolate shavings as a whole, which makes this drool-worthy.
Similar recipes you may like: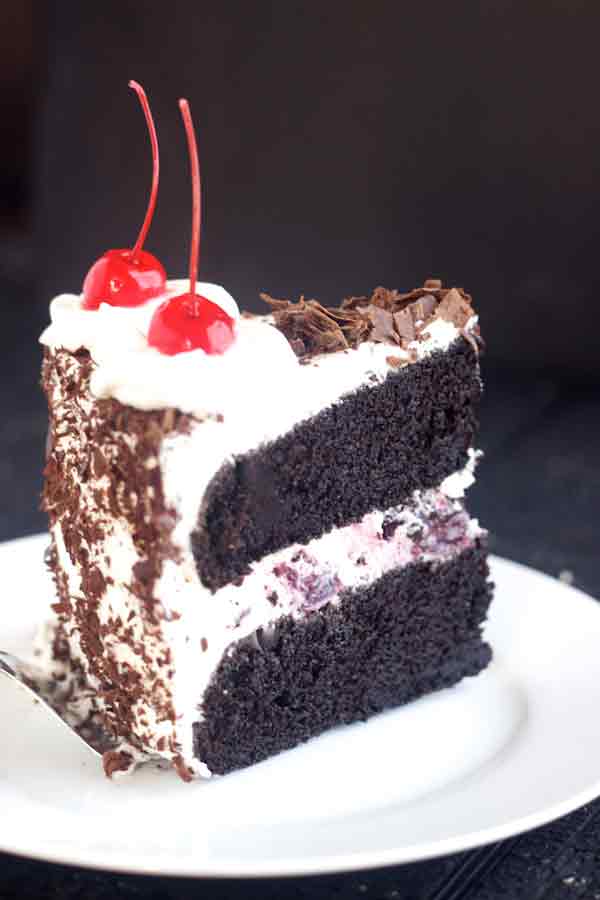 Black Forest Cake Near me
Growing up in India, Black Forest cake was a big hit. I remember
Monginis
introduced this in every city. My craving for black forest started after coming to the US. This cake was found in only a few bakeries and that too just after placing special orders. But the taste was not comparable at all. So my search started with a good moist chocolate cake and ended with this recipe.
Few of us know that Monginis Cakes store was started in Mumbai, as a catering service in the 20th century, by two Italian brothers of the Monginis family. This service was very popular with the European residents of that time. In 1971 this Catering was bought by the Khorakiwala family and became Mongini's Foods Limited. It then made history. The company has locations in Egypt besides India.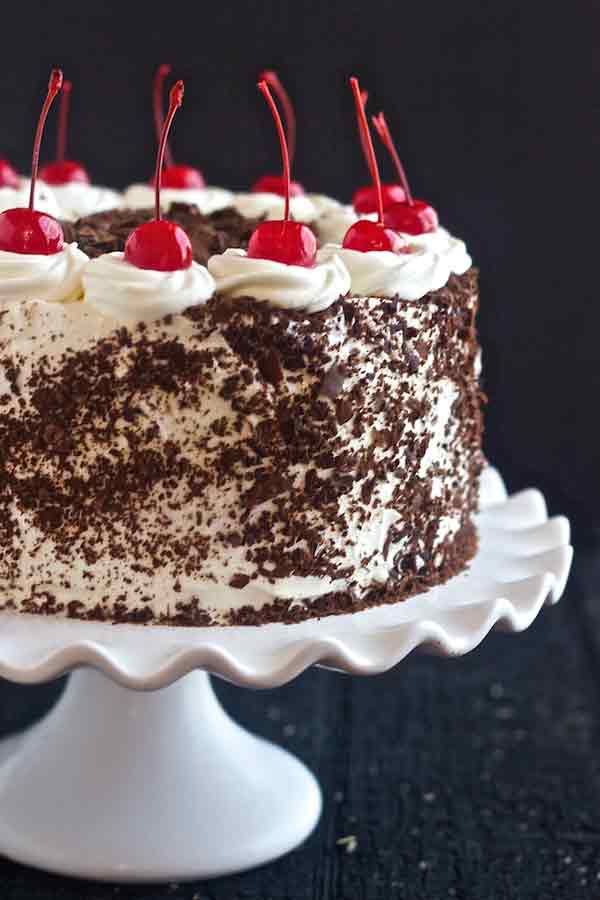 What is black forest cake?
Black forest cake originated in Germany and is based on a German dessert Schwarzwälder Kirschtorte. Layers of the chocolate sponge are sandwiched between whipped cream and sour cherries. The layers can also be brushed with kirsch, a German liquor.
The cake contains:
Two layers of chocolate sponge cake. (amazing chocolate sponge cake recipe included) The chocolate sponge cake is a one-bowl recipe and is one of the easiest recipes you can make. You do not need a stand mixer or beater. A whisk is all you need.
Whipped cream
Sour cherries
Chocolate shavings
Maraschino cherries for topping (You can also use fresh cherries)
Use Hershey's special dark cocoa to achieve this black color.
The cake is super moist, and the frosting very light.

How to make Black Forest Cake?
You will need two layers of 8-inch chocolate cakes. You can also slice each layer and make it into 4 layers
Place the 1st layer on a serving plate, lightly brush it with the syrup from sour cherries or kirsch, and spread a layer of whipped cream.
Slightly squeeze the excess syrup from the sour cherries and arrange it towards the center of the cake leaving about an inch off the sides.
Place the 2nd cake layer on top.
Coat the cake with whipped cream.
Coat with chocolate shavings or curls.
Arrange Maraschino cherries on top.
I used the sour cherries|the purple ones in syrup for the filling since I don't like the taste of maraschino cherries but maraschino cherries, the red ones look very appealing as toppings. It can also be called the black forest cherry cake.
This is how you can make Black Forest Cake at home.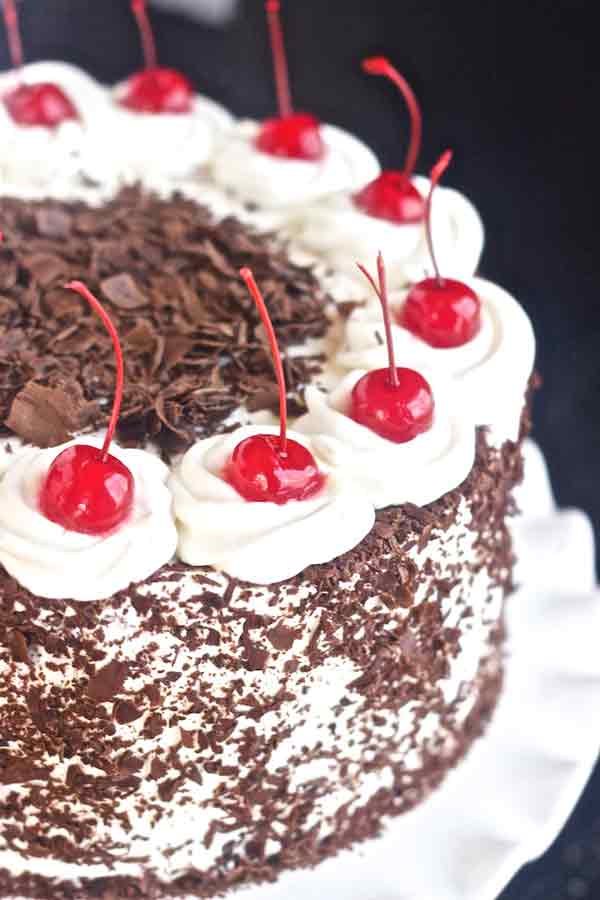 How to make chocolate shavings?
Chocolate shavings and cherries are a signature decoration of black forest cake. For the beautiful chocolate shavings on the sides, I used a vegetable grater. For the ones on the top, I used a melon
baller
on a bar of chocolate.
Hold a chocolate bar with one hand and scrape the other side with a knife or vegetable peeler. A vegetable peeler also creates some gorgeous small curls.
How to make chocolate curls?
To make chocolate curls, melt 1 cup semi-sweet chocolate chips with 1 tablespoon of butter and spread in on a baking sheet with a spatula. Pop in the freezer for 5 minutes and gently scrape it with a knife to form curls.
German Black Forest Cake
To get a more authentic version of the black forest cake, you can brush the cake with Schwarzwälder Kirsch; it is a specialty liquor of the region made from tart cherries. It gives it a unique flavor and also an alcohol-based twist.
If you are looking for another awesome goodness, then try the Red Velvet Cake.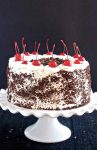 Black Forest Cake
This Easy and Best Black Forest Cake Recipe is super moist with the goodness of cherries and whipped cream. Moreover, the Chocolate cake recipe is a keeper.
Keyword:
black forest cake, black forest cake recipe, black forest chocolate cake, chocolate sponge cake, german black forest cake
Ingredients
1-3/4

or (210g) cups all-purpose flour

3/4

cup

or (75g) dark Cocoa powder (like Hershey's special dark)

2

cups

or (400g) sugar

1-1/2

teaspoons

baking powder

1-1/2

teaspoons

baking soda

1

teaspoon

salt

2

eggs

1

cup

milk

1/2

cup

vegetable oil

2

teaspoons

vanilla extract

1

cup

8oz (240ml) boiling water
FOR FROSTING AND DECORATIONS
13

maraschino cherries

This can be used for filling if you like the taste

1, 15

oz

425 grams can of dark cherries in sweet syrup.(For filling)

2

and 1/2 cups

600ml ice cold heavy whipping cream

5

tablespoon

powdered or icing sugar

8

oz

160 grams dark chocolate bar

1/3

cup

80ml kirsch, brandy or rum (optional)
Instructions
Heat oven to 350 Degrees Fahrenheit /175 Degrees Celsius. Grease, line and flour two 8-inch round baking pans.

Whisk together flour + cocoa + sugar + baking powder + baking soda and salt in large bowl. To that, add eggs + milk + oil + vanilla; beat on medium speed of mixer 2 minutes. Add the boiling water to the batter and stir well (batter will be thin). Pour batter into prepared pans.

Bake 40 to 45 minutes or until a wooden skewer inserted in center comes out clean. Cool 10 minutes; remove from pans to wire racks. Cool completely before frosting.
FOR ICING AND DECORATIONS:
Chill the attachments and bowl needed for whipping the cream for 10-15 minutes. Pour the heavy whipping cream into the bowl. Add the sugar and vanilla extract and beat until almost stiff peaks forms. (Do not over beat or else it will turn to butter and you might have to start from scratch again.).

Cover the bowl with a plastic wrap and place this in the refrigerator until ready to use.

Drain the cherries and reserve about 1/3 cup syrup of whichever cherries you like i.e, if you are not using alcohol.

To start the icing, level the top of the cakes with a serrated knife. Place one cake on the cake plate with the leveled side up. Brush with 1/2 of the reserved syrup or alcohol.

Apply a light layer of frosting. Place the cherries in a single layer leaving 1 inch from the edges of the cake empty. (else when you keep the 2nd layer, the cherries will get pushed out) Top with whipped cream.

Place the 2nd layer on the top of this cake, with the cut side down. Give a gentle press. Top this with the remaining whipped cream. Create some piping design on the edges and put the maraschino cherries.

Shave the bar of chocolate with a knife or grater. (I used grater for fine shavings on the sides and melon baller for big shavings on the top of the cake).

Do not touch the shaved chocolate with hands as they tend to stick. Use a spoon to decorate as needed.
Recipe Notes
If baking in 9 inch pans, baking time will be between 30-35 minutes.
Frost the cake only after it cools completely. Its easier to frost the cake if it has been in the refrigerator for 30 minutes.
I apply a thin coat of icing called the crumb coat to seal the crumbs and place the cake in the refrigerator before applying the final coat of icing.
Whipped cream is a very light frosting. Refrigerate the cake immediately after frosting or else the frosting will start to melt. Keep it out of the refrigerator 30 minutes before serving.
Its very important not to overbeat the whipped cream or else it will turn to butter and you might have to start from scratch again.
There are few tricks that professionals use to stabilize the whipped cream like adding corn starch or cream cheese to the heavy whipping cream. I am yet to try that.
To get a clean slice, dip a non-serrated knife in hot water, wipe it off nicely and cut the cake.
Cake Recipe adapted from Hershey's