This easy pineapple upside-down cake with caramelized pineapple is incredibly moist and is a real treat to the eyes and tummy.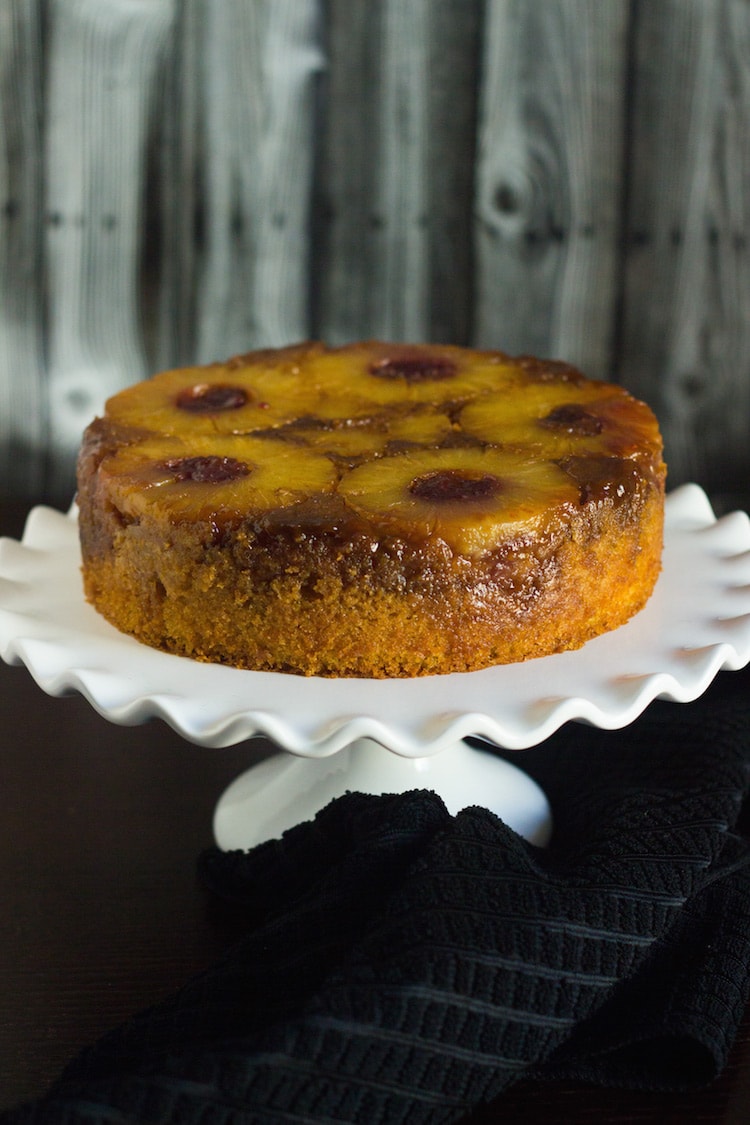 Image and recipe updated (November 2016)
NEW ON THE BLOG
I have some exciting news for you. I am in the process of adding video recipes to the blog. SO my foodie friends, please find the quick video below with step by step process of how to make a pineapple upside-down cake.
As I said, since this is the 1st video, there is a good room for improvement. Please pour in your suggestion and let me know if you would like to see a particular video recipe.
Long before my baking spree began, a friend suggested I should try pineapple upside-down cake. That was the time I could bake only my famous
rum and dates cake
. I find the upside-down cakes gorgeous and I love pineapple cakes. As I started cooking more often and my baked goods started turning out good, I decided to try this.
I have baked and changed 2-3 recipes in the process of getting a beautifully moist cake. These days the moment I taste a great cake my 1st reaction is hmmm…moist. I believe that's the most important thing about a good cake. Don't you?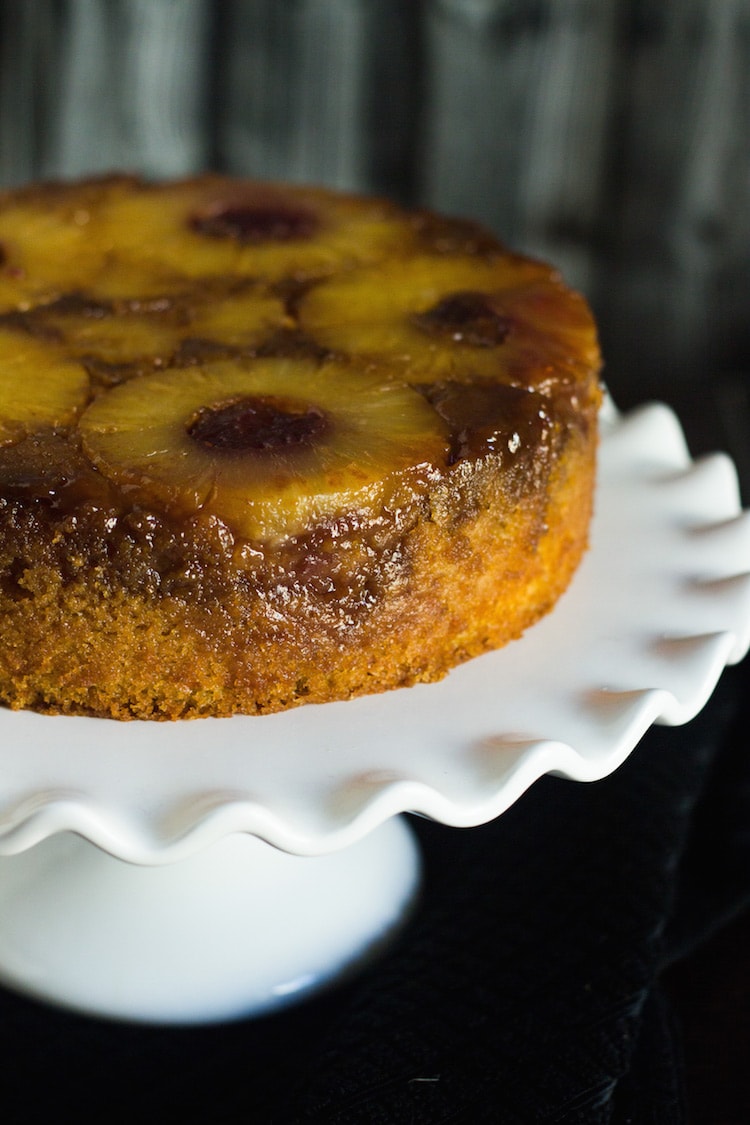 If you ask me, which is the cake I have baked most, then I would say its the pineapple upside down and
chocolate cake
. I have baked this on so many occasions and have followed the same recipe time and again and each time it has turned out great. It is my mom's favorite cake too and let me tell you she doesn't like cakes at all. I know what you are thinking. How can someone not like cakes? I don't get that either.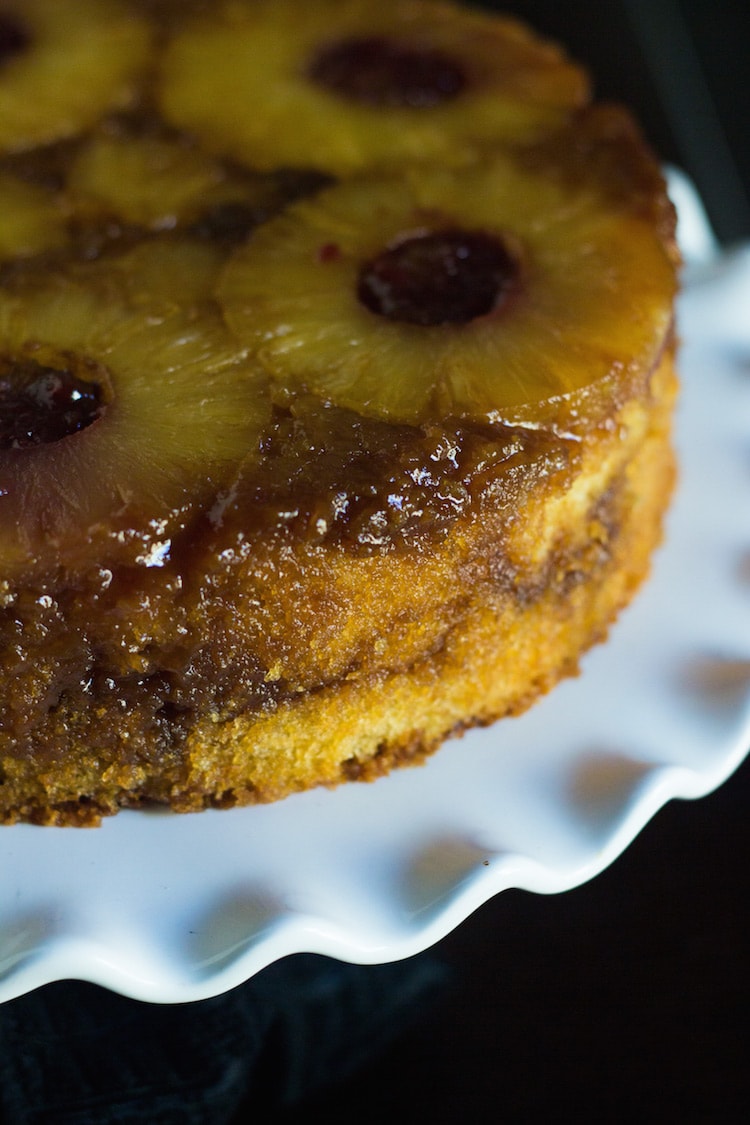 I have had baking disasters, but my passion for baking did not let me quit.
Sometimes I get too overwhelmed with baking, and so I take a complete break for a few days. Before writing this post I had uploaded the pictures and was ready with the final recipe, but somehow was not satisfied. I needed to do some minor changes to the cake so I wanted to bake this again. I couldn't stop thinking about it until I finally baked it. I made this when my friend was around, and we couldn't wait to take the 1st bite. By the time our husbands were home, we had finished half the cake between both of us :).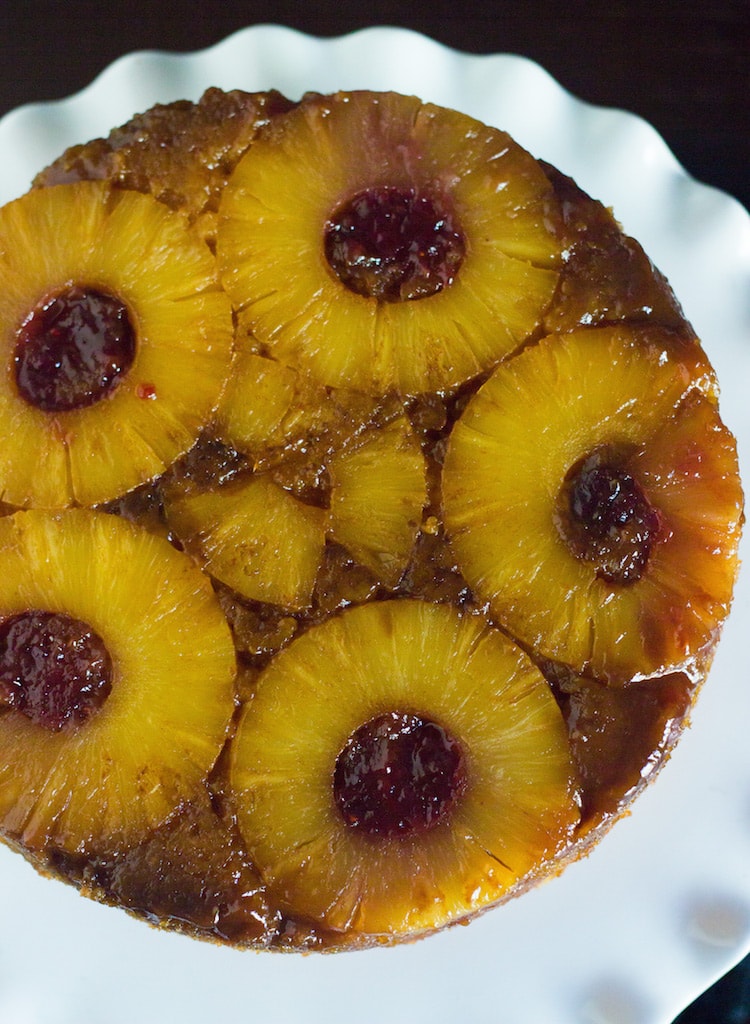 HOW TO MAKE PINEAPPLE UPSIDE-DOWN CAKE
The buttermilk makes this cake incredibly moist. I mostly use buttermilk substitute instead of actual buttermilk. I don't like the idea of buying buttermilk just for the cakes since it tends to go waste after that. Taste-wise I don't really find any difference.
You can arrange the slices the way you want. I have made an eggless chocolate pineapple upside-down cake with a different arrangement.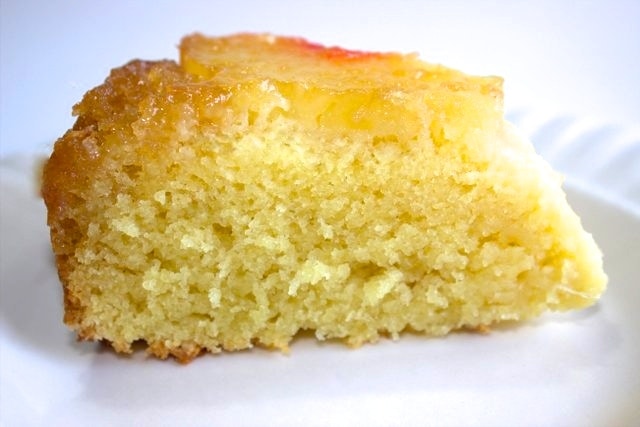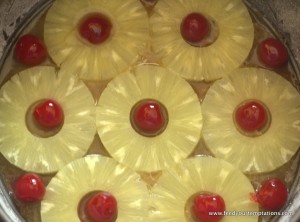 BAKE IT AT A LOWER TEMPERATURE
These two images are from the old post. I couldn't get a picture of the inside of the cake, so I kept the early picture because the cake recipe itself has not changed.
You will see that the way the caramel is added has changed. Also, I reduced the baking temperature to 325 degrees Fahrenheit/160 degrees Celsius instead of 350 degrees Fahrenheit/160 Degrees Celsius. The reason being I have found that the outer crust doesn't darken and the center of the cake cooks well.
One more thing, you might have noticed that the cake does not have any dome and has baked evenly. Check out the technique to bake a flat cake without a dome.
Now, enjoy the video:)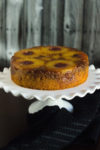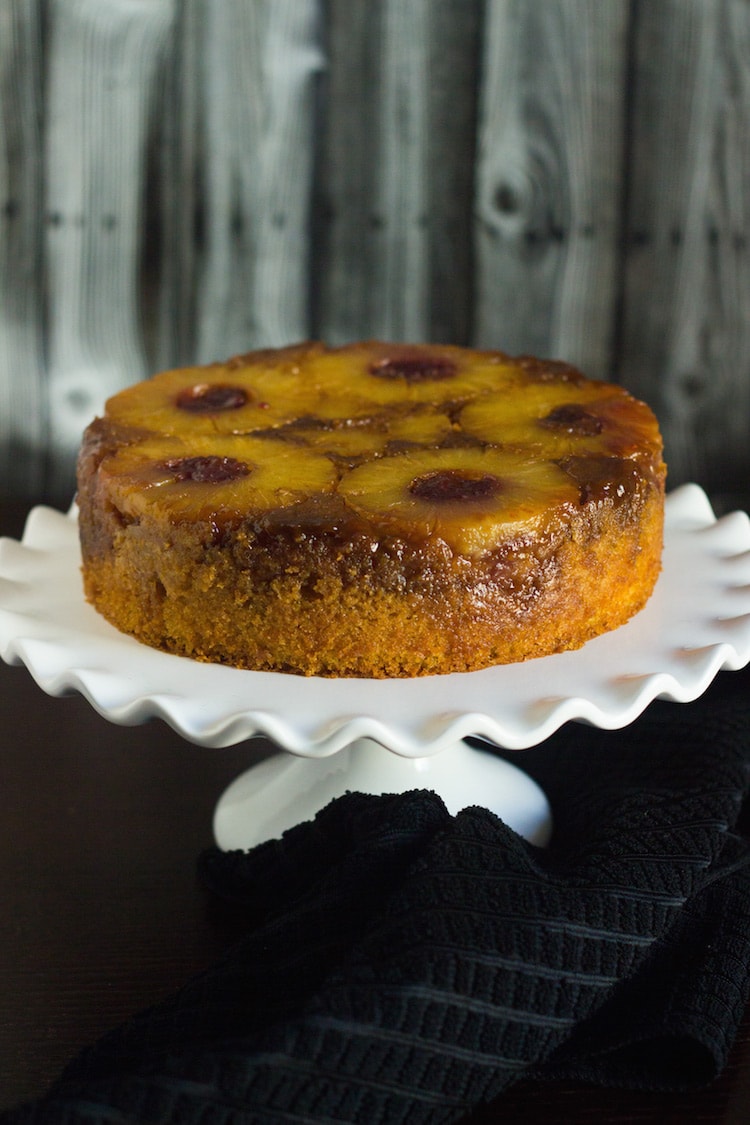 Pineapple Upside-Down Cake
Ingredients
FOR CARAMEL:

1/4

cup

30g unsalted butter

1/2

cup

25g firmly packed brown sugar

1

teaspoon

rum or vanilla

FOR THE CAKE:

2

cups

240g All purpose flour/maida

1

teaspoon

baking powder

1

teaspoon

baking soda

1/2

teaspoon

salt

1/2

cup

113g i,e 1 stick unsalted butter softened

1 1/3

cups

270g sugar

3

large eggs

1

teaspoon

vanilla extract

1

cup

8oz(240ml) whole buttermilk Substitute

1

20-ounce can pineapple slices in juice, drained well (6 slices)

13

maraschino cherries

drained well
Instructions
Preheat the oven to 325 Degrees Fahrenheit or 160 Degrees Celsius.

Grease and flour 8*3 inch round cake pan.

Place a saucepan on medium heat and add 1/4 cup butter. To that add brown sugar and mix. Let it simmer on low heat for a minute. Remove and add vanilla extract or rum. Stir. Pour this hot mixture into the prepared pan.

Drain the pineapple and remove the excess moisture with a paper towel. Arrange the pineapple slices and cherries over the caramel.

In a bowl, add flour + baking powder + baking soda + salt and sieve or whisk the mixture.

In another bowl, beat 1/2 cup butter on medium speed with an electric mixer until creamy. Gradually add the sugar, beating until fluffy. Add the eggs, 1 at a time, beating well after each addition. Stir in the vanilla and set aside.

Add the flour mixture into the egg mixture in three batches, alternately with the buttermilk, beginning and ending with the flour mixture.

Pour the batter into the pan and bake for 55 minutes to an hour or until a wooden pick inserted in center comes out clean. Let the cake cool in the pan for 10 minutes.

Invert the cakes onto a wire rack to cool completely.
Recipe Notes
Reserve about 1/4 cup of the pineapple syrup if needed, to brush it over the cake, for extra moistness.
If using a 9* 3 inch cake pan, bake for about 40 minutes.