Art of Palate is a food blog by Teena Agnel, a Food Blogger, Professional Food Photographer, and Stylist based in Dubai. Baking & Easy recipes.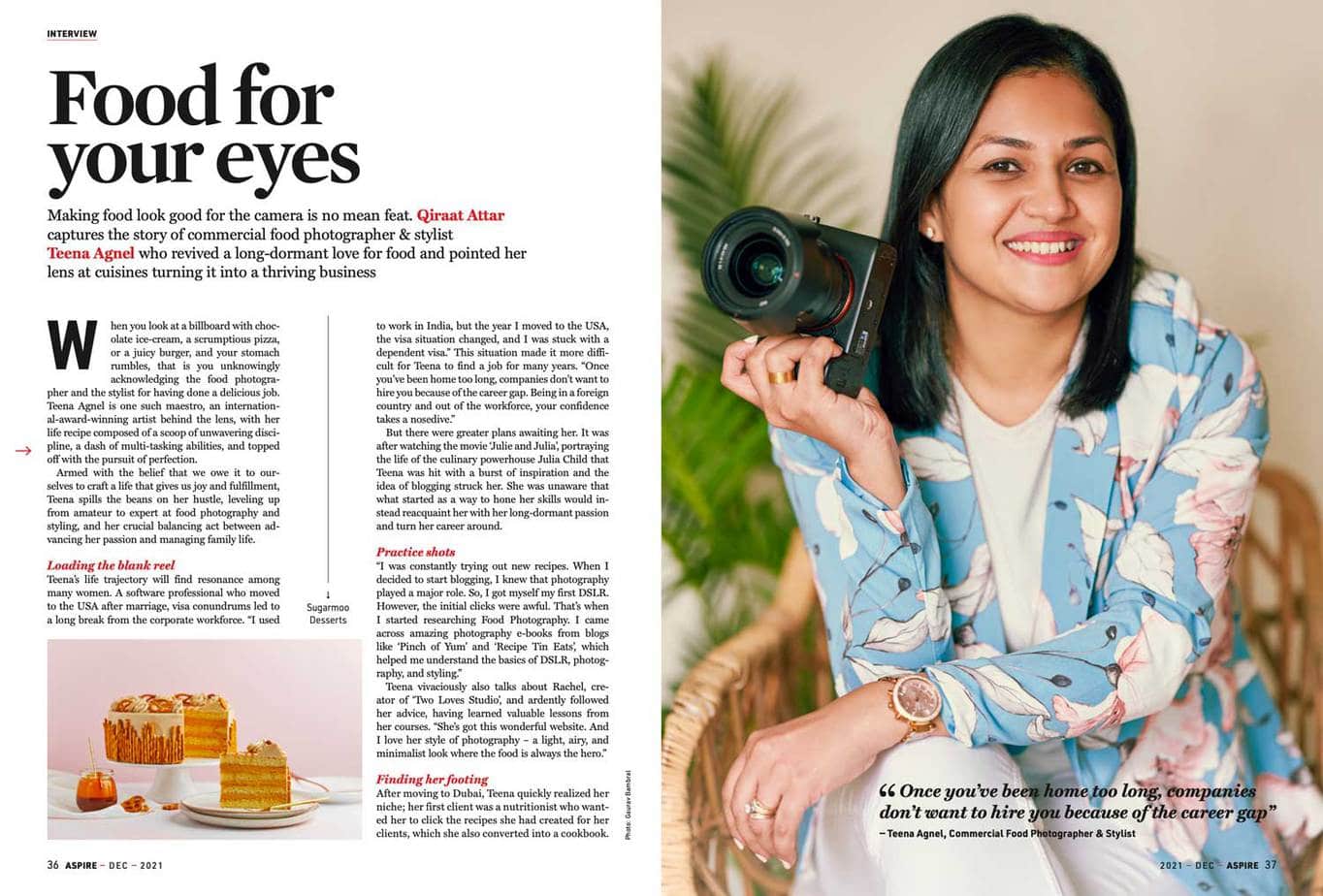 'If you like to cook or bake then this place is for you. If you don't know where to start then this place is for you and finally, if you don't like to cook and bake and never intend to but love to look at food pictures then again this place is for you.'
Hey There! Happy to see you 🙂
I am Teena, The Author, Cook, Baker and Photographer behind Art of Palate.
My primary goal is to treat you the way I like to be treated, which means, if you have any questions, feel free to hit the contact button?. I will be happy to share what I have learned so far.
Keep reading if you want to know more about my blogging journey Or to find out more about what this blog offers, skip to the Frequently Asked Questions below:
Why FeedYourTemptations.com became ArtofPalate.com
Beginning of 2018, we decided to license the company and since FeedYourTemptations did not feel like an ideal name for a company, we decided to change the name. With a lot of careful thought and to avoid any confusion in the future, the blog name was changed to match the business name.
Now it's officially Art of Palate LLC, which offers the following Food Photography Services.
Restaurant Photography
Food Photography (Offsite & Onsite)
Food Styling
Recipe Development
Recipe Videos
Motion Videos
You can check my portfolio here:
My Life:
I am a software professional turned food blogger. This blog is my passion and my fourth baby (after my two kids and husband:)). Unlike many who developed their passion for cooking after marriage, mine started way back. I don't remember exactly when, but the only problem was that my mom never lets me in the kitchen. She was being a perfect mom who thought I should spend my time studying and away from the kitchen. Her kitchen, her terms. Time passed by, and when I was busy with studies, my passion submerged deep inside me. I even forgot that I loved cooking so much.
The Real Journey – How It all started.
A marriage later, I moved to the US where I had my kitchen and a place to experiment, not to mention enough time. Although I did not know too much about cooking then, I am pretty confident my food was edible even in those initial days. I remember making chicken 65 in the 1st week after moving to Orlando. Agnel (My husband) told me we would get something from outside, but I insisted on making something at home. Chicken 65 was a big hit and when I asked Agnel later, why he had said no, his reply was, "I did not know you could make it."
My journey started there, with a combination of good outcomes, appreciation, and a lot of baking disasters.
I began blogging in April 2013. All the recipes posted here are my own and a result of trial and errors, with a few exceptions. I know how much effort goes into creating a recipe and I will share the link and give credit to the blogs, book or websites, whenever I post a recipe from there.
In 2015, I was almost on and off from the blogging world for nearly two years as a result of our big move from Orlando to Dubai and a new addition to our family. Now I plan to get busy and serious with blogging. I am so hoping that I can keep up with that. So stay tuned 🙂
The recipes on this blog are tried and tested.
Hope you enjoy visiting this space and if you ever try any recipe from here, don't forget to send in your feedback. 🙂
Best,
Teena