The insanely delicious chocolate skillet cookie or Pizookie is ideally a cookie flattened and baked like a pizza. Most of all, Serve it warm with ice cream, chocolate sauce, homemade salted caramel sauce or any topping of your choice.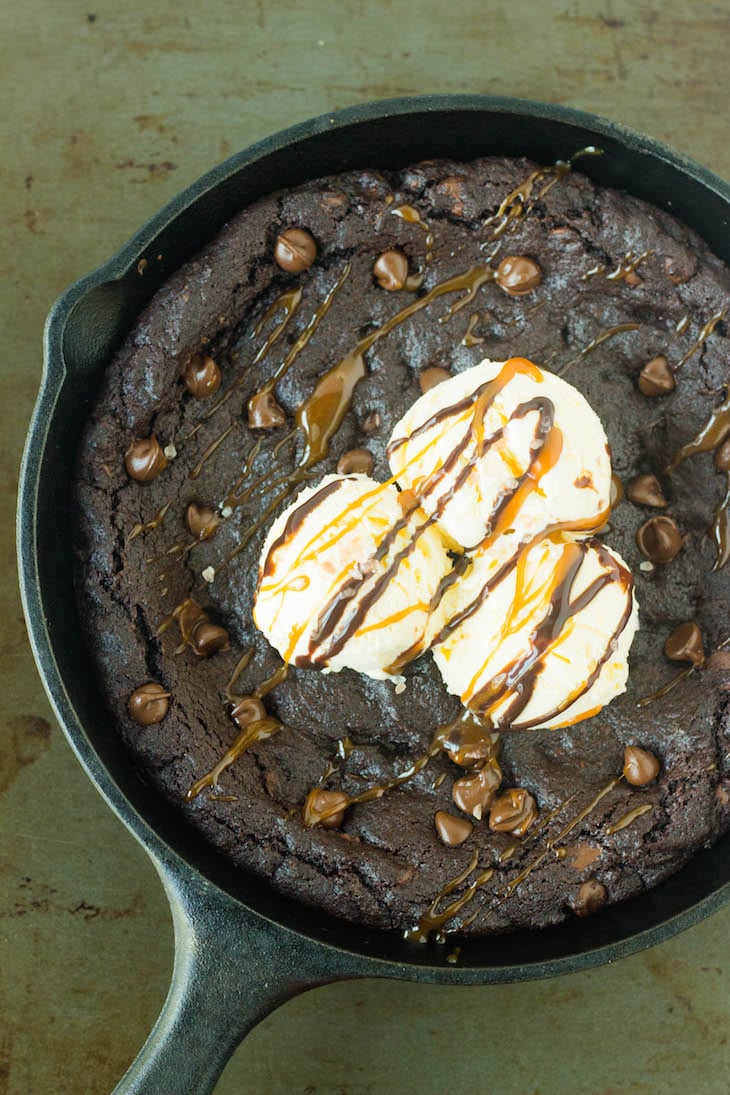 A dear friend introduced me to Pizookie. She couldn't stop raving about the almond pizookie served at Bj's restaurant and cookie in a pizza pan was indeed fascinating.
For the Pizookie, all you have to do is, spread the cookie dough on a cake pan or skillet and bake. However, depending on your personal preference, say fudgy or gooey, set the baking time.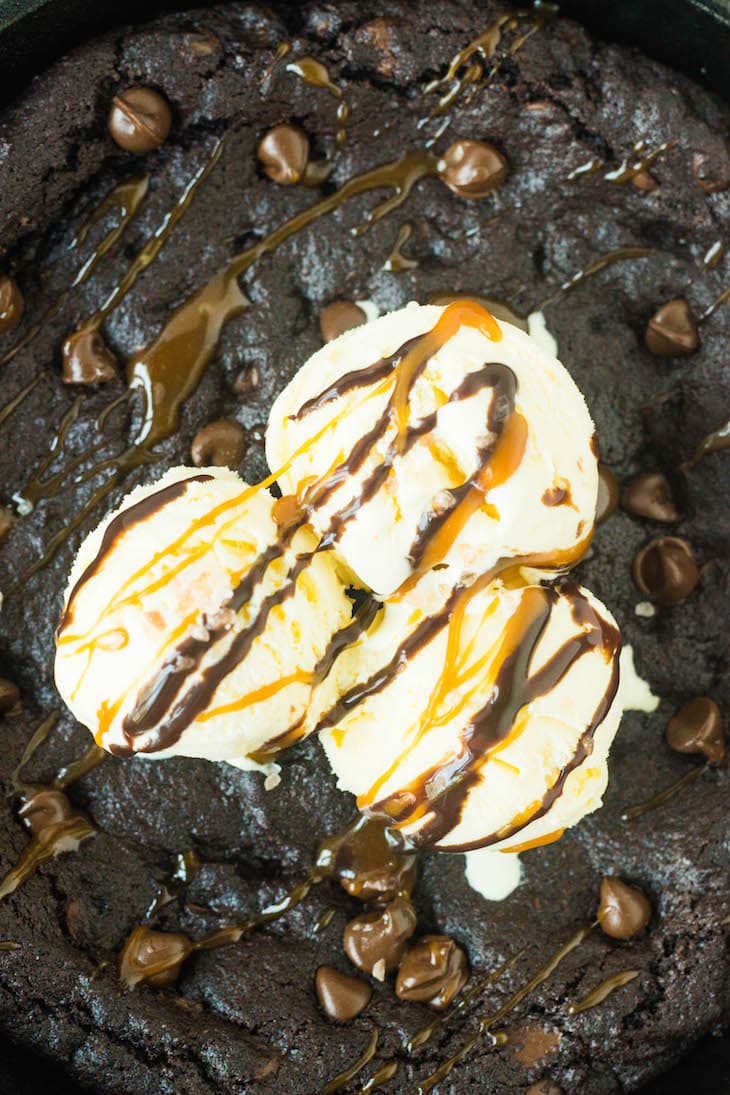 Once it's out of the oven, top the cookie with ice cream, chocolate syrup, salted caramel sauce, and your other favorites toppings.
Doesn't that sound insanely delicious and can any dessert get any better that this?
It's the reason why every time I see or make a cookie dough, this is all I can think of.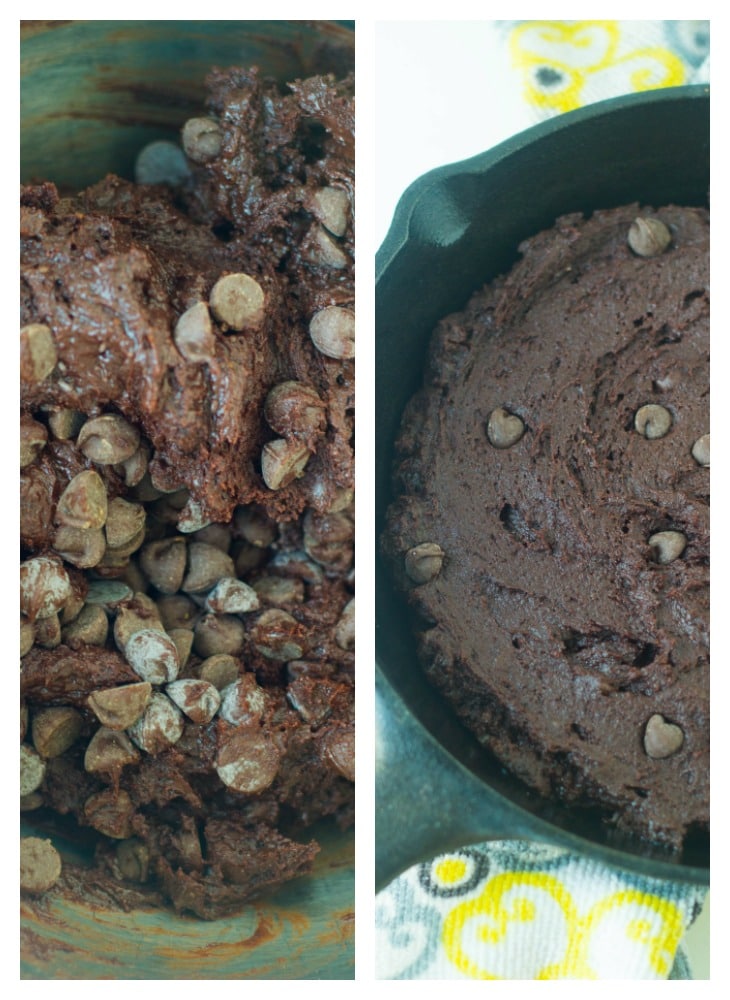 Turns out, when I gave my friends the chocolate chip cookie recipe, I kept telling them again and again that they could bake it in a skillet or baking pan and then serve it warm with ice cream, homemade salted caramel sauce, and chocolate sauce. It was only later I realized that I had already told them the same thing so many times. 🙂
For someone like me who has a terrible sweet tooth, this is divine.
You must not mind the additional calories once in a while. After all, doesn't life just happen once?. Everyone needs pure indulgence, and this is how you should Feed Your Temptations.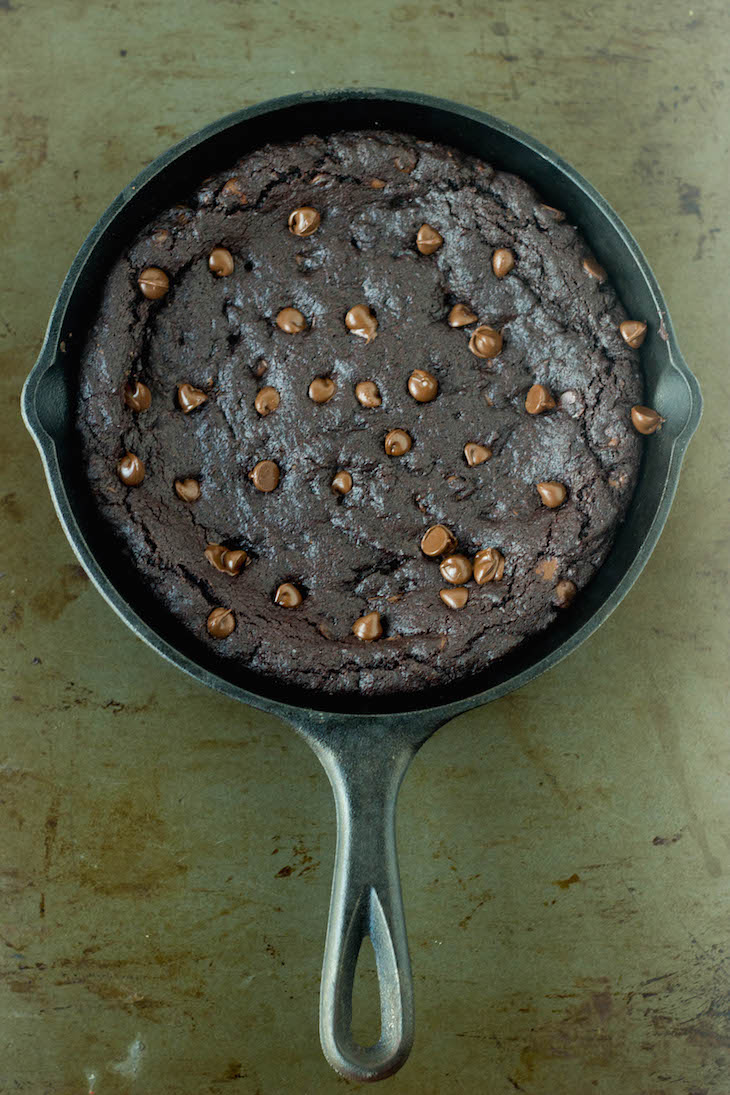 There is something about fresh baked cookies that drives you insane. Although warm and sweet always sounds good but do you ever feel like having freshly baked warm cake. I don't think so.
On the other hand, freshly baked bread right out of the oven is something you don't want to miss either like the pull apart garlic rolls or spinach stuffed Swedish rolls.
Finally, speaking about pure indulgence, try the crackly-chewy classic brownies. It's absolutely simple to make and you need very few ingredients.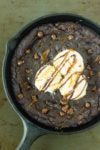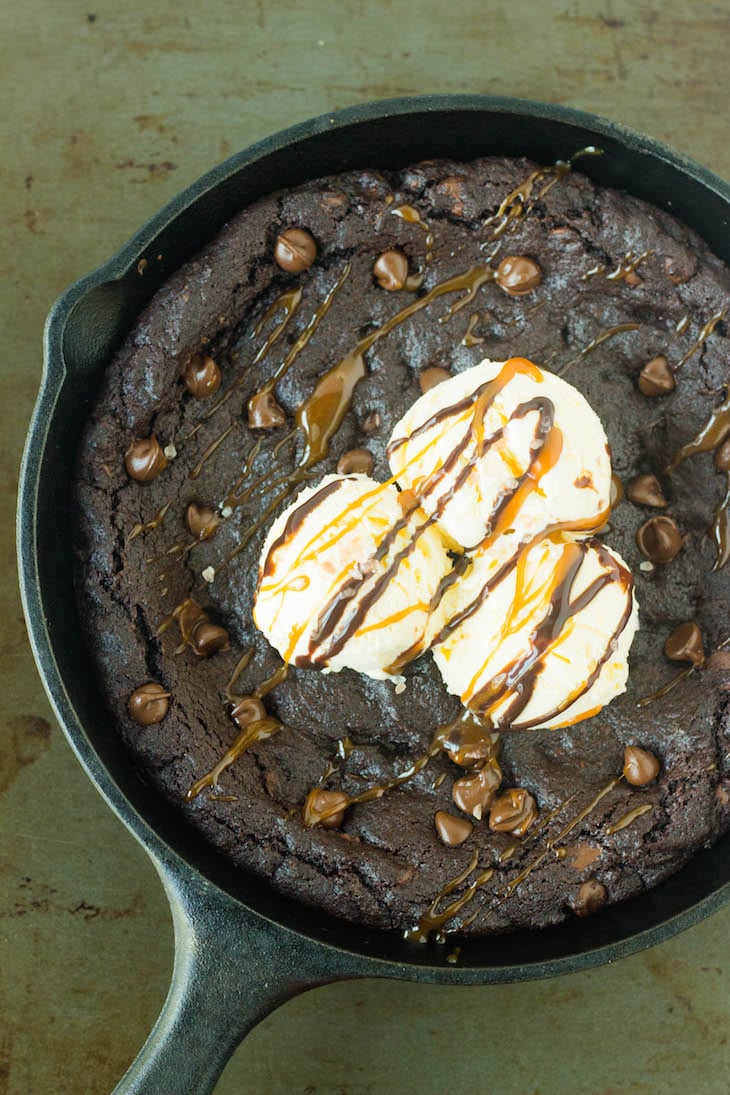 Chocolate Pizookie or Skillet cookie
Ingredients
1/2

cup

113g unsalted butter

3/4

cup

150g white sugar

1/4

cup

12g brown sugar

1

egg

1

teaspoon

vanilla extract

1

cup

120g all-purpose flour

2/3

cup

65g unsweetened cocoa powder

1

and 1/2 teaspoon baking soda

1/2

teaspoon

salt

1

tablespoon

milk

1/2

cup

chocolate chips + 1/4 cup for sprinkling on top
Instructions
Preheat the oven to 350 Degrees Fahrenheit / 175 Degrees Celsius.

Swift the dry ingredients, all-purpose flour + cocoa powder + baking soda + salt and keep aside.

Cream butter + white sugar + brown sugar until soft and fluffy.

Beat the eggs and vanilla and mix until incorporated, scraping off the sides.

Add the dry ingredients to the wet ingredients and mix until the flour is wet and comes together.

Stir in the milk and fold in 1/2 cup of chocolate chips.

Grease and dust a skillet or a cake pan. Transfer the cookie dough into the pan and flatten it out with a spatula. Sprinkle additional chips on top.

Bake for 20-25 minutes, till the top is crusty but is slightly undone on the inside for a gooey texture.

Top it with few scoops of ice cream and drizzle some chocolate syrup and salted caramel sauce.
Recipe Notes
If you are using a 9-inch skillet, baking time will be less.