Easy homemade salted caramel recipe
Whats the deal with Salted Caramel Sauce?. Every time you mention it or see this on a dessert, you can't stop drooling. It does sound good and it can make a dessert go from ordinary to wow. You be the judge now. This could be ready in 10 minutes and can be stored in the refrigerator to quench your dessert temptation. A simple warm drizzle on ice-cream or on a slice of cake can work craving wonders. It can also be used like a spread on toast.
What is salted caramel sauce?
Salted caramel sauce is the same as a regular caramel sauce, but you add a bit of sea salt, making it one of the best sauces to drizzle. People generally enjoy caramel sauce as the topping on puddings, pancakes, or ice cream. However, as salt has a natural ability to stimulate taste buds and enhance flavors, the little sprinkle of sea salt in the sweet caramel gives it an irresistible flavor that is difficult to resist.
How to make salted caramel sauce?
Making homemade dessert sauces isn't tricky, and salted caramel is one of the easiest recipes. It truly is the best-salted caramel I've ever had, and there are only four ingredients you will need: sugar, butter, heavy cream, and some salt, preferably sea salt or kosher salt.
How to make sea salt caramel sauce?
To make a sea salt caramel sauce, you can substitute the kosher salt with some sea salt; the measurement will remain the same for both these salts.
Salted caramel sauce recipe
Use the written instructions and measurements below, but here's the basic process:
First, we melt the sugar in a heavy bottom pan called caramelization. Stirring is not needed.
Place the pan on low heat and swirl it till the sugar has dissolved completely and it has a slight amber color.
Stir in butter, turn off the heat, add the heavy cream, and then the salt. I used kosher, but you can use any.
That's it, easy.
If you like caramel cakes, you shouldn't miss Chocolate covered cheesecake with caramel sauce.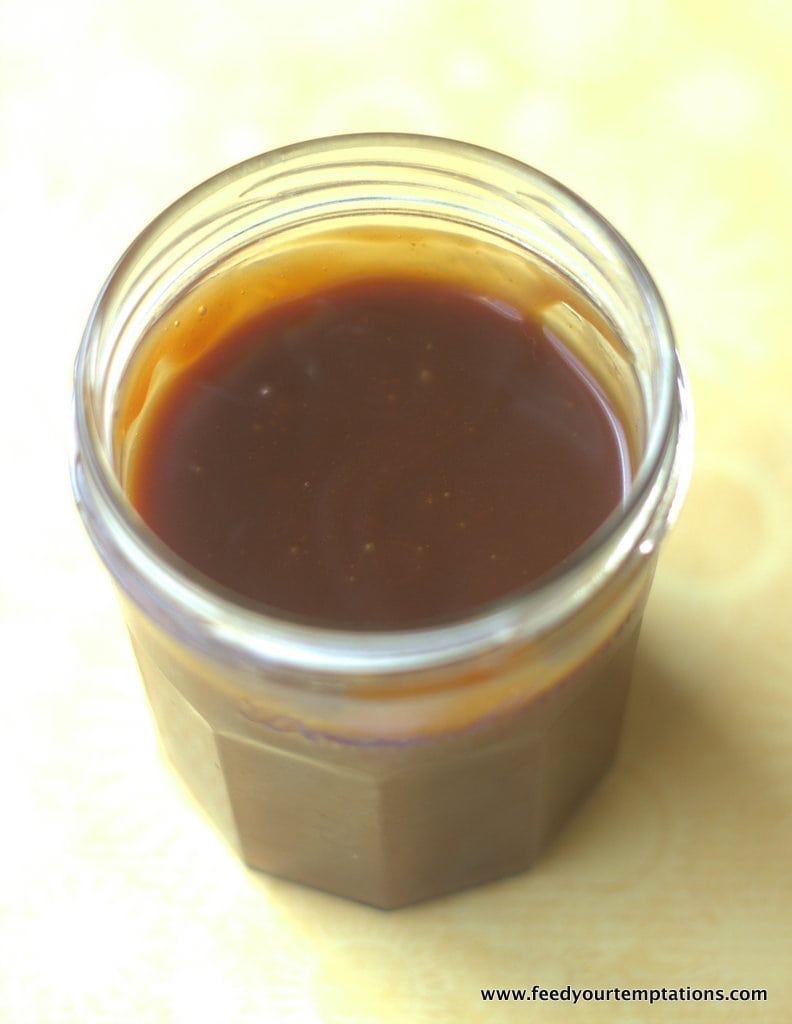 Making caramel is easy, but at the same time, can be quite scary. In other words its also about the trick. When the sugar starts to melt, turn the heat to low and keep rotating the pan in between. Let the liquid turn from light color to a slightly dark amber color. Now, keeping the heat on low, will take few minutes longer that I mentioned in the prep time, but this is a fool proof method and you can get rid of the scare of burnt caramel.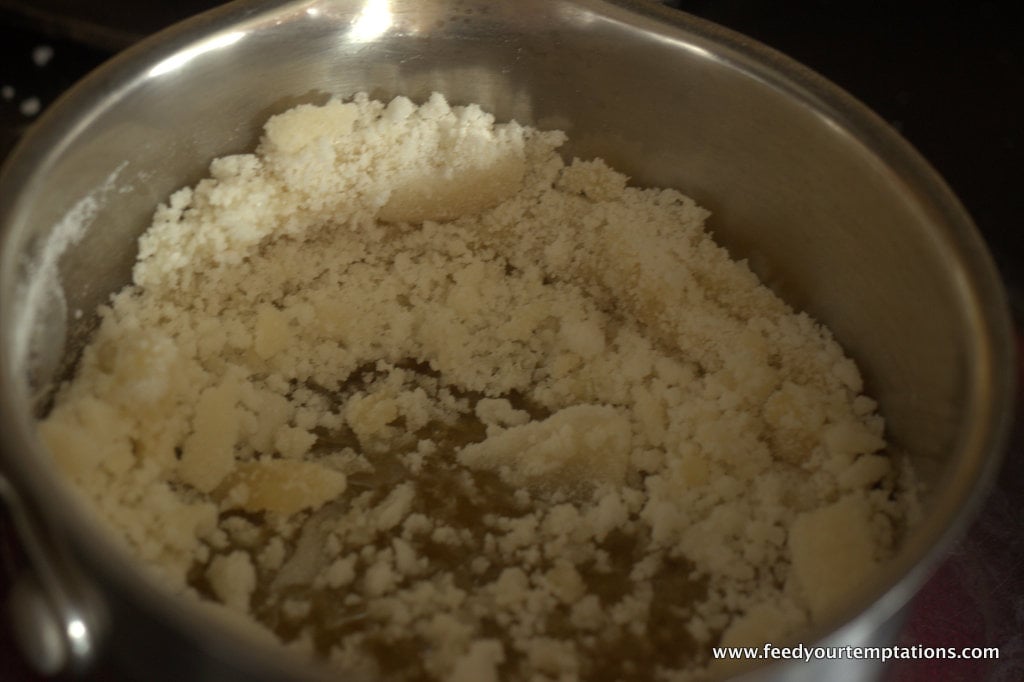 Be careful once you add the butter and heavy cream, the sauce could bubble over. So take a bigger capacity saucepan and remember the entire process needs at most attention. Keep everything you need next to you before you begin and do not walk away from the pan during the cooking process.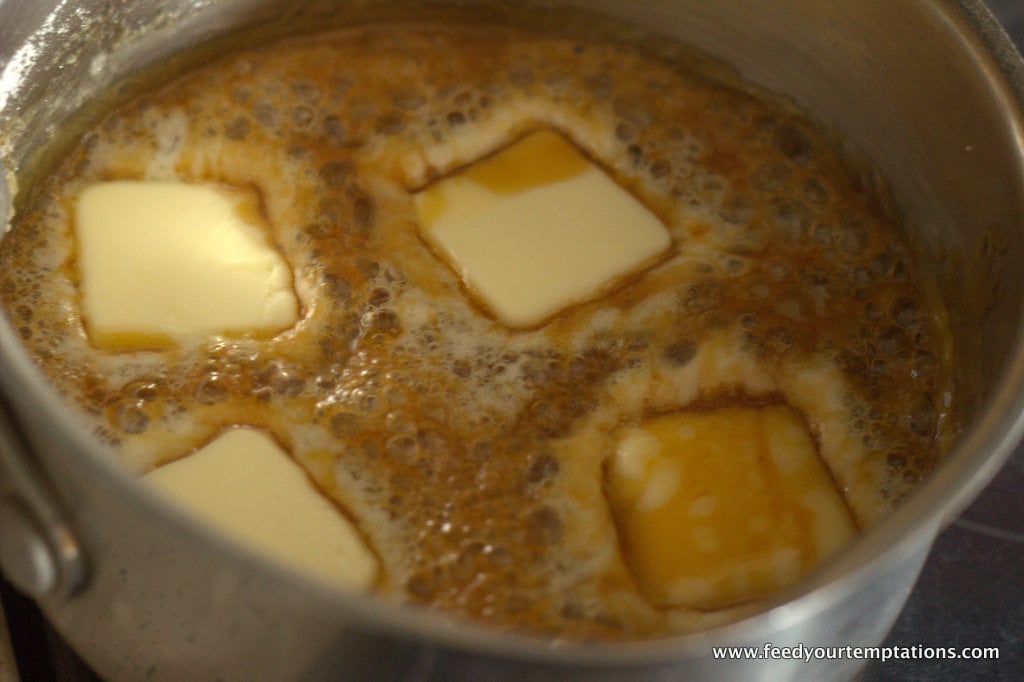 Only taste the caramel once it cools down completely. I know its obvious, but this liquid can be irresistible.
Caramel sauce without cream.
If you want to make delicious salted caramel sauce but don't have cream in handy, this recipe will do the trick without you having to run to the store. Use 1/2 cup warm Milk instead of heavy cream.
Once the sauce is dark amber, remove from the heat and slowly add in the milk while whisking but be careful as milk tends to boil quickly in the hot caramel.
How long does homemade salted caramel sauce last?
Homemade Salted caramel sauce can last about two weeks in a refrigerator when stored in a sterilized jar. When you want to serve the sauce, warm it lightly or add a spoonful of hot water/milk to help it get back to its original creamy yet slightly runny form.
Salted Caramel Recipes
Salted Caramel Frosting: Add it to buttercream frosting or chocolate frosting to elevate the flavor.

Dates and plum cake

:

Cut these cake into small cubes and place in a serving dish. Cover the entire cake with salted caramel sauce. You will be in dessert heaven with this recipe.

Ice cream, Cakes, and Brownies: Drizzle some caramel sauce before serving.
Is this making you drool? What are you waiting for? Grab a saucepan, start cooking and Feed Your Temptations 🙂
Salted Caramel Sauce
Ingredients
1

cup

sugar

4

tablespoons

butter

1/2

cup

heavy cream

1/2

teaspoon

granulated salt

I used Kosher
Instructions
Add the sugar to a heavy bottom pan and keep this on medium high heat. The sugar will start to clump and then eventually start melting. Shake the pan in a circular motion or use a whisk to mix the mixture.

Once the sugar starts melting, turn the heat to medium. The melted sugar should turn from light amber color to deep amber color. Keep rotating the pan as it won't take the sugar to go from done to burnt in few seconds. Add the butter, mix well, turn off the heat and then pour the heavy cream and whisk everything well again. Stir in the salt.

Let this cool down for 15-20 minutes before transferring into a glass jar.
Recipe Notes
Regrigerate: Slightly warm the sauce before serving.
Perfect as a topping for ice-cream, frostings, cakes.
Do not taste when the liquid is hot.