The Best Suji Halwa Recipe
Semolina pudding or Suji Halwa, with the goodness of saffron, pistachios, and cashews are a real treat to your taste buds. On the other hand, it's a quick and easy dessert recipe if you follow the right measurements.
If you are looking for a tripod to shoot cooking videos or for shooting straight down, please find the information below the recipe.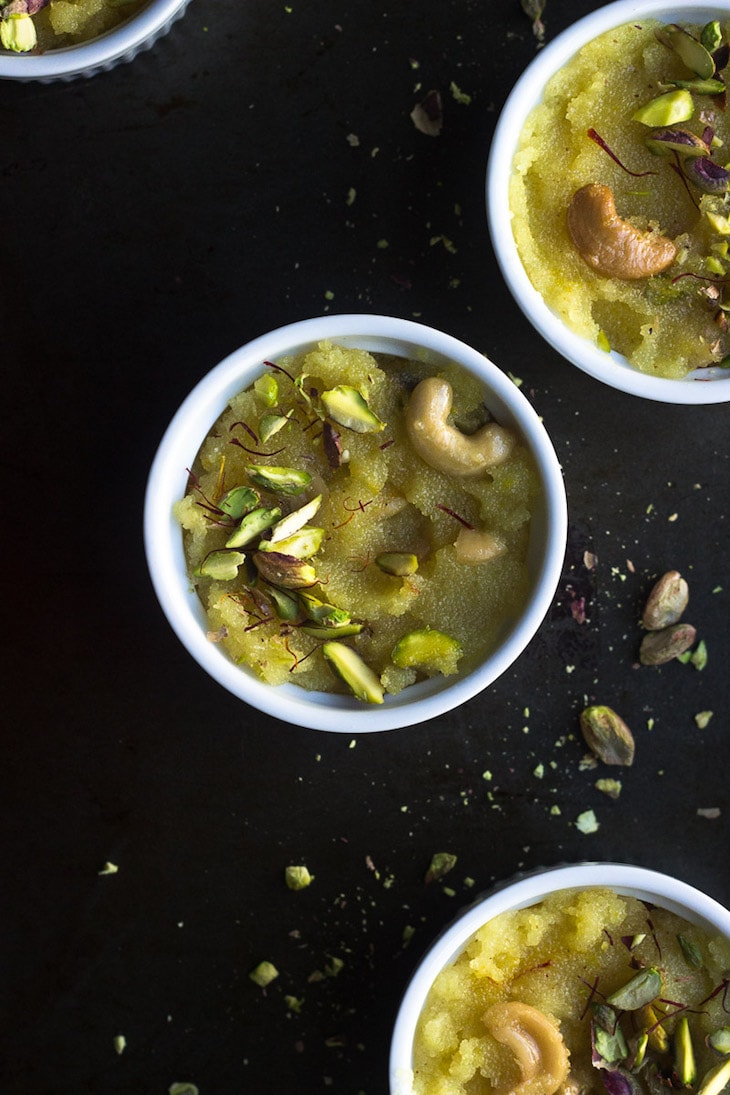 Semolina pudding or sooji halwa is one of my favorite Indian sweets, and yet I struggled for long to get it right. Although I  tried my luck on the internet and tried a couple of recipes, I failed again and again.
So during Navratri (An Indian festival), one of my dear friends invited me over for the pooja and served her delicious suji halwa. Bhavna is the one who gave me the recipe, and since then my suji halwa has turned out perfect every time.
Coupled with the right techniques, follow the measurements and you should get it right every time.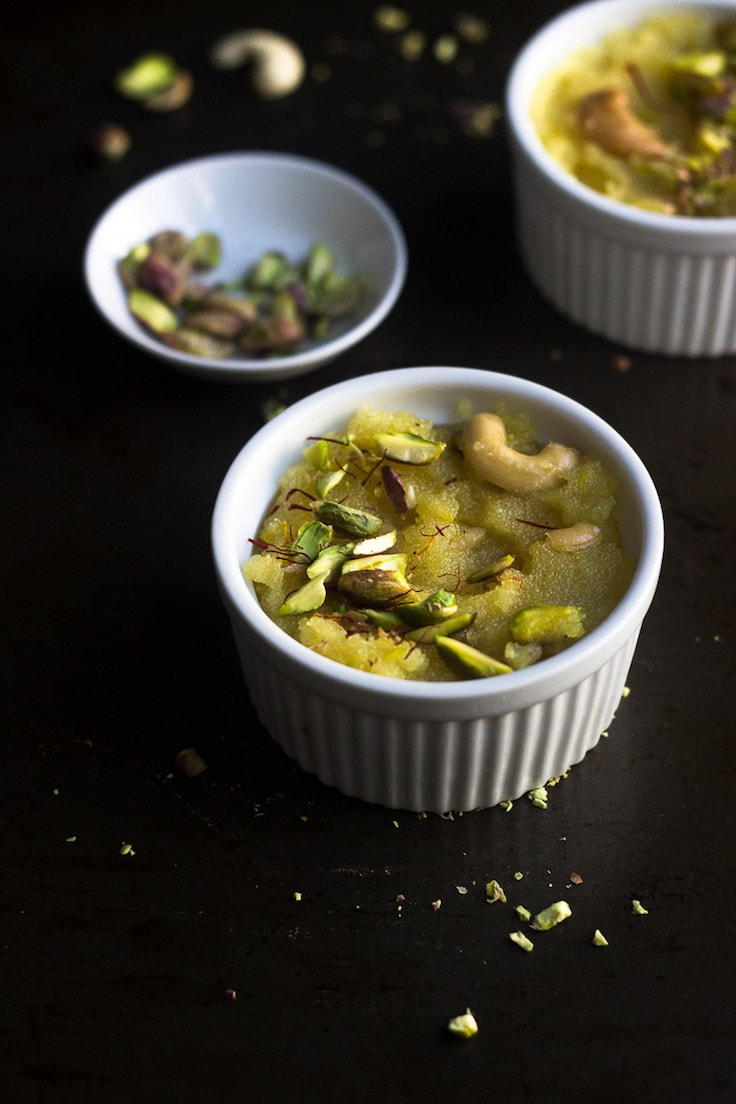 In brief, my friends have played an essential role in developing my culinary skills. They have been my best teachers. Having stayed in a lot of different places, I have had friends from different corners of India and different parts of the world. Since food is so close to my heart, I pay close attention to the cooking techniques and tips I get from them.
The best part is to perfect the recipes and share it with you. How else would you enjoy making something if you want to keep it to yourself?
Now having said that, I used to share few of my best recipes, which was the only ones I had when I started out. For instance, the famous rum and dates cake. When I would do that, I had people looking at me with surprise. They tried their best to stop me from sharing and said that recipes should be a secret. 🙂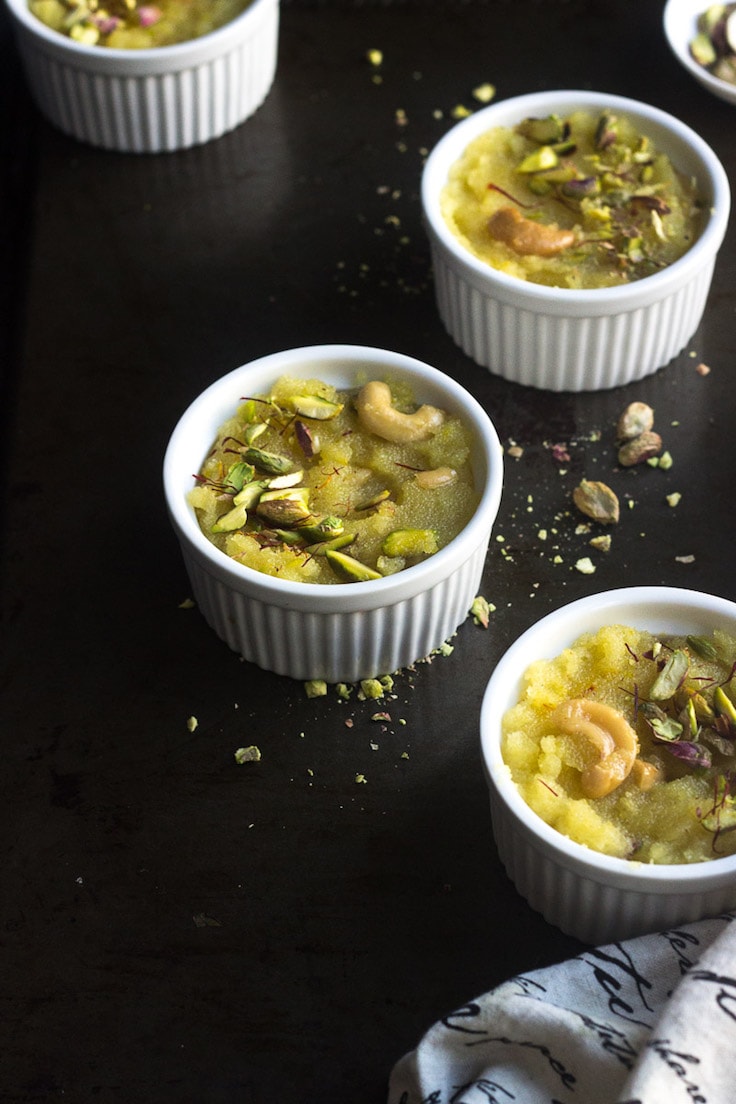 Likewise, I have met people who have straight away refused to share their recipe. If you want to read about it, check out the fruit cream post. :). You can read the story and also have the most delicious, sinful, no-cook, easy recipe.
In any case, I always thought that unless you share, others won't, and I firmly believe that Sharing is Caring.
By the way, would you like to share your thoughts on that?
So then, let's enjoy the halwa and remember always to serve it warm.
P.S: Check this Weeks blogging tips below the recipe: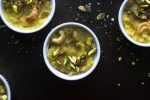 Semolina Pudding | Best Suji Halwa Recipe
Semolina pudding or Sooji Halwa, with the goodness of saffron, pistachios, and cashews are a real treat to your taste buds. It's a quick and easy dessert recipe if you follow the right measurements.
Ingredients
1/2

cup

Suji | Semolina

1/2

cup

ghee | clarified butter

1/4

cup

cashews, broken

2

cups

water

1/2

cup

sugar

4

pods

cardamom

pinch

saffron

1/8

cup

pistachios, for garnish (coarsely chopped)

Optional
Instructions
In a saucepan, add water + sugar + cardamom + saffron. Bring it to a boil and let it simmer for 5-10 minutes.

Meanwhile, In a pan, roast suji, semolina over medium-low heat until fragrant. Add ghee and cashews and roast for 2-3 minutes.

Now, add the boiling water to the suji and mix. (The water can splatter so have a lid in front of you while pouring the liquid.)

Turn the heat up to medium-high. Keep mixing until the mixture thickens and starts leaving the sides of the pan.

Once it thickens, cover it with a lid and turn the heat back to medium-low. Let it sit for 5 minutes.

After that, transfer it to a serving dish and garnish with pistachios.
Recipe Notes
When you are trying this recipe for the 1st time, follow the perfect measurements.
If I am making this for a regular day, I cut down the ghee | clarified butter to half. Rest everything stays the same.
Recipe Credit goes to a dear friend Bhavna.
TIT-BITS OF BLOGGING: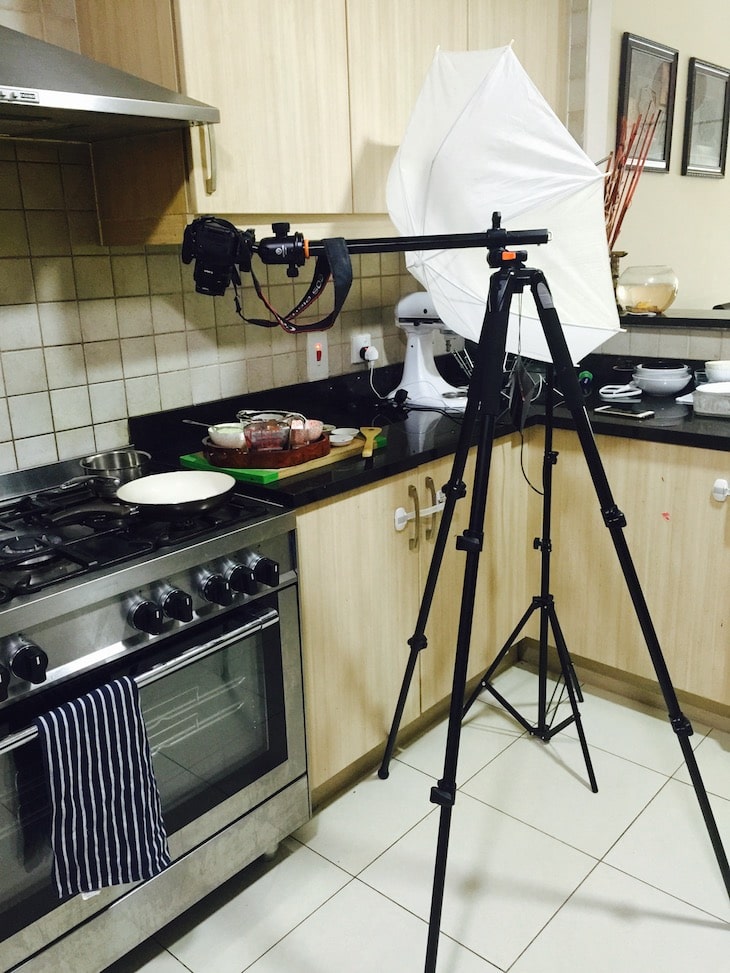 It's not a perfect setup but just wanted to show you the overhead tripod as promised.
It is a Vanguard Alta Pro 263AB 100 Aluminum Tripod Kit
which I got shipped from the states through Amazon. It is a very sturdy and stable tripod. Thanks to my BIL. The product itself was $159, but the international shipping was $30.
I shot the video for Best Classic Chewy fudgy Brownies with this tripod.
(Disclaimer: The link as mentioned above is an affiliate which means I get a commission if you purchase the product. But I don't review a product I am not happy with.)