This Red Velvet Cake with Cream Cheese Frosting is incredibly moist. Butter, Oil, and buttermilk add a beautiful texture and flavor to the cake.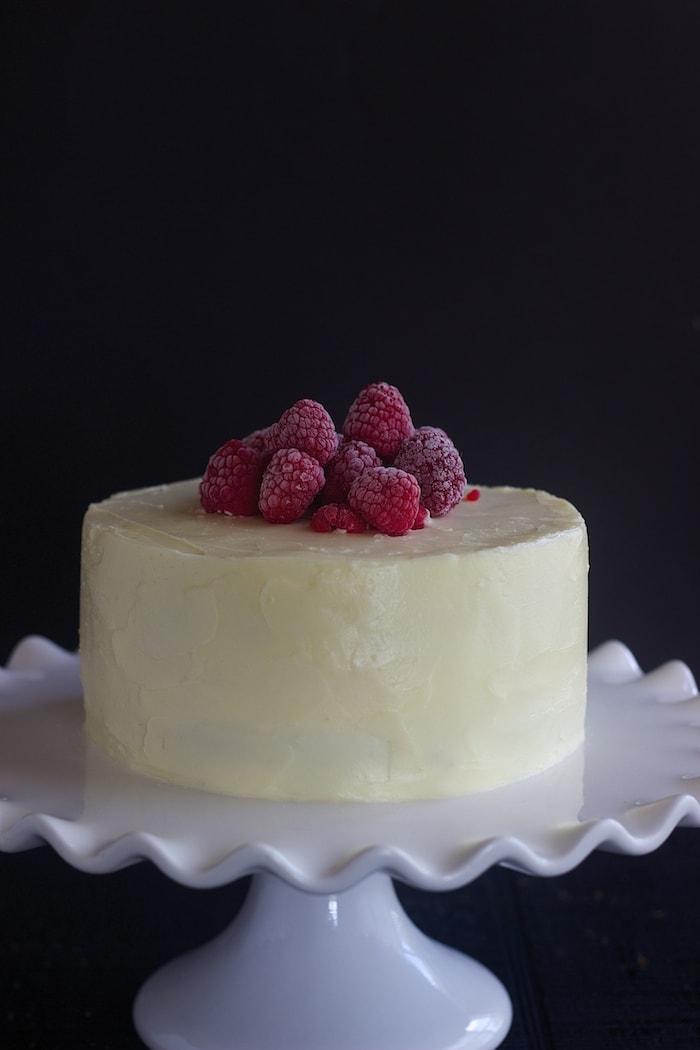 I like surprises and I also like planning them. This Red velvet cake was a surprise for Agnel's birthday. When I was deciding on what to bake for his birthday, it finally struck me that he had mentioned having red velvet cake at work and loving it. Agnel's birthday falls a week after Valentine's day and I remember going to Walmart and finding that they were out of red food color. All they had was multiple color packs and so I ended up getting a couple of packs instead of one.  The very 1st time I made red velvet cake, I used liquid color. Later on, I realized gel color works best for cakes and frosting. Since then, I have been using Wilton gel colors.
Also, try out the delicious black forest cake and pineapple upside-down cake.
The origin of red velvet cakes
Apparently, red velvet cake originated during the 2nd world war when food was rationed and people used beet juice to enhance the color and texture of cakes. It is said that once the red velvet cake was commercialized, everyone started using red food color. The baking science behind this cake is that the reaction of vinegar and buttermilk reveals the red anthocyanin in the cocoa and keeps the cake moist and fluffy.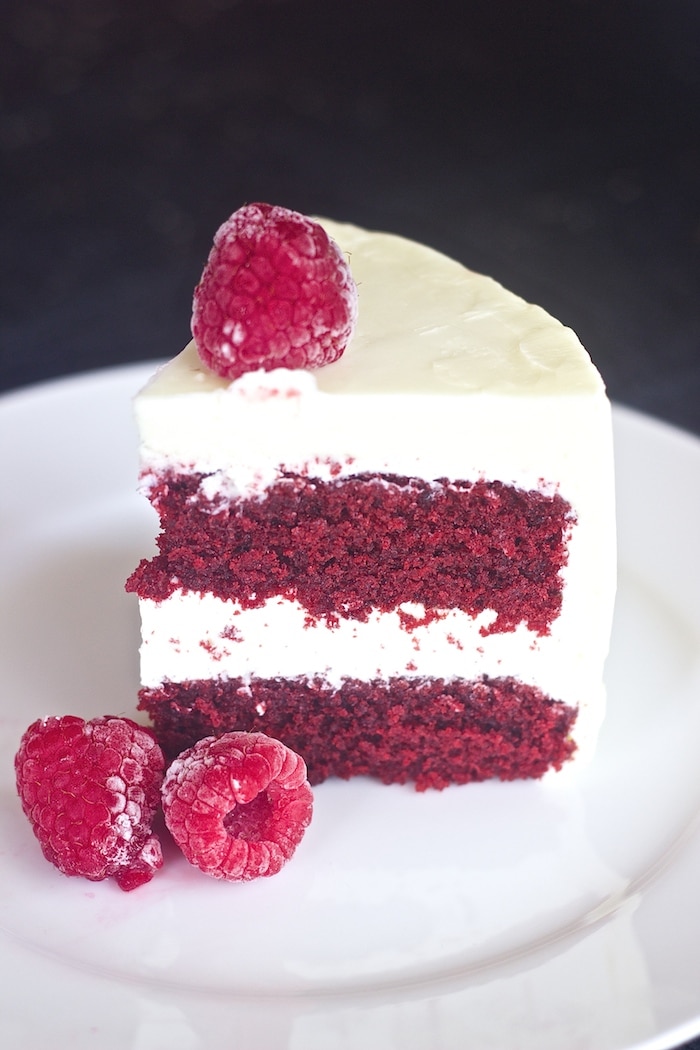 To be very honest, I have had red velvet cakes from different famous bakeries from around the world and I am still not quite sure how it should really taste like. Some cake was velvety but lacked flavor. Some tasted just like the vanilla cake with red color. Most of them tasted good but just that they all tasted different.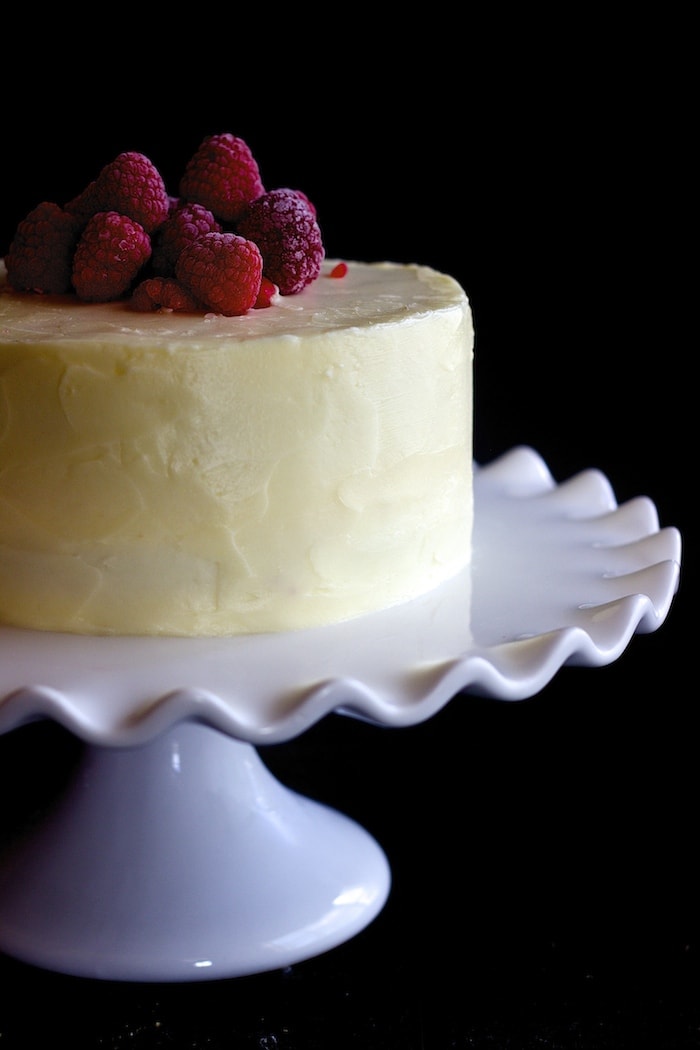 Some of the recipes on the internet used only oil, and some only butter. Substituting 100% butter in baking, with oil tends to make the texture of baked goods a little dense, I feel. Since butter gives the cake a good texture, adding a tablespoon or two of oil to butter-based cake makes the cake very moist.
THE SECRET TO THE BEST RED VELVET CAKE RECIPE
This Red velvet recipe yields a very moist cake and uses both butter and oil.
When it comes to chocolate, from my experience, oil-based chocolate cake generally turns out better than a butter-based cake. The 
best chocolate cake
uses only oil.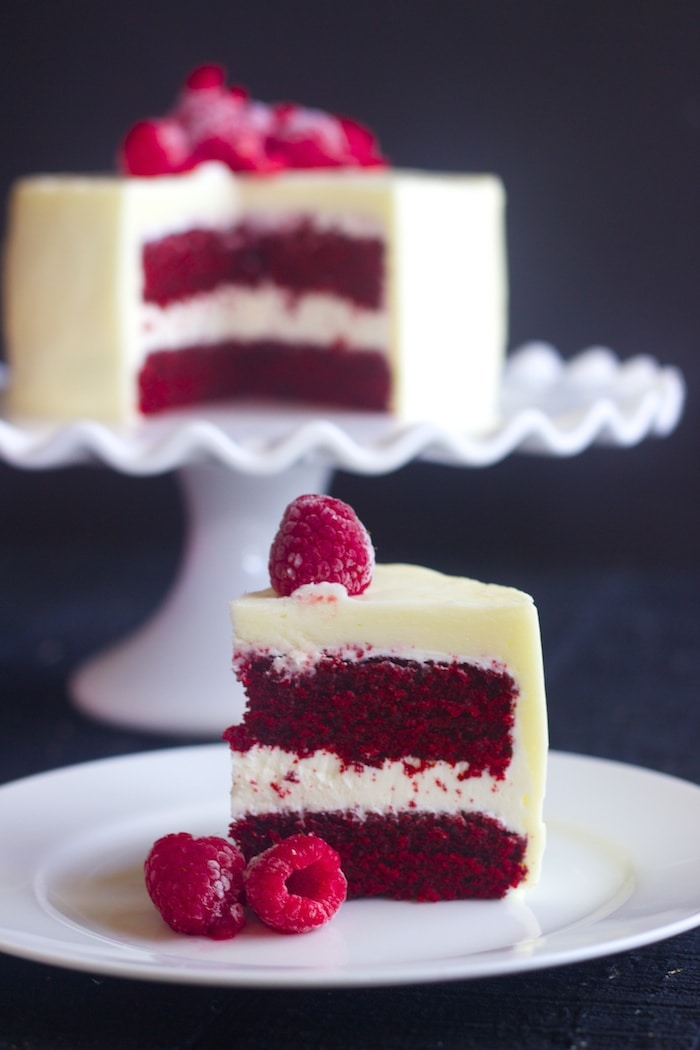 Update | 26th February 2017
This recipe has been slightly modified taking into consideration the comments below.
The eggs have been increased from 2 to 3. (This makes the texture of the cake more lighter)
The baking temperature was decreased from 350 Degrees Fahrenheit/175 Degrees Celsius to 325 Degrees Fahrenheit/ 160 Degrees Celsius. (This ensures even baking. I have started seeing better results when lower temperature is used for cakes)
Baking time is reduced by 10 minutes. (Every oven temperature varies slightly. So keep a close eye. Even an extra 5-10 minutes can make the cake dry).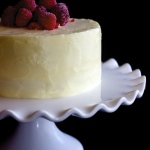 Red Velvet Cake
Ingredients
INGREDIENTS:

2 1/2

cups

cake flour

Please refer notes for substitutes

1/2

teaspoon

salt

1

teaspoon

baking soda

2

tablespoons

cocoa powder

1

stick + 2 tablespoons unsalted butter

(1/2 cup + 2 tablespoons butter)

1

and 1/2 cups sugar

2

tablespoons

vegetable oil

3

large eggs

1

and 1/2 teaspoon vanilla extract

1

cup

buttermilk

1

teaspoon

distilled vinegar

2

tablespoons

red food color

CREAM CHEESE FROSTING

2

cups

(16 oz )(450 grams) cream cheese

1

cup

(226 grams) butter at room temperature

3-4

cups

powdered/confectioners sugar

1/2

teaspoon

vanilla
Instructions
Preheat oven to 325 degrees Fahrenheit/160 Degrees Celsius.

Sift cake flour + baking soda + cocoa + salt and keep aside.

Cream together butter + sugar till fluffy. Add vegetable oil followed by eggs beating well after each addition.

Mix together buttermilk + red food color + vinegar + vanilla.

Add flour to the egg mixture in three batches alternating with the buttermilk mixture beginning and ending with flour.

Divide the batter into two 8 inch pan. Tap the pans 4-5 times on the counter to get rid of the excess air bubbles.

Bake for 25-30 minutes or until a skewer inserted comes out clean.

FROSTING:

Let the cake cool completely before frosting.

Beat cream cheese + butter till smooth and light for about 2-3 minutes. Add 3 cups of powdered/confectioners sugar gradually. Taste and add the remaining 1 cup of sugar as needed.
Recipe Notes
For 1 cup Cake flour substitute: Take a leveled cup of all purpose flour. Remove 2 tablespoons of flour and then add 2 tablespoons of corn flour/corn starch. Mix and sift the flour 4-5 times. Using cake flour gives this cake a very light texture.
Gel food color yields a better red color.
The color of this cake is not bright red. If you want the cake to be bright red, use only 1 tablespoon of cocoa powder instead of 2.
Be careful when handling red food color. It can stain your counter and do not use your hands to mix once red color is added.