These easy red velvet cupcakes are oil based which makes it super moist. The delicious cream cheese frosting is an additional bonus.

Red Velvet Cupcakes and Red velvet cakes are the most searched recipes during Valentine's day. These oil-based cupcakes are very moist and will stay good for few days even outside the refrigerator. One of many things I have learned during my baking experiment is, whenever there is cocoa involved, oil always works better than butter.
Love has been in the air for some time now; it sure feels that way when you see every store shelf filled with valentine supplies. It was as if they couldn't wait for Chrismas to get over so that they could load it with other eye-catching things.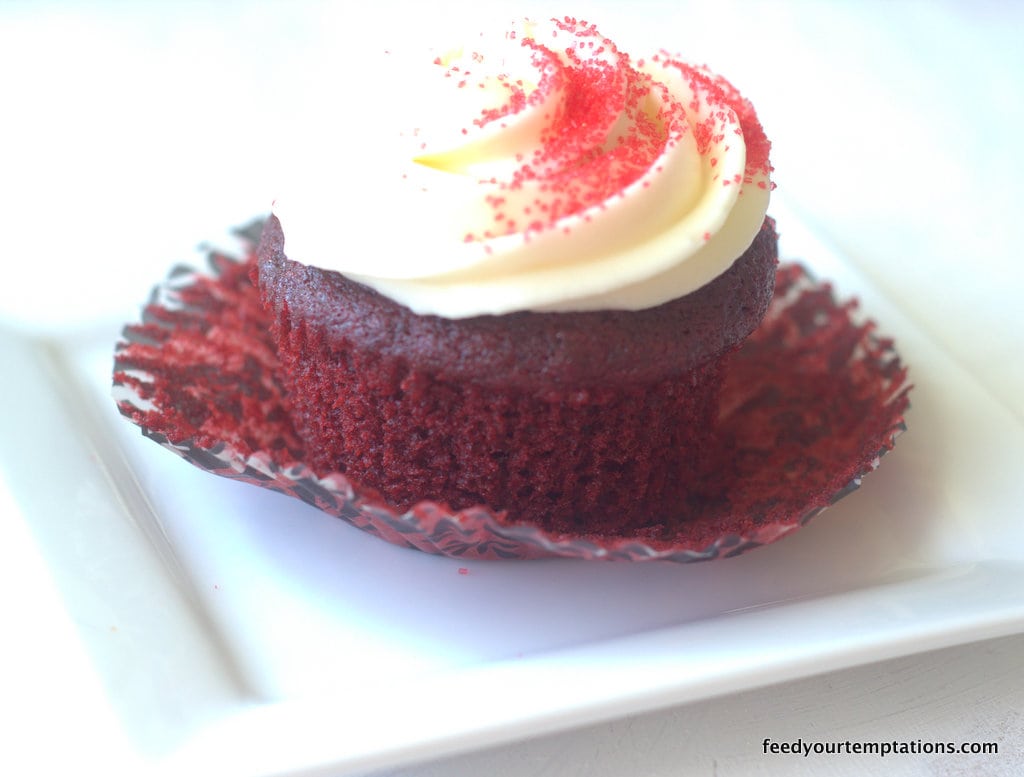 "Happy Valentines Day," I said to my hubby, offering him the frosted red velvet cupcakes when he was home from work yesterday. You should have seen the startled look on his face. For a minute he thought it was actually Valentine's day and that he had forgotten to wish me. He picked up one, when I said, 'don't worry it is not valentines today.' Poor thing, he was in a state of shock, I wish I had recorded his expression. You know how women don't forget the smallest thing, right?. He knew, had he missed this; he would have heard it for the rest of his life :).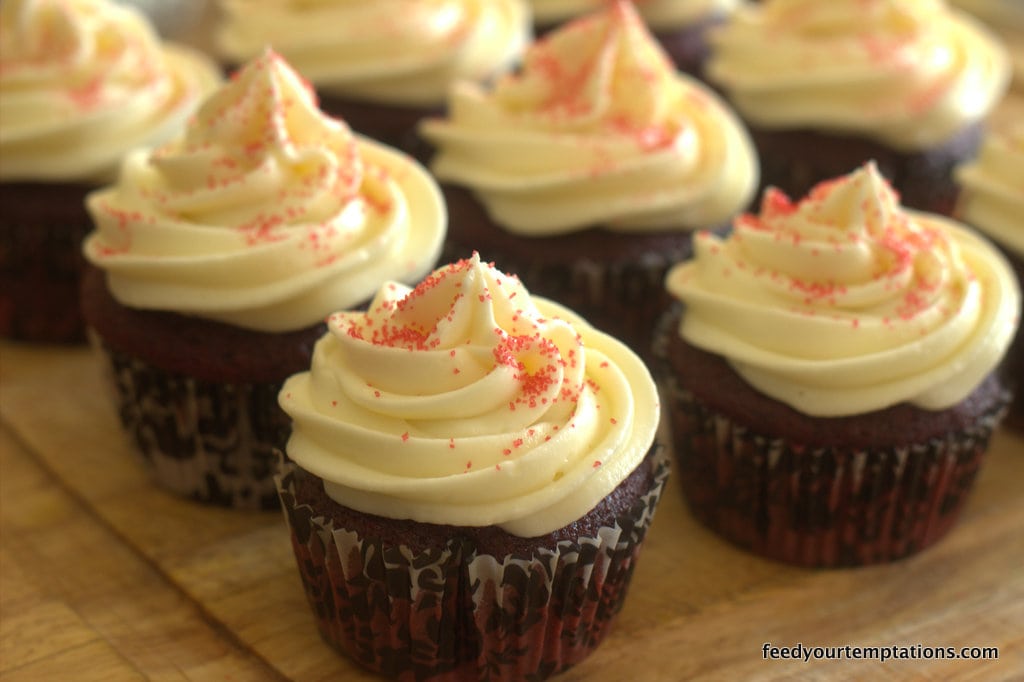 I baked a Red Velvet cake for Agnel's  birthday last year. Its been almost a year already. Time flies away so fast.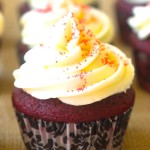 Red Velvet Cupcakes with Cream Cheese Frosting
Mini cupcakes - Fill only half and baking time is 7-8 minutes
Servings
:
15
medium cupcakes, 48 mini cupcakes
Ingredients
1

and 1/2 cup

180g All purpose flour/maida

1/4

cup

25g cocoa

1

teaspoon

baking soda

1/2

teaspoon

salt

1/2

cup

120ml vegetable oil

1

and 1/4 cup

250g sugar

2

Large Eggs

1

teaspoon

vanilla extract

3/4

cup

buttermilk Substitute

2

tablespoons

red food color

3/4

teaspoon

vinegar

apple cider vinegar preferred

Cream Cheese Frosting:

8

oz

226g cream cheese, at room temperature

1/2

cup

1 stick(113g) unsalted butter, at room temperature

1 1/2

cup

confectioners sugar

1/2

tablespoon

heavy cream or milk

1/2

teaspoon

vanilla extract
Instructions
Preheat oven to 350 Degrees Fahrenheit or 175 Degrees Celsius. Line a cupcake pan with liner or spray and dust the pan.

Swift flour + baking soda + salt + cocoa.

Beat oil + sugar until the sugar is completely dissolved. Add eggs one by one, beating well after each addition.

In another bowl, add buttermilk + food color + vinegar.

Now add the dry ingredients to the egg mixture in three batches alternating with buttermilk, beginning and ending with flour. Mix on low until only combined. (Very important: Do not over mix the batter and do not use your hands to mix once you have added red color)

Divide into individual mould, only filling little more than halfway as these will rise well. Tap it gently about 5 times on the counter to get rid of any air bubbles.

Bake for 16-18 minutes or until a skewer inserted in the center of the cupcakes comes out with few crumbs attached to it.

Let it stay in the pan for about 5 minutes and then transfer onto a wire rack for cooling.

Cream cheese frosting: Beat the cream cheese well until soft, add the butter and sugar, beating well. Scrape off the sides, pour heavy cream and vanilla and beat until smooth and satiny. Taste and add more sugar if needed.

I used a star decorating tip.
Recipe Notes
These cupcakes stay well and moist at room temperature for couple of days. Store in a airtight container.
I used a muffin tin and 4 mini ramekins to bake the cupcakes.
If using icing, store this in the refrigerator. Keep it out at room temperature at least 30 minutes before serving.
If you want more red color, use 1/8 cup cocoa instead of 1/4 cup and 1 and 1/8 cup sugar instead of 1 and 1/4 cup.