It is one of the BEST CHOCOLATE CAKE RECIPE. Check out how to make a simple super moist chocolate cake from scratch. You only need a bowl and a whisk.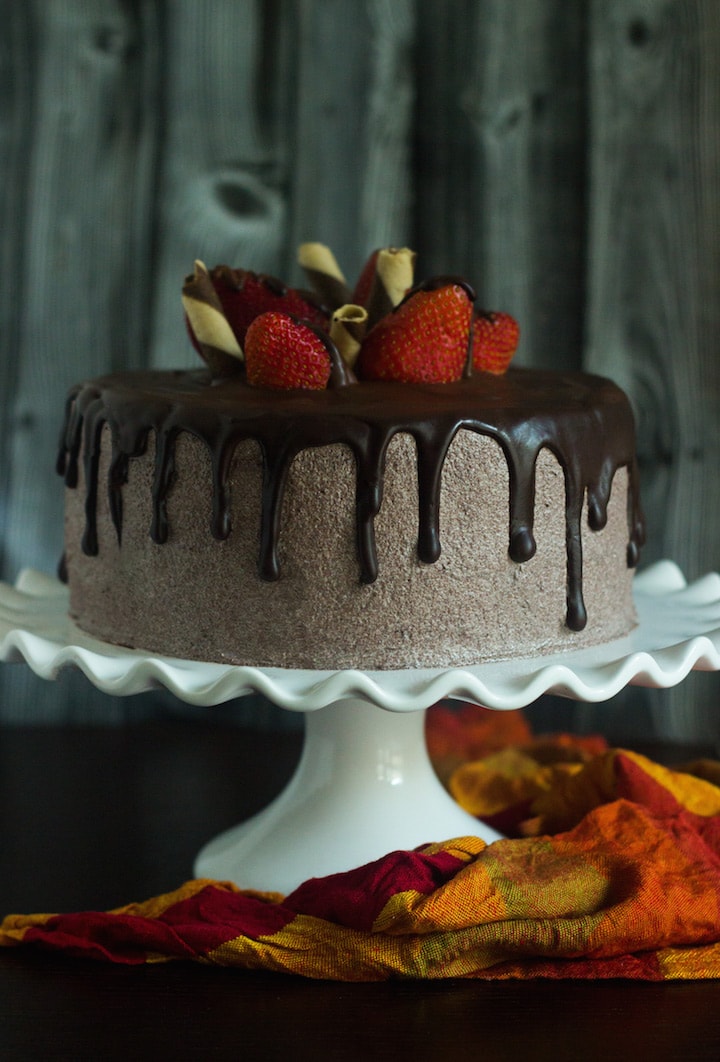 This is the EASIEST and the BEST CHOCOLATE CAKE RECIPE you will ever find because its everything you can ask for in a chocolate cake!!!
Its MOIST, chocolatey, decadent, and the best part is you just THROW EVERYTHING into the bowl —- then MIX and BAKE. This is a beginner and a kid-friendly recipe.
This recipe my friends is a keeper and there is no way you can go wrong with it.
Do you feel sad when you suddenly realize that your baby is all grown?. My elder one turned 6 last week and the night before, all his birthdays started flashing in front of me. Ohhh! I miss him being little and whenever I think about it, I don't feel like putting my younger one down thinking he is going to grow up too soon too.
As I sat with Nivaan on the rocking chair the night before his birthday talking about how sad his mommy was that he is growing up, he with all his innocence tried to convince me that he is going to stay with me forever :).
Best Chocolate Cake Recipe
Nivaan is crazy for chocolate cakes and the first time I baked this super moist chocolate cake was for his 2nd birthday where I decorated it with all the things he liked—A kid-friendly cake. (Well, I admit I am not very thrilled looking at that cake now). For the 3rd birthday, I used the same cake and made a Cho Cho train.
For the 4th, I made a tall m&m illusion cake| gravity-defying cake with chocolate and vanilla. On his 5th birthday, we brought a cake. With the pregnancy and the big move, baking was the last thing on my mind and for the 6th the same chocolate cake was wrapped differently.
Hopefully, for his next birthday, I will convince him to try a different flavor.
Chocolate Recipes you may like
Black Forest Cake | German chocolate Cake
Chocolate espresso cupcakes with Nutella cream cheese frosting
Black forest cupcakes | With whipped cream and cherry filling
Rum balls | brownie balls | brownie truffles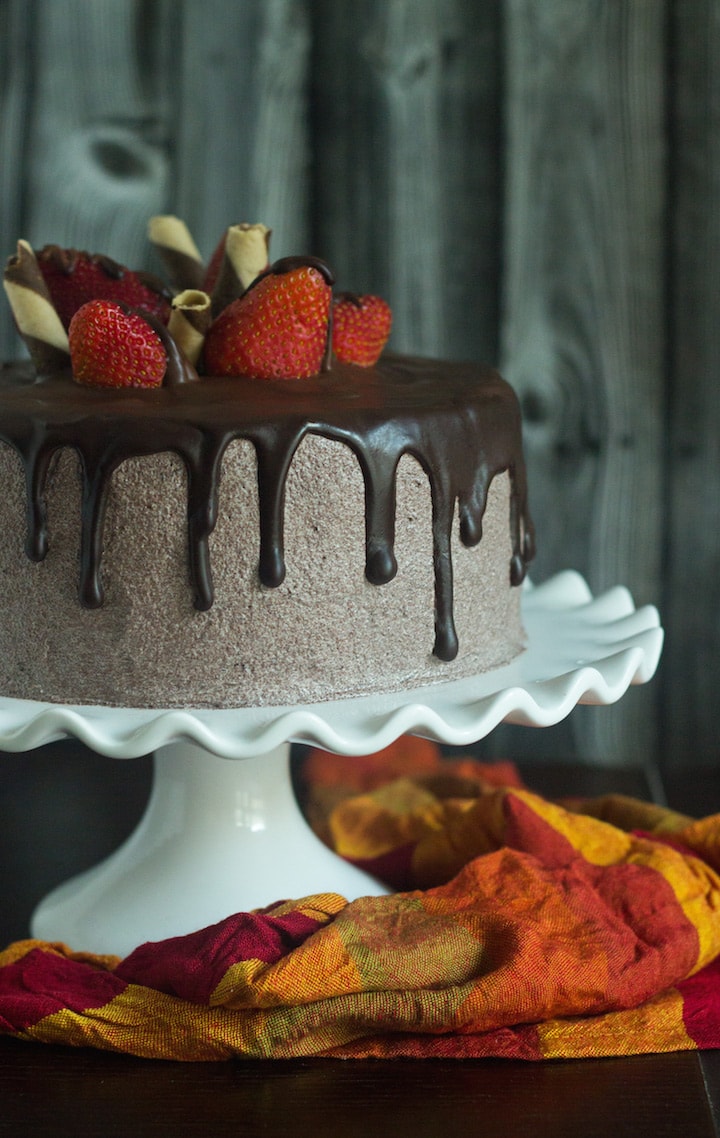 The same recipe was in use for so many years and no other recipe has ever matched this one because it is that simple and yet amazing.
This is the highly-rated Hershey's chocolate cake.
I have posted chocolate cakes with different variations like the black forest cake | moist dark chocolate cake recipe, but I have never posted a pure chocolate indulgence and I thought its high time I do so.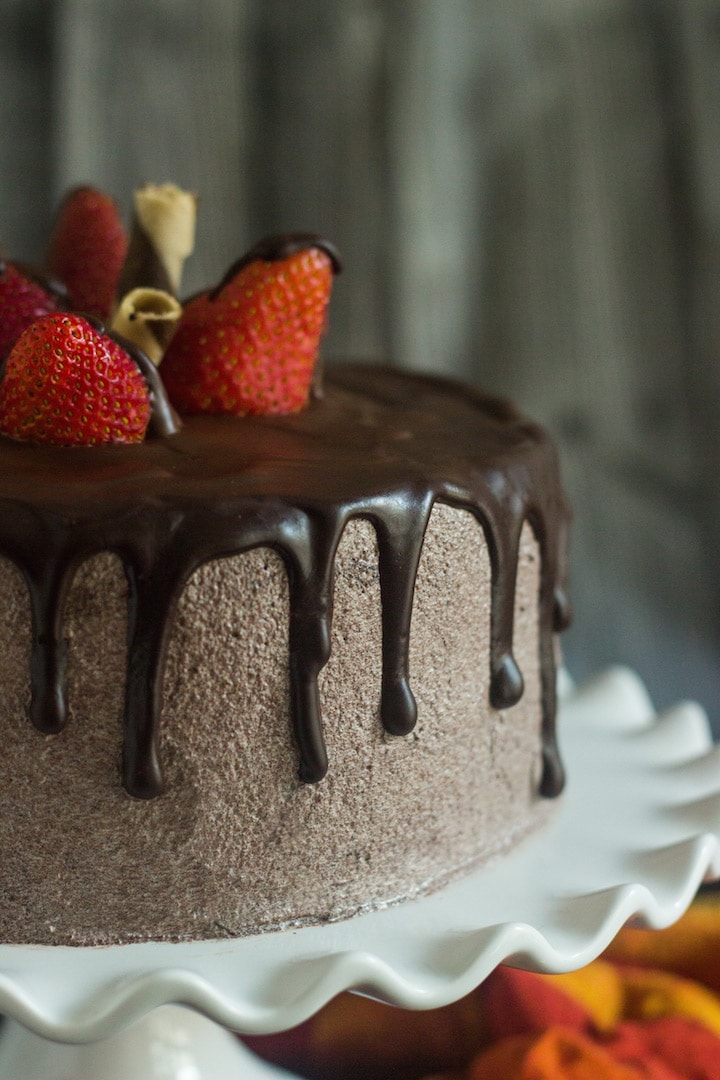 How to make chocolate cake from scratch?
This chocolate cake recipe is amazing when you want to bake a cake from scratch. It only has three easy steps.
Add all the dry ingredients to a bowl. Give it a quick mix with a spatula.
Add all the wet ingredients and mix it till it incorporates but do not overmix.
Finally, add hot water and give it a mix. That's it. Pour and bake. It is that simple.

What frosting goes best with chocolate cake?
Chocolate buttercream frosting
Shiny Chocolate glaze
Whipped cream. You can find inspiration here.
How to make a chocolate glaze without heavy cream?
Did you know that you could substitute milk for heavy cream when making chocolate glaze?. It really works!
Heavy cream and corn syrup add a beautiful shine and smoothness to the chocolate glaze but there are times when you don't have access to both.
Sometimes you are so confident that you have certain ingredients and only when the time comes to finally use it you realize it has expired. This was the story behind the heavy cream and I am glad that there is another way because heavy cream is something which is not a common refrigerator staple in many households including mine.
All you have to do is add chocolate chips or chunks and butter to a bowl and add simmering milk. Wait for 5 minutes and stir to achieve a smooth consistency.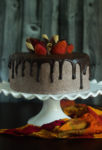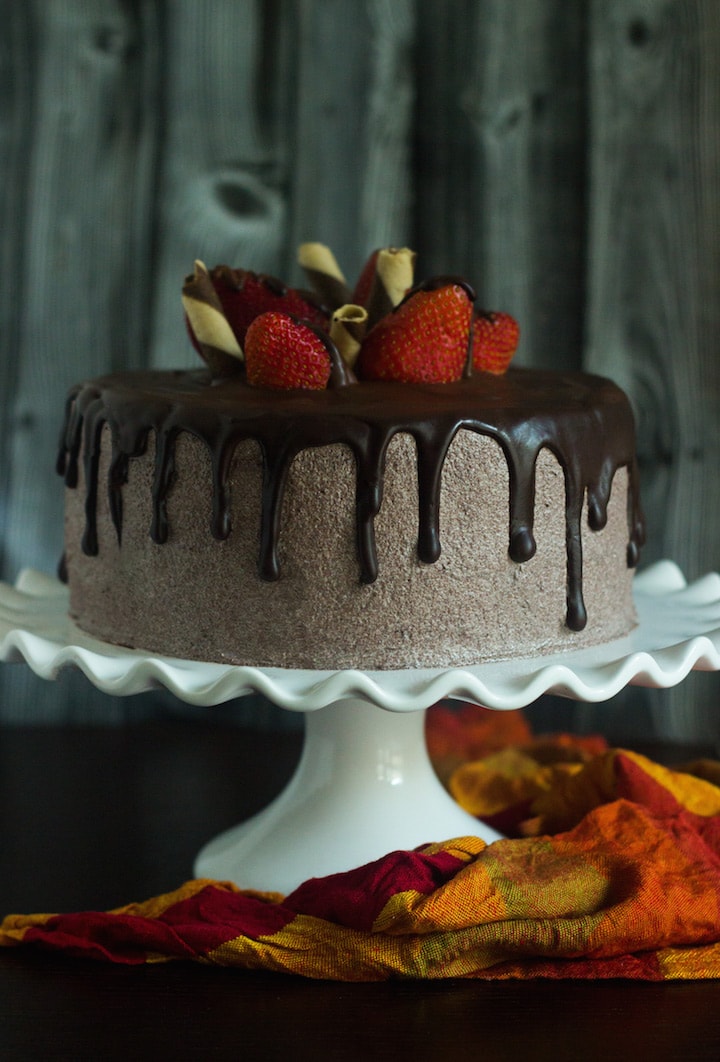 Best Chocolate Cake | How to make chocolate cake from scratch
It is one of the BEST CHOCOLATE CAKE RECIPE. Check out how to make a simple super moist chocolate cake from scratch. You only need a bowl and a whisk.
Keyword:
best chocolate cake recipe, chocolate cake recipe, how to make chocolate cake from scratch, moist cakes
Ingredients
1-3/4

cups

or (210g) all-purpose flour

3/4

cup

or (75g) dark Cocoa powder

(like Hershey's special dark for blackish color)

2

cups

or (400g) sugar

1-1/2

teaspoons

baking powder

1-1/2

teaspoons

baking soda

1

teaspoon

salt

2

eggs

1

cup

or 8oz or (240ml) milk

1/2

cup

or (4oz) or (120)vegetable oil

2

teaspoons

vanilla extract

1

cup

or (8oz) or (240ml) boiling water

FOR FROSTING

2

sticks + 5 tablespoons

300 g butter, at room temperature

2/3

cup

or (66g) cocoa

3

cups

or (375g) confectioners sugar

1

teaspoon

vanilla extract

pinch

of salt

3

tablespoons

milk

CHOCOLATE GLAZE:

1/2

cup

or 4 oz or (113 g) chocolate chips or finely chopped chocolate bar

1

cup

or (240ml) milk or heavy cream

1

tablespoon

butter

pinch

of salt
Instructions
Heat oven to 350 Degrees Fahrenheit /175 Degrees Celsius. Grease, line, and flour two 8-inch round baking pans.

Whisk together flour + cocoa + sugar + baking powder + baking soda and salt in a large bowl. To that, add eggs + milk + oil + vanilla. Beat on medium speed of mixer for 2 minutes or you can use a whisk.

Add the boiling water to the batter and stir well (batter will be thin). Pour batter into prepared pans.

Bake 40 to 45 minutes or until a wooden skewer inserted in the center comes out clean. Cool for 10 minutes and then remove from pans to wire racks.

Cool completely before frosting.

FROSTING:

Beat butter until soft. Add sifted cocoa powder and beat well. Now add confectioners sugar little at a time and beat till it blends well. Add a pinch of salt as well.

Add vanilla and a tablespoon of milk at a time and beat well until soft and fluffy. Scrape of the sides.

CHOCOLATE GLAZE:

Add chocolate chips or chocolate bits and butter into a clean bowl. Add a pinch of salt and mix. Bring milk or heavy cream to a simmer on heat but not boiling and pour it into the chocolate bowl.

Whisk it. Slowly the chocolate starts melting and it comes to a syrupy and pourable consistency. Use immediately.

ASSEMBLY:

Frost the cake and place it in the refrigerator for 30 minutes before you pour the glaze. Slowly start pouring on the edges of the cake till it drips. Then fill the center and smooth with a spatula.

Dip the strawberry or other fruits in chocolate and place it over the cake.
Recipe Notes
If baking in 9-inch pans, baking time will be between 30-35 minutes.
Frost the cake only after it cools completely. Its easier to frost the cake if it has been in the refrigerator for 30 minutes. Pour the glaze only over the chilled cake.
To get a clean slice, dip a non-serrated knife in hot water, wipe it off nicely, and cut the cake.
You can also add 1/4 cup of chocolate chips into the batter to make it richer.
Cake Recipe Adapted From Hershey's