These rum rocks reminds me of the one I made for Christmas last year. I remember tasting the first

 

bite which send a heat wave down my throat. That was a real fire hazard and may I state that a real rum ball should be a fire hazard. For this recipe I have been a little modest, I reduced the alcohol content.

 

Those who had this said, it had the perfect balance of rum and chocolate without the overpowering taste of rum.
That was a different recipe too, one which involved a day old brownie. Comparing the two I found the one with the brownies were easier to roll. Two common ingredients in both were rum and chocolate. When it comes to alcohol I love having wine which many alcohol lovers say is grape juice :). I say if it gives you a buzz,  its alcohol. Having said that when it comes to desserts I love the rum based ones – it could be rum cake,  Almond cream with rum, rum bars, rum cookies, rum & raisin ice cream and many to follow. Using it in desserts makes it so festive too. I  now realize that I should dedicate a section to rum.  I will post my favorite rum based desserts soon. I wonder why rum based desserts are not so readily available in stores.
I have heard many times that the best things in life happen by chance, and so was the creation of rum rocks. Truth be told I did not intend on making rocks, I started with truffle and wanted it to be that way. But as I was trying to shape these I thought. "wait a moment!", this looks fancy and classy, and there it was, cute and scrumptious little rocks. And when it comes to messing your hands with chocolate who cares. Isn't that a chocolate lovers dream. 'I dream a dream of chocolate'.
And you may ask why I created a non-alcoholic version. As I opened my pantry and took the chocolate chips, my little one came running and said yummy yummy. He was right there waiting to taste whatever I was making. I have no idea how kids know what they need even if two things looked exactly similar, in this case the ganache. He insisted on tasting the ones which had rum. Took me a while to distract him.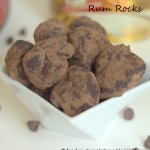 Rum Balls / Rum Rocks / Chocolate Truffles with or without rum
Refrigeration time: 2 hours
Ingredients
2 cups 12oz(330gms) Semi Sweet chocolate chips (I used Ghirardelli)(Please refer notes)
1/2 cup 4oz(120ml) Heavy Cream
4 tablespoons 60gms Unsalted or salted butter
4 teaspoons rum or more as needed optional
1/2 teaspoon kosher salt
Cocoa powder for dusting or
1/2 Coarsely chopped walnuts peanuts, pistachios or other nuts
Instructions
Place the heavy cream in a heavy bottom saucepan and bring it to a boil. Now add the butter and whisk well till the butter melts completely. Once the butter melts take it off the stove and add the semi-sweet chocolate chips. Whisk continuously till the chips melt completely and a ganache is formed. It could take few minutes. Now add the rum and mix well. Pour into a shallow pan, let it cool for a while, cover it and put it in the refrigerator for 2-3 hours.

After it thickens, scoop the ganache with a spoon or ice cream scoop and roll it into small balls with the palm of your hands. Its a little messy job but as I said earlier if its chocolate who cares. If its difficult to form the shape, dip the rolled ganache into the cocoa mixture or nut and try again.

For the shape of rocks: Scoop the mixture and with your fingers, give an uneven shape. This is easier. Coat with cocoa flour.
Recipe Notes
Chocolate bars chopped into small chunks can also be used. Try to use dark chocolate.
I divided the ganache into two parts, I added rum in one and formed it into rocks. The other batch I kept alcohol free.
If you are in a hurry put the ganache in the freezer for 30-40 minutes and start shaping. Don't let it get too hard or giving it a shape will be difficult.
This can be stored in an airtight container in the refrigerator for up to 2 weeks.
If you divide the ganache into two parts, use 2 teaspoon of rum instead of 4, and add more as needed after tasting.