Moist, delicious, and mouth-watering! All three things perfectly describe this delightful cake. A divine treat for dairy-free and vegan lovers out there, this eggless chocolate cake will be so tender and rich in flavor that you will find it hard to believe that it is made without eggs.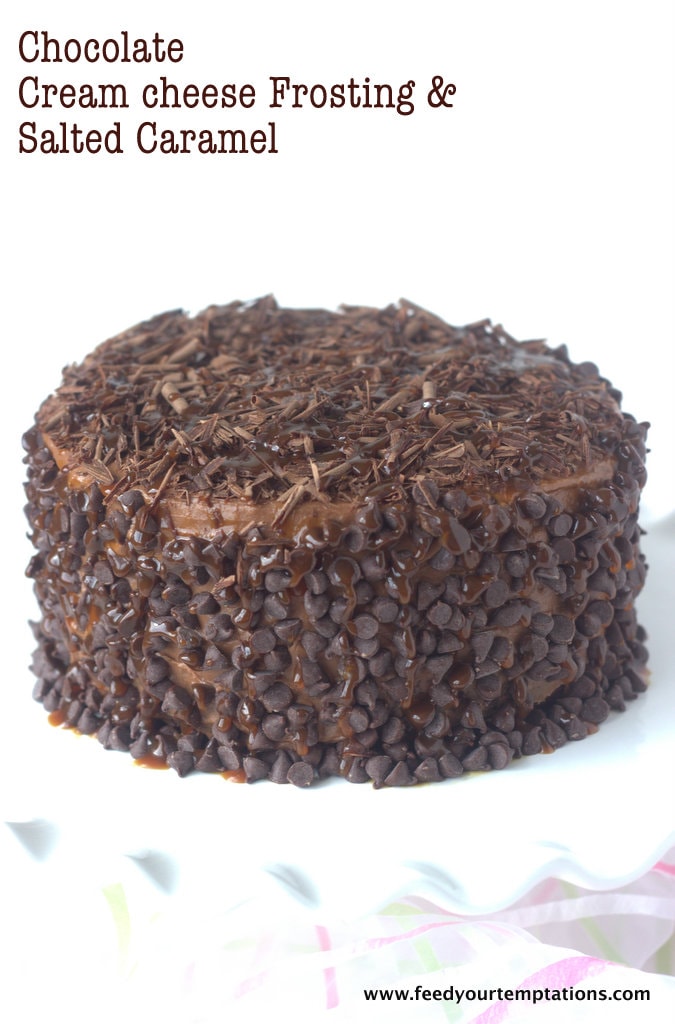 Happy Easter! Today is Feed your Temptations 1st Anniversary. It's been a year already. Time flies by so fast. It was last year, just a day after Easter when I launched my blog. Today with more than 100 recipes and my own domain, it feels great. To celebrate this special occasion, I made an incredibly delicious chocolate cake. It's moist and divine. The addition of coarsely ground walnuts to the batter gives this cake a rich flavor and different texture. To my vegetarian friends and readers who have been asking for an eggless/vegan cake, here it comes.
I baked this cake with another occasion in mind too. Agnel and I completed our 7th anniversary last week. Since Agnel and my little one only loves chocolate cakes, something special and chocolaty was what I had in mind. Agnel was surprised to know that this cake did not have eggs. It's that moist. You should definitely give it a try.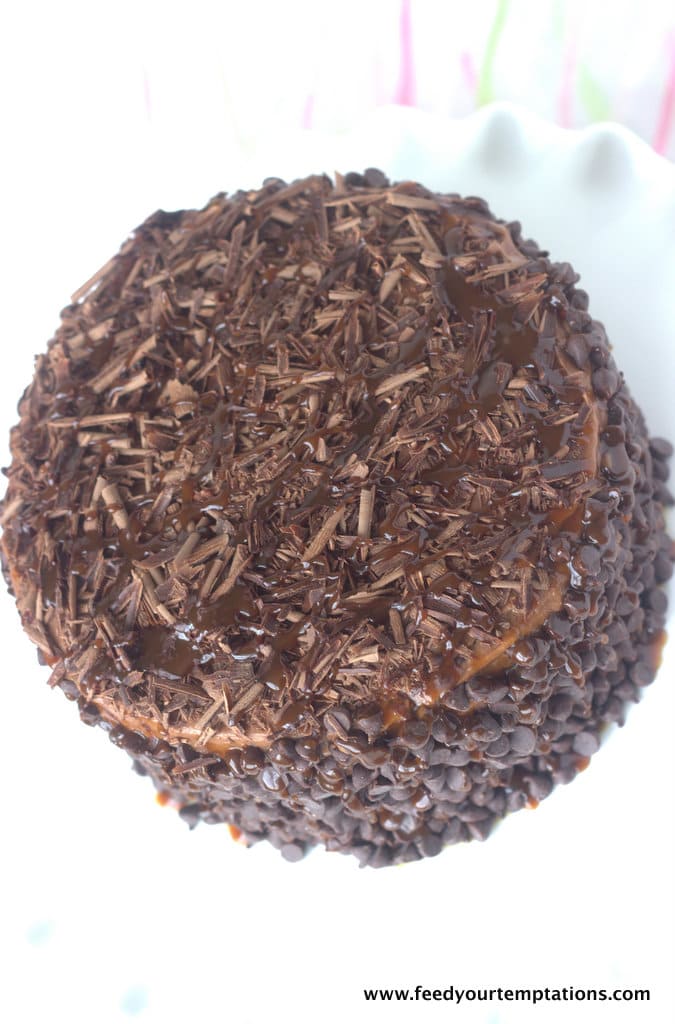 Ooey gooey chocolate cake! Sounds tempting? However, for people who are lactose intolerant, following a vegan diet, or even allergic to eggs, having such delightful desserts seems impossible. Eggless chocolate cake will give you a chance to enjoy this mouth-watering cake. Just take a bite out of this moist eggless cake and you are bound to crave another rich piece of chocolate cake.
Looking for that perfect eggless chocolate cake recipe? We have got you covered. This finger-licking cake will tantalize your taste buds and make you yearn for more.
How to bake an eggless chocolate cake
It will sound quite surprising but unlike common belief, you do not need eggs to make a light, soft, moist, and delicious cake. Using quite simple ingredients that are readily available, this eggless chocolate cake will lift your spirits and satisfy your sweet tooth.
Simple ingredients such as all-purpose flour, cocoa, baking soda, baking powder, buttermilk, and nuts will help you create this easy dessert. Make sure to preheat the oven at least 15 minutes before baking.
You can add ground nuts to the batter to make this a rich chocolate cake. It will definitely make the cake more delicious.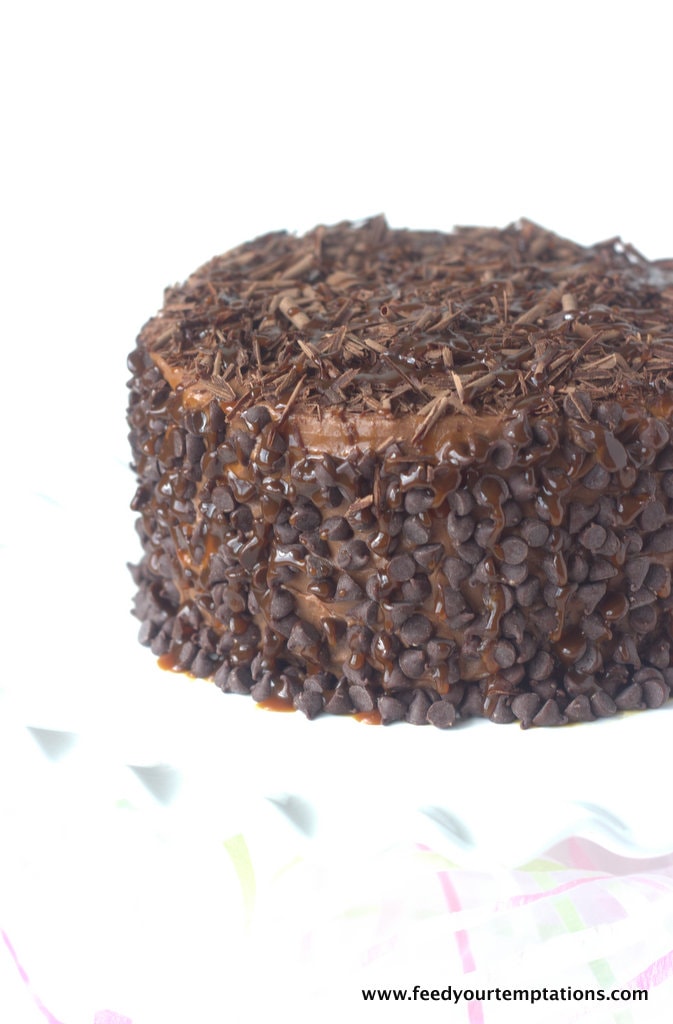 Different types of Frostings
You can easily make frosting for your cake from scratch. Simply melt butter and stir in cocoa. Then add powdered sugar and milk, while continuously beating the batter until a smooth consistency is achieved.
Add a small amount of milk, if needed. Finally, stir in vanilla. This recipe makes about 2 cups of frosting.
If you are looking for perfect dairy-free frosting, then you can try out the delicious drippy icing made with cocoa powder and maple syrup. This icing will literally melt into your mouth, making the cake even more delicious.
I used chocolate cream cheese frosting this time. Now, this is the 1st time I have the recipe on my blog. Hope you folks give it a try. Anything with cream cheese is so awesome. Like an easy no-bake cheesecake, traditional cheesecake, or a choco cheesecake. If you can make an entire cake with such amazing ingredients, it would surely turn out to be quite irresistible.
Tips for frosting the cake
Before frosting your cake, it's always ideal to place the cake in the refrigerator for at least an hour. This will seal the crumbs together, making the application of frosting super easy.
If the icing is not smooth, you can use chocolate chips and chocolate shavings. This will perfectly cover the imperfections, making it a great way of decorating the cake instead of smoothing and filling an icing bag.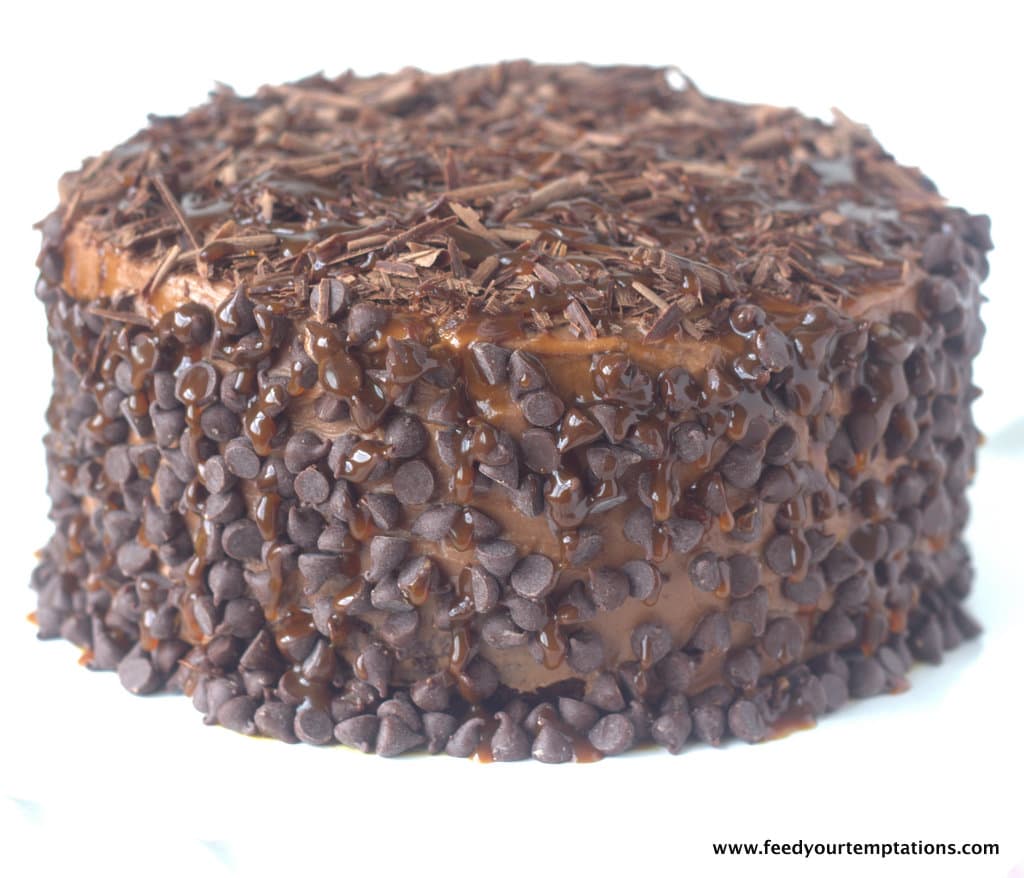 Making Chocolate Shavings
To create chocolate shavings, I used a vegetable peeler on a chocolate bar. It gives good curls. Make sure that you use a spoon to handle the shavings as the delicate chocolate can easily melt if handled with hands.
I did use
homemade salted caramel
which I had already made. Drizzle any dessert with it and the dessert will become divine. You can skip it if you want but if you have time and energy, then you should definitely go for it.
I had salted caramel made a few days ago, baked the cake a day before our anniversary, and then decorated it on the day of the anniversary.
If you have been having a really hard day, then a piece of chocolate cake is exactly what you need. Whether you choose a delicious black forest cake or chewy and fudgy brownies, you are bound to be swept away by the rich chocolate flavor, thus instantly cheering you up.
You can follow this recipe to make the eggless black forest cake, except do not add ground nuts to the batter.
On a diet but have sweet cravings? Rum balls are one of the easiest and quickest desserts that you can make and enjoy while on a go. Do give it a try if you want to try something unique and easy to make.
Want to try something that you can enjoy on a weekend, pot de creme is your perfect comfort food. This classic French dessert is made of simple ingredients that will become a favorite among people with a sweet tooth. However, since this dessert has a velvety texture, it is quite important to make sure that the custard is neither undercooked nor overcooked. Make this divine dessert and enjoy it with your loved ones.
Nothing could be better than taking a bite of a chocolate cake. Finding the best chocolate cake recipe with egg can be a bit taxing. Follow this blog and find the recipe that you love!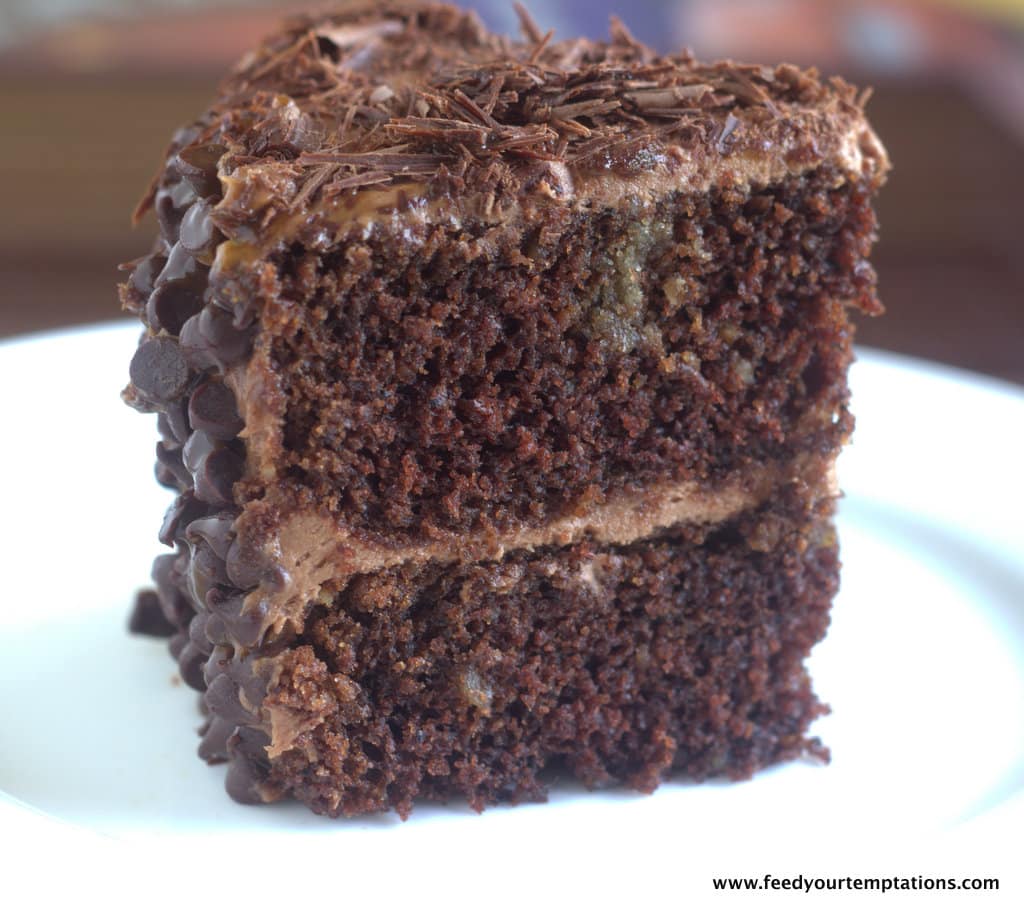 If you want an awesome Chocolate Cake with Egg try this Hershey's recipe. I bet, this will be a keeper and you may not find a better recipe. I have lost count of how many times I have baked this. It's the same one I have used for the black forest cake. But use any frosting of your choice or eat it plain. Either way, you will love it.
Useful tips:
Always use good quality ingredients, especially cocoa.
Make sure to sift the dry ingredients.
Do not over-mix the batter.
Using a greased pan and not stick paper will make the cake come off from the pan easily. It's a foolproof method and you don't have to worry about the cake not leaving the pan. Put the pan on parchment paper, draw a circle with a pen and cut circles.
There were a few things that I did differently this time. Firstly, I baked this in two, 6-inch pan. It works great. When you bake in an 8-inch cake, there are chances of the cake going to waste. It's not that I don't share:), but sometimes I don't find the time to pass it on and cakes tend to lose their texture after the 1st two days.
Another important thing to remember is when you are experimenting with different recipes, it's good to bake in a smaller pan. At least you won't feel bad when things don't turn out to be what you expected. Hmmm, maybe a little. I absolutely am against wasting food and so this idea works for me. Having said that, I do have the measurements for the standard 8-inch cake below.
Surprise your loved ones today with this super easy and mouth-watering cake and get ready to be flooded with tons of praise.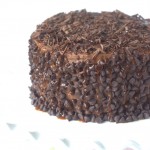 Vegan/Eggless Chocolate cake
Choose to make a 6 inch or a 8 inch chocolate cake...Measurements are given for both. Its one of the best chocolate cakes. Agnel was totally taken away, when I said it did not have eggs. The coarsely ground nuts will add a different texture altogether, but you don't have to add it if you want a plain cake. The decoration makes this irresistible. Perfect for any special occasion.
Servings
:
2
6 inch cakes or 2, 8 inch cakes
Ingredients
6 INCH CHOCOLATE CAKE: (Yields 2, 6 inch cakes)
1

cup

120 grams all purpose flour / maida

1/3

cup

35 grams cocoa (For black color use hersheys dark or something similar)

3/4

teaspoon

baking powder

3/4

teaspoon

baking soda

1/8

teaspoon

salt

1/3

cup

80 ml + 2 tablespoons vegetable oil

3/4

cup

150 grams sugar

1

teaspoon

vanilla extract

1

cup

buttermilk

Please refer notes for substitutions

1/2

cup

coarsely crushed pecans or walnuts

I used walnuts

FROSTING:

4 0

z

113 grams cream cheese

2

oz

55 grams unsalted butter

1

tablespoon

milk

2

oz

55g bittersweet chocolate bar (I used lindt 60%)

1/2

and 1/8 cup

155 grams confectioners sugar

DECORATING:

1

cup

mini chocolate chips

Salted caramel sauce

Optional
8 INCH CAKES (Yields 2, 8 inch cakes)
2

cup

240 grams all purpose flour / maida

2/3

cup

70 grams cocoa (For black color use hersheys dark or something similar)

1

and 1/2 teaspoon baking powder

1

and 1/2 teaspoon baking soda

1/4

teaspoon

salt

2/3

cup

160 ml + 4 tablespoons vegetable oil

1

and 1/2 cup

150 grams sugar

2

teaspoon

vanilla extract

2

cup

buttermilk or

almond milk or soy milk + 2 tablespoon distilled vinegar(check notes)

1

cup

coarsely crushed pecans or walnuts

I used walnuts

FROSTING:

8 0

z

226 grams cream cheese

4

oz

110 grams unsalted butter

2

tablespoon

milk

4

oz

110g bittersweet chocolate bar (I used lindt 60%)

1

and 1/4 cup

155 grams confectioners sugar

DECORATING:

2

cup

mini chocolate chips

Salted caramel sauce

Optional
Instructions
Preheat oven to 350 Degrees Fahrenheit or 175 Degrees Celsius.

Spray and dust 2 pans with oil and flour. Place the pan on the parchment paper and cut circles and place in the greased pan.

Whisk all purpose flour + cocoa + baking powder + baking soda + salt and keep aside.

In another bowl, beat oil + sugar until sugar dissolves, about 2 minutes. Add vanilla extract and mix well.

Add the flour in three batches alternating with buttermilk, beginning and ending with flour. Add the coarsely ground nuts and stir well.

Pour in the prepared pan and bake for 35-40 minutes or until a skewer inserted in the center of the cake comes out clean.

Let it cool for 10 minutes before transferring onto a wire rack. Frost the cake only when the cake has cooled completely. Placing the cake in the refrigerator for an hour helps to seal the crumbs when frosting.
CHOCOLATE CREAM CHEESE FROSTING:
Scrape the chocolate with vegetable peeler for chocolate shaving. When you have about 1/4 cup shaving, cut the remaining chocolate into small and even pieces and put in a microwave safe bowl. Microwave for 30 seconds, mix and then microwave again for additional 30 seconds. Some pieces on the top will not be melted, but when you start mixing, it starts to come together.

You can also melt the chocolate in a double broiler (chocolate in a bowl over boiling water making sure the water doesn't touch the bottom of the pan containing chocolate). Let this cool.

Add the cream cheese + butter + milk to a bowl and beat well until soft and fluffy.

Add the confectioners sugar little at a time and mix well. To this add the melted chocolate and mix well. Taste and add more sugar if needed. Once done, cover the bowl tightly and place this in the refrigerator for 30 minutes. Its easier to frost when the icing is set for a while.

DECORATING THE CAKE:

Place one layer of cake on the serving plate. Loosely insert plastic wrap or aluminum foil below the cake to reduce the mess. Spread the icing in the center of the cake, place another layer on top and spread the icing again. Also cover the sides. Smooth out the sides. It doesn't have to be perfect since we will be covering the cake with chips and chocolate shavings.

Take chocolate chips in you hand and press it on the sides gently. Using a spoon, add the chocolate shaving on top of the cake. Drizzle with homemade salted caramel if you need.
Recipe Notes
You can use this cake for eggless black forest cake. Just don't add ground nuts to the batter. For the dark color of cake, use Hershey's special dark cocoa and for icing and decorations for black forest click here:
Try the decadent chocolate cake with egg. Equally addicting.
Buttermilk substitute: For 1cup (8oz) (240ml) of buttermilk: Add 1 tablespoon of plain vinegar or lemon juice. Fill the remaining cup with milk. Stir and let it rest for 10 minutes.
Buttermilk substitute for Vegans: (almond milk or soy milk + 1 tablespoon distilled vinegar)