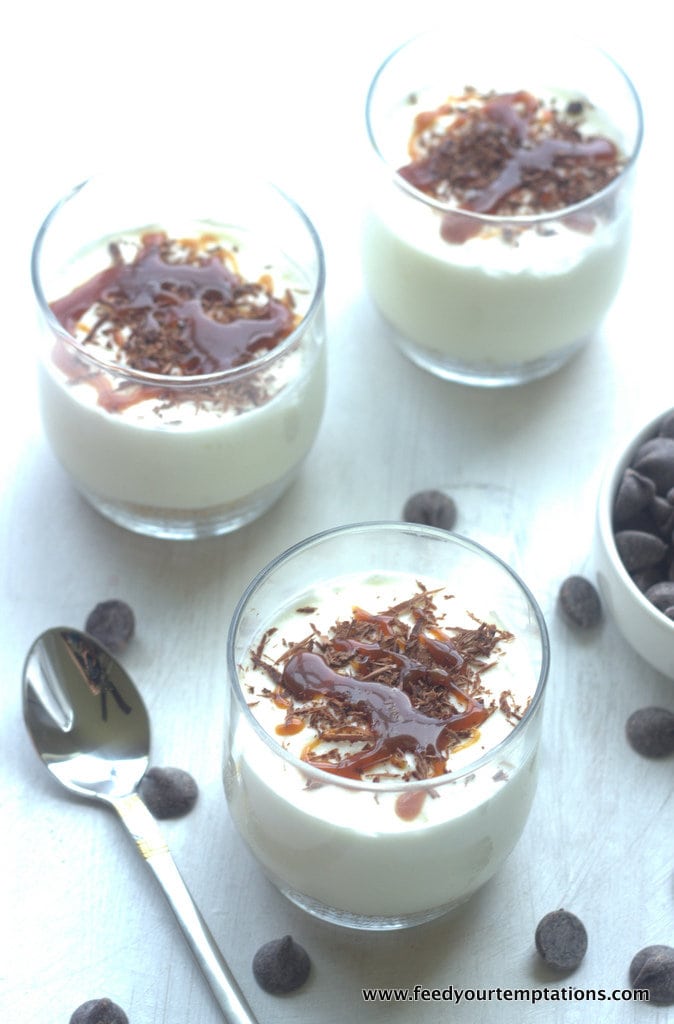 A no bake cheesecake is a quick and easy dessert if you don't have the time and patience to make a traditional cheesecake. Although, nothing beats an original cheesecake. I love cheesecakes, don't you? With so many flavors to choose from, its one of the most loved dessert. I topped mine with homemade salted caramel sauce which I had made for the choco cheesecake. Choco cheesecake is different and its not what you think it is. I think it may not be the right name for that cake since its uses chocolate batter and the traditional cheesecake batter. Its often misunderstood to be a cheesecake. If you think you have a suitable name for that cake please let me know.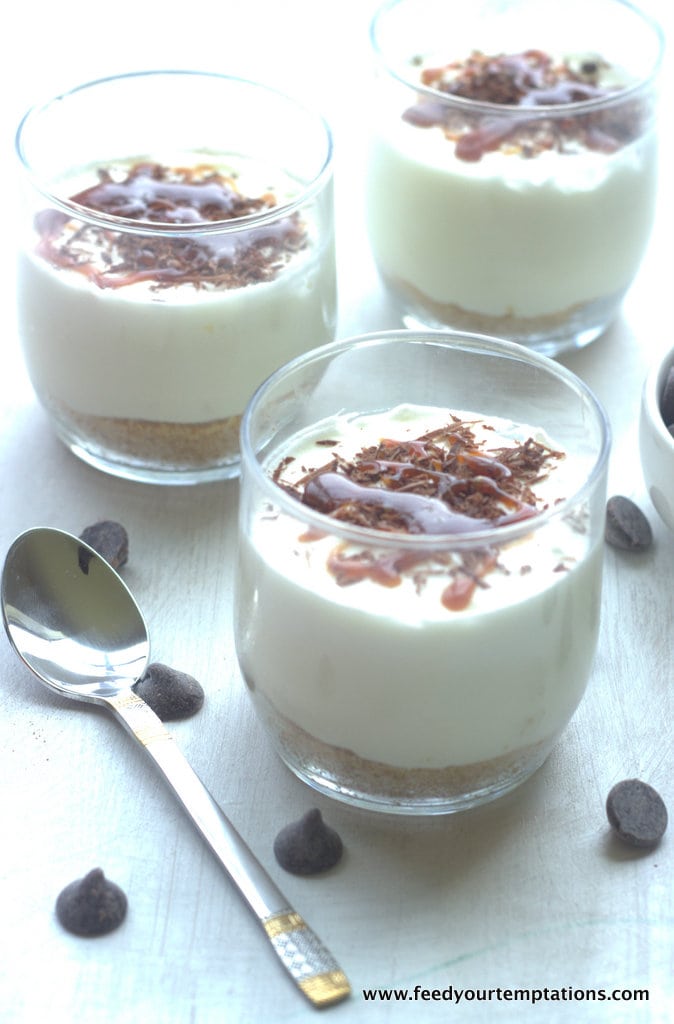 I like the idea of mini desserts. It does satisfy your craving and at the same time does not fill you up. I love to have dessert after a meal but tend to skip it if I don't find small servings. The dessert portion sizes at seasons 52 and olive garden seem to be perfect for me.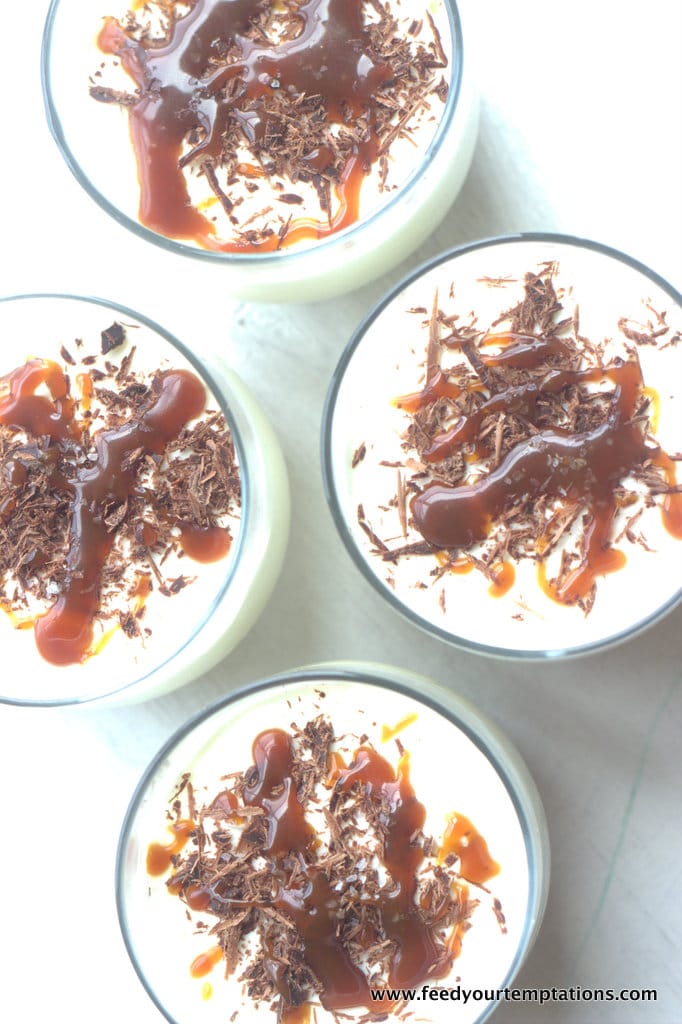 The texture is slightly dense from the cream cheese and little airy from the whipped cream.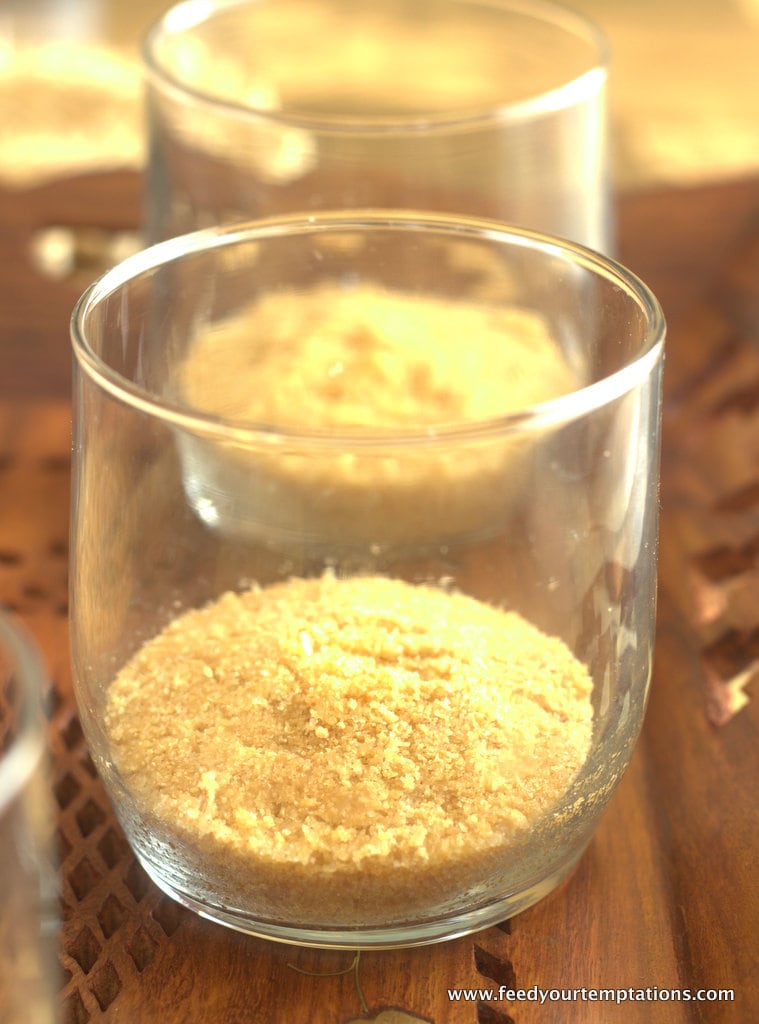 Mix powdered graham crackers with melted butter and sugar and divide between small serving bowls. Press down on the crumbs.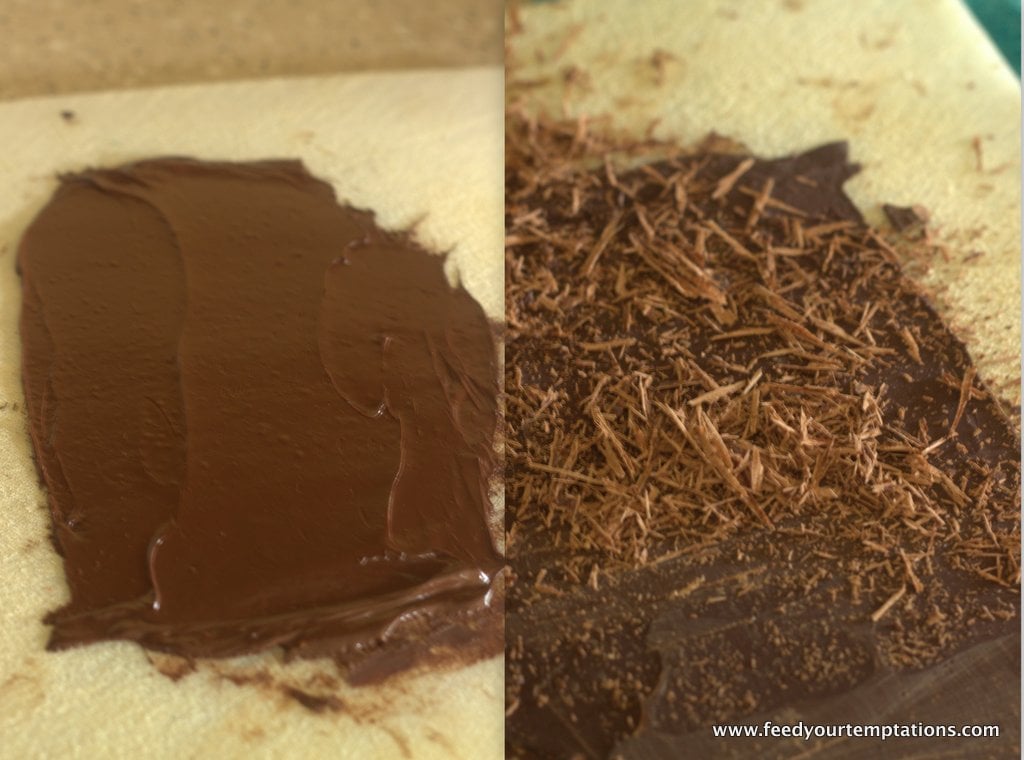 To make chocolate shavings, melt chocolate and butter in the microwave or in a double broiler and then pour  on a plastic or wooden cutting board. Once the chocolate hardens, about 30 minutes or so, take a sharp knife and holding it at 45 degree angle with both your hands, press down on the chocolate and lift it up. You can also get curls this way. Vegetable peeler can also be used to get good curls. Use a spoon or knife to lift the chocolate shavings from the board. Do not use your hands as these delicate things will melt.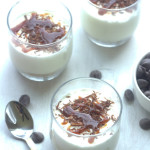 No Bake Cheesecake with salted caramel sauce
Refrigeration time 2-4 hours
Servings
:
4
- 6 small servings
Ingredients
For crust:

15

honey graham crackers

powdered

3

tablespoons

melted butter

2

tablespoons

sugar

For no bake cheesecake:

8

oz

1 stick cream cheese

1/2

cup

+ 1/8 cup sugar

1/4

teaspoon

vanilla extract

1/4

cup

whipping cream + 1 tablespoon sugar

Salted caramel sauce for drizzling

Optional

FOR CHOCOLATE SHAVINGS:

1/4

cup

semi sweet chocolate chips or chopped chocolate bar

1/2

tablespoon

butter
Instructions
For the crust: Mix powdered graham crackers + melted butter + sugar. Transfer into small serving cups and press down with a spoon.

Beat cream cheese + sugar until soft. Taste and adjust the sugar if needed.

In another bowl beat whipping cream + 1 tablespoon sugar until soft peaks form. Add this and vanilla to the cream cheese mixture and fold it gently and mix until everything incorporates well.

Cover individually with plastic wrap and refrigerate 2-4 hours before serving.

For garnish: Use chocolate shavings, salted caramel sauce or your favorite toppings.

For chocolate shaving: Melt 1/4 cup chocolate + butter in a microwave or on a double broiler. (I placed it in the microwave for 30 seconds, then stirred and put it again for another 30 seconds. The top of the chocolate will look undone, but keep stirring and it will melt.)

Pour this on a plastic or wooden cutting board. Let it cool and harden for some time, about 30 minutes. Then with a sharp knife at 45 degree angle, holding both your hands, try to scrape the chocolate gently lifting it up. You can also make chocolate curls this way. (It can take a little practice and the chocolate has to set well for the best outcome)

Finding this difficult? Use a vegetable peeler on a chocolate bar. Use spoon to lift up the shavings.
Recipe Notes
You can store the bowl and whisk in the freezer 10 minutes before you start whipping the whipped cream. This way the cream whips in no time.
When adding sugar to cream cheese, add 1/8 cup at a time and keep tasting in between. Its just that some like it to be less sweet and some like it sweeter.