This easy STRAWBERRY LEMONADE RECIPE is absolutely refreshing and is very easy to put together. It only takes under 30 minutes.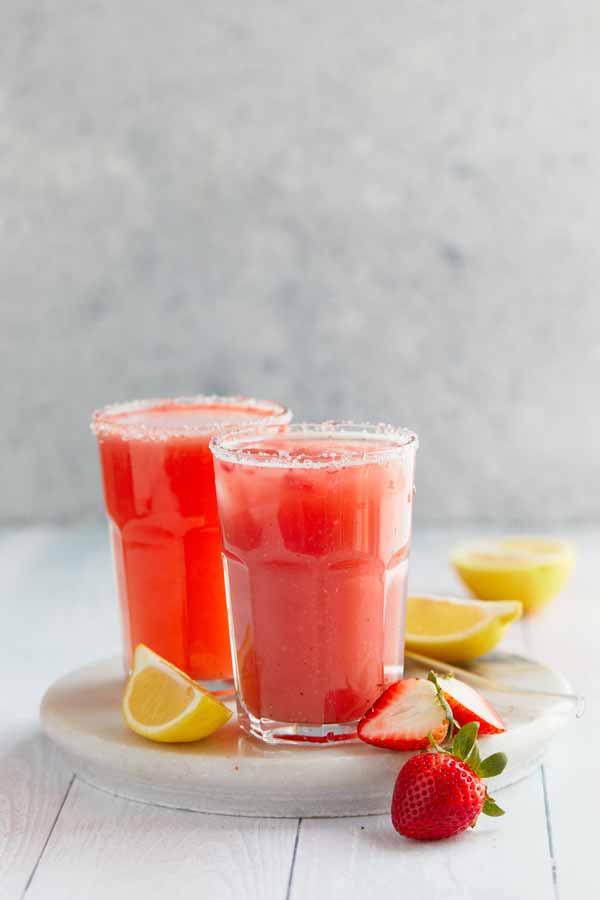 On a trip to Colorado we had rented a cabin up on the mountains. It was not the peak of winter and there was some snow on the side of the road. The cabin we rented had the old style pipe room heaters so it was not that efficient. Agnel and I were layered in warm clothes and yet we couldn't stand the cold inside the cabin, not to mention a step outside of the cabin made us shiver like crazy. We tried increasing the heat and did everything we could possible do but then eventually we had to call the front desk for assistance. An elderly lady in her 70s came wearing only a thin sweater. Looking at the way we were dressed and still shivering she asked, 'where are you from?'.
When we said Florida, She goes, 'Oh! Now I understand :)'.
In Orlando We get our jackets and boots out when the temperature is in 60s. Yeah even when our friends who are visiting from North are wearing flip-flops :).
Its getting warm here and now its time to pack those winter clothes, fire up the grill and serve this refreshing Strawberry Lemonade.
Similar Drink recipes
HOW TO MAKE HOMEMADE STRAWBERRY LEMONADE / HOW TO MAKE FRESH STRAWBERRY LEMONADE
This recipe is easy to make at home and kids favorite, especially when they come back home from their outdoor activities! Once you get your hands on this easy strawberry lemonade recipe made from scratch, you will never go back to buying those powdered lemonade packets again!
EASY STRAWBERRY LEMONADE RECIPE
Are you craving a sweet, refreshing drink for a sunny slipper on a hot day? Then this easy homemade recipe of strawberry lemonade will surely itch that scratch! Here are guided simple steps to make a start.

CAN YOU FREEZE FRESH LEMONADE?
Yes! You can quickly freeze this lemonade in a concentrated pureed form for up to 5 months! All you have to do is allow the mixture to thaw on the day, add in water as required, and there you have it, your very own refreshing homemade lemonade made easy to drink and treat yourself any time of the year!
DOES LEMONADE HAVE SUGAR IN IT?
Although traditional lemonades contain sugar, there is always an alternative option for the health-conscious people out there!
Here is a list of recommended sweeteners
Honey or maple syrup

STEVIA- 1 tsp sugar = 1/8 tsp

Pure cane

Monk fruit
So you can still enjoy this refreshing lemonade with a sweet kick!
IS PINK LEMONADE STRAWBERRY LEMONADE?
Pink lemonade may sometimes get its pink color from cranberry, raspberry, or even chopped-up strawberries, but most of the time, it uses red food coloring to give it that luscious, vibrant pink color.
WHAT TO MIX WITH STRAWBERRY LEMONADE SODA?
1 cup of sparkling water should be perfect for making that bubbly and tangy cooling strawberry lemonade drink, perfect to sip on hot summer afternoons
Another alternative is using club soda.
STRAWBERRY ACAI LEMONADE
Are you a fan of Acai strawberry lemonade from Starbucks and wondering how to make it at home? You can use the same ingredients as the regular strawberry lemonade and add caffeine from the green coffee extract.
STRAWBERRY LEMONADE CALORIES
Strawberry lemonades don't contain large numbers of calories because it has all-natural ingredients!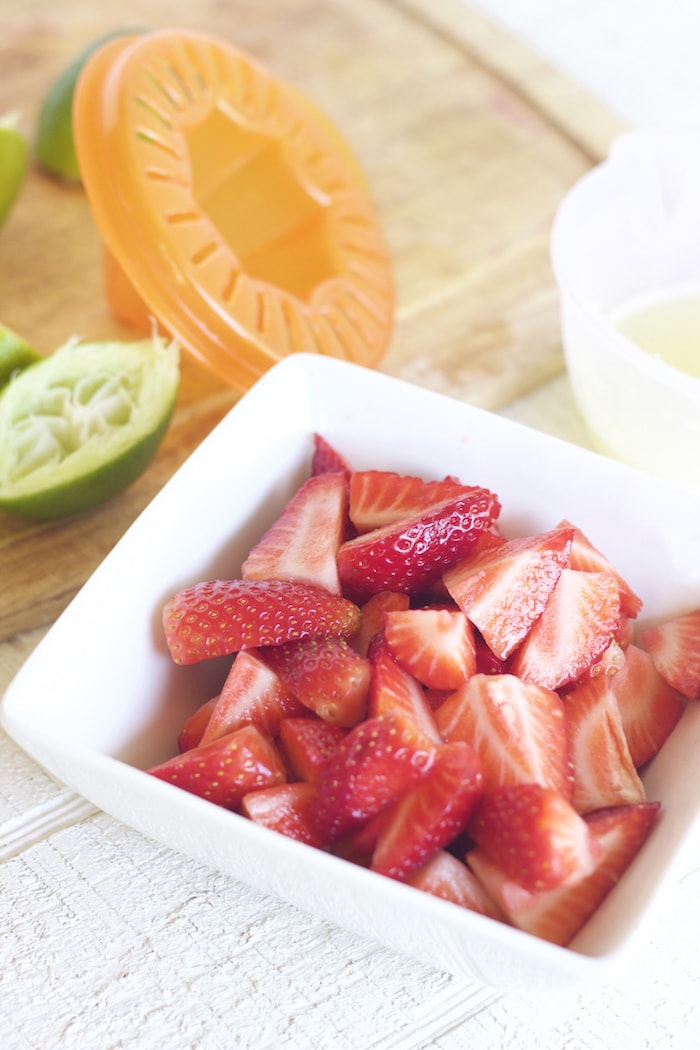 Homemade Ice cream recipes
Its also the time to get those Ice-cream recipes out which who have saved for summer. If you looking for some easy recipes then you can never go wrong with blueberry ice-cream and easy mango ice-cream without an ice-cream maker.
This strawberry lemonade is so easy to put together and can be made unto a day in advance.
You can also add alcohol or substitute ginger ale or sprite instead of water.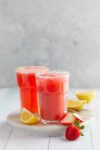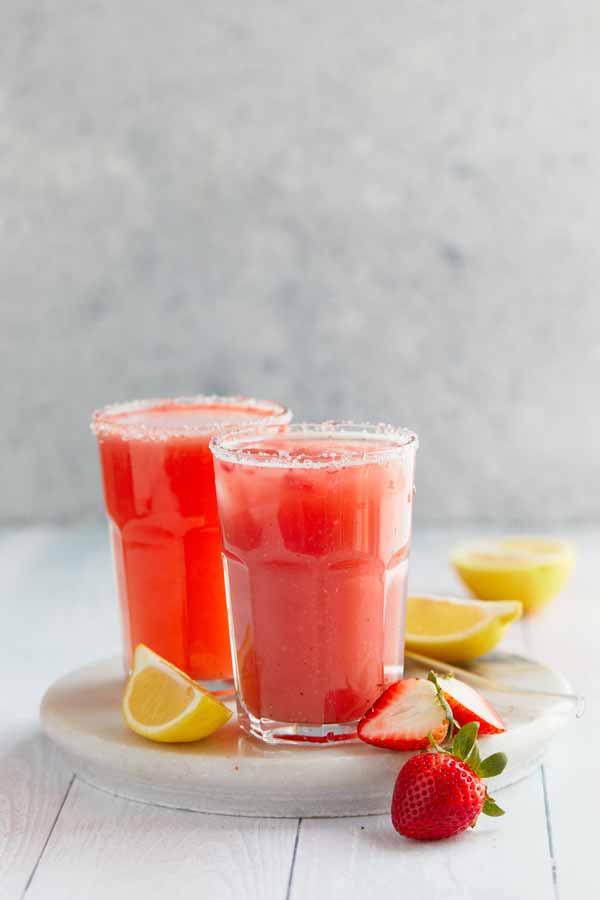 Strawberry Lemonade
This easy STRAWBERRY LEMONADE RECIPE is absolutely refreshing and is very easy to put together. It only takes under 30 minutes.
Keyword:
best lemonade recipe, strawberry lemonade, strawberry lemonade recipe, strawberry recipes, summer recipes
Ingredients
1/2

cup

lemon juice

from 4 lemons

1

and 1/2 cup strawberries

pureed (1 cup puree)

1/2

cup

sugar or to taste

4

cups

water
Instructions
Puree the strawberries and strain it to get a smooth puree. Keep aside.

In another bowl, add lemon juice + sugar and mix well till the sugar dissolves. Add the strawberry puree + water to the lemonade. Taste and adjust the sugar or water as needed.

Refrigerate or add some ice cubes before serving.
Recipe Notes
This can also be made a day in advance.
Before serving, add ice cubes and some lemon slices.
You can also add alcohol or substitute ginger ale or sprite instead of water.