Eggless Homemade Mango Ice cream with Creme Fraiche, a pinch of Saffron and without an ice-cream maker.
If you can convert seasonal fruits into a bowl of creamy, scrumptious deliciousness with just a simple stir in the mixer and with very few ingredients, wouldn't you be happy? I am, and when that involves mangoes, how can you not like it? When I tasted this there was sudden pop of thinking cloud which said, I need to try the same with strawberries and blueberries.
Creme fraiche
is nothing, but fermented heavy cream, which can be easily made at home. Just stir buttermilk or yogurt in heavy cream and let the nature do its work for 10-12 hours. Make this a day ahead if you want to make this ice-cream. You might want to check the
Creme Fraiche recipe
.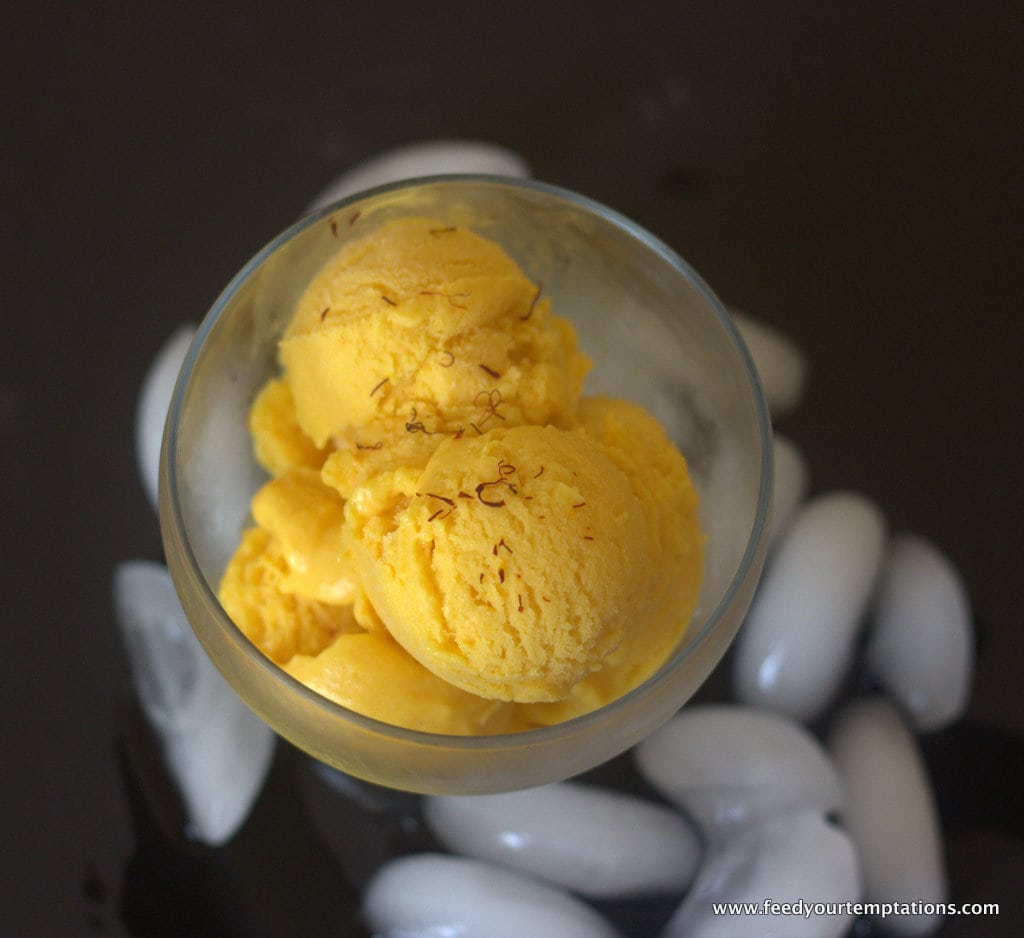 Now I know what should be done with my fresh picked strawberries and blueberries. When you are living in a place like Florida you can surely make use of the fresh pick.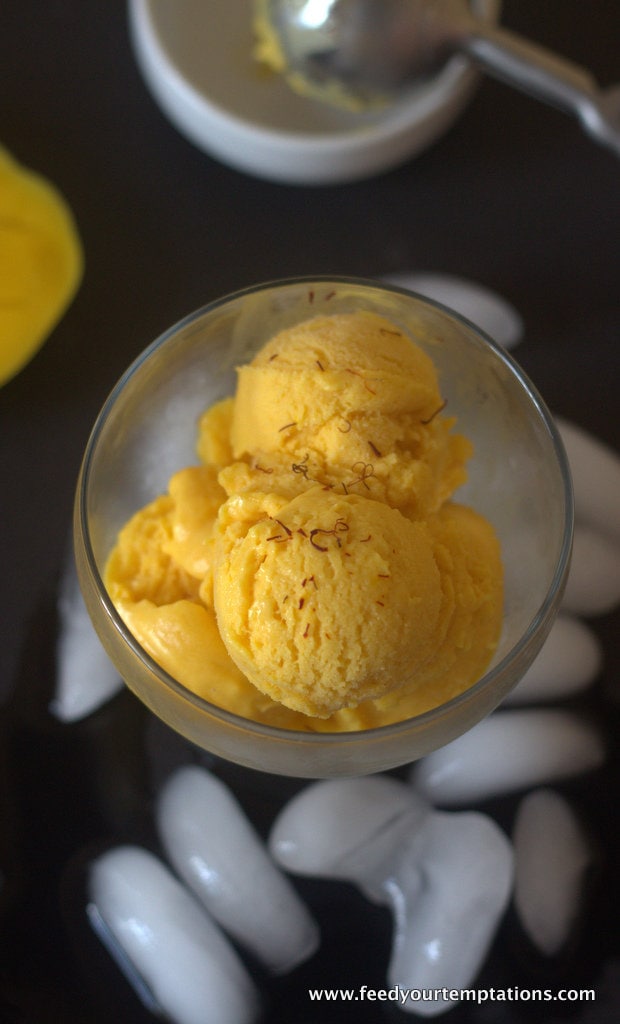 I cannot begin to tell you the sweetness and the deliciousness of the strawberries we picked recently. When fruits are allowed to ripe in their natural way rather than the shelves of the supermarket it makes all the wonderful difference. That reminds me, if weather permits I will be going blueberry picking tomorrow. One more month for the florida blueberry season to end, so might as well make good use of it.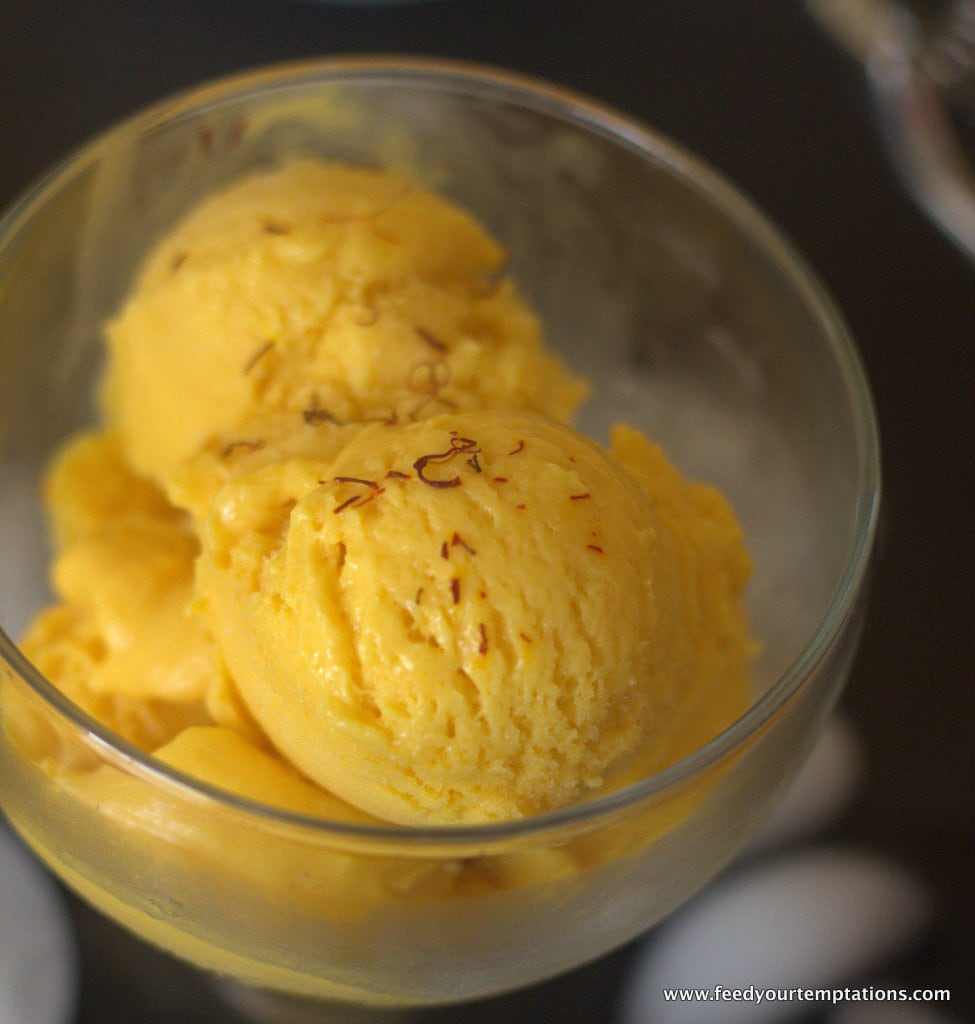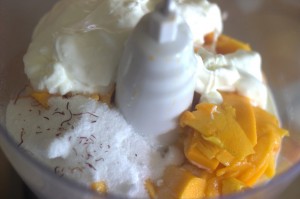 Add all the ingredients in the food processor and process it until the mixture is smooth and creamy. If mango has fibre, then you might want to puree the mango first and then strain it with a sieve before adding it to the other ingredients.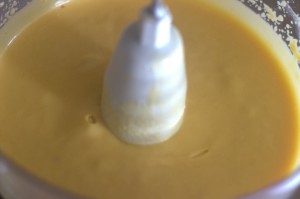 Taste and adjust the sugar if needed.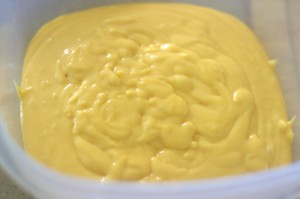 Pour the pulp into an ice-cream maker and follow the manufacturers instructions. If doing manually, like I did, pour the pulp into a plastic container and refrigerate it for about 30-40 minutes. Using a hand beater or whisk stir it well to break the ice crystals. Repeat the same process two more times after an hour.
Ice-cream will be ready to eat in 4 hours. If you are not able to scoop, let it stay for 10 minutes at room temperature.
Recipe and image updated: May 2014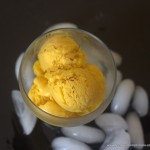 Mango Icecream with Creme Fraiche
Refrigeration time: 3-4 hours
Servings
:
8
-9 medium scoops
Ingredients
2

cup

cubed mangoes

approximately 3 medium sized mangoes

1/2

cup

heavy cream

1/2

cup

creme fraiche

easy creme fraiche recipe

1/2

cup

sugar + 2 tablespoons sugar or as needed

Depending on the ripeness of the fruits

pinch

of saffron for flavor and color

optional
Instructions
Puree the mango in a food processor. To that add heavy cream + creme fraiche + sugar + saffron and process until smooth and the sugar dissolves well, about 5 minutes. Taste and adjust the sugar if needed.

If using icecream maker, pour into it and follow the manufactureres instructions.

If not using ice-cream maker, pour into a deep freezer safe plastic bowl with a lid and place in the freezer. Every 45-1 hour take it out and with a hand beater or whisk beat until smooth, about 2 minutes. Repeat 2-3 times. If you want to add some additional mango chunks or powdered saffron, add it after the final mixing. Smooth out the cream and let it stay another 2 hours after the final mixing, before serving.

If you are not able to scoop, let the ice-cream sit at room temperature for 10 minutes.
Recipe Notes
I used the hand beater method. I kept the hand beater next to the refrigerator and after every mixing rinsed the attachment immediately. Made my work easy.
Use mangoes with smooth flesh rather than the fibrous ones. If using fibrous one, puree and then strain the pulp.