Creme fraiche pronounced (Krem Fresh) is French for fresh cream. Its nothing but fermented heavy cream. Its a tangy cream slightly close to sour cream. But, unlike the sour cream, cream fraiche can be whipped, added to soups or gravies, in short this cream can take the heat.

Some of the uses of Creme fraiche I remember:
Serve it plain or add herbs and create a dip for crackers and chips
Spread on toast
Sweeten with honey and use as a spread
Use it to make ice-cream
Whip up, add sugar and use as frosting for cakes
Use it in gravies or soups
Use it in creme caramel
Check this out:
Fresh Mango Icecream with creme fraiche
Banana bread with creme fraiche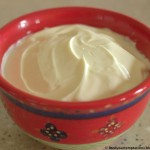 Creme Fraiche / Fresh Cream
Fermentation time: 12-24 hours
Ingredients
1

cup

heavy cream

1

tablespoon

yogurt or butter milk
Instructions
Take heavy cream in a glass bowl or glass bottle, add yogurt or buttermilk and with a whisk or fork, mix well. Cover it tightly with a lid or wrap it with plastic and leave it on the counter, microwave or switched off oven to ferment and let the nature get to work.

Keep it for 12-24 hours or more depending on how tangy you like it. (I used a pyrex glass bowl). The creme will become thick the next day and thicker after placing it in the refrigerator.

Let it stay in the refrigerator for a day before using it.
Recipe Notes
Slightly Warming the heavy cream in the microwave for about 25 seconds makes the process faster. It takes me approx. 20 hours when I warm the mixture and when i don't it takes about 26 hours.
Total time depends on the room temperature. warmer the room, lesser the time.
This recipe can be easily doubled.
The acid during the fermentation process keeps the harmful bacteria away, so don't worry about placing this on the counter.
The taste differs slightly, depending on the heavy cream or the culture (Yogurt or buttermilk).
Best if used within 7-10 days.