Another way to use leftover over ripe bananas. This makes an excellent snack or breakfast toast. Try substituting whole wheat flour instead of two cups of all purpose flour or try one part whole wheat and one part all purpose flour for an healthier option.
If you ask me what is the thing I have baked the most, that would be banana bread. And I have tried so many variations of it. The reason being I always have some overripe bananas left in the fruit bowl and I guess thats the story with every house hold. Now, I think its time to stick to this particular recipe because its satisfies everything I look for in a bread, love the fact that its a tall bread, its extremely moist and that I can toggle with whole wheat and all purpose flour.
Freshly baked bread right out of the oven.
A little bit of chocolate never hurts :). If you are not into chocolate, sprinkle some chopped walnuts.
Similar Recipes:
Banana walnut muffins (Very simple recipe which can also be converted into banana bread.)
Banana Cake
Whole wheat pumpkin bread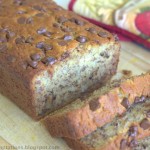 Extremely moist banana nut bread with (creme fraiche or Sour cream or yogurt)
Ingredients
3

very ripe bananas

mashed

1

stick

1/2 cup(113gms) unsalted butter, at room temperature

1

cup

sugar

200gms

1

egg

1/2

cup

creame fraiche

120ml ( substituitions: sour cream or thick yogurt)

1/2

tablespoon

vegetable oil or other flavorless oil

1/2

cup

milk

120ml (i used 2% milk)

2

cups

240gms all purpose flour or whole wheat flour

1

teaspoon

baking powder

1

teaspoon

baking soda

1/4

teaspoon

salt

1/2

teaspoon

cardomom powder

optional

1/2

teaspoon

grated nutmeg

optional

1

cup

chopped walnuts

1/4

cup

chocolate chips

optional
Instructions
Preheat oven to 350 degrees fahrenheit or 175 degrees celsius.

Grease and flour 9*5 inch loaf pan. (9*2 inch cake pan can also be used).

Mash the bananas and keep aside. whisk the dry ingredients in a bowl (flour + baking soda + baking powder + salt + cardomom + nutmeg).

In a large bowl, with hand or a hand held mixer, beat the butter and sugar until fluffy. Add the egg and mix well, scraping the sides as needed. Add cream + oil + milk + vanilla and mix well.

Add flour slowly by slowly and with a spatula mix until everything is just incorporated. Fold in the walnuts.

Pour the batter into the loaf pan and sprinkle some semi sweet chocolate chips or chopped walnuts if needed.

Bake for 60-70 minutes or until a skewer inserted comes out clean. Let it stay in the pan for 10 minutes and then invert onto a wire rack to cool completely.
Recipe Notes
During the last 10 minutes of the baking time if the loaf starts to darken and yet if its not done, reduce the heat to 300 degrees fahrenheit or 150 degrees celsius and let it stay in the oven for 5-10 minutes till done.
I have tried this recipe with whole wheat flour too. Its turns out moist but the texture will be different from that of all purpose flour, as is always the case with baked goods involving whole wheat flours.
You can also try using one cup whole wheat and one cup all purpose flour.
I put the overripe bananas in a freezer safe pouch and leave it in the freezer until i have 3-4 bananas for a recipe.
Slice and store the banana bread in an airtight container in the refrigerator and warm in the microwave or toast as needed.
Wrapped tightly in a plastic foil it freezes well too.