These cookies have less butter and just the required sweetness needed for a cookie, i.e. if you are like me and don't like anything too sweet. If you like my dad who thinks cakes should be really sweet, then you should bump up the sugar a bit. In that case, check out the recipe notes. These are slightly crisp as I added baking soda and omitted the baking powder, but chewy because of the egg and brown sugar.
Remember the 4 Pm hunger, when your lunch is almost digested and you are on the lookout for something satisfying. In my case, I hunt for something sweet. When I start snacking on the store brought cookies, I cannot just stop with a couple. So I thought it is the right time to use 3 pounds of rolled oats lying in my pantry.  I thought I should mix up something with less butter and sugar and few healthy ingredients if not all. I have baked 2 dozen cookies and have been munching on it ever since. I have it for breakfast, before lunch, evening tea and anytime I feel like having something sweet. It may not be the best thing but its so much better that the Indian sweets I have which consists of only milk fat, sugar and clarified butter/ghee.
If you are thinking about how I ended up with 3 pounds of rolled oats then I have to tell you I found a store called bulk nation. The concept behind that store is, you pick up the stuff and the quantity you want. You can pick up 1 oz or 10 pounds of what you need. Its like picking up nuts and grains in whole foods, just that with bulk nation, the entire store is get what you want concept. It works when you want to try something new and don't want to end up having unused stuff lying in the pantry. Also its quality ingredients for very low price. One pound of rolled oats is only $0.99. If you want a price comparison, a pound of rolled oats in a pack costs $4.99. They reason they are able to sell for such low prices is because they don't have to pay for the cost of packaging. They also have freshly ground (right in front of you) peanut butter, almond butter and cashew butter, so no added preservatives.  So far bulk nation only has three locations in Florida (Brandon, Sarasota and Orlando).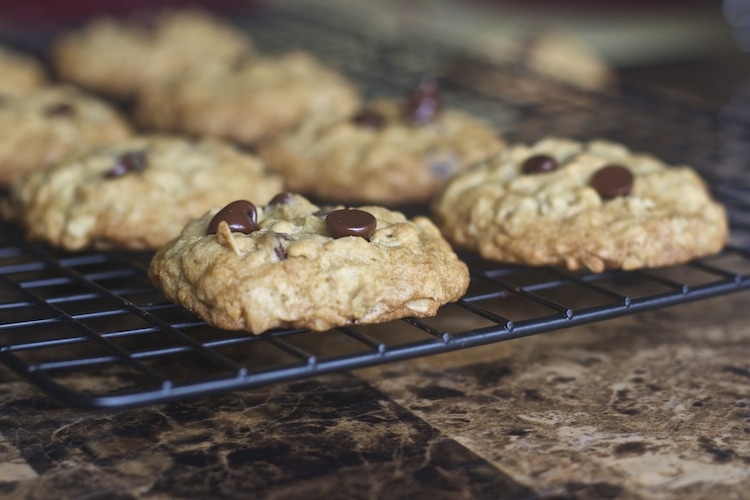 This cookie doesn't spread very much since I used less butter.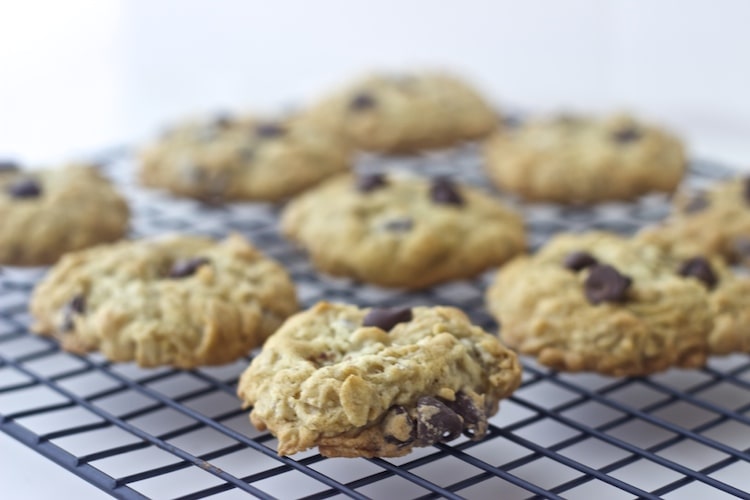 I like to see cookies that are tall on the edges and doesn't spread.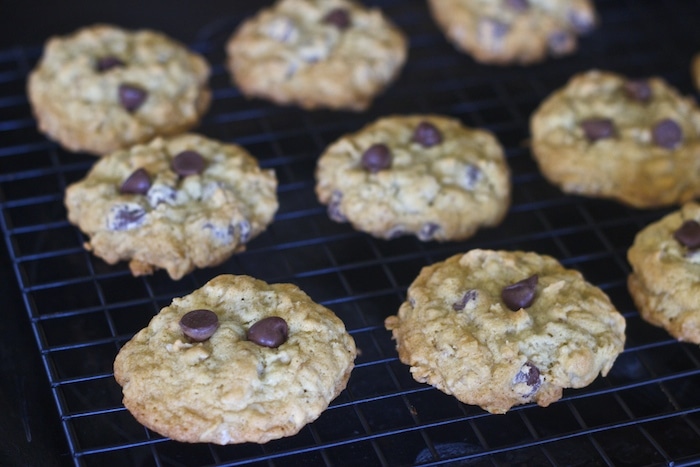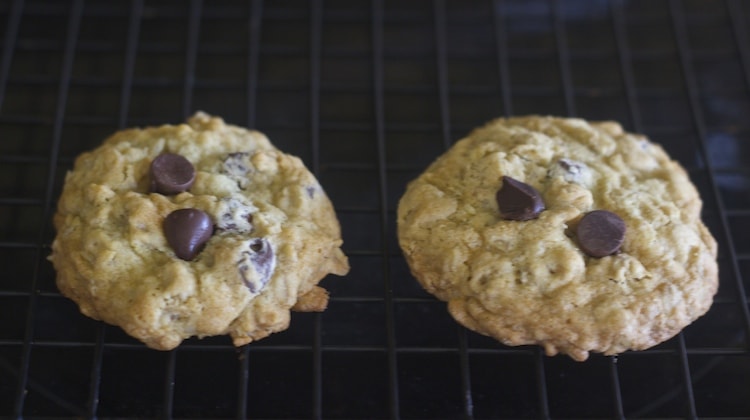 Do you see the difference between both the cookies? The one on the left is a little taller. It was baked after placing the cookie dough in the refrigerator for 30 minutes. The one on the right that is slightly flattened on the edges was baked immediately after the dough was formed.
My verdict: There was a very slight difference in the shape, and the taste was the same. But I liked the look of the one which was refrigerated, the 1st one.
If you are particular about your cookie and not in a hurry try the refrigerator method.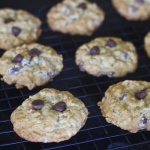 Crisp and Chewy oatmeal cookies
Servings
:
2
dozen cookies
Ingredients
1

cup

120 grams All purpose flour / maida

1/2

teaspoon

baking soda

1/2

teaspoon

salt

6

tablespoons

85 grams unsalted butter

1

tablespoon

vegetable oil

1/2

cup

100 grams white sugar

1/4

cup

13 grams brown sugar

1

Egg

1

teaspoon

vanilla extract

1

and 1/2 cup rolled oats

1/2

cup

semi sweet chocolate chips or dark chocolate chunks + few more bits to add after baking
Instructions
Preheat the oven to 350 Degrees Fahrenheit/175 Degrees Celsius. Line two baking sheets with parchment paper or silicon mats.

Whisk together all purpose flour + baking soda + salt and keep aside.

In another bowl, cream together butter + oil + white sugar + brown sugar, until light and fluffy.

Add egg and beat well until mixed, scraping off the sides.

Add flour little at a time until only combined. Stir in rolled oats and chocolate chips.

With a small ice-cream scoop or spoon, add 2 tablespoons of batter on the sheet about 1 and 1/2 to 2 inches apart. Alternately you can refrigerate the dough for 30 minutes and then scoop the batter for taller cookies.

Bake for 11-12 until the top is light golden brown. The cookies will look underdone but thats how it should be. It will firm up on the sheet. Slightly insert couple of chocolate chucks on the cookies. Let stand for 5 minutes and then transfer onto a cooling rack.

Once cooled completely, store in a airtight container.
Recipe Notes
This cookie has just enough sweetness.
If you want you cookies to be on the more sweeter side, add 2 tablespoons of white sugar and 1 tablespoon of brown sugar.