Now you can make crispy Dosa with RICE FLOUR without spending too much time grinding. It's QUICK | EASY and GLUTEN FREE Recipe.
The crispy dosa made with rice flour is a staple in our house. Dosa batter is always available for any time of the day.
Being from the south, it runs in her genes too I guess. Her idlis were so famous that my friends from school remember that more than me. I had a good friend in school who moved away when we were in 10th grade. After exactly ten years Charuta and I got in touch with each other through Google. We call each other and the 1st few words later she tells me she still remembers the idlis she had at our place. That's when I realized again that my mom's dosas and idlis were that good.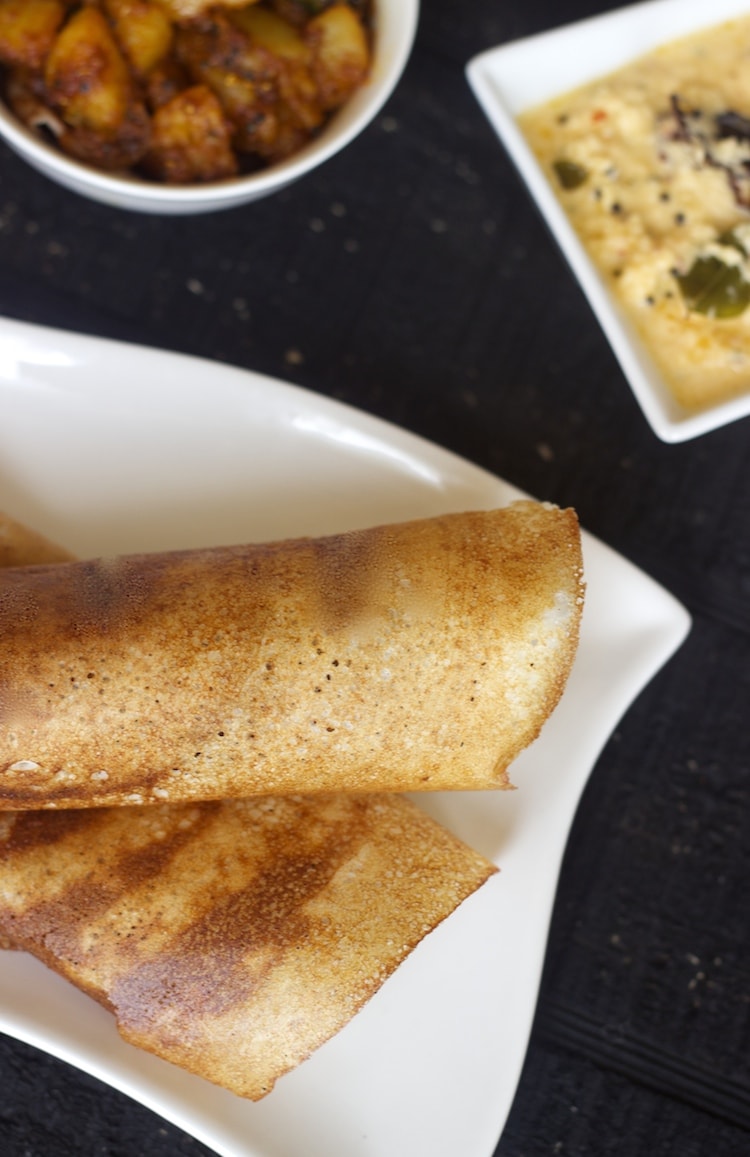 Fast forward another year; I moved to Orlando where I did not have easy access to Dosas. I would crave for it, and that's when our friends introduced us to the masala dosas served at the Hindu temple cafeteria on Sundays. Although I didn't like it and I still don't like waking up early on Sundays, I would go so that I can get hold of dosas. Did I mention, they serve dosas only till 12 PM. Too early right! Especially on Sunday.
Fast track another few years and when we were expecting a baby,  my craving increased. Girls and their hubbies, if you have been there, you know how that works. I know a friend who made her husband run to Walmart at 12 Am to get bananas because she wanted it badly. I also remember a time when I cried because Agnel did not finish his lunch box. LOL. I know that sounds crazy. Crazy Weird hormones :).
Would you like to share some crazy pregnancy stories?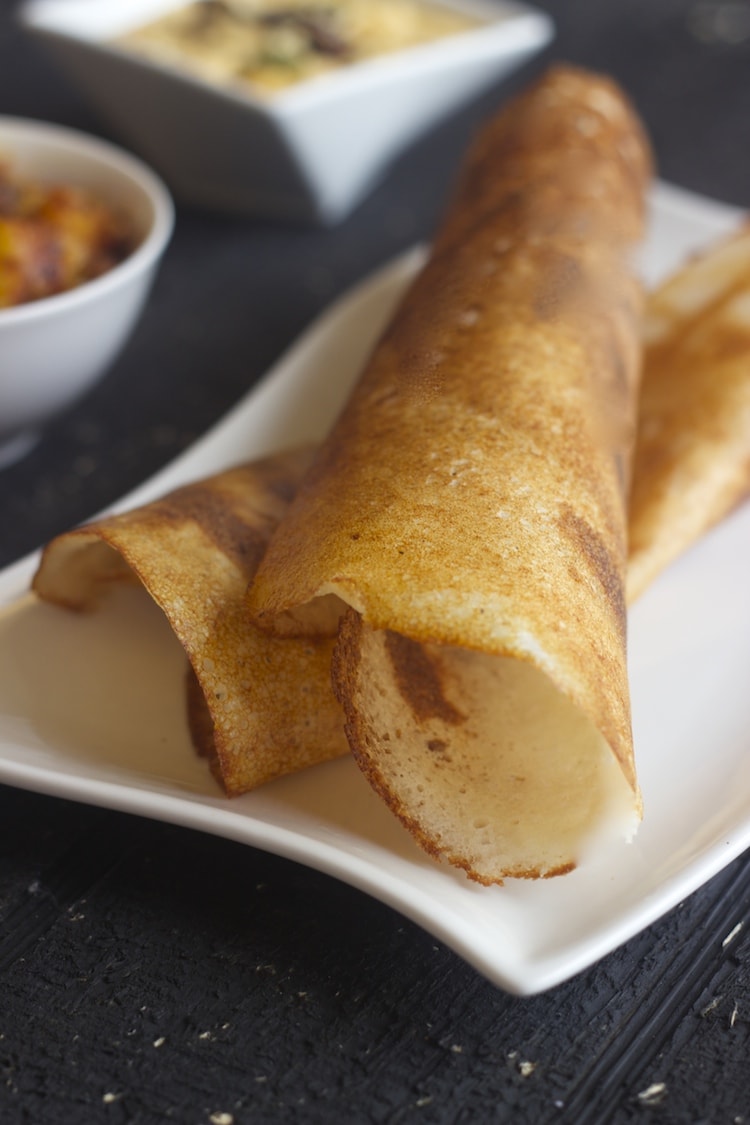 The Weirdest thing is, even after all that craving and my mom best dosa recipe, I never made it until I found an easy way out. I can be lazy, and I thought that eating out was better than grinding rice. If you don't have a proper grinder, you know how painful and a lengthy process that can be.
My son's Mickey Mouse Dosa. Sometimes I sprinkle some cheese and veggies and turn this into a dosa quesadillas.
How to make dosa batter
Use a flat ladle to spread. I use a double electric griddle. I cannot brag enough about how big of a lifesaver a double griddle is since it's quick, and faster when you have company, and also you can make pancakes, parathas, grilled sandwiches, quesadillas to name a few. You get a good one for about $30.
Image1: Before Fermentation
Image2: After fermentation (You can see tiny bubbles)
So shhh shhh……I am sharing my MILs easy version. You don't have to grind rice, just use rice flour and let me say this, let alone you, but no one will ever know that making the batter was so easy.
All you need is 5 minutes to grind urad dal (lentil), and you know urad dal grinds well and faster in any food processor and mixer.
If you have guests then making a big batch becomes a breeze when you use rice flour.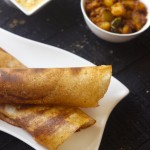 Crispy Dosa recipe with rice flour | Gluten-free | Easy & Quick
Fermentation time: 6-10 hours. Please try to follow the water measurements if you are not familiar with the consistency of the dosa batter. It makes a lot of difference.
Keyword:
dosa batter, dosa recipe, dosa recipe with rice flour, idli batter
Ingredients
1

cup

whole urad daal

skin removed (Black matpe beans polished)

1

tablespoon

methi

Fenugreek seeds

3

cups

leveled rice flour

I use Laxmi brand raw rice flour

4

and 1/2 to 5 cups of water

I used 1 and 1/2 cups for grinding daal and the remaining for final batter

2

teaspoons

of salt or to taste
Instructions
Making Batter:

Wash and soak urad daal and methi seeds in 3 cups of water for 4 to 6 hours.

Drain the soaked urad daal and without rinsing add this to mixer or food processor. Grind using a little water as needed to make a smooth batter. (I used 1 and 1/2 cups of water for grinding daal)

Add rice flour into a big bowl and add water as needed and mix well with your hand, whisk or spoon so that no lumps remain. Add the ground daal and remaining water if any.

Let it ferment for 8-10 hours. You know it's fermented when you see tiny bubbles and when the batter increases in volume.

Making Dosa:

Add salt to the batter. Heat a flat griddle / Tava on medium-high heat. Using a flat ladle, pour the batter in the center of the griddle and flatten it from the center towards outside in concentric circles.

Add oil, butter or ghee(clarified butter); ghee is anytime better. Wait for it to cook and turn crisp. Once the desired crispiness is achieved, fold it in half or roll it and place it on a plate. Don't cook the other side since that will make it soft.

Serve this with chutney, sambhar (lentil curry) or spicy potato.
Recipe Notes
If the batter is too thick and you have difficulty spreading it, add some more water.
Fermentation depends on how warmer the room is. I store my batter in my turned off oven or microwave. Let the oven light stay on for an hour.
The longer the batter stays outside, it will become sour. If you don't plan on making dosa, transfer the dosa batter into the refrigerator.
If you are in a hurry, you can soak the urad daal in warm water and grind it within an hour or two.
I ideally soak daal in the morning and grind in the evening so that batter is ready by morning, or else I soak daal in the evening and grind in the morning so that batter is ready by evening. Time management I say 🙂
Once the batter is fermented, you can also freeze it. To thaw, transfer into the refrigerator 6-8 hours before you want to make dosa.
It is also ideal to let the batter stay at room temperature at least 30 minutes before you start making it.
Pan shouldn't be too hot when spreading the batter. If it gets hot, sprinkle some water before spreading the batter.
Batter stays good for 3-4 days if stored in the refrigerator.
P.S: How you spread the batter is important to achieve crispiness. Please check out any of the good videos on youtube.