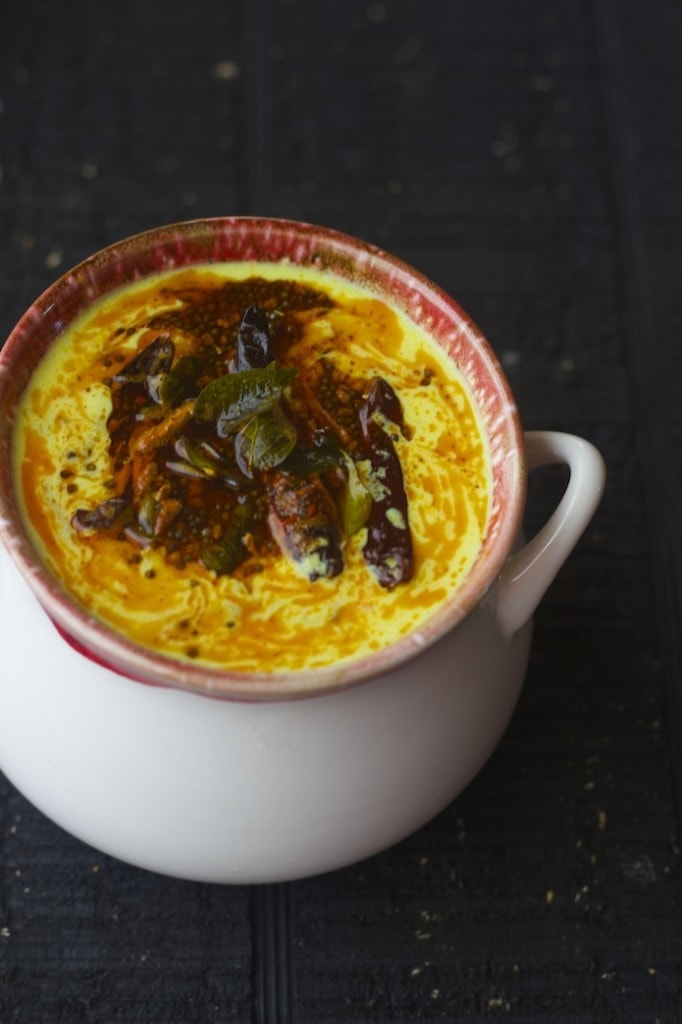 A curry which is most requested, which has a special place in all of our get togethers and parties, a curry which has a way of getting to your taste buds no matter which culture and taste you are accustomed to. The winter melon / kublanga is what makes it more special. When this vegetable is not in season, I make plain moru curry/Kerala kadhi. Both tastes equally great.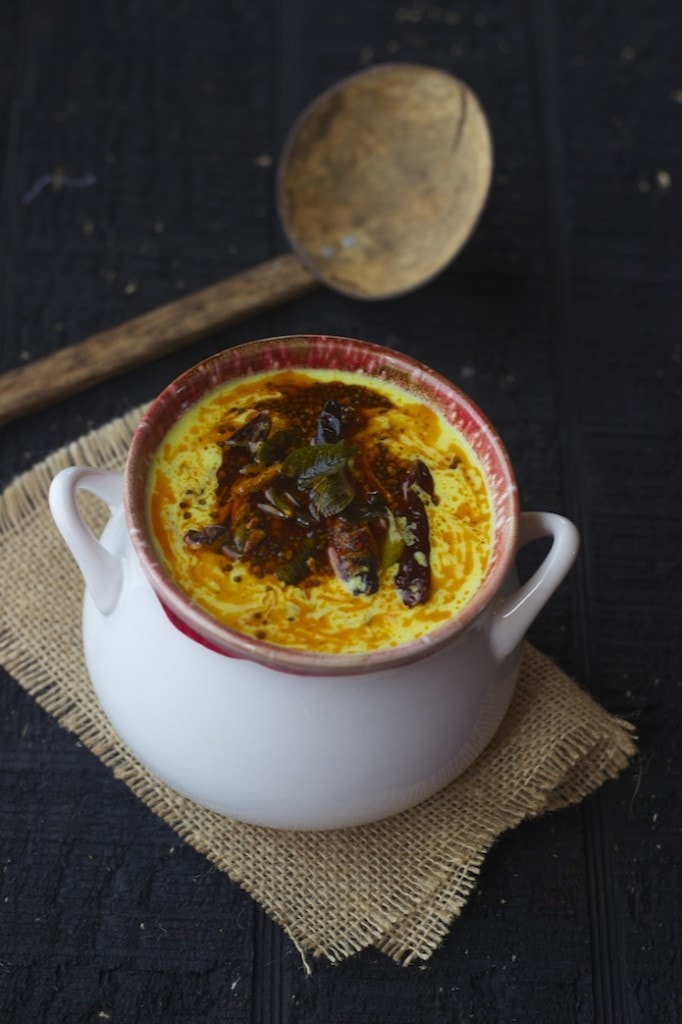 Every culture has its own way of making kadhi, some add besan/chickpea flour which ensures the yogurt doesn't curdle. But this curry is from kerala. A curry which is a must for every occasions, beyond caste and creed in the Gods own country.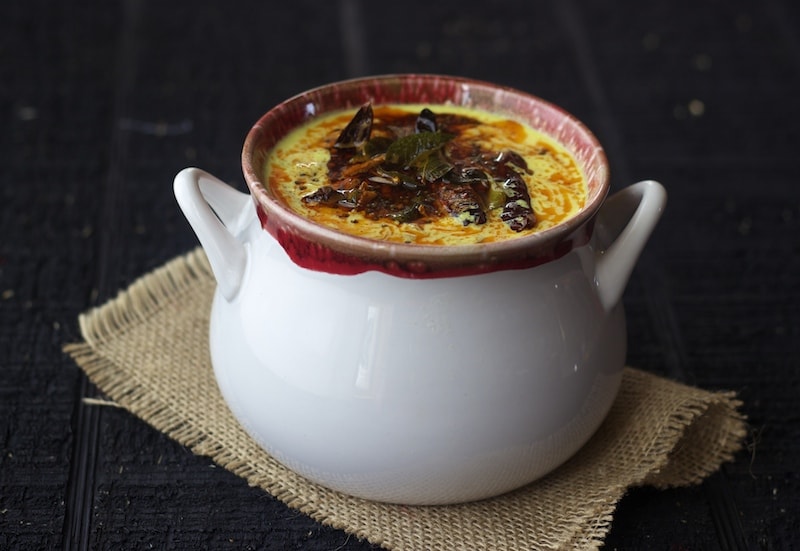 The final seasoning is what adds all that flavor. The coconut oil, the splutter of mustard seeds, the burst of aroma when garlic, ginger, curry leaves and red chillies fall into the hot oil and above all the final touch of red chilly powder makes you want to just breathe in the amazing gust. If you are a foodie, you know what I am talking about.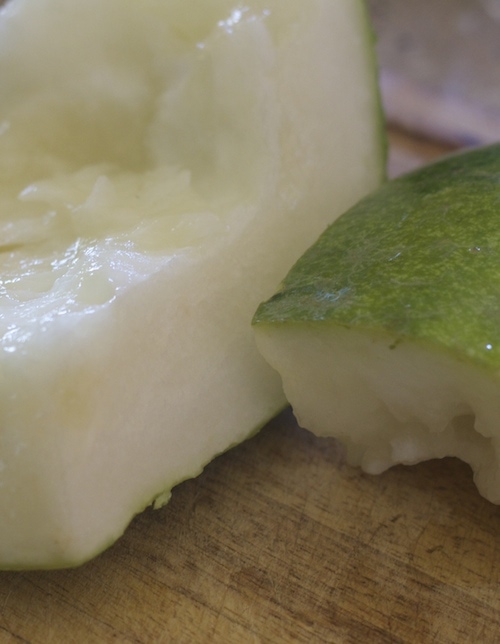 Winter melon / kumlanga ready to get chopped.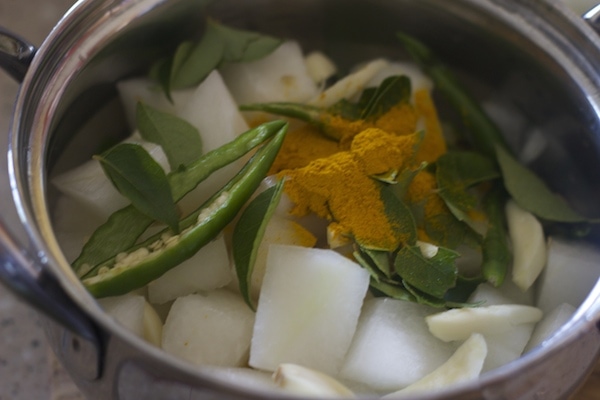 Chopped winter melon ready to be cooked.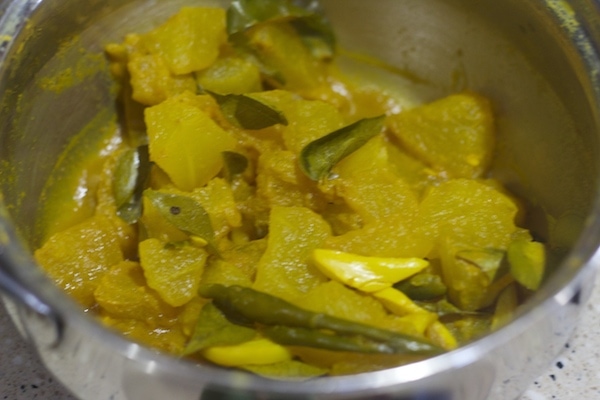 Cooked winter melon looses its color and softens when cooked.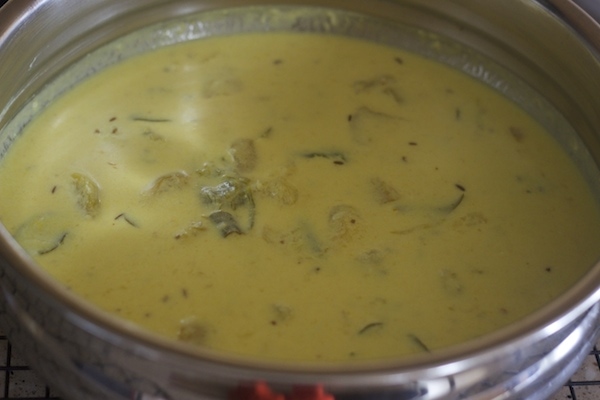 The curry without the final touch. The final touch is what makes it irresistible. You can also add the final seasoning before adding the coconut paste and follow the other steps. But if you want the looks, add it to the finished product. After all, isn't it true that we eat through our eyes first.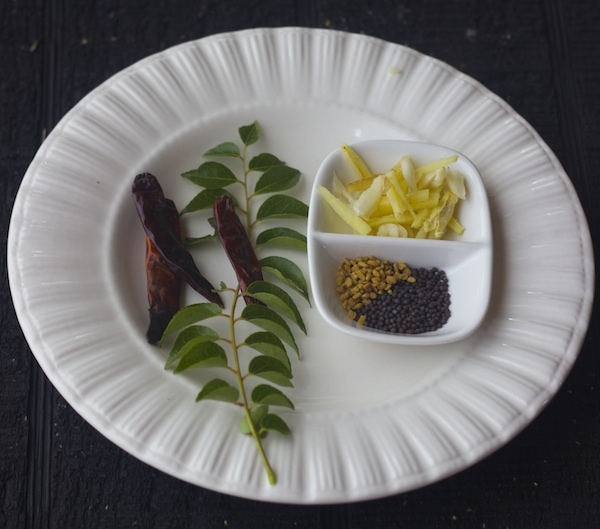 Spices and herbs for the final seasoning. Curry leaves plays an important role in south indian cooking where as North indians prefer using cilantro/ coriander leaves.
Both the herbs has its own unique flavor.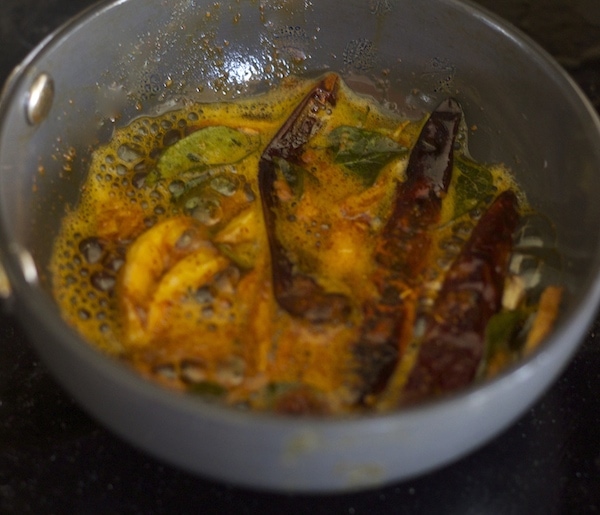 Final seasoning/ tadka is the heart of any indian cooking. Most of the time this is what gives a simple curry what it takes to papmer our taste buds.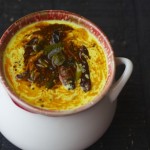 Yogurt/Moru /kadhi with Kumblanga/Winter melon
Ingredients
PART1:
2

cups

kumblanga / winter melon

skin removed and cut into cubes of 1 inches

4

green chillies

slit

2

sprig curry leaves

1

teaspoon

salt

2

big garlic cloves

crushed or sliced

1/2

teaspoon

turmeric powder

1/4

cup

water
PART 2: (To grind)
1/4

cup

fresh or frozen grated coconut

1

clove

garlic

1

teaspoon

cumin

1

tablespoon

water or more as needed
PART 3: (Assembling)
2

cups

yogurt + 1/2 cup water

(Please refer notes)

salt to taste

1

tablespoon

oil

1/4

teaspoon

turmeric powder
PART 4: (Final Tadka / Seasoning) (Check notes for simple tadka)
1

tablespoon

oil

Coconut oil is used traditionally

1

teaspoon

mustard seeds

1/2

teaspoon

fenugreek seeds

1

garlic

cut finely length wise

1/2

tablespoon

ginger

finely cut length wise(Juveline)

1

sprig curry leaves

3

dried red chillies

1

teaspoon

red chilly powder / paprika
Instructions
PART 1:
Mix all the ingredients in part 1 and cook on high for 5 minutes, then turn the heat to medium, cover and cook till the melon is soft and changes color. (If there is excess liquid, remove the lid and turn the heat up for it to evaporate, taking care that it doesn't burn).
PART 2:
Grind all the ingredients of part 2 to slightly coarse paste. Use water only as needed.
PART 3:
Mix yogurt and water well in a mixer, food processor or with a whisk to get rid of any lumps. Add salt as per your taste and sourness of the yogurt.

Heat oil in a pan on medium high heat. Add the paste from Part 2 to the oil and sauté it till the mixture cooks. To this add turmeric and the cooked vegetables from Part 1, mix well. Reduce the heat to low and then pour the yogurt. (The most important step is not to let the yogurt simmer or boil or else the curry will curdle. At this stage do not leave the curry unattended.)

Keep stirring on low till the curry warms up, turn of the heat and remove the pan from the heat and keep aside. Transfer into a serving bowl.
PART 4: Seasoning
Heat oil in a pan. Add mustard seeds. Once that cracks, add fenugreek seeds + garlic and ginger. Once this cooks, add curry leaves + red chillies. Turn off the heat and add chilly powder/paprika. Pour this over the curry.
Recipe Notes
Yogurt: I used medium consistency yogurt, so added 1/2 cup of water to dilute it. The yogurt should be neither too thick not too runny. This recipe is for 2 and 1/2 cups of buttermilk.
To give a simple tadka/seasoning, using only mustard, curry leaves, red chillies and chilly powder.
You can also add the seasoning to oil before adding coconut paste. But if you want the looks, especially when you are having guest over, add the seasoning in the end.