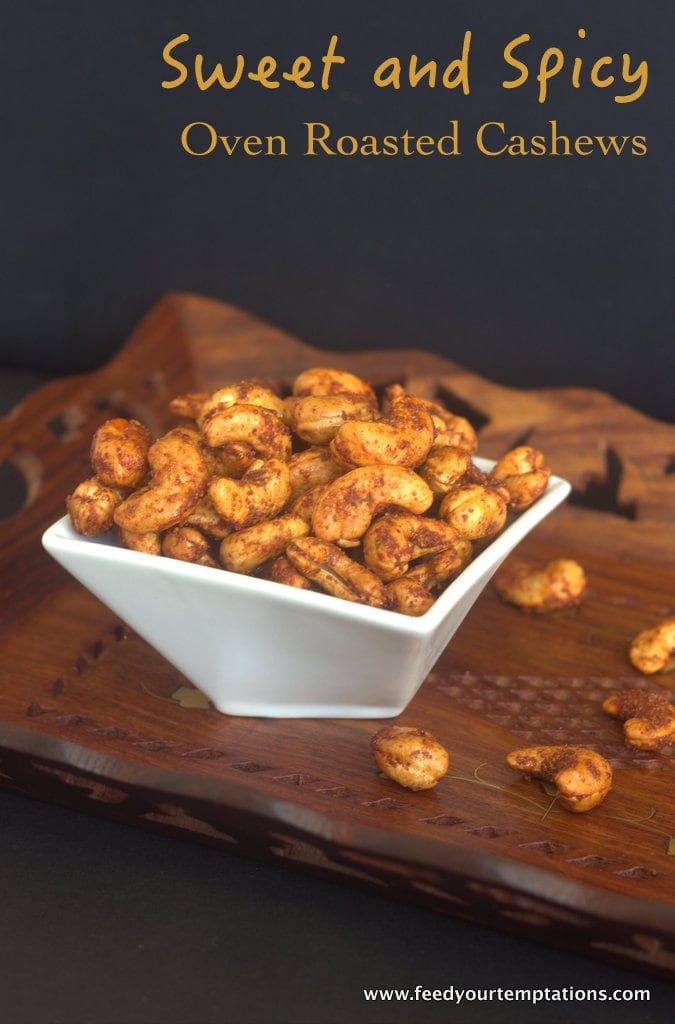 'What do you want to do this weekend'?, Agnel asked. 'Let go to Disney', I replied. When disney is right in your backyard, okay, not technically, but if its only 40 minutes from your place, then you don't need to plan ahead. Yeah, I live in the land 'Where dreams come true' the land of theme parks, roller coasters, Mickey and Minnie. I love the magic of Magic kingdom, the thrill of universal studios and the sunny beaches. Yesterday was the last day of Epcots flower and garden festival and we did not want to miss it.
Let me give you a peek: Photo was taken from my phone.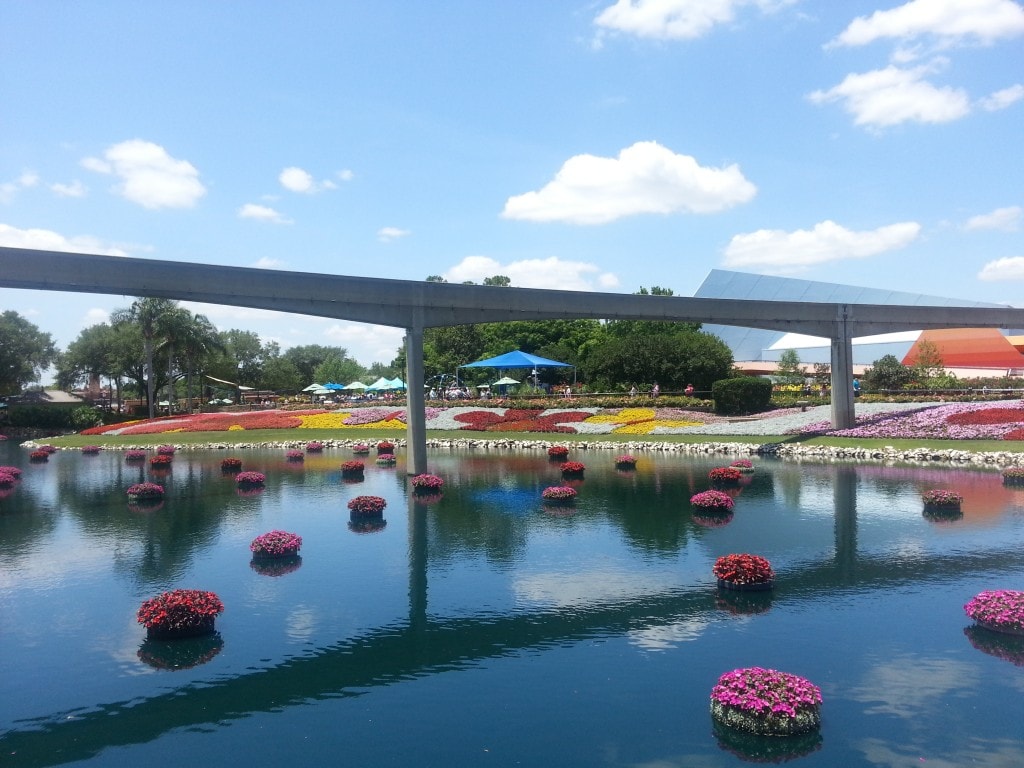 It was beautiful. Floating flower baskets , shrubs shaped into disney characters, the butterfly garden, spring blooms, perfect weather and to add to that, amazing food from different countries.
Now, back to cashews 🙂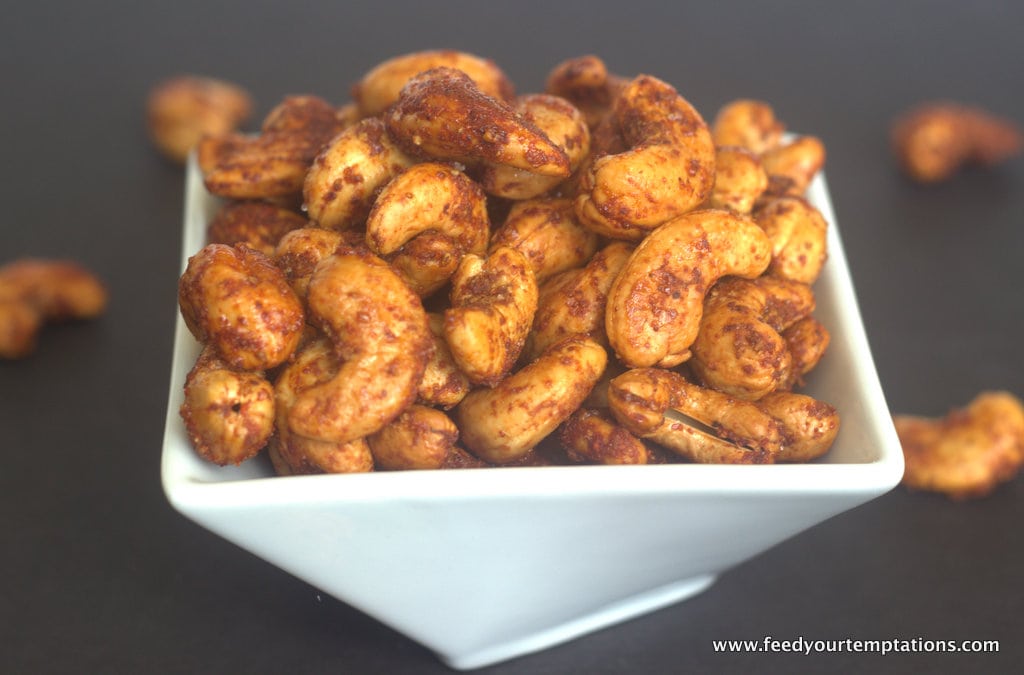 This is crunchy, very slightly sweet, salty and flavorful, rather than spicy I would say. Now, if you substitute hot chilly powder instead of paprika, then it would be spicy. Agnel doesn't like to munch on sweet things, so I wondered if I should add sugar, but then I did anyway. Only a couple of tablespoons, and he said, it has the perfect balance of sweetness and spice. Try this recipe with a cup of cashews  first and then you can adjust the level of sweetness and spiciness the way you like it. Although the calories are more, its a perfectly healthy snack. If you are looking for a low calorie healthy snack try the oven roasted chole/chickpeas/garbanzo beans.
Coating it with the egg white before roasting makes this crisp and help the spices stick to the cashews.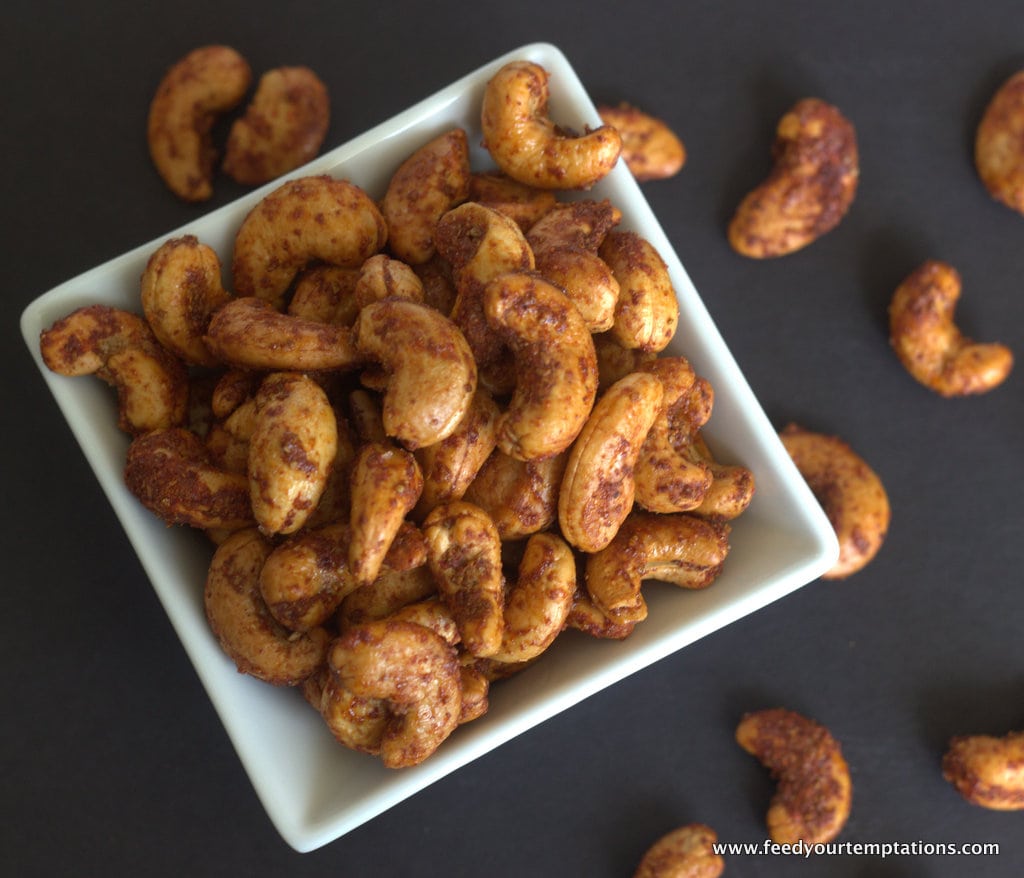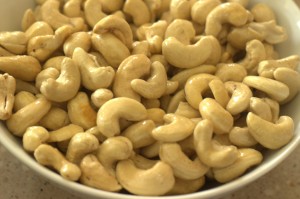 I used raw cashews. Salted roasted cashews can be used too. Reduce the salt by 1/2 teaspoon if using salted.
Coat the cashews with lightly beaten eggwhite.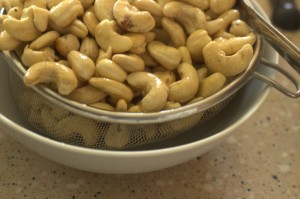 Drain it on the sieve to get rid of the excess white.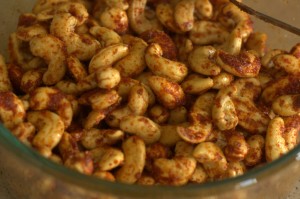 Transfer to a bowl, add spices and mix well with a spoon.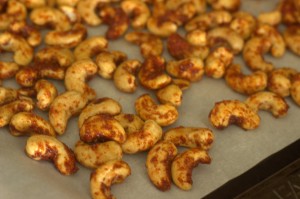 Place the cashews on a baking tray in a single layer and bake for 50-55 minutes at 250 Degrees Fahrenheit or 120 Degrees Celsius turning once.
Sweet and Spicy Cashews – Oven roasted
If looking for something sweet, use only sugar and cinnamon.
Ingredients
3

cups

cashews

salted or unsalted

1

Egg white

lightly beaten

SPICES:

3

teaspoons

red chilly powder or paprika

2

teaspoons

cumin powder / jeera powder

2

tablespoons

sugar

1

and 1/2 teaspoon salt

1 teaspoon if using salted
Instructions
Preheat oven to 250 Degrees Fahrenheit or 120 Degrees Celsius.

Add cashews to egg white and coat it well. Transfer to a sieve and let sit for 5 minutes to drain the excess liquid.

Transfer to a bowl and add the spices, coating all the cashews well.

Arrange the cashews on a baking tray in a single layer and bake for 50-55 minutes, mixing once.