Cinnamon Banana Fruit Leather or Fruit Strips are a smart, fun, and easy way to use the overripe bananas and turn them into 100% natural and healthy kids snack. Moreover, it makes a fantastic lunchbox idea that every kid will love.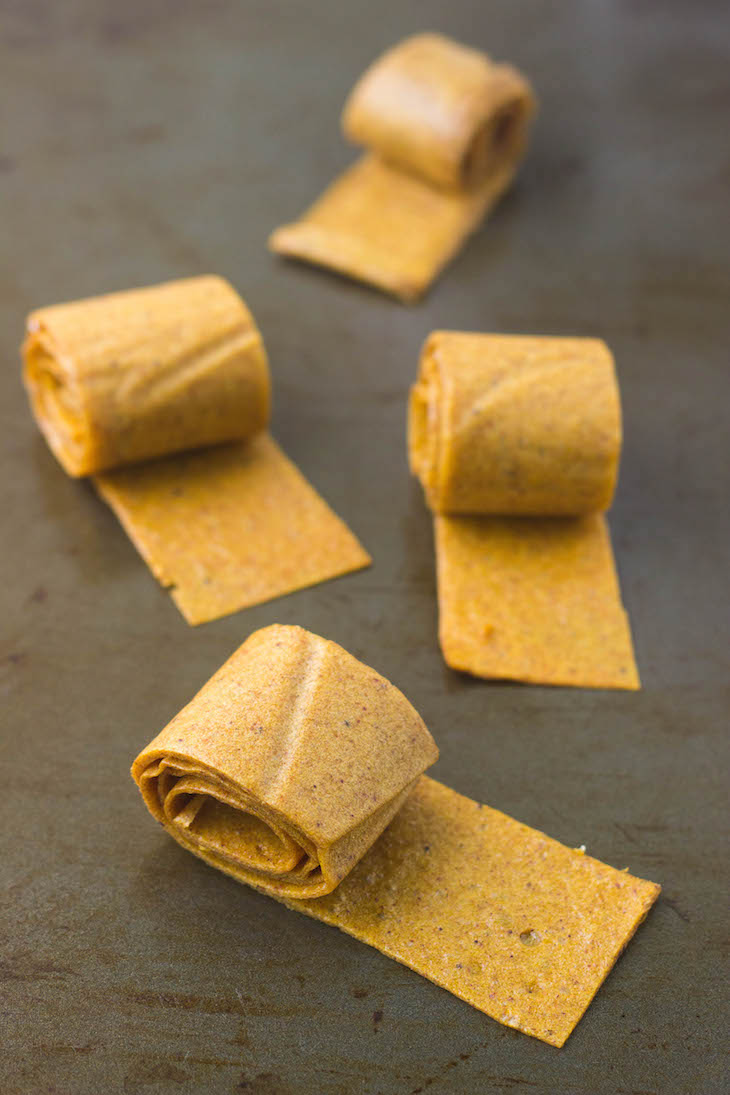 Finding it hard to make your kids eat healthy foods instead of consuming artificial and processed foods? Running out of healthy lunchbox ideas? This recipe will make you create such delightful snacks that your kids will love fruits.
Commonly, fruits such as apples, bananas, apricots, peaches, pears, cherries, and blueberries are great for eating as snacks or chopped in granola bars or even dried as purees for fruit leather. Even ripe plantains can be used to make delicious fruit leather.
Fruit leather is a fun way to make kids consume all necessary vitamins and nutrients without actually making them eat. How often your kids have not eaten the fruits given for their
Considering how easy these fruit roll-ups are to make, they are perfect for an on-the-go snack or an addition to any lunchbox. You can add different fruits together and make your own version of the fruit leather recipe.
Instead of getting those store-bought fruit leathers, opt to make them at home. This is because homemade fruit leather is super easy to make and just requires a few simple ingredients.
If you are not a big fan of bananas, try the strawberry fruit leather. The color is beautiful and vibrant which the kids really enjoy.
How to make fruit leather
Considered to be one of the most loved, appealing, and healthy snack recipes, fruit leather is quite easy to make. Simply blend the fruit well until a smooth paste or puree is obtained. This puree can then be spread on parchment paper or plastic wrap, in order to prevent the dried fruit leather strips from sticking to each other. Finally, let it bake for at least 3-4 hours.
What can you do with overripe bananas
Banana is a staple of every household. The biggest problem is that, once the bananas are overripe or the skin turns black, you don't feel like having it. At the same time, you don't feel like throwing them in the trash either. Most importantly, because of excess calories, you don't want to dump them in your tummy too.
Apparently, there are so many recipes you can try with ripe bananas. Banana bread and whole wheat chocolate banana muffins are a great option and perfect for kid's lunchboxes too.
However, not everyone can find time for baking. It would be a great idea to freeze bananas and use them for later.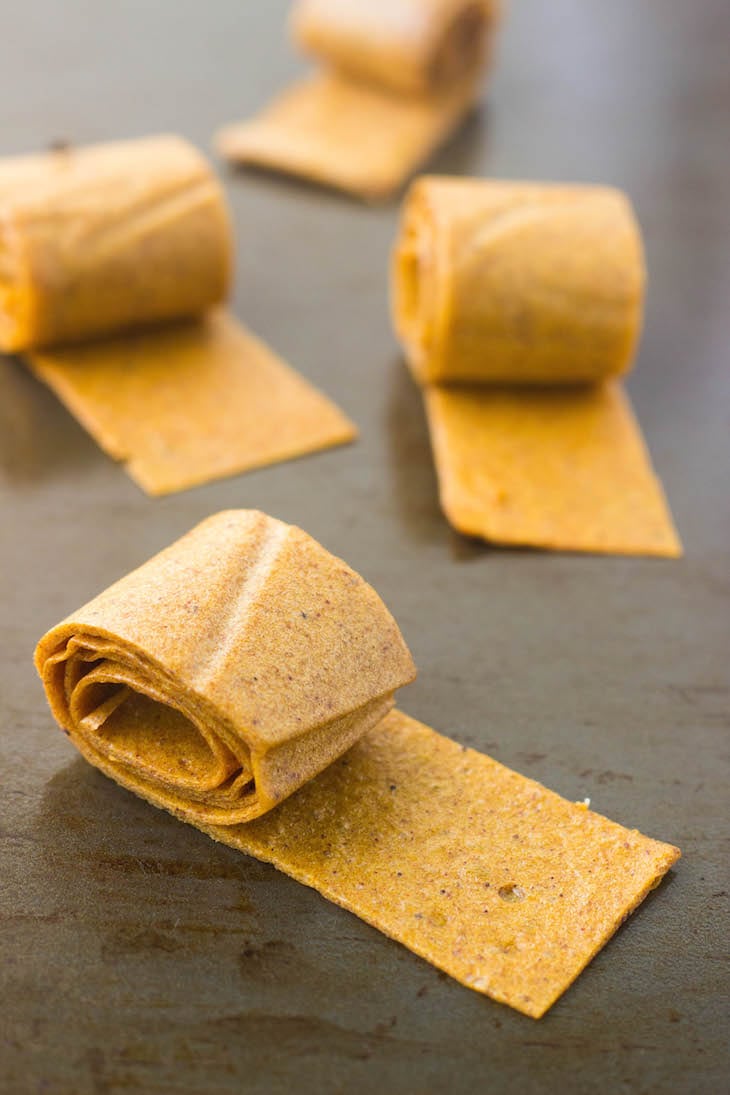 How to make cinnamon fruit leather
To make the cinnamon banana fruit leather, puree the bananas in a blender, add some cinnamon, and spread it on a baking tray lined with parchment paper or a silicone mat. Finally, let it bake at the lowest temperature for 3-4 hours. In a few hours, you will have a 100% healthy snack which is excellent for back-to-school snacks.
How to make fruit leather in a dehydrator
Fruit leather is quite simple to make with a food dehydrator. You can either use one fruit at a time or mix different fruits of your choice.
Place 2 cups of fruit in the blender and then add the sugar, according to your taste. If you want to avoid any additional sugar, then leave out sugar altogether. However, some fruits like raspberries can be quite tart and it is best to add some sugar.
Once the fruit has been pureed, spread it on the fruit tray of the food dehydrator. Place the tray in the food dehydrator.
Depending on the type of dehydrator you are using, you can make more than one layer at the same time. You could have each layer be a different type of fruit as well. Kids will totally love the multiple colored fruit strips. The time for the entire process varies with the dehydrator. It could be anywhere between 4-12 hours.
The fruit leather should be deep bold in color and have a leather-like texture. Make sure that the fruit strips are not sticky to the touch.
How to make fruit leather with frozen fruits
Fruit leather can also be made from frozen fruits. First, let the fruit defrost in the fridge or on your countertop, and then follow this recipe to make fruit leather.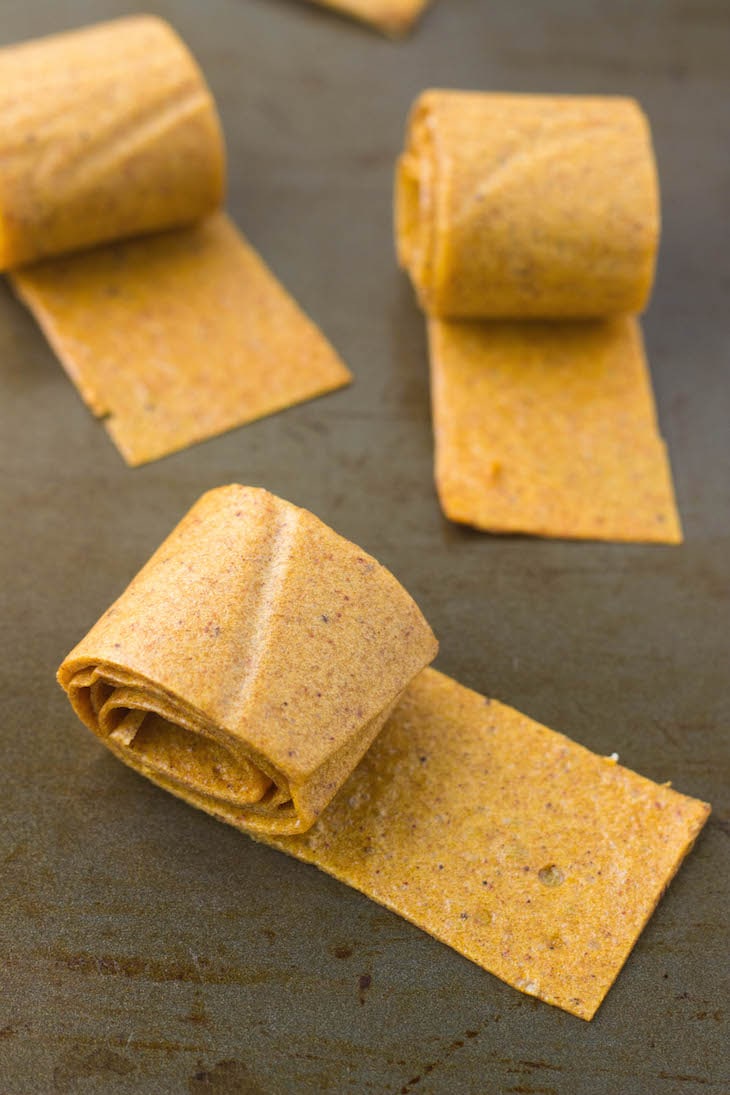 Earlier I posted the strawberry fruit leather where I also mentioned that you could use bananas and other fruits to make it, but I did not realize that adding cinnamon to bananas would make so much of a difference. Most of all, the aroma of banana cinnamon leather is truly intoxicating.
In addition to bananas, you can add all the fruits you have and make them into mixed fruit leather.
Strawberry leather can also be made by using the same process. Moreover, when you are making strawberry leather, you have the option to make the strawberries seedless. This is done by passing the pureed berries through a colander before baking.
Nothing could beat the freshly squeezed passion fruit juice. In the summers, refresh yourself and enjoy this nutritious and delicious drink.
Make use of the seasonal fruits and try out different recipes that are both nutritious and delicious. You can make whole wheat chocolate banana muffins or whole wheat apple cinnamon muffins, both of which will become an instant hit among the children.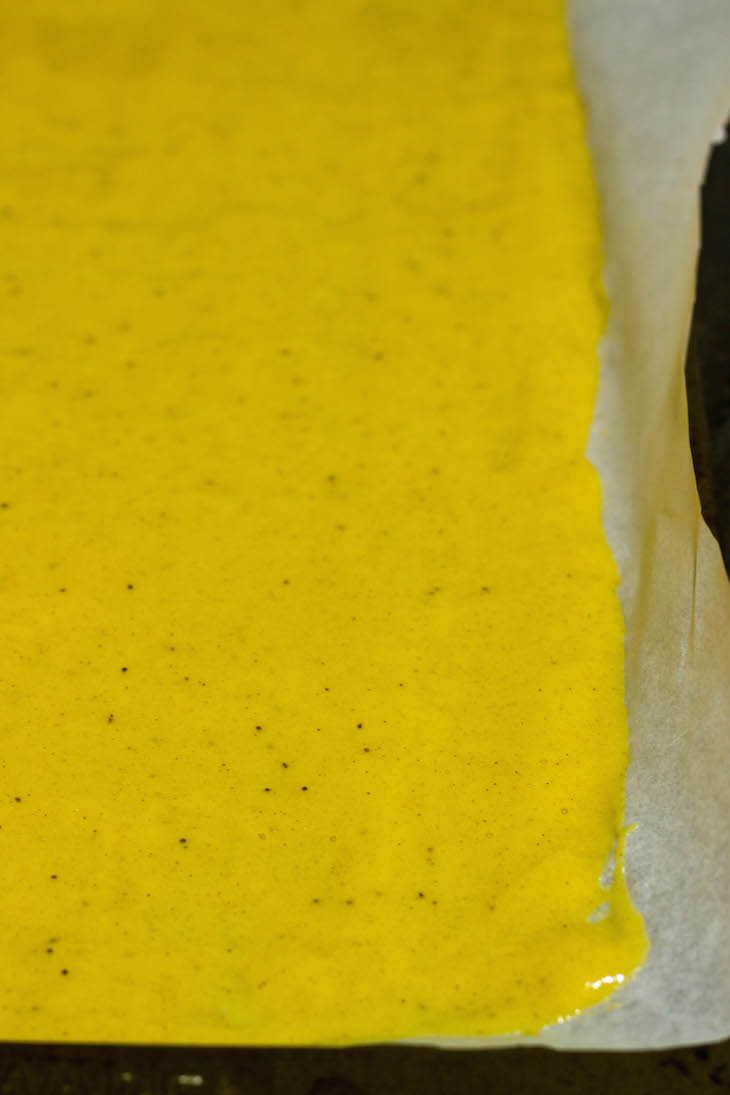 Storage of fruit leather
The best way to store the fruit leather is to cut them into strips and roll them up in parchment paper or plastic wrap. In this way, they will not stick together. Then place the strips in an airtight container and store them in the refrigerator or freezer.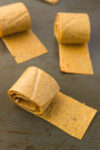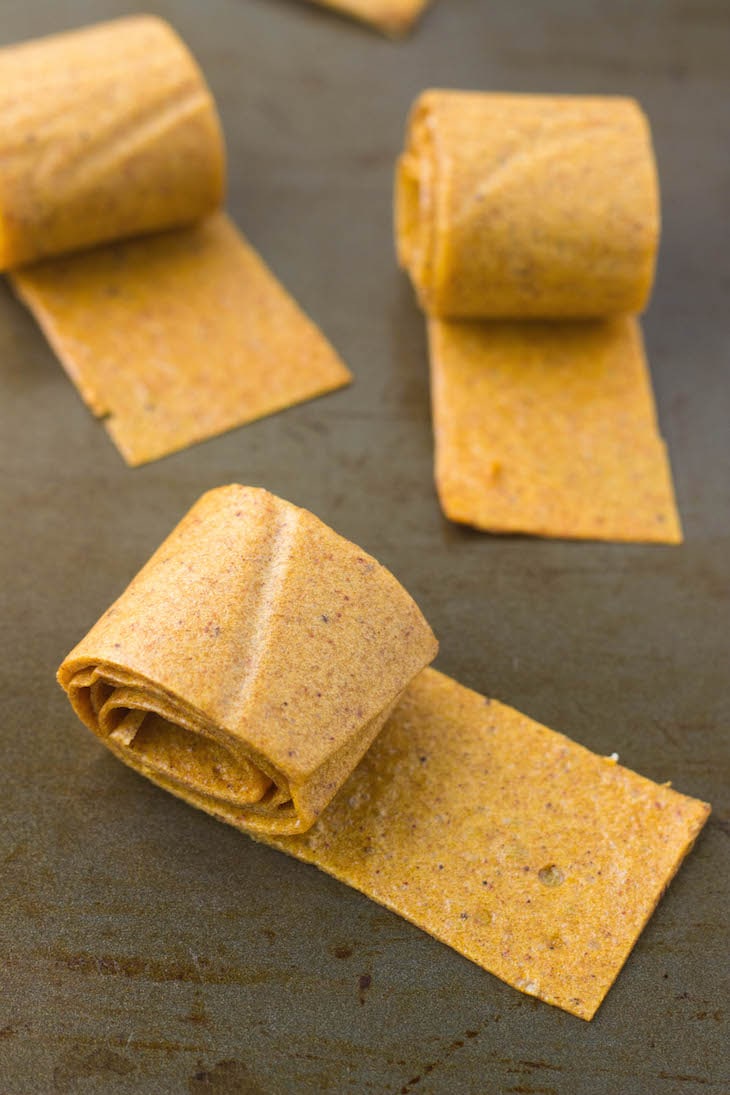 Cinnamon Banana Fruit Leather
Ingredients
3

ripe bananas or ripe plantains

1

teaspoon

cinnamon powder
Instructions
Preheat the oven to 170 Degrees Fahrenheit / 76 Degrees Celsius.

In a food processor or mixer, puree the ripe bananas and add 1 teaspoon of cinnamon powder.

Pour it into a baking tray lined with parchment paper or silicon mat.

Spread the banana puree evenly in a thin layer.

Place it in the oven for 3-5 hours or till the top is not longer wet to touch, is slightly tacky and the fruit leather peels off easily.

Cut the uneven ends with scissors and cut into strips. Roll it up or with a parchment paper in between.

Store it tightly wrapped in an airtight container.
Recipe Notes
If you want thicker fruit strips, you can pour the puree into a saucepan and stir it to let the water evaporate. Once the puree slightly thickens pour into the tray.
You can use ripe plantains too.