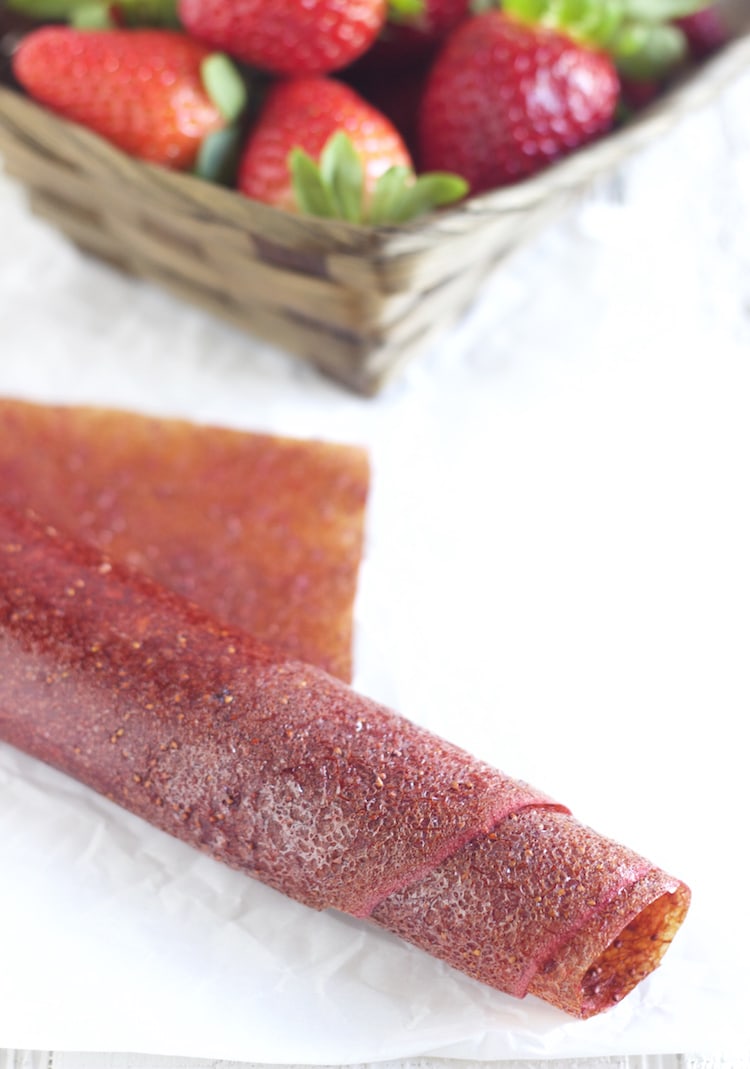 This fruit strip – fruit roll up – fruit leather is made with only one ingredient. Strawberries!
Use any fruit of your choice, mix up different fruits, or use those overripe fruits (yeah I meant banana too), lying in your refrigerator which no one wants to eat. Needless to say its healthy, a great lunchbox idea for kids, that is, if its lasts. 
You know how kids wants to eat what other kids are having even though you have carefully planned and arranged their lunch box with all the good stuff, or so you think. I don't cave in to Nivaan's demands all the time but I don't want him to be deprived of what his buddies are having once in a while. It wasn't until recently he started asking for jellos one day, fruit strips the other and It was definitely not fun seeing him have the blue/yellow/purple store brought fruit strips.
Home made fruit leather has turned out to be a great option that way.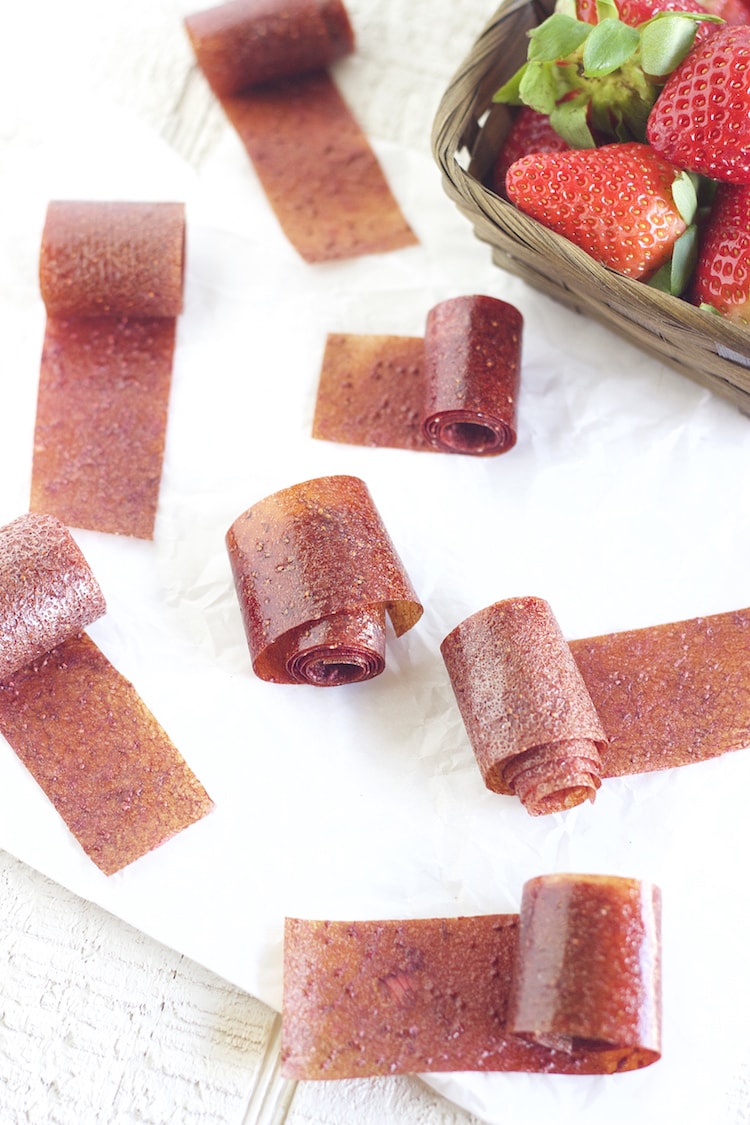 Cut into strips with a scissor and roll it up to between a parchment paper .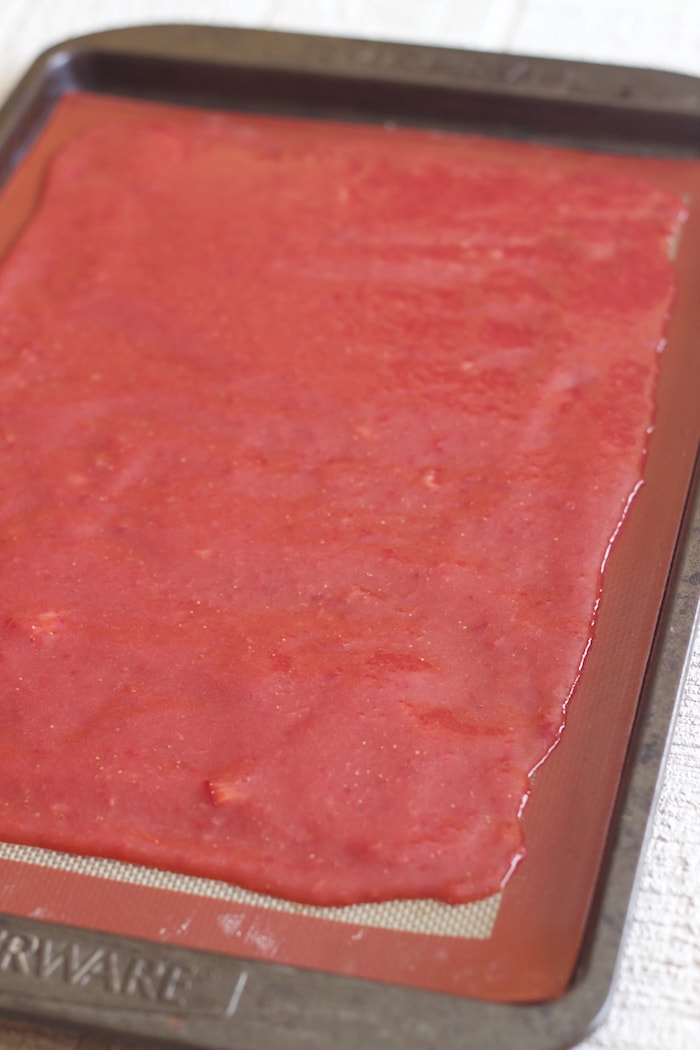 Puree the fruits and pour into a tray lined with non-stick mat or parchment paper.
Spread it with an offset spatula or a flat ladle. Do not spread it thin or else you will end up having fruit crisps.
If you want thicker fruit strips pour the puree into a sauce pan and reduce it down so that the excess moisture evaporates before pouring into the tray.
Bake for 3-5 hours or till it does not have wet patches and is slightly tacky to touch.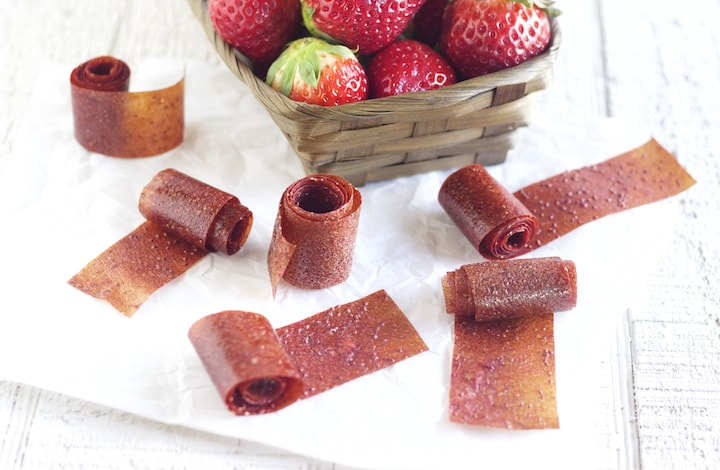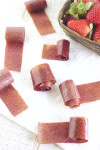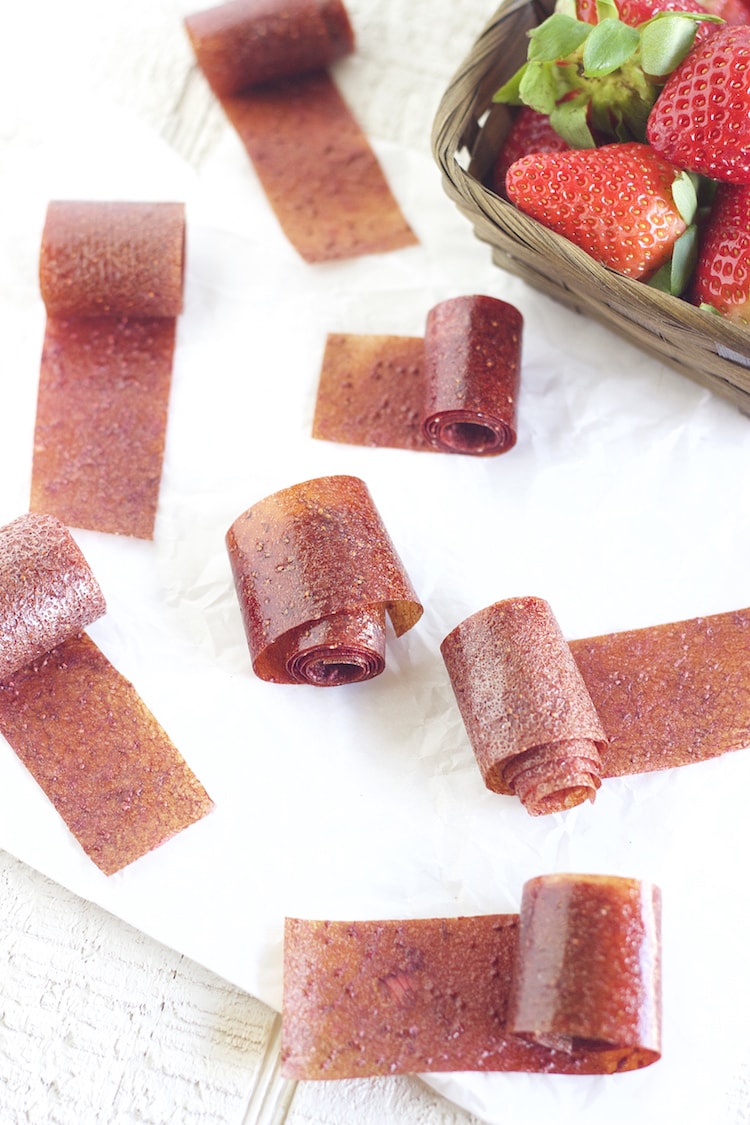 Fruit Leather
Total prep time: 10 minutes ------Idle time (Oven time): 3-5 hours. You can use any other fruits of your choice. Peaches, watermelon, berries, plums, figs, mangoes, bananas to name a few.
Ingredients
2

cup

strawberries

pureed (Makes 1 tray)

Sugar or honey if needed
Instructions
Preheat the oven to the lowest temperature. I set mine to 170 Degrees Fahrenheit / 76 Degrees Celsius.

Puree the fruit in a mixer or food processor. Taste and adjust the sweetness with sugar or honey as needed. (I did not add any sweetener)

Pour into a tray lined with silicon mat or parchment paper. Spread with a spatula. Don't spread it too thin or else it will turn crisp.

Place it in the oven for 3-5 hours or till the top is not longer wet to touch, is slightly tacky and the fruit strips peels off easily.

Cut the uneven ends with scissors and cut into strips. Roll it up or with a parchment paper in between.

Store it tightly wrapped in an airtight container.
Recipe Notes
If you want thicker fruit strips you can pour the puree into a sauce pan and stir it to let the water evaporate and the puree slightly thicken before pouring into the tray.
I personally don't like the smell of bananas so I combine it other berries and fruits.