These wholesome Muffins has the goodness of Wholewheat, Bananas and Yogurt. The slightly gooey chocolate banana muffins with yogurt are worth every bite. You will find it hard to believe that it is made from whole wheat.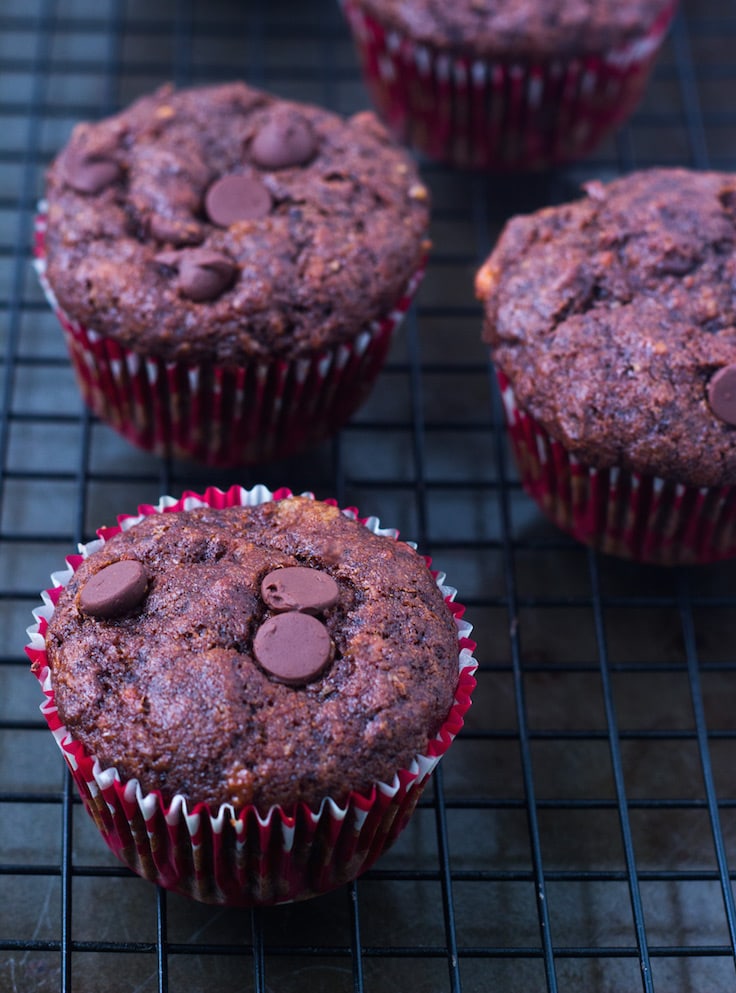 I have a picky eater in hand. At home, it doesn't matter as much, since he is not allowed to get up from his chair until he finishes his food and the no iPad blackmail always seems to work. The real problem I have is with his lunch box. My heart sinks when I see that he has not touched his lunchbox and knowing that he has not eaten anything from the moment he was out of the house makes me worry.
Muffin is something which I have seen him finish. That's when I realized I could substitute all-purpose flour with whole wheat, throw in some bananas and make it little healthier. It's really hard to tell that these chocolate banana muffins are made from whole wheat until someone mentions it.
The whole wheat apple muffins and orange muffins with real orange juice were made for Nivaan's school too. The Orange muffins have always been a big crowd pleaser.
These whole wheat chocolate banana muffins with yogurt will make a perfect lunch box or a grab and go snack.
The classic banana muffins with a thick streusel topping is good for those not very fond of chocolate flavor (Yeah! People like my mom who don't like chocolate do exist 🙂 )
These chocolate banana muffins are an excellent way to use overripe leftover bananas too.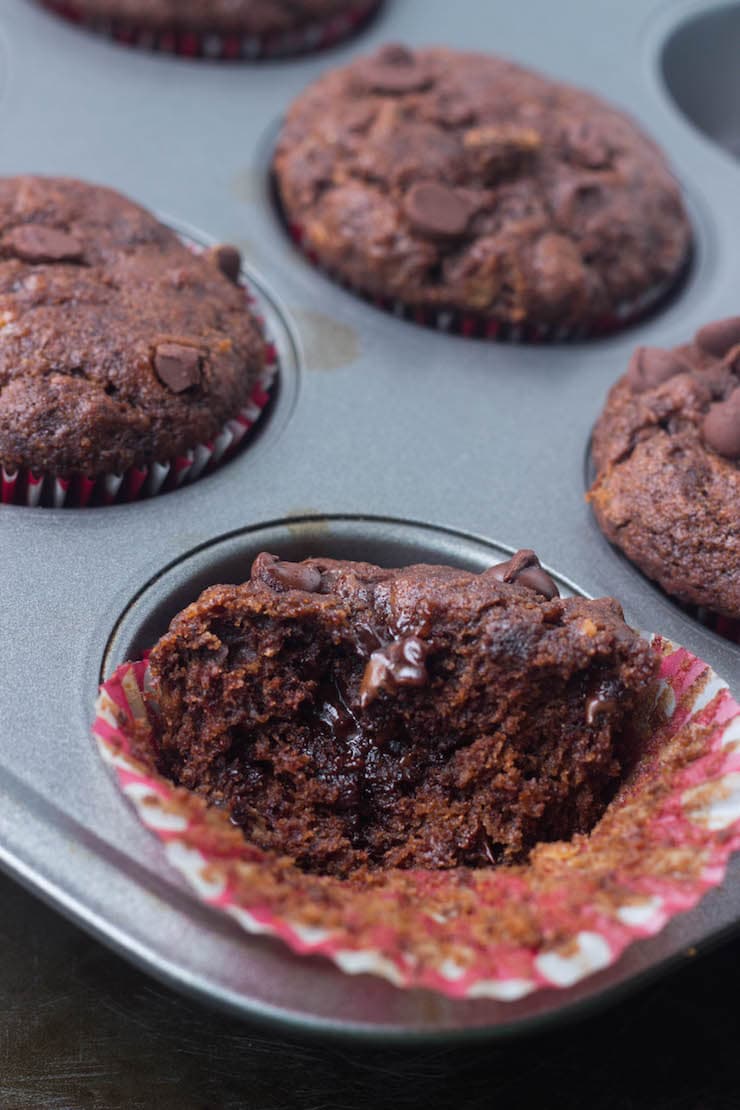 The moistness comes from banana, yogurt and brown sugar. The chocolate chips add the gooeyness.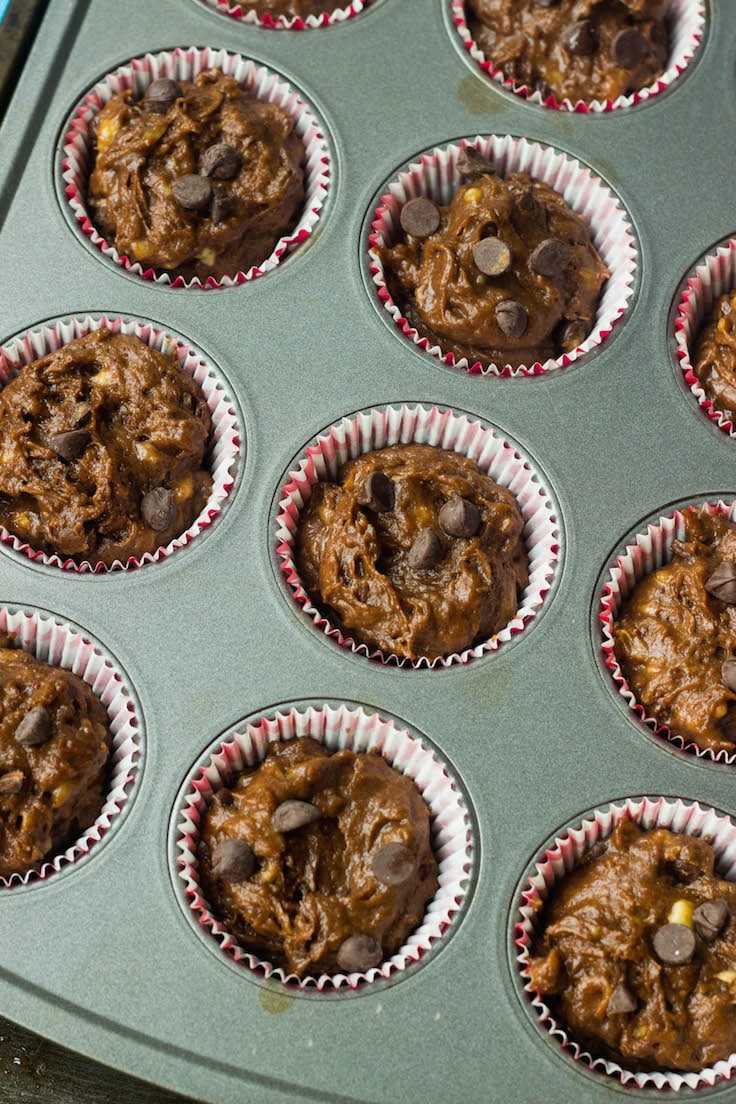 When you divide the batter into a standard 12 cup muffin tins, it will be about 3/4th full.
Garnish with some more chocolate chips. The mini ones look even better. After all the expression ' You eat through your eyes' is certainly true.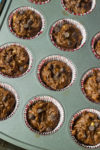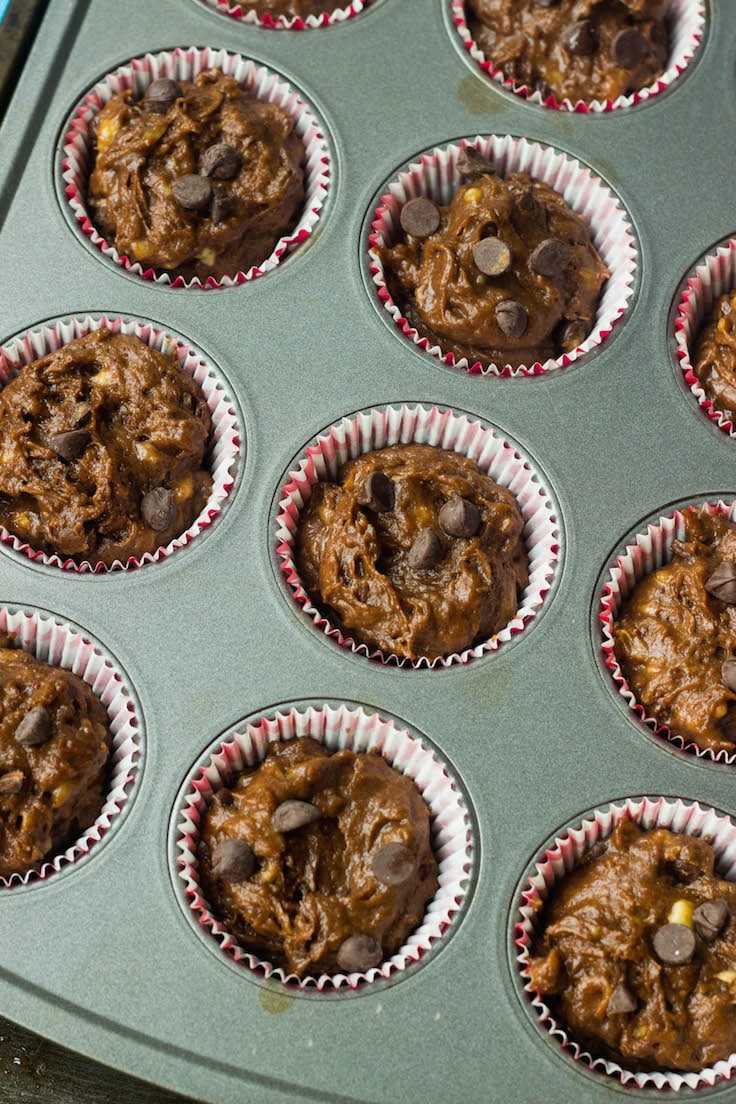 Whole wheat banana muffins with Yogurt
These whole wheat banana muffins are super moist and chocolaty. It's hard to believe that it's made of whole wheat flour.
Ingredients
1

and 1/4 cup

140g whole wheat flour

1/4

cup

25g cocoa powder

1/4

teaspoon

baking powder

1

teaspoon

baking soda

1/2

teaspoon

salt

3

Ripe bananas

1/2

cup

113g melted butter

3/4

cup

150g white sugar

2

tablespoons

brown sugar

1

egg

1/4

cup

2oz (60ml) yogurt, lightly beaten with no lumps

1

teaspoon

vanilla extract

3/4

cup

choco chips

1/2

cup

choco chips for sprinkling

(mini chips looks even better)
Instructions
Preheat the oven to 350 Degrees Fahrenheit / 175 Degrees Celsius.

Sift together dry ingredients 2-3 times (Flour + cocoa + baking powder + baking soda + salt) and keep aside.

In a mixing bowl, mash bananas well. Add melted butter and mix well. To this add white sugar + brown sugar and mix again.

Add egg + yogurt + vanilla and mix again, but do not overmix.

Add choco chips to the flour and add this flour little by little to the wet ingredients. Fold it in till it becomes moist but do not over mix or else the muffins will become dense.

Divide it into 12 muffin cups. Top each muffin with few choice chips and bake for 20-25 minutes.