Can you imagine the reaction of a kid vs adult when they see a whole grain muffin topped with rolled oats? An adult would look forward to having them, especially if they are the health consious ones, a kid on the the other hand would say Nyooo, atleast mine does. Now, if it is topped with some sprinkles it would have been a different story. These muffins were for my 3 year olds class.  You must wonder, why would I top a perfectly healthy muffin with sugar glaze. If I want to have toddlers enjoy this, everything cannot be at my terms, Right? and this was my way to lure them :). Kind of like the kids candy cookies and rocky road chocolate cookies with sprinkles. The verdict: Like always It worked.

The aroma of Cinnamon was intoxicating. The whole house smelled Cinnamon and using freshly ground cinnamon was totally worth it(I used a coffee grinder). It reminded me of halloween and the 
wholewheat pumpkin bread
.
Yogurt makes the cake absolutely moist and gives the muffin a wonderful texture. Rolled oats sprinkled on the muffins gives it a light crunch. Only I wish, I had filled the entire surface with more oats. This reminds me, have you tried the sourcream blueberry muffin and sourcream coffee cake recipe on my blog.
Have you observed this muffin has an umbrella top, kind of like a mushroom. I sprayed the top of muffin tin so that the muffins comes out easily, once its done.
Prep time: 15 minutes
Baking time: 25 minutes
Ingredients: (Yields 12 standard muffins)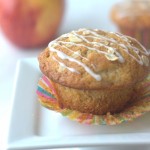 Whole Wheat Apple Cinnamon Muffins
Notes:
Servings
:
12
standard size muffins
Ingredients
1

cup

113gwhite whole wheat flour (I found this in Target)

1

cup

120g All purpose flour

1

teaspoon

baking soda

1

teaspoon

baking powder

1/4

teaspoon

salt

2

teaspoons

cinnamon or dry ginger powder

1/2

cup

113gms unsalted butter, at room temperature

3/4

cup

130g granulated sugar

1/2

cup

120ml maple syrup (honey can also be used)

1

Large egg

1

cup

240ml plain yogurt

1

cup

peeled

cored finely cubed apple (About 1 large apple)

1/2

cup

rolled oats

for sprinkling (optional)

For glaze:

Optional

1/3

cup

powdered confectioners sugar

1

tablespoon

water or juice
Instructions
Preheat the oven to 375 degrees fahrenheit or 190 degrees Celsius. Grease and flour or line a muffin cup with paper cups. Also grease the top of the muffin pan so that the top of the muffin comes out easily.

Sift together the dry ingredients. wheat flour + all purpose flour + baking soda + baking powder + salt + cinnamon. Keep aside.

In another bowl, beat together butter + white sugar until soft and fluffy. Add maple syrup, mix, then add egg and mix well, scraping the sides off. Add yogurt and mix again. Fold in the flour and mix everything with a spatula until just combined. Add the chopped apples and mix. Divide equally into muffin pan. Bake for 23-25 minutes or until a tooth pic inserted in the center of muffin comes with few crumbs attached to it.

For glaze: Add 1/2 tablespoon liquid to powdered sugar and mix well. Add drops of liquid as needed to achieve a pourable consistency. Drizzle over the muffin with spoon or fork.
Recipe Notes
You can substitute cinnamon with vanilla extract, if so, add 1 teaspoon vanilla and add it with egg.
If you want strong cinnamon flavor, add 2 more teaspoons of cinnamon powder.
White whole wheat flour is milder, kind of like albino wheat variety and nutritionally considered to be the same as that of brown wheat.