I like the idea of adding sour cream, creme fraiche or  yogurt, whichever is available, to my baked goods, to feel the baked goods transform into velvety texture, to taste the moist tender bite of goodness and I like coffee cakes more, since it has the perfect sweetness. Not too much and not too little.

My normal procedure of baking a cake goes like this. Mixing all the ingredients by a hand beater, pouring into a pan sprayed with non-stick coating, placing the cake in a preheated oven and then forgetting the cake for 45 minutes till the baking timer goes off. This was definitely different from the latter. I did the mixing by hand, baked it in a small counter top oven, one which has heating coils on the top and bottom, and one in which each coil temperatures can be adjusted separately. Smaller ovens heat up more so its ideal to decrease the temperature by 10 – 15 degrees Celsius. I learnt it the hard way. A burnt cake later and with my moms way of baking, I conquered the trick of using a small oven. Conquered might seem like a big word but only a passionate baker, I definitely being one of them, can understand the joy of looking at a perfectly baked cake. So this is how I did it: 1st I preheated the oven to 150 degrees Celsius turning on the upper and lower coil, greased the cake pan well with ghee/ clarified butter before pouring the batter, placed the pan in the center of the oven, let the cake bake for 5-10 minutes, then turned off the upper coil heat and reduced the temperature to 125 degrees Celsius, letting the cake bake for another 30 minutes. 

If you are using an old style oven you know what I am talking about. But yeah if your oven gets too hot (Specially in case of a smaller oven) its better to reduce the temperature and let the cake bake slowly rather that the cake looking cooked or burnt from the outside and raw on the inside.
Similar recipes:
Check out other moist cake recipes here.
For measurement and conversions click here.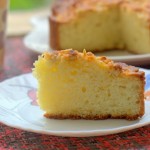 Sour cream / Yogurt / Creme Fraiche coffee cake
Ingredients
1

and 1/4 cup all purpose flour / Maida

1/8

teaspoon

salt

1/2

teaspoon

baking soda

1/2

teaspoon

baking powder

1

teaspoon

corn starch / corn powder

6

tablespoons

unsalted butter

at room temperature

1/2

+ 1/8 cup powdered or fine granulated sugar

2

large eggs

3/4

cup

sour cream

substitution : Thick yogurt, creme fraiche

1/2

teaspoon

vanilla extract

substitution : 1 teaspoon lemon or orange zest

FOR THE TOPPING:

1/2

cup

chopped cashews or walnuts

2

tablespoons

sugar

1

tablespoon

all purpose flour

1

tablespoon

cold butter
Instructions
Preheat oven to 350 degrees Fahrenheit or 175 degrees Celsius. Grease a 9*5 loaf pan or a 9 inch cake pan.

Mix all purpose flour + salt + baking powder + baking soda + corn starch in a bowl and whisk well to combine.

Beat butter by hand or with a hand mixer until soft. Add sugar and beat well until the mixture is soft and fluffy. Add eggs one by one and mix well after each addition. Add vanilla and mix well.

Now add flour in three batches alternating with sour cream, beginning and ending with flour. Pour into the prepared pan.

Add the topping ingredients in a bowl and mix well with a fork pressing in between. Spread this on the cake. Bake for 40-45 minutes or till a tooth pick inserted in the center of the cake comes out clean.
Recipe Notes
If you want normal sweetness of cake, increase the amount of sugar by 1/8 cup. I have used less sugar since this is a coffee cake.
If you can find only the granulated sugar, run it through the mixer to transform into a fine powder.