Crispy, cracked on the outside, and chewy on the inside, this flourless, brownie-like ROCKY ROAD CHOCOLATE cookies can drive chocolate lovers nut, and so it did.
When looking for a chocolate cookie recipe, I saw this cracked and amazing looking cookie on Pinterest which immediately caught my eye. It made me drool. One reason being, it seemed so good and the other reason being, the photo was so beautifully taken that it makes you dive right into it.
It was an easy recipe with few ingredients, and I had no patience what so ever until I tried it. Only it failed miserably. The taste was good, but the appearance was not even close to the original picture, and in no way it was a rocky road cracked chocolate cookies but was plain and flat like Florida. I looked for similar recipes, and I was surprised to see many blogs having the same method, not even a slight tweak. I thought, should I also put this on mine? Since it was so familiar, but it looked and tasted so good that I did not want to let it go.
I kept thinking, why didn't my cookie crack? Where did I goof up? Slept, thinking about it woke up thinking and baked it again, 1st thing in the morning, even before having my morning tea, only this time I tried not to over mix. I told you I am addicted to baking :). But, I got the same results again, flat and no cracks on the cookies. I couldn't let it go. I knew all the references couldn't be wrong and knew there was a minor mistake somewhere.
I thought I would take a break before resuming my baking, and so I did. If you are deep into something and trying to figure out an error, it's always better to do something completely different than what you were doing. As a Software Engineer, I would do that whenever I had trouble with coding, and it worked all the time. Yayyy…it worked this time too.
Do you want to hear where did I go wrong? Well, I tried to cut down the recipe measurements by 1/2. So instead of 3 cups of powdered sugar, I used 1 1/2 and vice versa. Only I did not decrease egg whites. It's ideal to write down the measurements on paper and reconfirm it before you try a recipe.
Duh! Silly me, and all this for a cookie.
If you love cookies, then don't forget to check this oatmeal peanut butter cookies and the best soft and chewy irresistible chocolate chip cookies.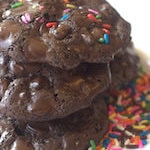 Rocky Road Chocolate Cookies
Ingredients
1 1/2

cup

powdered / confectioners sugar

1/3

cup

unsweetened cocoa powder

I used Hershey's special dark

1/8

tsp

salt

1

and 1/2 Large egg whites

1/2

tablespoon

vanilla extract

1

cup

semisweet chocolate chips

1/4

cup

chopped almonds toasted

You could use pecans or walnuts too

1

teaspoon

instant granulated coffee

Optional

Sprinkles

m&ms or mini marshmallows (Optional)
Instructions
In a bowl swift together, powdered sugar and cocoa powder. Stir in salt and coffee granules. Add egg whites and vanilla and mix well until combined. Stir in the chocolate chips and almonds.

Using a small ice cream scoop or spoon, place small portions on parchment paper or non-stick mat about 2 inch apart. Place the cookie sheet in the freezer for 5 min (This prevents it from spreading).

Preheat the oven to 350 degrees Fahrenheit. Bake this for 11-12 minutes. The cookies will still be soft and should be slightly underdone when you take it out of the oven. Let it rest on the sheet for few minutes before you transfer to a wire rack to cool.
Recipe Notes
Recipe adapted from: amandeleine.com
Original recipe @ creativekitchenadventures.com