'Please make something which I can have too', said Agnel. 'Sure, but give me an idea', I said. Orange or pineapple muffin was his reply.
I went with orange because baked goods with orange was something I had never tried before. When fresh fruits are used in baked goods it turns out so much better,  like this banana nut muffins or pineapple cupcakes.  But anything with bananas, say a banana bread or banana cake is something Agnel is not very fond of.
Its is not everyday that you hear about banana cake, so today let me introduce you to this ultra moist, melt in mouth super delicious banana cake. Its excellent with cream cheese frosting. The cake pic is something which I am not proud of and I understand, a picture says a thousand words. The picture was from my initial days of blogging. I dread looking at some of the initial pics I posted.
Spicy guacamole is something I updated recently and I am planning to update my old posts as and when I get time.
Orange muffins with orange pulp, orange juice and orange zest. Don't you think this is as close an orange muffin can get? If you want more oranginess, top the muffins with orange glaze. Mix confectioners sugar, orange juice well and drizzle over.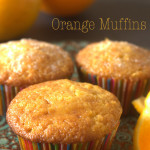 Orange Muffins
You can drizzle the muffins with orange glaze. Orange glaze: 2/3 cup powdered sugar + 2 tablespoon juice + 1 teaspoon orange zest. Mix well to a pourable consistency. Add few more drops of juice or increase sugar if needed, to achieve right consistency.
Ingredients
Orange pulp from 2 tangerines or 1 big orange

peel, remove seeds and inner membrane and crush it

3/4

cup

180ml orange juice

1

egg + 1 yolk

2

tablespoons

orange zest

1

and 1/2 stick butter

170g, at room temperature

1

and 1/4 cup

250g sugar

2

and 1/2 cup

300g all purpose flour

1

teaspoon

baking soda

1

teaspoon

baking powder

1/4

teaspoon

salt
Instructions
Preheat oven to 375 Degrees Celsius or 190 Degrees Fahrenheit. Spray or line a muffin tin with paper liners.

Swift all purpose flour + baking powder + salt and keep aside.

In a bowl, beat butter + sugar until light and fluffy. Add eggs and orange zest and beat well. Now add the orange pulp and juice and mix well. Add the flour in two to three batches and fold it in with a spatula. Do not over beat. Divide equally into 16 muffin cups or fill cups till 3/4th is full.

Bake for 18-20 minutes or until a toothpick inserted in the center of the cupcake comes out clean.