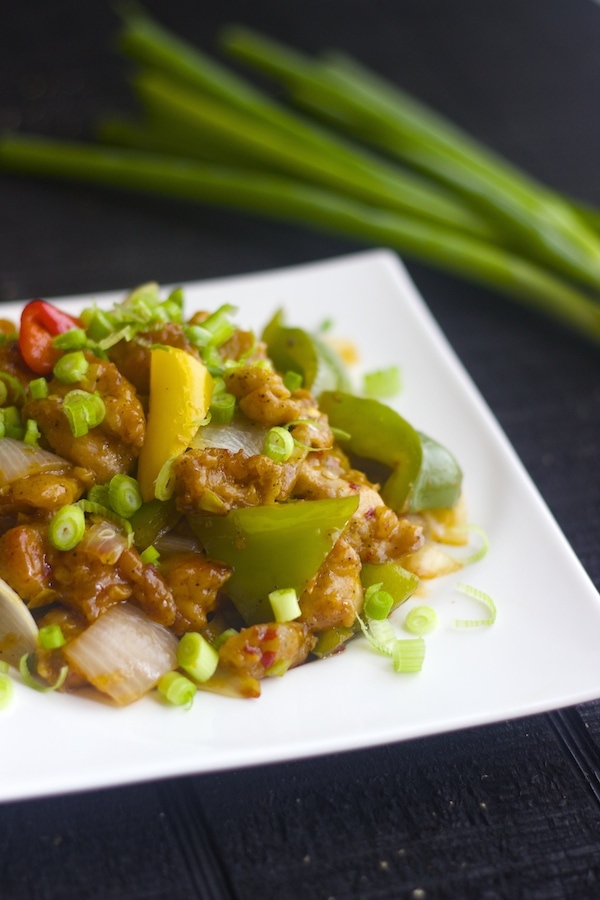 If you ask me what is the most amazing food to satisfy your food cravings, I would say nothing can beat the indo-chinese dishes like the Chilly chicken, hakka noodles and manchurian. Chilly chicken is one of the most famous comfort food in Chinese restaurants and among the chinese street food in India. If you are looking for a chilly chicken that stays crisp then this is it. Its flavorful and saucy too, like a chilly chicken should be. Chicken is marinated in basic spices, then coated with flour and deep fried. Vegetables are sautéed, then sauced up and  the fried chicken is coated with the same. If you want to avoid the deep frying you can always shallow fry or sautee the chicken. It won't be very crispy but you can cut down the oil that way.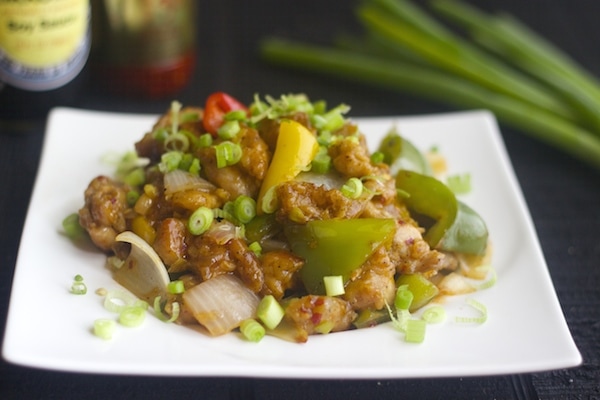 Garnish with some finely chopped spring onions/green onions or top with sesame seeds.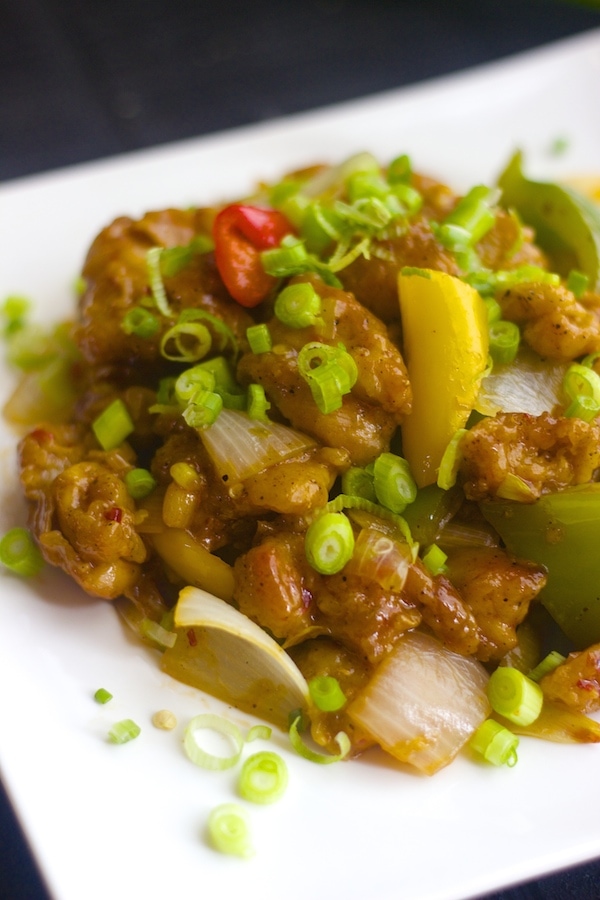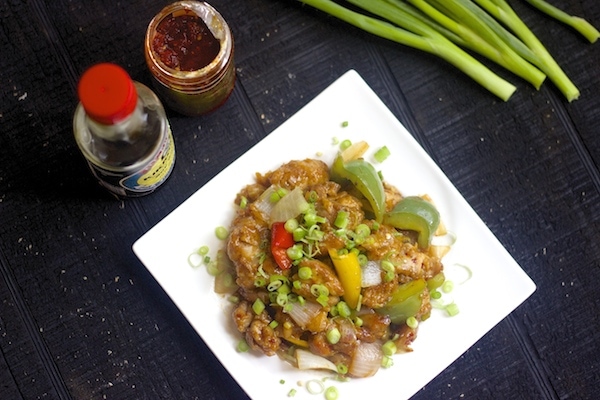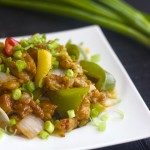 Chilly chicken - Indo-chinese

Marination time: 2-4 hours

Ingredients
0.75 pound 300 grams chicken, cut into 1 inch cubes
oil for deep frying
MARINADE
1/2 teaspoon vinegar
1/3 cup cold water
1/2 teaspoon sugar
1/2 teaspoon salt
1 tablespoon ginger garlic paste
1 teaspoon black pepper powder
COATING
1/2 cup all purpose flour/maida
1/3 cup corn starch/corn flour
1/8 cup oil
THICKENER
1/4 cup water + 2 teaspoons corn starch mixed and kept aside
FOR SAUCE
2 tablespoons oil
1/2 tablespoon very finely chopped ginger
1/2 tablespoon very finely chopped garlic
3 green chillies slit
1/2 green bell pepper cut into cubes (1 cup)
1 small onion cut into cubes and separated (3/4 cup)
1 and 1/2 tablespoon soy sauce
1/2 tablespoon sambhal / red chilly paste
1/2 teaspoon salt
1/2 teaspoon sugar
1/2 teaspoon black pepper powder
1/2 tablespoon Worcestershire sauce/teriyaki sauce Optional
Instructions
Add the marinade to the chicken and keep it aside for 2-4 hours in the refrigerator.

After the marination time add all purpose flour + corn starch + oil to the chicken, mix well and keep aside for another 15 minutes.

Deep fry the coated pieces on medium heat and drain it on a paper towel. (For extra crispiness check notes).

Fo the sauce: Add oil in a wok/pan on high heat. Add finely chopped ginger + garlic. Add green chillies + peppers + onions and sauté for a minute taking care that the vegetables don't overcook. Now add the thickener, let it simmer, then add soy sauce + sambhal + salt + sugar + black pepper powder + teriyaki sauce. Let this simmer again. Taste and adjust the salt and sweetness as needed. Turn off the heat and add the fried chicken pieces and coat it in the sauce. Garnish with finely chopped green onions.
Recipe Notes

For crispier chicken double fry the chicken. First fry the chicken on medium heat till the crust is light brown and chicken is cooked. Drain and keep aside. Once you are done frying everything, add the 1st fried chicken to oil placed on medium high heat and fry till golden brown. 2nd time it will be done quickly.

To serve the chicken crisp, keep the sauce ready and deep fry the chicken the 2nd time just before serving.

Sugar in the marinade helps to keep the chicken tender and juicy.