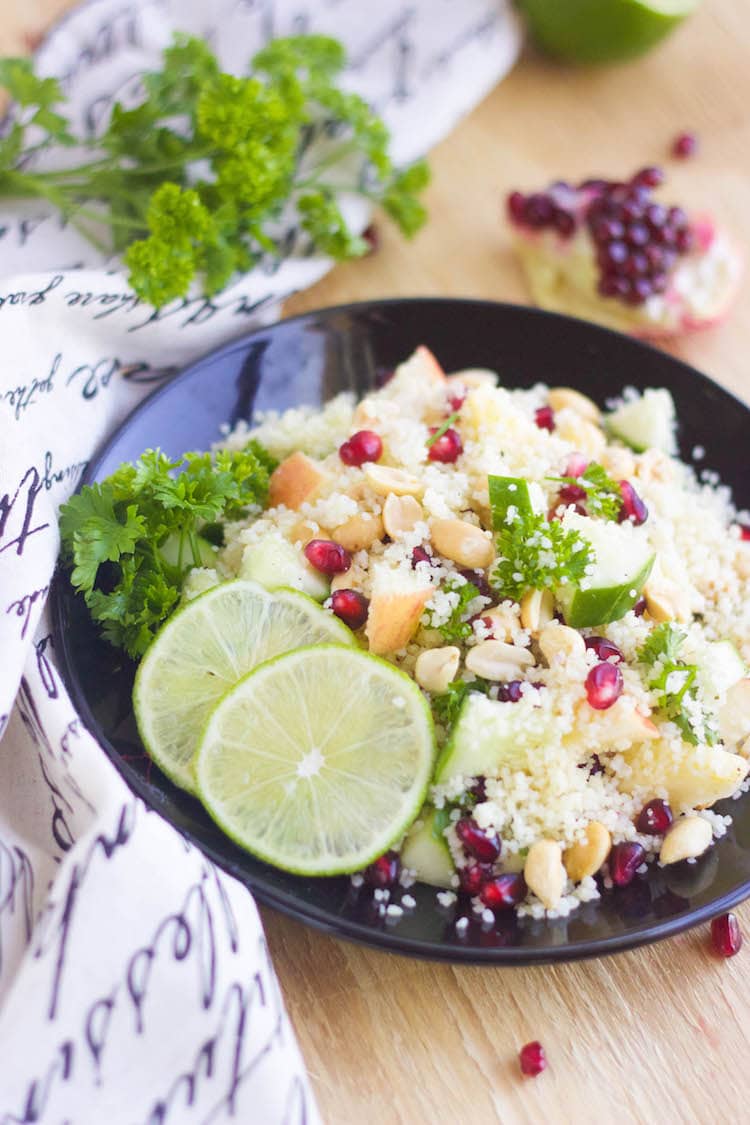 Couscous is one of the most easiest and quickest side dish to prepare and it only takes 10 minutes. Throw in some fruits and vegetables and convert it into a salad or keep it plain and serve it as a side with chicken or any meat of your choice.
Couscous is a type of pasta made of Semolina. Its tasty and filling. If you want to go a step healthier then try the wholegrain couscous.
Imagine a scenario where you have to make something quick for a last minute potluck or for an unexpected guest. To be honest I get a brain freeze. I cannot decide in a jiffy what to make. Even if I have something in my mind it either takes lots of time, I might have few ingredients missing or as simple as that, I just don't want to spend all my time in the kitchen rather than spending some quality time with my guest.
Thats when dishes like this and quinoa (very very healthy) comes handy – When you don't have time and for those weeknight dinners.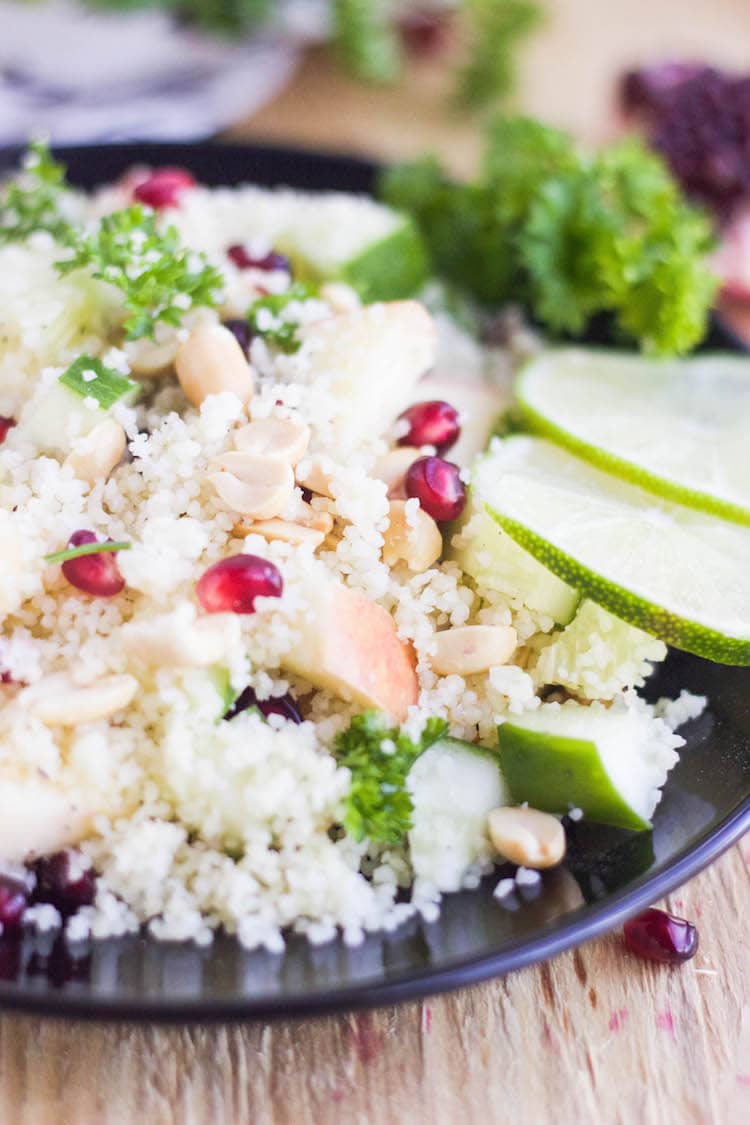 I love the apple in this salad. All the different flavors and texture is what makes this salad awesome. Adding peanuts or chickpeas makes this really filling.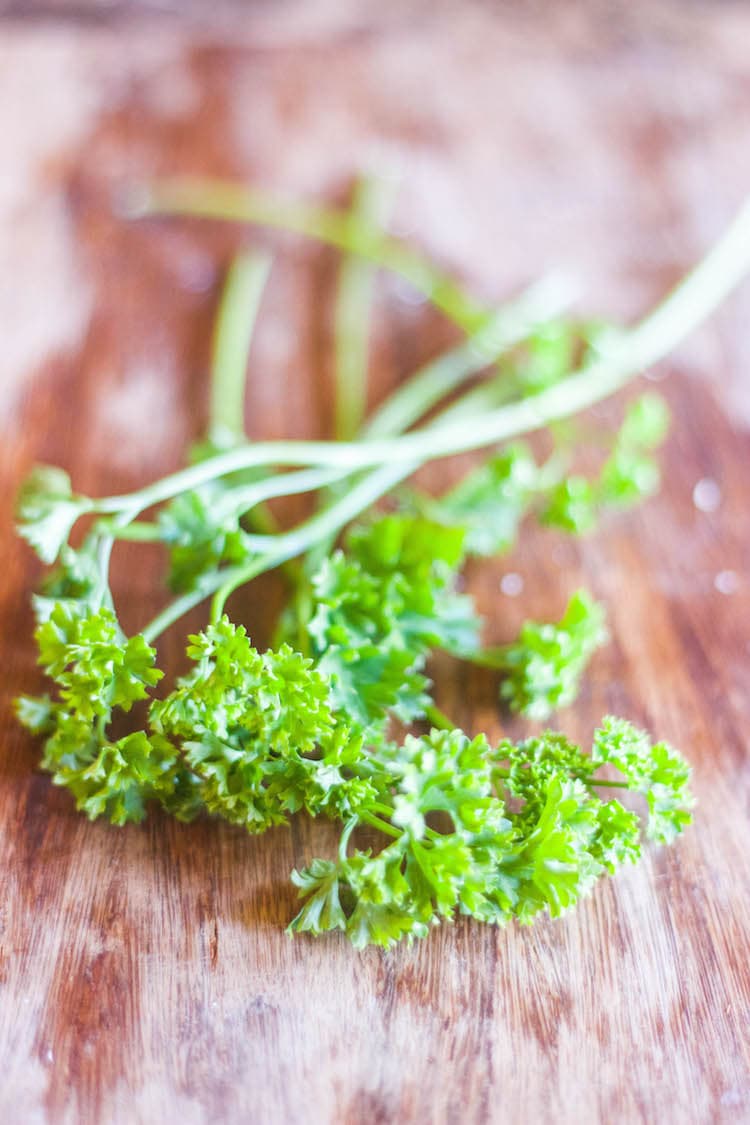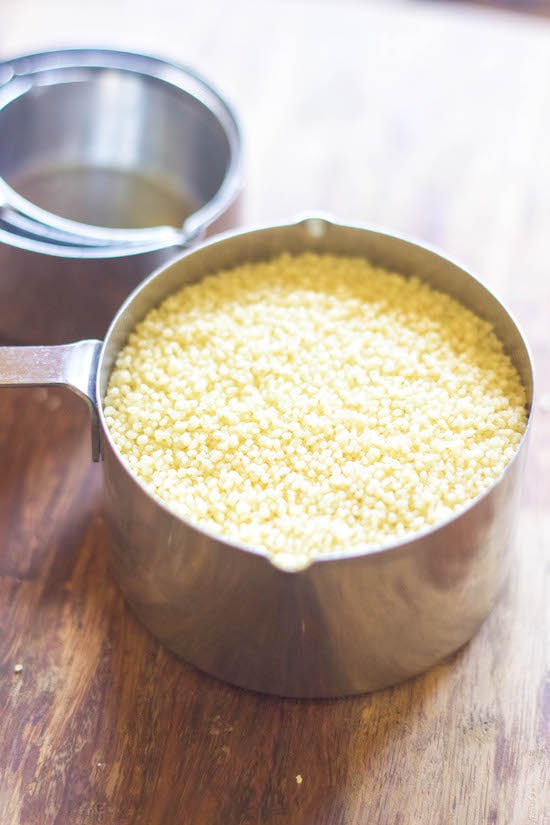 The couscous I used is the smaller variety.
The Israeli couscous is slightly bigger and takes more liquid to cook.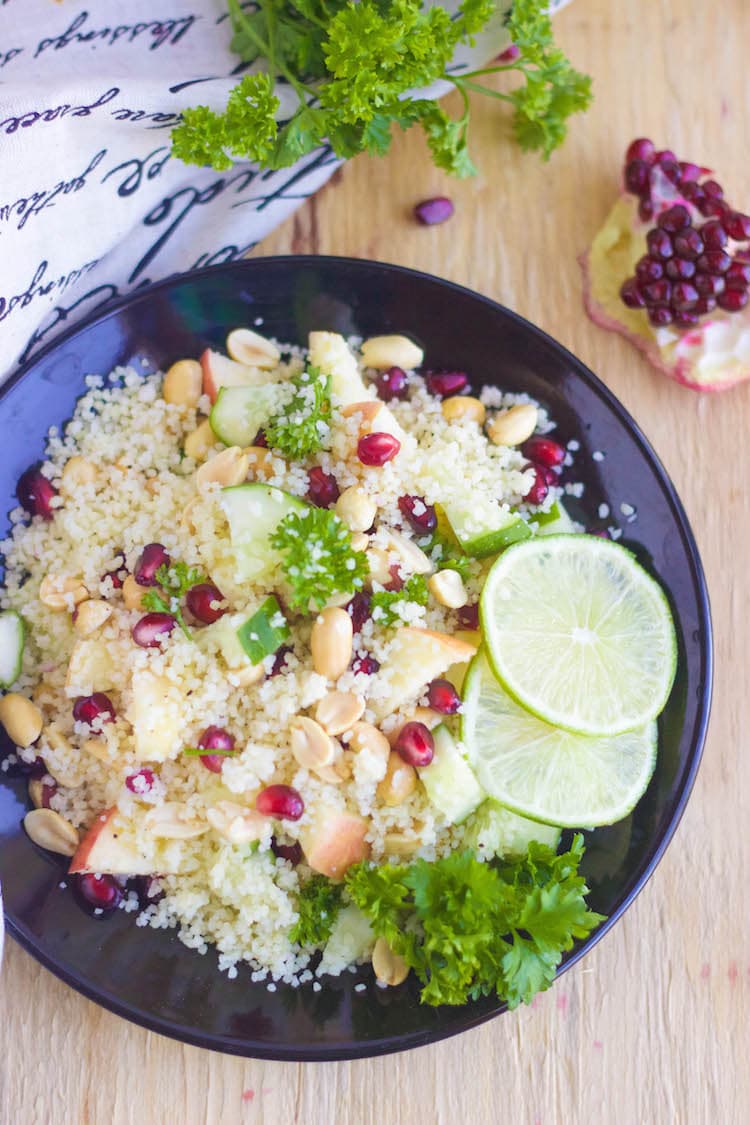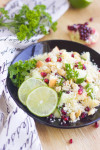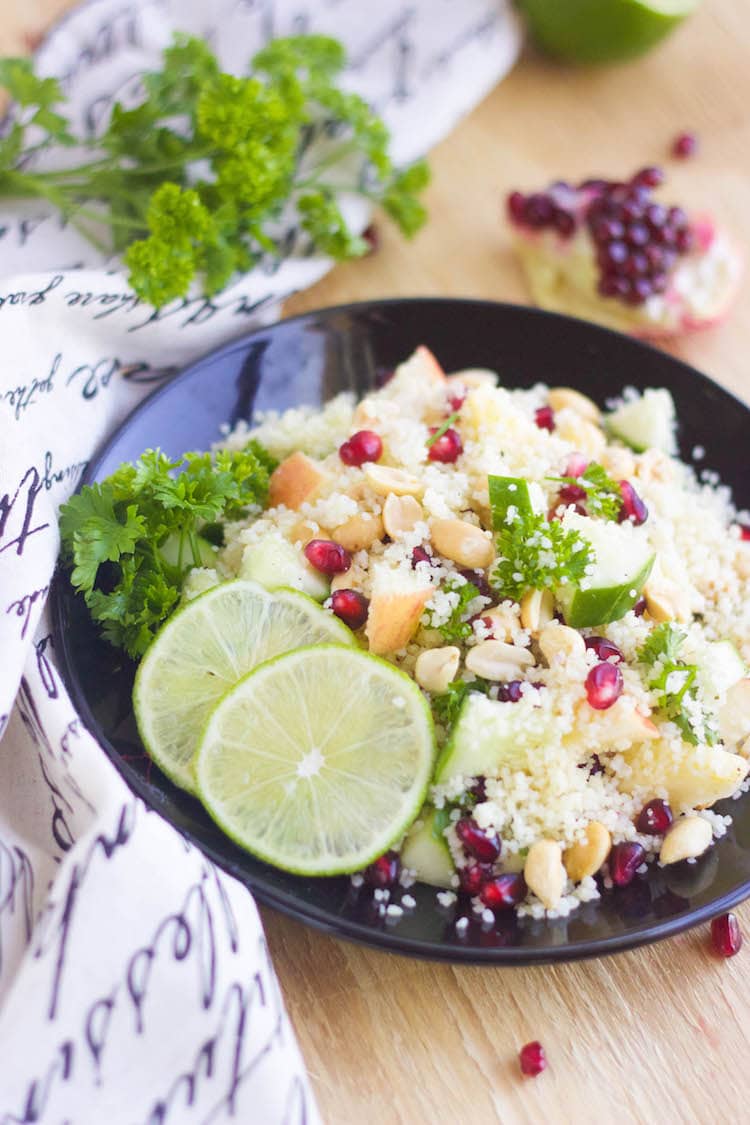 Couscous Salad
Ingredients
TO COOK COUSCOUS:

1

cup

couscous

1

cup

water / chicken stock / vegetable stock

1

tablespoon

unsalted butter or oil

1/2

teaspoon

salt

ADDONS:

1/2

cup

roasted peanuts / cooked chickpeas / roasted pine nuts

1

apple

cut into small pieces,

1

cucumber

cut into small pieces

1/2

cup

pomegranate seeds

1/4

cup

finely chopped cilantro or parsley for garnish

SEASONING:

1

tablespoon

lemon juice

1

tablespoon

olive oil

1/2

teaspoon

black pepper powder
Instructions
TO COOK COUSCOUS:

Bring a cup of liquid to a boil. Stir in butter and salt. Take the liquid off the heat and add couscous. Stir well. Cover and let it sit for 10 minutes. After 10 minutes, open the lid and fluff up the couscous with a fork. Break off any lumps.

MIX:

Add the fruits and veggies (under add ons)

Stir in the final seasoning. Taste and adjust the flavor if needed.
Recipe Notes
To add more flavor to couscous:
Add butter to the sauce pan and place on medium heat. Add the couscous and saute for a minute. Turn off the heat. Boil water separately and add to the couscous along with the salt. Cover and let it sit for 10 minutes. Fluff with a fork.
Some variety of couscous takes more liquid and longer time. Follow the instructions on the package for optimum results.