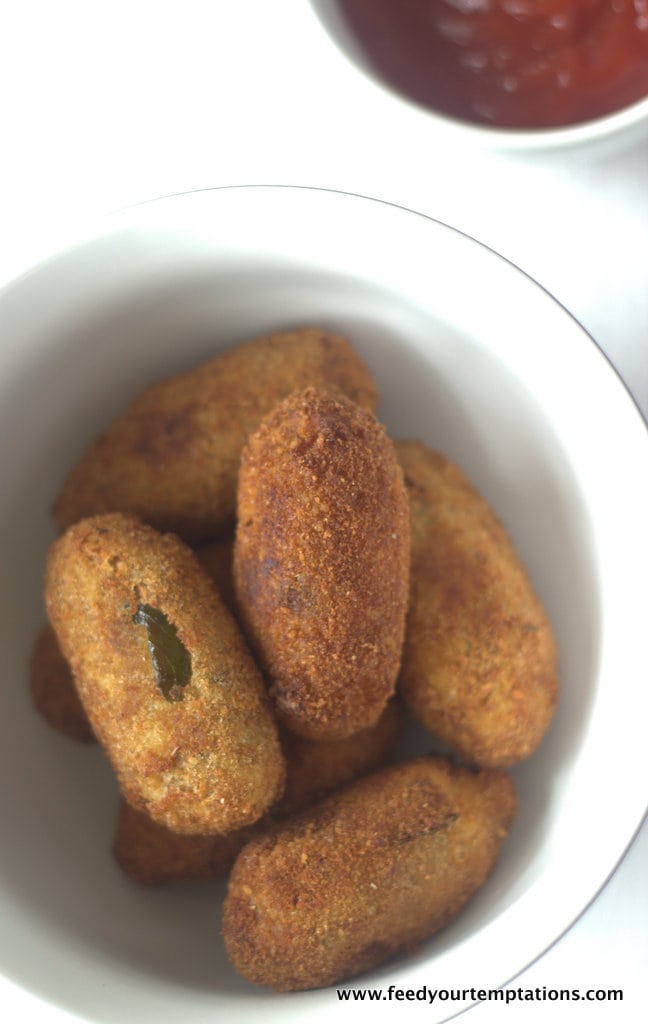 You can call this fish sticks, tuna cutlets, fish cutlets or kerala style cutlets. Its quick and if you already have this ready in the freezer, all you have to do is deep fry for a quick evening snack or when you have surprise visitors. Kerala style chicken cutlets are also a good way to go. It tastes amazing, but takes a little longer to prepare. Serve this with a side of green chutney, tartar sauce, yogurt salad, hot maggie sauce or plain ketchup.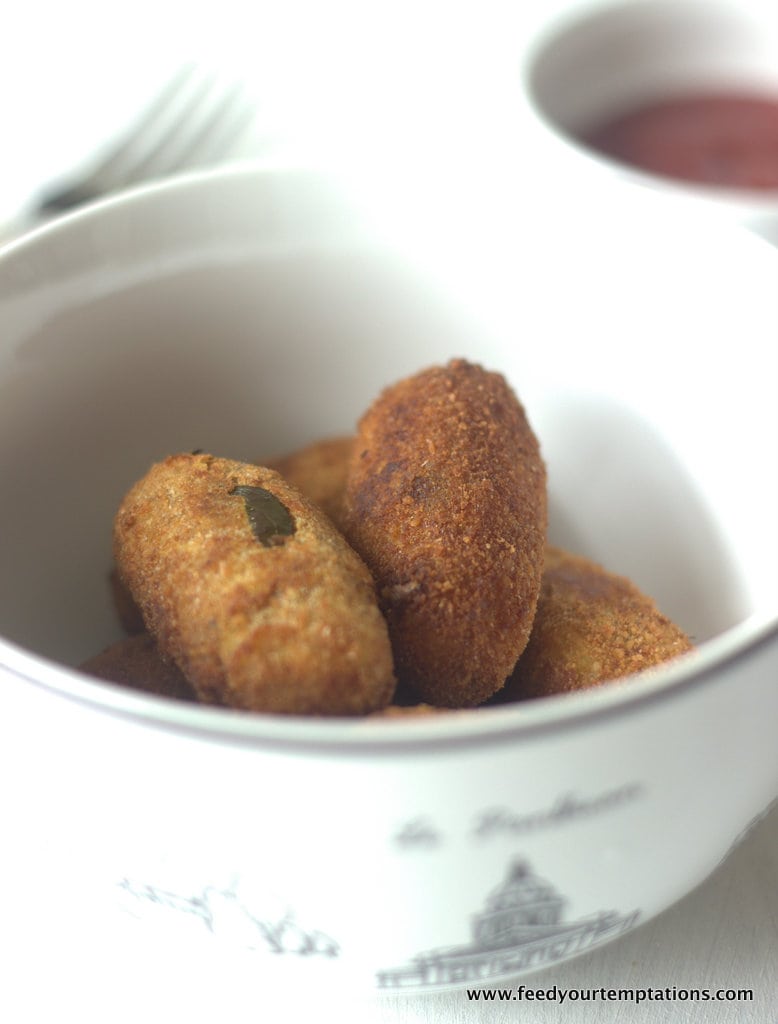 Making appetizers can be time consuming but with a little planning it can be a breeze. Whether you are expecting visitors, want to throw a party, have kids around, having homemade trans fat free appetizer in the freezer always comes handy. And you can make and freeze them unto 3 weeks in advance. If you have school going kid this is a good lunch box idea.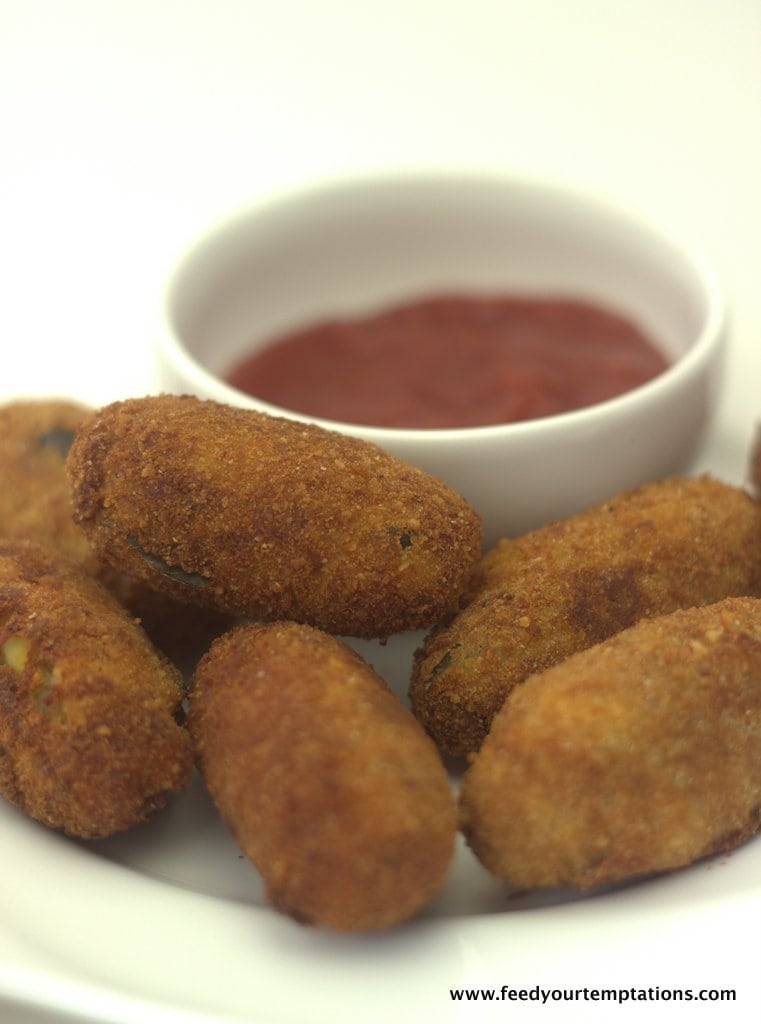 If you ever run out of bread crumbs try the fresh one. Take two slices of bread and blend it in a food processor to make a coarse powder. It looks like the panko style bread crums and tastes excellent too. Alternately you can use a toaster to toast bread, then break these into chunks and run it through food processor to get finer crumbs.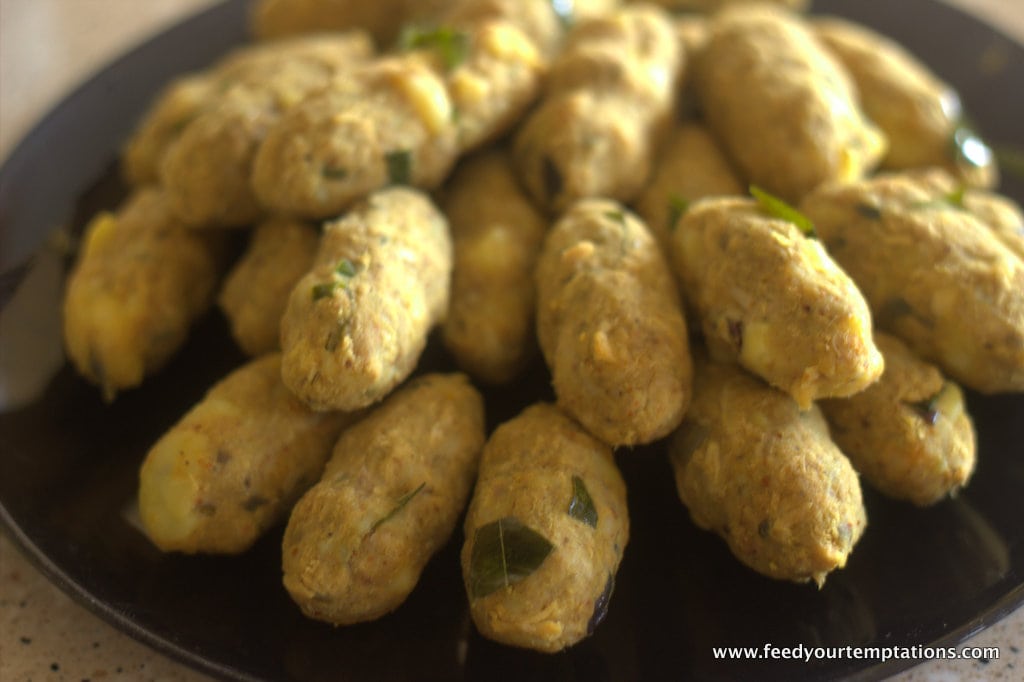 Shaping 25 cutlets at a stretch can be time consuming, but not when you are doing it watching your favorite TV show or having a conversation with someone. You won't even know when you finished shaping them. I feel, its a waste of time if I have to spend my time doing such a monotonous task. So I do it when I am having fun.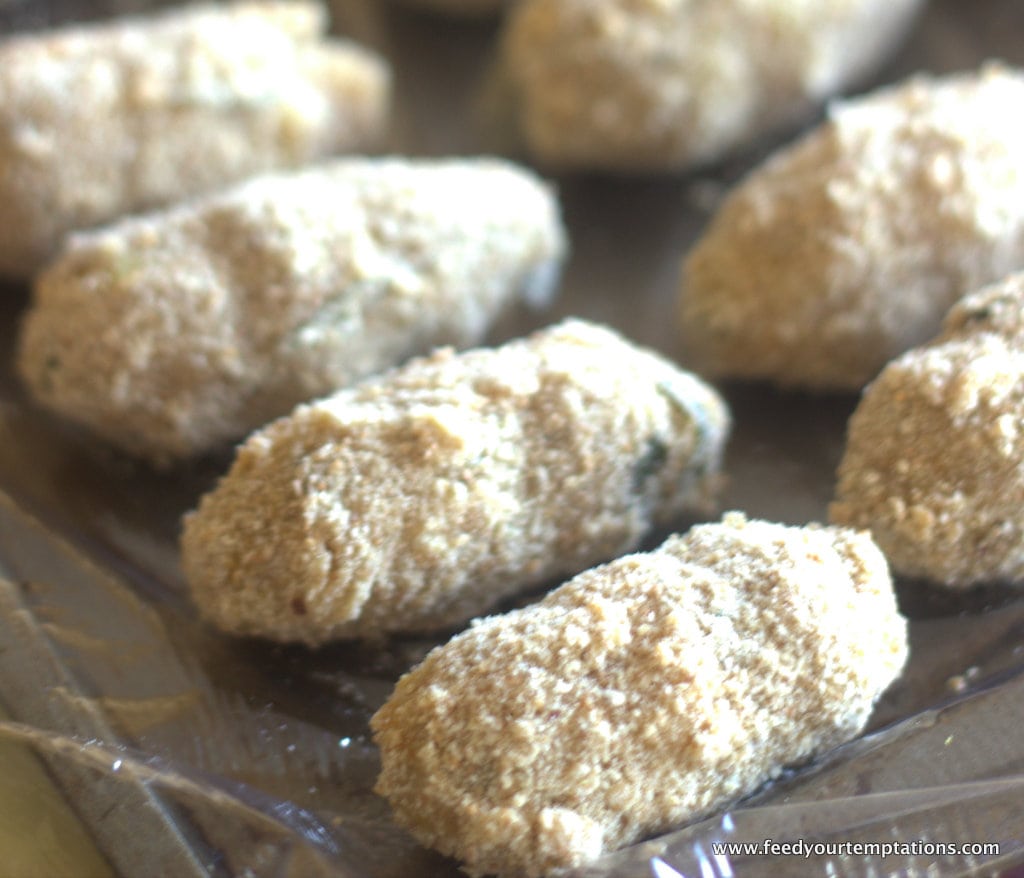 If you want to freeze this for later use, place a plastic wrap on a baking sheet or a tray, arrange the bread crumbs coated pieces , leaving space between the cutlets and then place it in the freezer for about 30 minutes. You can also grease the pan with some oil if you ever run out of plastic wrap. Transfer into a freezer safe ziplock bag or box later. Now whenever you want to fry, you can easily grab how many ever you want since it won't stick to each other. A friend gave me this idea when I had to throw a party. It was a life saver.
Fish / Tuna cutlets
Servings
:
25
cutlets /fish sticks
Ingredients
16

oz

470g(1/2kg) tuna or any other fish

3

medium sized potatoes

boiled or baked

3

tablespoons

oil

1

medium onion finely sliced

2-3

green chillies

finely chopped

2

sprig curry leaves

2

teaspoons

ginger garlic paste

DRY SPICES:

1

teaspoon

garam masala/all spice mix

1

and 1/2 teaspoon red chilly powder/paprika

1/2

teaspoon

turmeric powder

1/2

teaspoon

black pepper powder

salt to taste

1-2

Eggs

well beaten

Bread crumbs for coating

oil for deep frying
Instructions
Drain all the water from the tuna. Pat dry with paper towel. (I emptied the tuna can onto a strainer and pressed the chunks gently with spoon to drain the water). Mash the potatoes with few small chunks and keep aside.

Heat oil in a pan on medium high heat. Add onions + curry leaves + green chillies and sauté till onions becomes translucent. Add ginger garlic paste and all the dry spices and let it cook for additional minute. Add the drained tuna and salt and cook it till the mixture is dry. Add mashed potatoes and combine well. Taste and adjust the salt if needed.

Once the mixture cools, shape it into stick, patty, or any style of your choice. Dip into the egg mixture and then in the bread crumbs.

Deep fry on medium high heat till cutlets are golden brown. You know the the oil is ready when few bread crumbs added to oil sizzles and rises to the top.
Recipe Notes
This freezes well. To freeze: Line a baking sheet or tray with plastic wrap. Keep the bread crums coated cutlets on the tray leaves 1/2 inch space in between. Place in the freezer for about 30 minutes. Remove it and put everything in a freezer safe ziplock bag or box.
To thaw: Leave it in the refrigerator overnight, outside for 20 minutes or microwave for few seconds as needed.
If using any other fish, add some salt and pepper, lightly brush a pan with oil and cook the fish for about 3 minutes on each side.
Serve this with a side of green chutney, yogurt salad, hot maggie sauce or plain ketchup.