These healthy whole wheat pancakes are light and fluffy. Made with simple and wholesome ingredients, nothing could be better than to kick-start your day with an easy, tasty and healthy breakfast.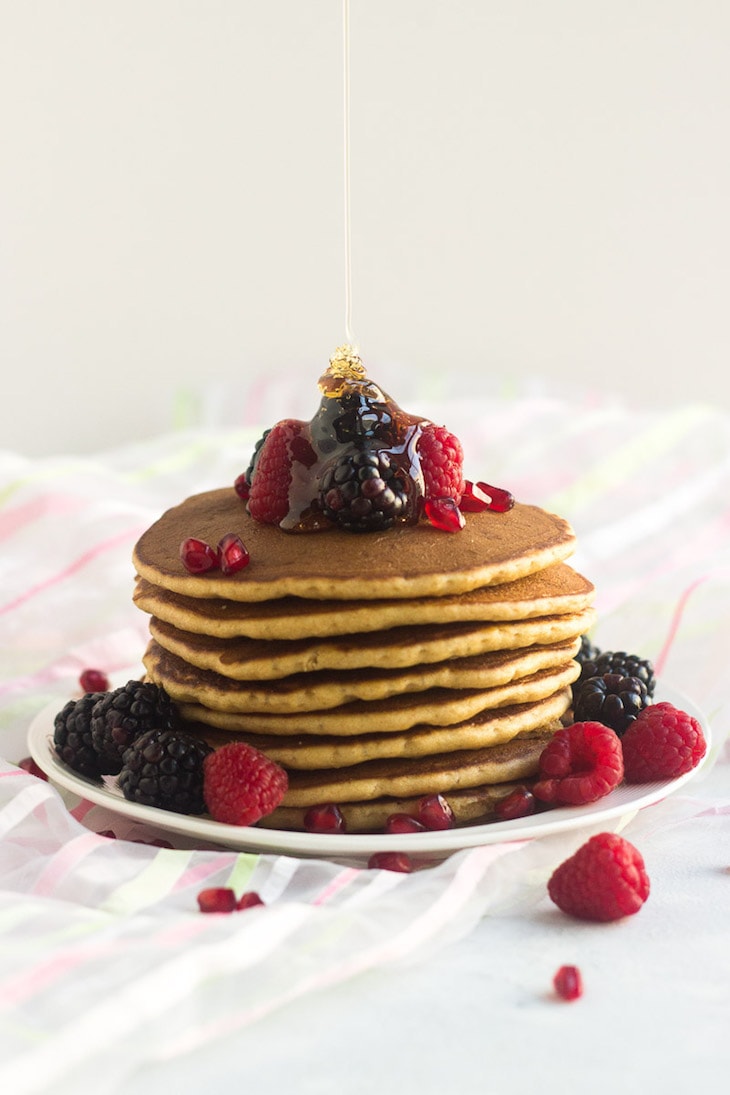 Importance of having breakfast
I have seen and experienced the difference between having a good breakfast vs. skipping breakfast or having just about anything.
For instance, a good breakfast kept me energetic and focused and kept me going until the night. Moreover, even if I grab some light snacks in between that just seems to be enough. Besides, there are days I have skipped my breakfast or had it late and have dreaded with the energy level.
Finally, I have sworn to myself that how much ever busy I am, breakfast is something which I will never skip.
For the most part, overnight oatmeal or muesli or an oatmeal smoothie is my go-to option for the busy days.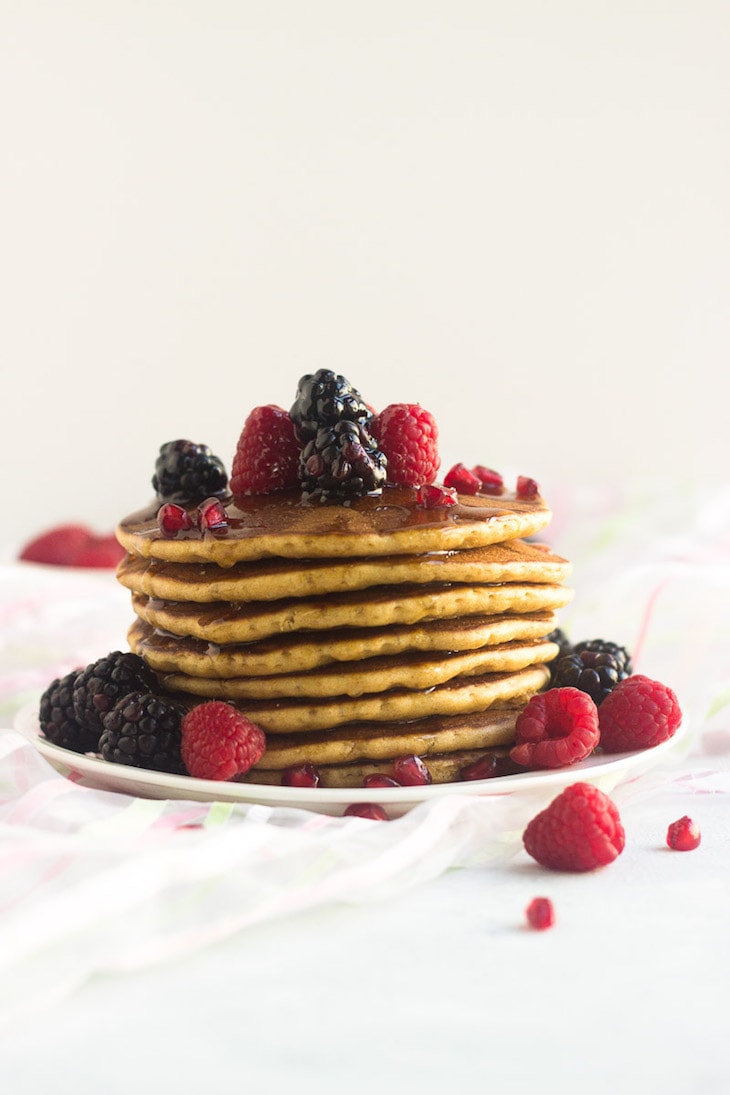 Breakfast options
Usually, for the weekends a crispy dosa with rice flour (an Indian flatbread made with lentils) and these healthy whole wheat pancakes are the favorites.
Dosa for breakfast is quite easy to make. By using rice flour, there is no additional hassle of grinding. Moreover, the chutney can easily made with coconut, herbs, and walnuts.
Whole-wheat pancakes
Looking to try one of my pancake recipes ? This recipe is clearly a winner. Furthermore, these healthy wholewheat pancakes are light and fluffy.
The best part is that it is hard to tell if these pancakes are made of whole wheat just like the wholewheat chocolate banana muffins.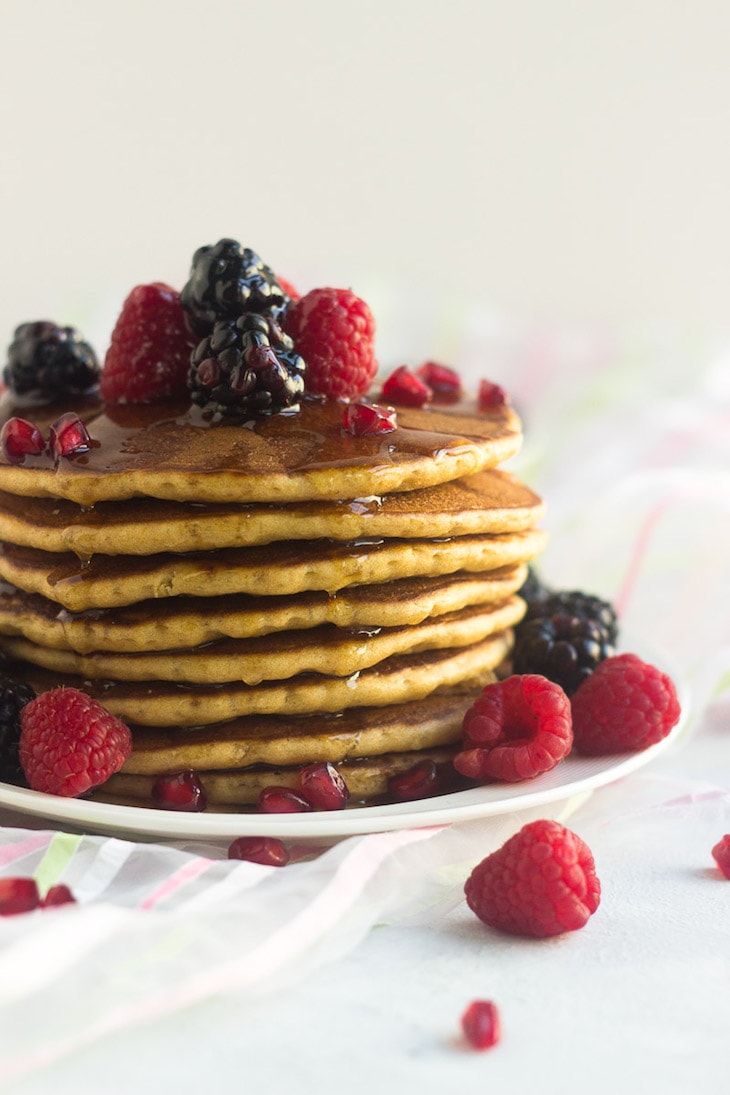 Substitute for whole-wheat flour
Having said that, if you still don't like the texture of the regular whole wheat flour, try the white whole wheat flour. In particular, back in states, I used to use the white wheat flour by King Arthur.
In short, It was a great substitution to the all-purpose flour.
Preparing pancake mixture in advance
Besides, to make life easier, you can do a little prep work in advance. You can mix the dry ingredients and keep it aside in an airtight container. Finally, add the liquid ingredient when you are ready to make these delicious and fluffy pancakes.
You can enjoy healthy pancakes by using one of pancake recipes from scratch. These recipes do not take too much of your time.
These healthy pancakes are undoubtedly considered to be best wholewheat pancakes.
It also works as a great breakfast idea for kids. If your kids love these pancakes, then surprise them by packing a few of these in their lunch boxes.
Moreover, these homemade Fruit strips make a healthy snack.
P.S: Check this Weeks blogging tips below the recipe: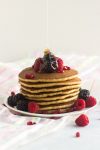 Healthy Whole wheat pancakes
Ingredients
2

cups

(226g) Whole Wheat flour

2

teaspoons

baking powder

1/2

teaspoon

baking soda

1/2

teaspoon

salt

2

cups

(480ml) buttermilk

(Refer notes for substitutes)

4

tablespoons

honey

(or 3 tablespoons sugar)

2

large

eggs

3

tablespoons

vegetable oil

1/2

teaspoon

vanilla extract

(Optional)
Instructions
Mix the dry ingredients in a bowl. (Flour + baking powder + baking soda + salt).

In another bowl, whisk together wet ingredients (buttermilk + honey + eggs + vegetable oil + vanilla extract).

Add the liquid to the dry ingredients and mix. Stir until just combined. Cover and let the batter rest for 10-15 minutes).

Heat a large skillet over medium-low heat. Brush lightly with butter or oil. Pour about 1/4 cup of the batter and spread it a bit with a spoon.

When the bubbles appear on the top, and the pancake begins to set on the edges flip and cook for additional 1 to 1 and 1/2 minutes till the inside sets.

Serve with honey, maple syrup or fruits.
Recipe Notes
For buttermilk substitution: Add 2 tablespoons of lemon juice or vinegar to milk and let it sit for 5 minutes or till the liquid curdles.
Some more ideas:  
Add a teaspoon of cinnamon if you like the flavor.
When the bubbles appear on top of the pancake, you can add your choice of fruits.
TIT-BITS OF BLOGGING:
It is a common belief that it takes thousands of dollars to create a site. While it can be true, for starters you can also create your website free of cost.
Once your business or hobby becomes successful, you can choose to hire someone to redesign your site.
So go to WordPress.com to create your free site or blog today. Click on Get Started and follow the instructions.
Now that you have created the site, choose a theme (A theme is a design for your site). You can change at any time so don't worry.
Click here to find out more about How to start a blog.
Disclaimer: There are other platforms where you can create free sites as well. WordPress is the most popular one currently.