Happy Friendship Day to all of you. I have heard that during our troubled times, Angels are send from heaven to help us and I truly believe that they are send in the form of friends. I am blessed to have amazing friends through college, at work and even now, who have stood by me at the time I really needed someone. I may not call them every now and then and have lost touch with quite a few but the beautiful time I have spend with each one of them will be cherished forever.
When I talk to my old friends now, we often discuss about how much fun it was during college and at work and how we never realized, that chapter of life is never coming back.  A chapter where all you had to do was have fun, study and forget about the big responsibilities.
Isn't life like a book with many chapters, some are wonderful, some challenging but the fact is that every chapter comes to an end. Life is short, cherish the friends and the friendship you have.
And the 41 day countdown ends.
I wanted the friendship day post to be special and what could be more special that a glass of homemade wine. Homemade wine is a tradition in many christian homes in kerala (a southern state of India). It brings back my memories of the ancestral home in kerala and its store room where grains, other items from the farm and big earthen pot(about 3foot) containing wine. I have also had carrot and beet wine. The process of making it is different from grape wine though.
The Whole wheat kernels are used to help with fermentation.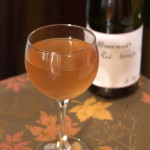 Homemade Grape Wine
Ready in 41 days. Recipe source: A family friend. Thank you Minu chechi for the recipe.
Ingredients
2.20

pounds

1 kg grapes red or black grapes

3

cups

600 gm sugar (Refer notes)

1

tablespoon

roughly crushed whole wheat kernels

1

teaspoon

dry yeast

4

cups

1 L boiled and cooled water or distilled water

1

inch

long cinnamon stick

1 1/2

gallon

4 L or bigger clean glass jar for storage (I got mine from Walmart)
Instructions
Wash the grapes well and place it on a clean towel for the water to get absorbed.

Meanwhile boil the water and let it cool completely if not using distilled water.

Mash the grapes well with your hand and place in the glass jar. Add water + yeast + cinnamon stick + crushed whole wheat kernel. Mix everything well with a wooden spoon, cover with an airtight lid and store in a dark, warm place preferable storage or your pantry. (Make sure you leave at least 1/4 empty space in the bottle, so the gasses which are formed during the fermentation processes have enough space or else the wine could overflow).

Every 2-3 days for 20 days open the lid and stir the wine with a wooden spoon. Its OK if you miss a day or two in between. On the 21st day, strain the wine into another glass bottle or the same jar rinsed well with clean water and store untouched for another 20 days or more.

You will see clear liquid with some sediments on the bottom of the jar at the end of 21 days. Carefully without mixing transfer into a colored airtight glass bottle. Cheers!
Recipe Notes
Red grapes gives a beautiful pinkish golden color while black grapes gives a more reddish color.
The amount of sugar used should depend upon the sweetness of grapes you use. The grapes I used were red and really sweet.
Sweet grapes + 800 gm(4 cups) sugar = Very sweet wine
Sweet grapes + 600 gm (3 cups) sugar = Sweet wine
Sour grapes + 800 gm (4 cups) sugar = Sweet wine
Disclaimer:
Contains alcohol.