These Hasselback potatoes will look pretty on your dinner table and if you like things spicy, make it the Indian way. Tadka marke.  Tadka means tempering where mustard seeds, cumin, turmeric and red chilies are added to hot oil. This oil is then added to daal(lentils) or curries. This style enhances the taste of food and is an Indian style of cooking.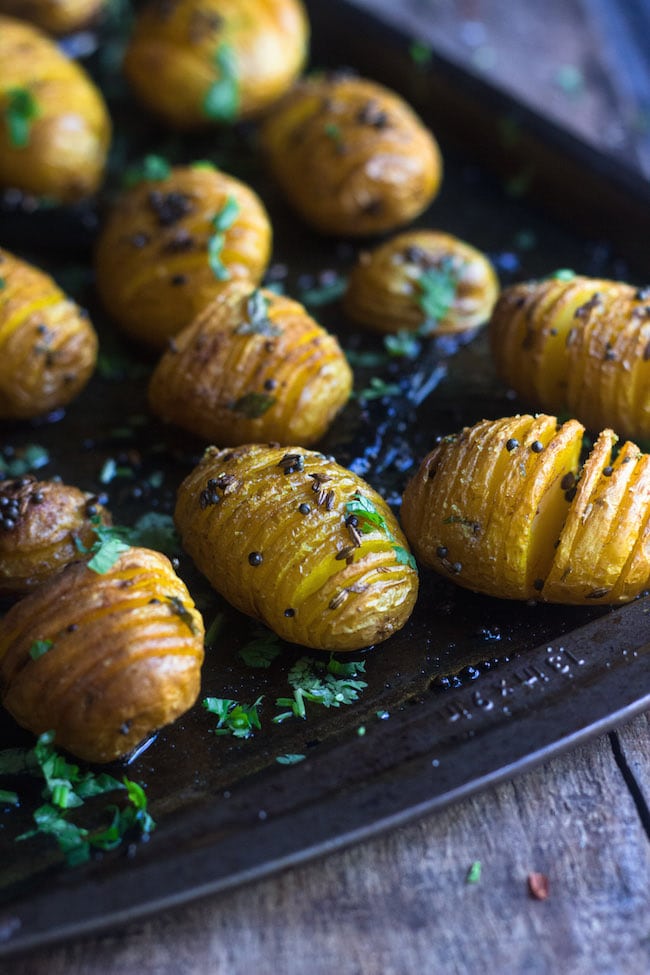 Food has to evolve at a certain point and sometimes a combination of flavors and style from different regions can make things even better. This fancy style of potatoes originated in Sweden long ago. The Hasselback potatoes with the Indian tadka | tempering is a perfect comfort food. Especially for the days when you want to take it slow and Relax.
Warm rice, moru curry with winter melon| Indian kadhi, a side of instant mango pickle and few of these spicy potatoes are all you need.
The weather is getting colder and pleasant. Soon it will be chilly and when it does, remember to have these simple recipes handy. That way you can spend little time in the kitchen and spend rest of the time on a couch under a warm blanket. To keep you further company a hot Nutella hazelnut coffee – coffeeshop style will do the needful.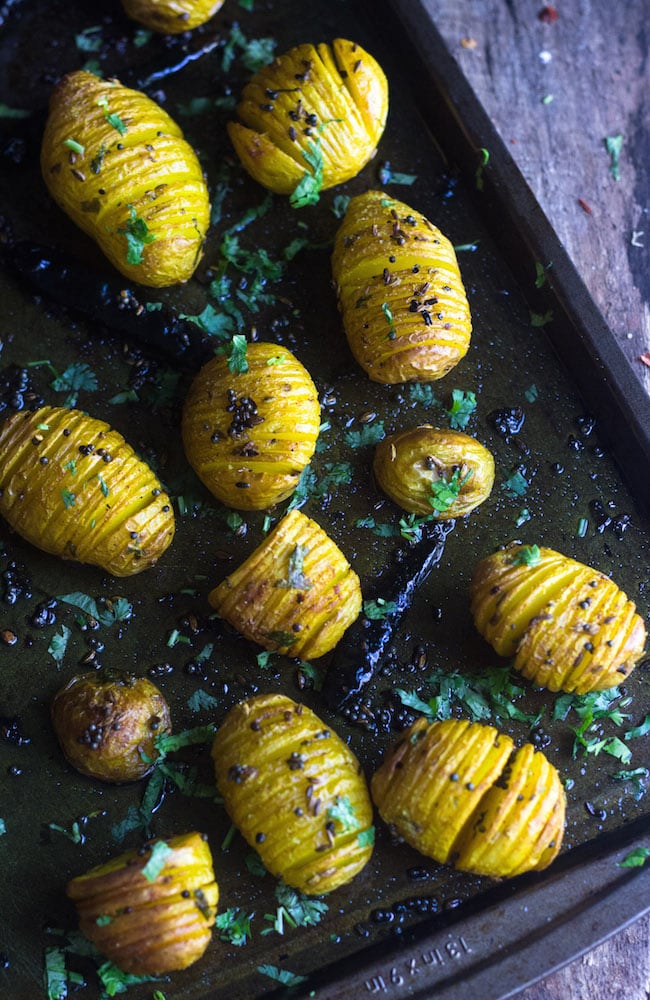 I have few more simple recipes coming your way, and you will see two to three recipes every week. It's commitment, a commitment to you for revisiting and subscribing, a commitment to me to keep my passion alive.
I have decided to cut down on the usual chatter and concentrate more on recipes. I was wondering who reads it anyway. I am not a good writer, but I decided to go ahead because I did not want this to be a recipe only website.
I like reading blogs whenever I have time, and I thought you would enjoy a personal touch now and then too.
So dear readers, hope to see more simple recipes from now on and if you haven't subscribed to the recipe newsletter, do so.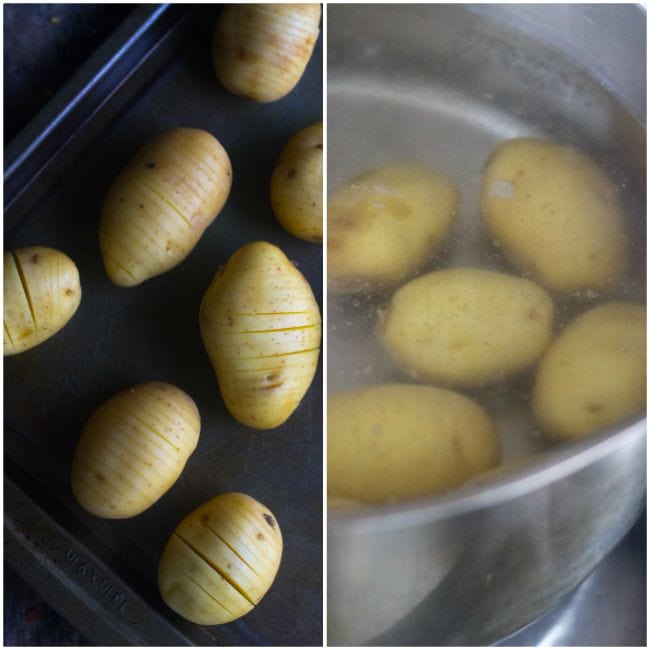 To make the Hasselback potatoes, after washing and drying the potatoes, cut thin slits on the potatoes, without going all the way through.
Initially, you might cut through a potato, look at the pics below, and you will see I did chop off some but then learned I should stop somewhere in the middle.
After you are done cutting the potatoes, bring a pot of water to boil and add salt to it. When you taste, the taste of salt should stand out. It's the same way when you cook pasta. If you boil pasta with the right amount of salt, it will taste good even if the sauce is not that great.
Add the potatoes and let it simmer for some time. This method will reduce the baking time and will prevent drying it out.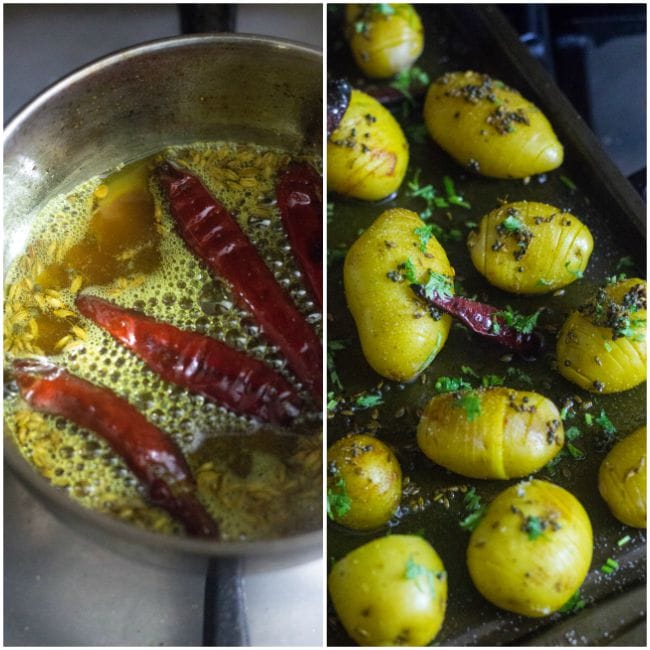 Make the tempering, add it to the potatoes and coat it well. Make sure the oil reaches the inside of the slits.
Arrange them in a single layer on a baking sheet and bake them at 425 Degrees Fahrenheit | 220 Degrees Celsius for 20 minutes. After 20 minutes take it out and stir the potatoes and cook for additional 20 minutes.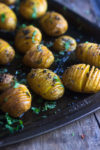 Spicy Hassle Back Potatoes
Ingredients
500

g

(1 pound) baby potatoes or large potatoes

(Please refer notes)

1/8

cup

(30ml) oil

1

teaspoon

mustard seeds

2

teaspoon

cumin seeds

3

dried

red chilies

1/2

teaspoon

turmeric powder
Instructions
Wash the potatoes. Cut slits in them, but not all the way through.

Bring a pot of water to boil. Add enough salt to the water so that the taste of salt stands out.

Add the potatoes and boil them for about 10 minutes. Drain the potatoes well and transfer the potatoes to a mixing bowl.

Preheat the oven to 425 Degrees Fahrenheit | 220 Degrees Celsius.

Prepare the tempering by adding oil to a small pan. Add mustard seeds and once it splutters, add cumin seeds. After cumin sizzles, add garlic and saute till garlic cooks.

Turn off the heat and add cut red chilly and turmeric. Pour this over the potatoes and coat well. Try to spoon the oil inside the slits.

Arrange the potatoes in a single layer on a baking tray.

Bake for 20 minutes. After 20 minutes, stir the potatoes so that the extra oil on the tray coats the potatoes well. Bake for another 20 minutes until slightly crisp and golden brown.

Garnish with finely chopped cilantro leaves.
Recipe Notes
I used baby potatoes, but you can also use big potatoes. The baking time will increase to 30 minutes + 30 minutes.