M
eringues are melt in your mouth, sweet sugary cookies. Its perfect for Valentines day or baby showers as you can add blue or pink accordingly. It looks adorable. 
Image1: Egg whites holding stiff peaks.
Image2: Meringues scooped onto a parchment paper for baking.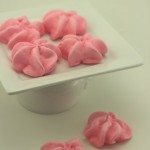 Meringue Cookies – In time for Valentine's Day
Ingredients
2

Egg whites

at room temperature

1/4

teaspoon

cream of tartar

1/2

cup

confectioners

powdered sugar

1/2

teaspoon

vanilla extract

8-10

drops red or any other food color

optional (I used red)
Instructions
Preheat the oven to 200 degrees Fahrenheit or 90 degrees Celsius.

Beat egg whites until frothy. Add cream of tartar and beat until soft peaks form.

Add sugar, 1 tablespoon at a time and beat on medium high heat till stiff peak forms. You know its ready when stiff peak forms and little batter between your fingers feels smooth, which means the sugar has dissolved.

Stir in vanilla and food color.

Line a baking sheet with a parchment paper. Gently using a spoon, scoop a dollop of meringue onto the sheets, an inch apart. Alternatly you can fill the icing bag with the decorative tip . (I used a star decorative tip)

Bake it for 1 1/2 hour or till the top is set. Turn off the heat, open the oven door, close it again and let the cookies stay in the switched off oven for another hour or overnight so that the center sets completely.
Recipe Notes
If in a hurry, Place the bowl of egg whites in lukewarm water till the whites comes to room temperature.
The bowl and the whisk should be clean and dry and free of any grease or else the meringue will deflate.
In humid conditions, or when raining, baking time could take longer.
If your oven doesn't heat evenly or if using a smaller oven, rotate the tray once half way between baking.