The flatbread pizza or paneer tikka pizza on naan can be a quick fix for a busy weeknight or a lazy weekend. You can substitute (Indian cottage cheese) with chicken or tofu.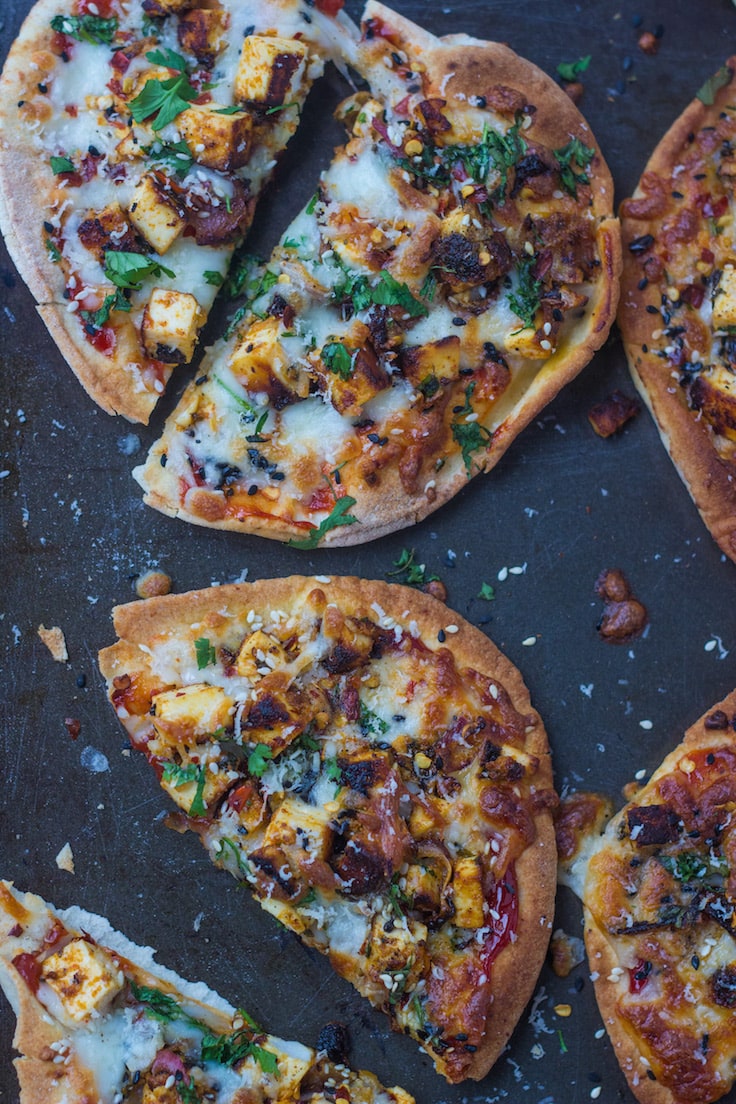 It's going to be 30 days of lent before easter and so hopefully some vegetarian dishes will pop out, like this paneer tikka pizza on naan or a quick french bread pizza. Paneer is something I use very rarely, and by rarely I mean, only during the lent or when our vegetarian friends are coming over. Having said that, this flatbread pizza or naan pizza with paneer tikka is really versatile. Chicken or Tofu can be used instead of Paneer (Indian cottage cheese). You can also make your own homemade soft and pillowy naan (With or without oven) or get it from stores.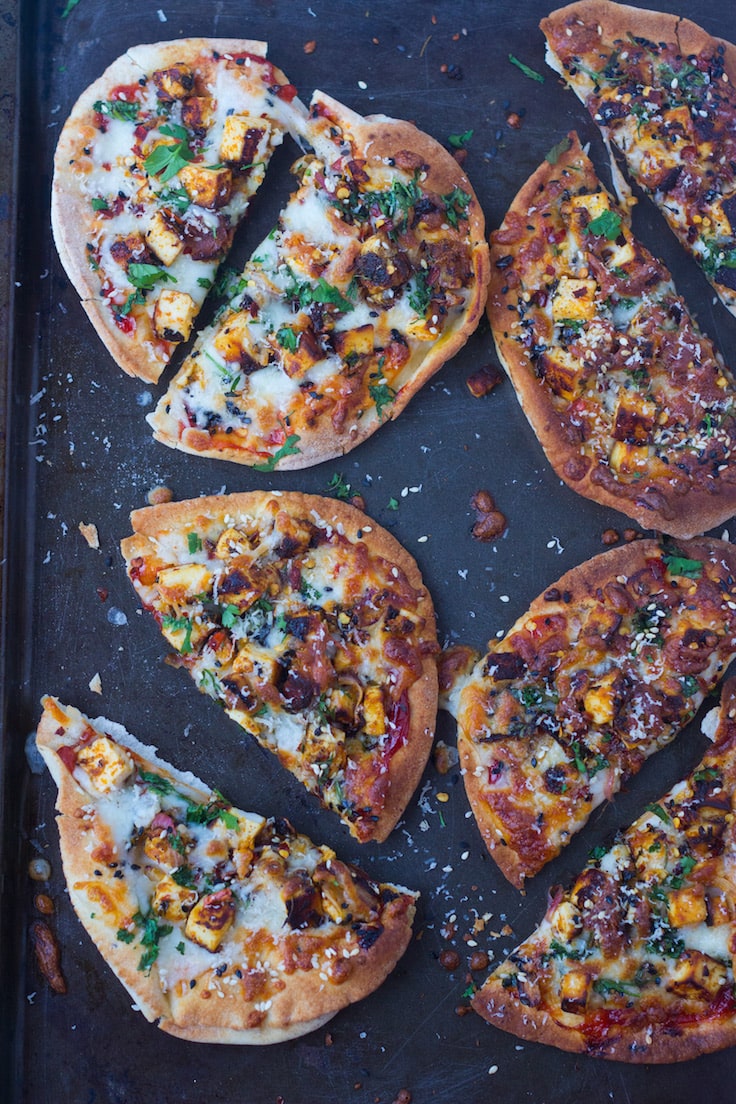 Our Move | Part 2 …
Click here to read about how it all started.
Our house was empty and the bags were packed after trying hard to avoid the excess luggage, which we almost managed to do. We looked at our house one last time, our house of 6 years, where we had welcomed our 1st born. With emotional roller coaster running deep inside us and not knowing how the new life is going to be, we left the country which I had called home for nearly 1o years.
I was far into my 2nd trimester and knowing that I won't be able to lie down for 20 straight hours was not easy. Thanks to my doctor who advised me to keep my feet moving, helped my feet not swell up. The biggest relief was knowing that hopefully for few more years we won't have to take such long flights. Finally, a 14-hour journey later,  we were hovering above Dubai.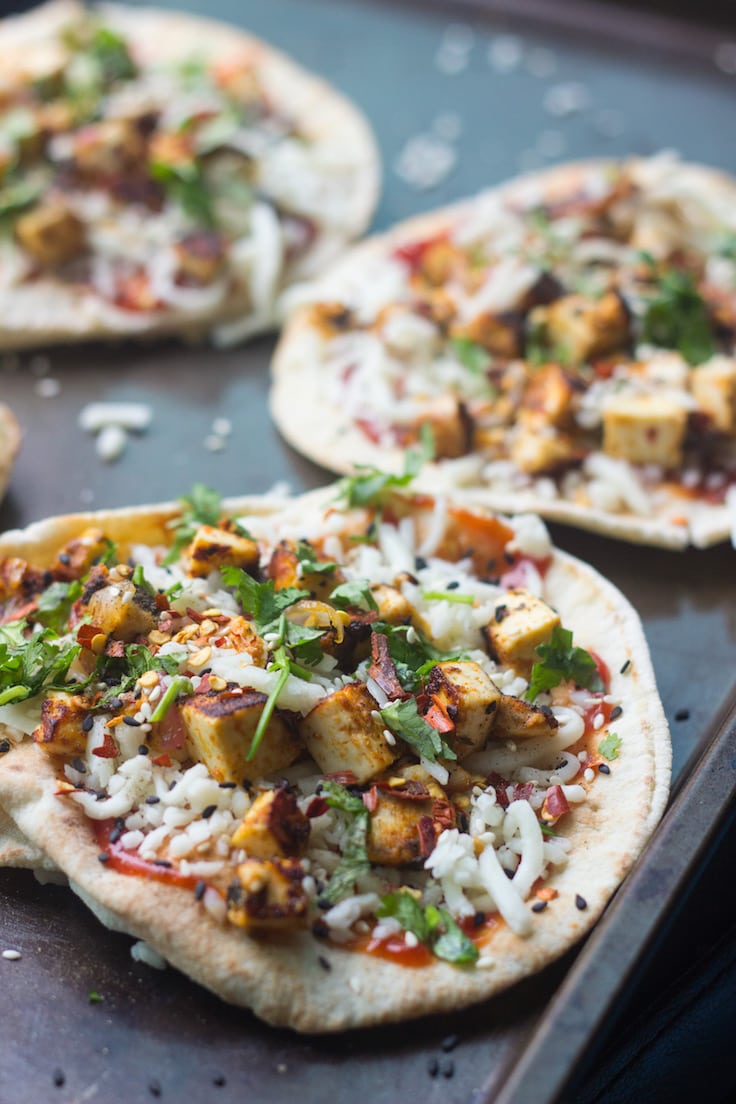 There it was! The spectacular Burj Khalifa towering high between the clouds. I could finally see the tallest structure and the thought that I could see many more spectacular places made me excited.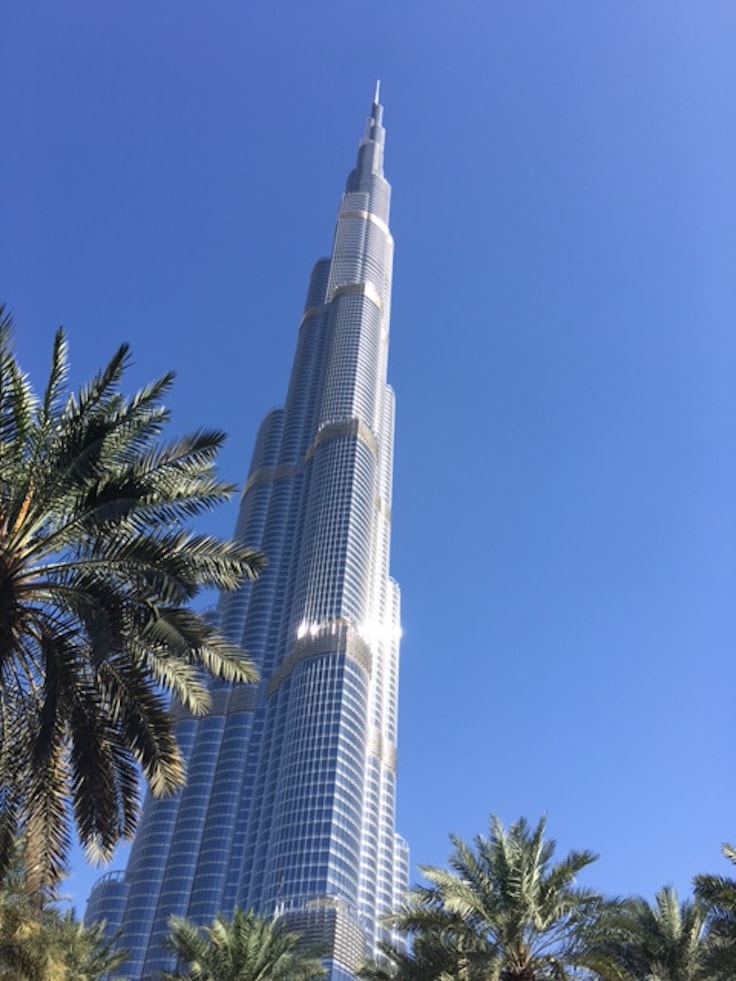 When we got out of the airport it was cloudy and drizzling. Rains were something which we were not expecting here and thought we would miss completely. Agnel and I joked that we got the rains from Orlando. The drizzling was quite frequent for a month after that.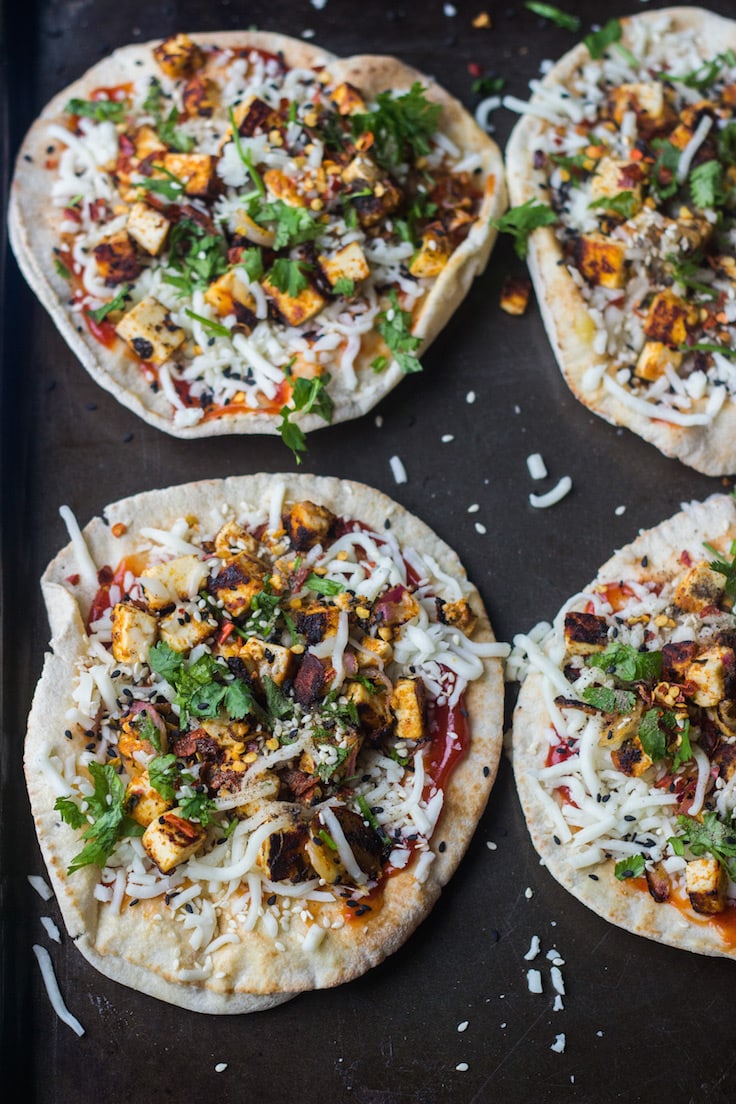 Our driver showed us the Burj al Arab and Burj Khalifa and I could pronounce it:).
He also told us that Whenever it rained in Dubai, people leave their offices early because there could be chances of flood. After a couple of months, UAE witnessed one of the worst floods. Read about how it affected us in later posts….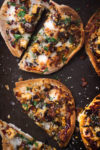 Flatbread Pizza | NAAN PIZZA with PANEER TIKKA
You can substitute paneer (Indian cottage cheese) with Chicken or Tofu.
Course:
Snacks / Quickfix
Ingredients
6

small Flatbreads

Naan, Pita or any Arabic bread

250

g

1/2 pound paneer (Indian cottage cheese)

1

medium sized onion

thinly sliced

3

cups

Mozzarella cheese

shredded, sliced or fresh

3

tablespoons

soft butter

PANEER MARINADE:

1/2

cup

thick yogurt

Ref notes

1

and 1/2 teaspoon red chili powder/paprika

1/2

teaspoon

ginger garlic paste

1

teaspoon

lemon juice

1

teaspoon

dried fenugreek leaves

optional

salt to taste

1/4

cup

finely chopped cilantro leaves

plus more for garnish.

1

tablespoon

oil

Mustard oil if handy

GARNISH:

Choose the ones you have handy

Pepper powder

red chilly flakes

grated parmesan cheese

black and white sesame seeds
Instructions
Add the marinade to the paneer and keep aside.

Meanwhile, heat a non-stick pan and brush some oil. Add the marinated paneer and onions and cook on high till there is no liquid and till the paneer gets slightly charred. Keep aside.

Preheat oven to 190 degrees Celsius / 375 degrees Fahrenheit.

Place the flatbreads on a baking tray and brush the top side with butter. Add some cheese, then the paneer cubes, sprinkle some more cheese. Add the garnishes.

Place this in the oven and bake for 10 minutes or till the cheese melts and is bubbling. (Alternately you can also broil for few minutes. (Keep a close eye on broil setting to avoid the pizza getting burnt.)

Remove and sprinkle some parmesan cheese and finely chopped cilantro/coriander leaves.
Recipe Notes
Yogurt: You can use greek yogurt or hung yogurt. If you have the normal yogurt handy, line a strainer with two kitchen paper towel, place it in a bowl and scoop the yogurt into it. Let it sit on the counter for 15 minutes for the excess liquid to drain.